30 August 2013
Aleksei Sergeevich Suvorin (1834-1912) is well known in the history of Russian journalism, publishing and bookselling.  His articles and short stories appeared in Russkii invalid (The Russian Invalid), Sovremennik (The Contemporary), Otechestvennye zapiski (Notes of the Fatherland), Sankt-Peterburgskie Vedomosti (Saint Petersburg News) and other popular central Russian periodicals. He was owner and publisher  of the well-known newspaper Novoe vremia (The New Times). With a circulation reaching 60,000 copies this newspaper contributed considerably to Chekhov's success in literature when he started publishing his short stories there.
Suvorin also created a series called Deshevaia biblioteka (The Cheap Library) to  publish Russian and foreign classics - e.g. Hamlet and King Lear (British Library shelfmarks 11758.aaa.16 and 11763.a.2). He founded bookshops and had a personal interest in theatre criticism and drama.  To find out more about Suvorin I recommend reading his diaries, published in London in 1999 (YK.1999.a.9774).
However, Suvorin's ambitious reference projects, such as his 45-volume publication Russkii kalendar' (The Russian Calendar) produced annually between 1872 and 1916, and multi-volume directories Vsia Moskva (All Moscow), Ves' Sankt-Peterburg (All St Petersburg) and Vsia Rossiia (All Russia) still can be considered his most valuable contribution to Russian publishing. For example, Vsia Rossiia for the year 1903 (P.P.2458.yd), a 9.5cm thick red volume with a nicely decorated cover, contains information on the Russian imperial family, lists of officers employed by the central governing bodies, ministries and state organisations, full lists of all private enterprises arranged geographically and by industry, lists of landlords with their addresses, and plenty of adverts.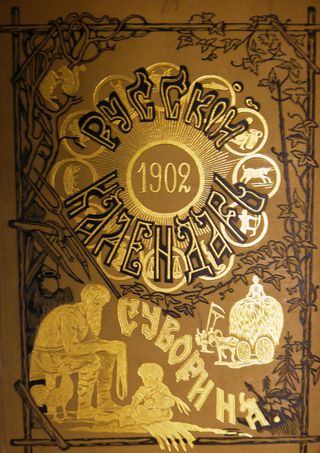 The cover of Suvorin's Russkii kalendar' for 1902.
The directory gives a comprehensive overview of Russian society, industry and statistics. Within the geographical section material on the administrative units known as 'guberniyas' is arranged alphabetically. Subordinate units and towns form the subsections. There is summary statistical information on the entire guberniya, including numbers of churches, schools and other establishments, figures for the last tax year etc., supported by a transportation map, and a list of high-ranking officials. Each smaller unit, apart from more specific statistical information, would also include notes on the banking system and lists of local businesses (including saunas, libraries and specialist seed shops).
If we remember that the results of the first all-Russia census of 1897  were not fully published until 1905, that the main bulk of the individual questionnaire sheets didn't survive,  and that those which did are dispersed among numerous local archives, the information published by Suvorin becomes really invaluable. Of course, it is still not possible to trace many people, but if you are searching for a civil servant, academic, landlord or business owner, you stand a very good chance of finding some information. For example, among businesses based in Kiev and entrepreneurs involved in sugar production, I found the names and addresses of the Zaitsevs,  Landaus and Galperins – relatives of the Russian author Mark Aldanov, which was very helpful for my research on him.
I  also did  some personal genealogical research and found several people with my husband's  family name "Rogatchevski" and four entries  for my maiden name "Vilkov(a)": one of these owned a grocery in Nizhnii Novgorod, another was a bookseller in the Don region, the third  ran a photographic studio in the town of Sarapul in the Viatka region, and a lady called Sora Leiz.[erovna] Vilkova was owner of a manufactory. Of course, whether we are related, is a separate question altogether which I probably won't be able to answer with Suvorin's help.
If your research involves  social history, Russkii kalendar' (P.P.2458.z.) would be very useful. For example, if you want to find information on calendars of festivals celebrated by most of the religions in the Russian Empire, check a couple of useful mathematical formulas, learn how much capital was declared by various Russian banks, compare European currency exchange rates or know how to calculate pregnancy periods related to the time of conception, these are the books for you. If you are unsure where to go for mineral water treatment or what the symptoms of death are, want to see photographs of  recent events or be reminded of how the solar system is organised, they would also come in handy.
For modern researchers not only are maps, statistics, and lists of names important, but such information as theatre seating plans, prices, railway regulations etc., could also be very helpful. The material on the 19th-century advertising in Russia is also very rich and definitely under-researched, as  designs, advertising techniques and printing types probably deserve more specialist attention.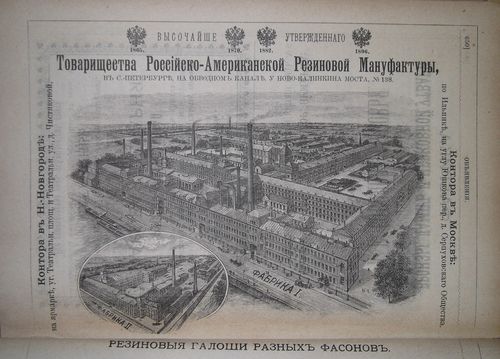 A typical advertisment from Russkii kalendar' for 1897.

Katya Rogatchevskaia, Lead Curator Russian Studies