02 September 2013
Boccaccio at 700
This year sees the 700th anniversary of the birth of Giovanni Boccaccio in Tuscany in 1313 (the exact place and date are not known).  His father was a prominent Tuscan merchant and Boccaccio's familiarity with the mercantile world – its personalities,  practices and network of trade routes –  is immediately apparent in the work for which he is most celebrated, the collection of stories known as the Decameron.
Set in 1348, the Decameron consists of 100 stories told over ten days by ten friends (three men and seven women) who have fled from Florence to a villa in the Tuscan countryside to escape the ravages of the Black Death, graphically described at the opening of the book.  With this work, written in Italian, Boccaccio earned the right to be considered the father of Italian prose; in Italy he is regarded as one of the 'three crowns' of the literary tradition, alongside Dante, who died when Boccaccio was eight and whose work he studied and revered all his life, and Petrarch, who was nine years older than Boccaccio and became a valued mentor and friend.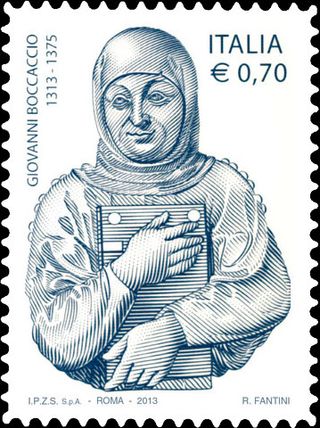 Boccaccio portrayed on an Italian anniversary stamp
While Italy is naturally the centre of the anniversary celebrations,  the occasion is also being marked by conferences and exhibitions elsewhere, as is only appropriate for a writer whose work even during his lifetime gained a European audience and has been an enduring influence on writers (as well as painters, composers and filmmakers) in many other countries ever since.  Boccaccio's work, especially the great narrative cornucopia of the Decameron with its multifarious tales, ranging from the bawdy to the tragic, set within a complex narrative framework, is an integral part of many native literary traditions.  In England, writers from Chaucer to Fay Weldon have known and drawn on his work.

A major international conference was held at the University of Manchester in July, which brought together traditional and modern critical approaches to Boccaccio in order to 'locate' him and his continuing relevance in the 21st century; among the themes discussed were the place given to women in Boccaccio's writings, the influence of his own reading, the variety of rewritings and adaptations of his work, and  the importance of storytelling as as activity.  One of the most significant recent developments in Boccaccio studies has been an interest in the way his works were produced and circulated in manuscript and in print and how copies were read and collected. It was therefore fitting  that the conference was accompanied by a wide-ranging exhibition (open until 20 December) at the John Rylands Library, which drew on its rich collections in many languages – and added to them with a series of  books designed by contemporary artists who'd been asked to take their inspiration from one of Boccaccio's works. 
The British Library (where only last year an autograph manuscript  of a text which Boccaccio copied out for his own library  was discovered) will also be celebrating the anniversary on Monday 30 September with 'Boccaccio & Company: an introduction to the Decameron', an all-day event for those who want to find out more about this great collection of stories and the reasons why it has kept generations of readers entertained and moved  - as well as titillated and scandalised. 

The day has been organised with the generous collaboration of the British-Italian Society and in partnership with London University's Institute of Modern Languages Research.  Short talks from eight specialists will provide an overview of the book's historical and cultural background, the stories it includes and their narrative framework, its reputation for licentiousness, and the influence it has had on other literatures and the arts in general since it first appeared. To book go to our website. 

The day will end with a John Coffin Trust Lecture and Reading, free and open to all, given by Marina Warner on 'Voices Without Borders: Travelling Tales & Literary Heritage' at Senate House, University of London from 17.00 to 19.00.  There will also be the opportunity to visit a small display of books and manuscripts relating to Boccaccio in the Library's Ritblat Gallery which will be on from 27 September – 1 December
Stephen Parkin, Curator Italian Studies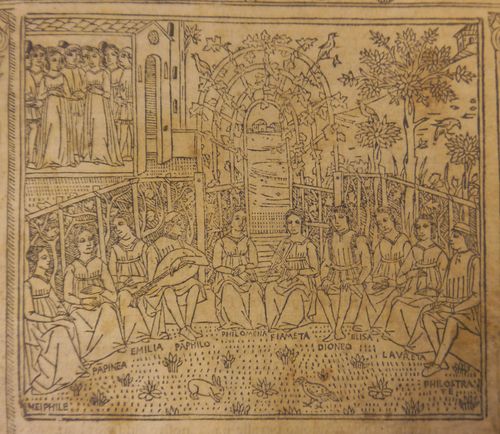 The ten storytellers in the Garden, from Giovanni Boccaccio, Decamerone (Venice, 1498) BL shelfmark C.4.i.7.