30 September 2013
The choice is unusual at a first glance. What do they have in common, these two poets, except the same year of birth - 1814?
One, Mikhail Lermontov, the famous Russian romantic poet, was born in a noble family, which, accordingly to family legends, goes back  to the Scottish Earls of Learmont; the other, Taras Shevchenko, the Ukrainian national poet, was  born in a serf peasant family  in  a Ukrainian village, and in 1838 was  made a free man thanks to "the Great Karl" - the painter Karl Bryullov  - and other Ukrainian and Russian friends in St. Petersburg.
But the producer of a small book, entitled Six lyrics from the Ruthenian of Taras Shevchenko also The Song of the merchant Mikhail Kalashnikov from the Russian of Mikhail Lermontov, published in London in 1911 (BL shelfmark 12205.w.3/86.), knew what she was doing. Ethel Lilian Voynich (1864-1960), a translator and already established Irish writer, felt instinctively that the most unifying factor in publishing them together was as simple as this:  both were true poets.

The author of the popular novel The Gadfly  loved poetry herself but was very modest about her own abilities as a translator. Her burning desire to make Shevchenko known to English speakers is explained in her "preface": "But if a man leaves immortal lyrics hidden away from Western Europe in a minor Slavonic idiom between Russian, Servian and Polish, it seems hard that he should go untranslated while waiting for the perfect rendering which may never come. Inadequate as are these few specimens, they show some dim shadow of the mind of a poet who has done for the Dnieper country what Burns did for Scotland". And she goes on translating this "peasant poet of the Ukraїna" and adds an extensive essay about his life and work.
The  six lyrics selected are among the most popular in Ukraine; Ukrainians know them by heart. "I care not…" is one of the most quoted poems in Ukrainian poetry and one of my favourites by Shevchenko (his self-portrait from 1840 below - from Wikimedia Commons). The poem was written in 1847 in the Fortress of Sts Peter and Paul in St Petersburg  after poet's  arrest: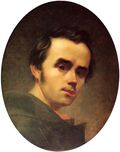 I care not,  shall I see my dear
Own land before I die, or no,
Nor who forgets me, buried here
In desert wastes of alien snow;
Though all forget me, - better so.
  And the final stanza:
  I care no longer if the child 
  Shall pray for me, or pass me by.
 One only  thing I cannot bear: 
 To know my land, that was beguiled
 Into a death-trap with  a lie,
 Trampled and ruined and defiled…
Ah, but I care, dear God; I care!
In 2008 in the new edition of Taras Shevchenko's poems in English translations Vera Rich translated the same title as "It does not touch me, not a whit..."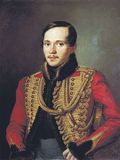 "As for Lermontov and his masterpiece", writes Voynich, "they are both too well known to need any help from me". In my own observations, people in the 21st century know mainly about Mikhail Kalashnikov, the creator of AK-47.  So who was he,  Lermontov's Kalashnikov? The hero of Lermontov's epic poem was a wealthy and bold merchant in the time of the tsar Ivan Vasilyevich, known as Ivan the Terrible. He had the misfortune that his beloved wife Alyona Dmitrevna became the object of desire of a lusty young oprichnik Kiribyeyevich.  Lermontov [portrait right, from Wikimedia Commons] tells the story of Stepan Paramonovich Kalashnikov, who fights the Tsar's favourite oprichnik at a boxing-match in Moscow in the presence of the Tsar himself. He kills the oprichnik and in consequence loses his life by order of the Tsar. "I include this version of the famous "Song of Kalashnikov" because making it has given me so much pleasure that I hope others may find pleasure in reading it", Voynich writes.

As the 200th anniversary of the birth of two great poets (in March and October 2014)  approaches I wonder what new pleasures and surprises the translators of today will offer us.

Olga Kerziouk, Curator Ukrainian Studies