16 September 2013
St. Ludmila, patroness of Bohemia
A recent survey indicated that increasing numbers of grandparents are, in these cash-strapped times, the major care-providers enabling mothers to return to work. Those grandmothers who may feel aggrieved, exploited or in conflict with a daughter-in-law about their grandchildren's upbringing might do well to think of St. Ludmila. Things could be very much worse.

The daughter of a prince named Slavibor, Ludmila was born around 860 in Mělník  and married at an early age to Bořivoj I, Duke of Bohemia. It was probably through the efforts of Sts. Cyril and Methodius, the 'apostles of the Slavs' that the couple were converted to Christianity in 874, becoming the first Christian rulers of the dukedom. However, their attempts to convert their subjects were greeted with such hostility that for a time they were driven out of the land, but after a while they were able to return and ruled in peace for several years before retiring to Tetín, near Beroun, leaving their son Spytihněv to rule in his father's place.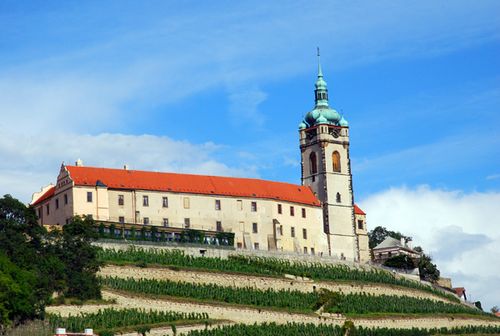 Mělník Castle, St Ludmila's birthplace  (picture from Wikimedia Commons)
However, after only two years Spytihněv died, and his brother Vratislav succeeded to the dukedom. Vratislav's wife Drahomíra had remained a pagan, and grew increasingly resentful of the influence of Ludmila over their son Václav. She had been largely responsible for the upbringing of her grandson, and when Vratislav died in 921, Ludmila, now a widow, acted as regent for the young Václav.  Drahomíra's jealousy became so intense that on 15 September 921 she despatched two assassins to murder Ludmila in her castle at Tetín; tradition has it that they strangled her with her own veil. Her body was initially buried in the castle church of St. Michael, but at some date before 1100 it was reinterred in the basilica of St. George in Prague.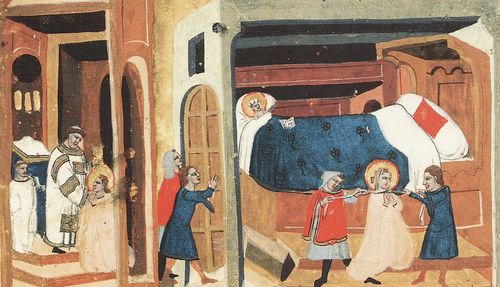 The Murder of Saint Ludmila from the Chronicle of so-called Dalimil (from Wikimedia Commons)
Veneration of the saint, who was canonized shortly after her death, grew rapidly, and she was honoured (together with her grandson Václav, subsequently murdered by his half-brother Boleslav the Cruel) as one of the patrons of Bohemia, as well as of widows, converts, duchesses and (not surprisingly) those experiencing difficulties with in-laws. Her fame spread far beyond Bohemia throughout the entire Slavonic world, where her name is still highly popular among both Orthodox Christians and Roman Catholics.
In addition, Ludmila's story has at least two points of special interest for British readers. Her grandson St. Václav is better known to them as the Good King Wenceslas of the carol, though very unlike the white-bearded figure of tradition. Then, over 900 years after the saint's death, the publisher Littleton commissioned Antonín Dvořák to write an oratorio for the Leeds Festival during his first visit to England in 1886. Svatá Ludmila received its first performance, conducted by the composer, on October 16 that year. It was an expression not only of his personal Christian faith but of strong national feeling at a time when the Austrian police had banned the singing of Czech songs following political disturbances in 1884, and of his conviction that 'an artist also has a country for which he must have firm faith and a fervent heart', as he wrote to his publisher Simrock.

Although the oratorio received a mixed reception and was regarded by some critics as over-long and derivative, Dvořák revised and adapted it for its Prague premiere in 1901. Like his early opera Vanda, it dramatized the conflict between paganism and Christianity, and provided material not only for moving love duets between Ludmila and Bořivoj but stirring choruses, culminating in a majestic version at their coronation of the old Czech hymn Hospodine, pomiluj ny (Lord, have mercy upon us).  In 2004, one hundred years after Dvořák's death, it received its first 21st-century performance by the Czech Philharmonic conducted by Jiří Bělohlávek, one of a long series testifying to the popularity of this work and the Saint whom it commemorates.
The British Library holds a copy, dating from 1767, of a life of Saints Ludmila and Václav by Kristián (929-996?), a monk of the Benedictine order: Vita S. Ludmilae et S. Wenceslai Bohemiae ducum et martyrum authore Christiano Monacho ordinis S. Benedicti, descripta ex antiquo ms. codice membranaceo ...cui praefigitur Dissertatio historico- critica .. labore et studio P. Athanasii a S. Josepho .. (RB.23.a.25306).
Susan Halstead, Curator Czech Studies