24 October 2014
Person from a portrait: Ira Frederick Aldridge, the first black Othello
Growing in a provincial town in Soviet Ukraine in the 1960s, when the world was less globalised and foreign students were present only in main universities, I had very little opportunity to meet a black person in flesh.  The first black person that I, aged 5, became aware of  was ... Ira Frederick Aldridge! The portrait of a very sympathetic man, with big eyes and moustaches, adorned every book about the national poet of Ukraine, Taras Shevchenko (my parents had a very good library of Ukrainian literature). It was painted  in black and white Italian pencil and finished by Shevchenko on 25 December 1858.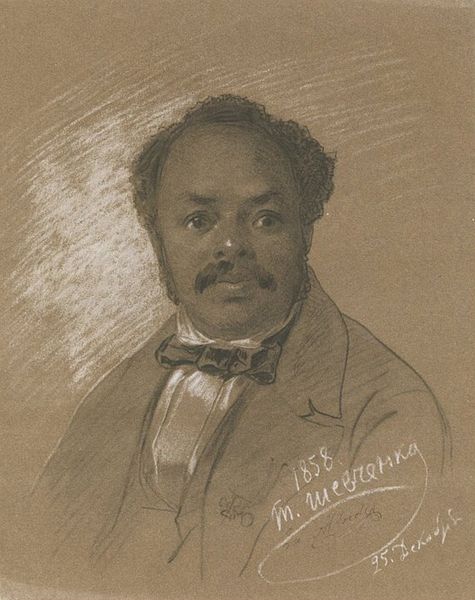 Shevchenko's portrait of Ira Aldridge (image from Wikimedia Commons)
 On 10 November 1858 Aldridge played Othello in one of St Petersburg's theatres for the first time, and Shevchenko, a keen reader of Shakespeare and an ardent theatregoer, was in the audience, together with his Russian friends (the family of Count Fyodor Tolstoy and others). He was very excited by the acting and reduced to tears. 
Ira Aldridge as Othello, frontispiece from Leben und Künstler-Laufbahn des Neger Ira Aldridge (Berlin, 1853; 10881.a.1)
On November 12 Shevchenko met Aldridge personally in the house of Count Tolstoy where Shevchenko was a frequent guest. They became great friends (Aldridge called Shevchenko "an artist" finding difficult to pronounce the Ukrainian surname). Two young daughters of Count Tolstoy, Katya and Olya, often served as interpreters for them. On 6 December Shevchenko sent a letter to his Russian actor-friend (a former serf, like Shevchenko himself) Mikhail Shchepkin, full of admiration about the talent of Aldridge, "who does miracles on the stage". "He shows live Shakespeare", wrote Shevchenko.  Friend of Shevchenko artist Mikhail Mikeshin made a satirical sketch of  Shevchenko in awe before Aldrigde and Shevchenko himself added "My mute awe before Ira Aldridge" (picture below).
In 1913 Leonid Pasternak made his drawing of Aldridge and Shevchenko which is reproduced in books about them. The original is kept in the Bakhrushin State Central Theatre Museum in Moscow.
In 1861-1866 Aldridge visited many places in Ukraine: Kyiv, Kharkiv, Odessa, Zhytomyr, and Elisavetgrad. He learned Russian and German and successfully performed using these languages too. His performances attracted large audiences everywhere. The well-known Ukrainian dramatist Ivan Karpenko-Karyi walked miles from the village of Bobryntsi to Elisavetgrad to see his performance.
The biography of this extraordinary African-American actor (especially famous in Shakespearean roles) is fascinating and continues to attract well-deserved attention. His bicentenary in 2007 was celebrated in many countries and the proceedings of a seminar about him were published in Germany in 2009: Ira Aldridge 1807-1867. The Great Shakespearean Tragedian on the Bicentennial Anniversary of his Birth (Frankfurt am Main, 2009; YD.2009.a.9405).
In 2012, Red Velvet, a play by Lolita Chakrabarti about Aldridge and his taking the role of Othello (published as a book; London, 2014;  YK.2013.a.13939) was premiered at the Tricycle Theatre in London, with Aldridge played by Adrian Lester. (The play returned in 2014; see excerptss here). More and more people are now discovering  Aldridge's extraordinary life.
The British Library holds books about Aldridge in various languages. The oldest English booklets date from the 19th century, when young Ira, after leaving New York, was acting in Dublin, Edinburgh, Bath, and London: John Cole, A Critique on the Performance of Othello by F. W. K. [or rather, Ira] Aldridge, the African Roscius (Scarborough, 1831; 11794.g.29) and A brief memoir and theatrical career of Ira Aldridge, the African tragedian. (London, ca. 1855; 1608/4459 - picture below).
The 20th- and 21st-century biographies and critical studies about Aldridge include: Herbert Marshall, Ira Aldridge : the Negro tragedian  (London, 1958; 11799.e.34); Owen Mortimer, Speak of me as I am: the story of Ira Aldridge (Wangaratta, 1995; YA.1996.a.22306); Ira Aldridge: the African Roscius, edited by Bernth Lindfors (Rochester, N.Y., 2007; v.28 8001.250050); Martin Hoyles, Ira Aldridge: celebrated 19th century actor (London, 2008; YD.2007.a.8267); Bernth Lindfors, Ira Aldridge: The Early Years, 1807-1833 (Rochester, NY, 2011; YC.2012.a.22286) and the same author's three-volume Ira Aldridge (Rochester, NY, 2011-2013; 8001.250050)  
Herbert Marshall's book was translated into Ukrainian during Soviet times by the Mystetstvo (Art) publishing house (Aira Oldridzh: nehrytianskyi trahik (Kyiv, 1966) X.898/2832). Ukrainian authors mainly explored the friendship of Taras Shevchenko and Ira Aldridge, as in Ivan Kulinych's Poet i trahik (Kyiv, 1964; X.908/1462) where the author collected memoirs of witnesses of this great friendship.
The Library holds the Russian original of a book by theatre historian and critic Sergey Durylin (1886-1954) about the life of Aldridge (Moscow-Leningrad, 1940; 11797.a.32) and its recent translation into English by Alexei Lalo (Trenton, 2014; awaiting shelfmark). A Hungarian-language book was published in Romania in 1969 (Ernő Igeti, Az idegen csillag. Ira Aldridge regényes élete (Bucharest, 1969)  X.989/6820).
This well-travelled and much-loved actor (he also played in Germany, Hungary and Serbia) died while on tour in Poland on 7 August 1867. His plans to return to his native USA after the end of the Civil War there (he was also an outspoken abolitionist) were never realised. Aldridge was given a state funeral in Poland and his tomb is in the Old Cemetery in Łódź.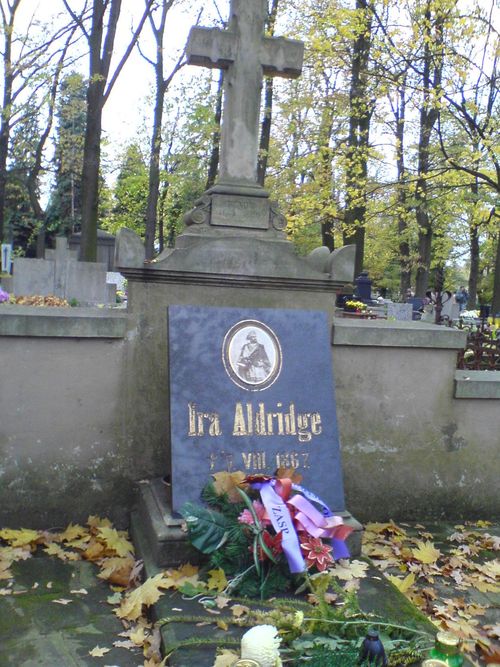 Tomb of Ira Aldridge in Łódź (picture by Jan W. Raczkowski from Wikimedia Commons)
Every October, during Black History Month it is heart-warming to pay tribute to this great life which touched the lives and imagination of other people in many countries and cultures. Taras Shevchenko, whose bicentenary we celebrate this year, was one of them.
Olga Kerziouk, Curator Ukrainian Studies