07 November 2014
Is your governess really a spy?
Ever since Baroness Lehzen taught the young Princess Victoria, German governesses had occupied a place in 19th-century British consciousness. Many German women came to Britain during the century to teach either in schools or private homes, and a Verein deutscher Lehrerinnen in England  was founded in 1876 to offer them advice and assistance. By the beginning of the 20th century it was common – and fashionable – for upper-class families to employ a 'Fräulein' to help educate their daughters, even against the background of rising of anti-German sentiment.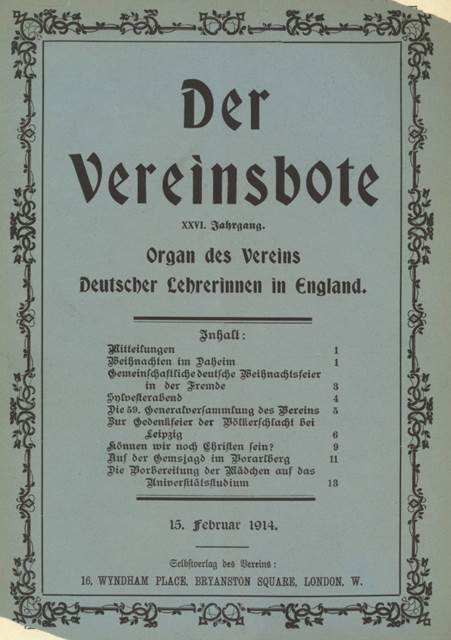 Der Vereinsbote. Organ des Vereins deutscher Lehrerinnen in England. Vol. 26, no. 1, February 1914 (P.P.1215.fb). The journal of the Association of German Teachers in England. Like other British German newspapers and periodicals, it ceased publication in August 1914.
On the outbreak of war, however, governesses were among the Germans in Britain viewed with particular suspicion. Because some lived closely with the families of well-connected employers, they could easily be demonised as potential spies or fifth columnists.  A browse through contemporary newspapers via the British Newspaper Archive reveals a number of stories, or variations on the same story, about German governesses whose trunks were found to conceal bombs or secret documents. A report in the Lichfield Mercury of 21 August 1914 even claims that a German 'secret order book' had been discovered which recommended the placing of 'handsome German governesses' in the families of British military officers to gather information; presumably their handsomeness was intended to help tempt the officers into indiscretions  of various kinds.
These stories may strike us as faintly absurd, but their underlying message was taken seriously at the time, even in high places. In 1916, the Prime Minister of New Zealand specifically mentioned governesses, alongside waiters and clerks, as Germans employed in Britain who had used their position to collect information which was 'promptly conveyed to Berlin.' And of course these attitudes could have serious consequences for the women who suddenly found themselves designated 'enemy aliens', perhaps after many years as part of a British family, and suspected of spying.
Families who employed a German governess sometimes themselves fell under suspicion. A Mr Cunningham was still pursuing damages from the War Office in 1923, claiming that his business had collapsed when it was boycotted following a military search of his house in 1914, triggered in part by the presence there of a German governess. Even the British Prime Minister was suspected of harbouring a spy in the form of his children's long-serving governess Anna Heinsius.
A popular example of the 'governess as spy' theme was the 1914 play The Man who Stayed at Home, set in a small seaside hotel where the hero, a British secret agent, affects a languid and flippant air to disguise his true mission as a spy-catcher. One of the first characters we meet is Fräulein Schroeder, described in the stage directions as 'a tall, angular and unattractive spinster with a dictatorial manner and entirely unsympathetic soul.'
A modern audience might expect, or even hope, that such an obvious candidate as Fräulein Schroeder would turn out not to be a villain. But the popular stereotypes of the day prevail: she is in fact in cahoots with the hotel's owner, Mrs Sanderson (German widow of an Englishman), her 'son' Carl (actually 'Herr von Mantel, son of General von Mantel, and paid spy of the German Government') and the waiter Fritz (who, despite a thick stage-German accent, manages to convince everyone that he is Dutch), all spies in the service of their 'Imperial Master' in Berlin.

Cover of a 1916 acting text of The Man who stayed at Home.The image was also available as a poster for groups wishing to stage the play.
The play clearly pleased the British public. It had a long run in London and was filmed twice (1915 and 1919) and adapted as a novel (1915). The novel is somewhat kinder about Fräulein Schroeder's appearance: initially, at least, she radiates  'all the placid good nature and quietude of spirit of the best of her race' and has 'small, kindly brown eyes'. But her fanaticism and ruthlessness are far more strongly emphasised and, in a change from the play, she poisons herself when the German plot is foiled, a 'sordid and ugly' death depicted as encapsulating the inglorious nature of her cause.
Amidst all these tall tales and spy-panics it is comforting to encounter stories of those who supported and defended such 'enemy aliens' trying to continue a teaching career in Britain during the war years. The Daily Mail of 3 September 1914 reported that a man who applied to the International Women's Aid Committee for a governess for his children was shocked to be sent a German woman. But, the report continues, the Committee's secretary responded that, 'Our object is to help foreign women of any nationality who are the innocent victims of the war. We do not consider that we are helping the enemy in assisting a non-combatant German governess.' A refreshing sentiment to set against the popular jingoism of the time.
Susan Reed, Lead Curator Germanic Studies
References/further reading
Lechmere Worrall / J.E. Harold Terry, The Man who Stayed at Home: a play in three acts. French's Acting Edition No. 2535 (London, [1916]). 2304.h.71.(4)
Beamish Tinker [i.e. F. Tennyson Jesse], The Man who Stayed at Home ... From the play of the same name. (London, 1915) NN.2687
Panikos Panayi, The Enemy in our Midst : Germans in Britain during the First World War (New York, 1991) YC.1991.a.4196
This piece was posted live from Selwyn College Cambridge as part of the Women In German Studies Postgraduate workshop in November 2014.