04 February 2015
"A master craftsman in the European tradition"
As the Chinese Year of the Sheep is approaching, it is a good time to write about a wonderful artist from Ukraine whose centenary was celebrated last week. Yakiv Hnizdovsky (known as Jacques Hnizdovsky) was born on 27 January 1915 in Ukraine. He studied at the Academy of Fine Arts in Warsaw, then, after escaping from war-torn Poland,  at the Academy of Fine Arts in Zagreb. In 1949 he moved to the United States. Hnizdovsky's Wikipedia entry describes him as "a Ukrainian-American painter (working in oil, acrylic, tempera and watercolor), printmaker, sculptor, illustrator and lettering designer".  Another description of him comes from a  lovely book of poetry called Birds and Beasts by American poet William Jay Smith: "Throughout his life, which ended in 1985, Hnizdovsky remained a master craftsman in the European tradition, an artist whose interpretations of animals, plants, and figures were immediately recognizable for their vigor, strength, and quiet humor".
                 Hnizdovsky. Self-portrait. Reproduced with the permission of the Hnizdovsky Estate
 Hnizdovsky was a very prolific artist. He produced prints, primarily woodcuts and linocuts, as well as fine etchings. Some of them can be found on the website created by his family for the Centennial Celebrations this year. Another site about the life and work by Hnizdovsky has been in existence for over 12 years: http://www.hnizdovsky.com/
The British Library offers researchers the possibility to find out more about the life and work of this outstanding Ukrainian-American artist by collecting his better- and less well-known books. Our holdings include works illustrated by Hnizdovsky:  Flora Exotica by Gordon deWolf (Boston, 1972; Wf2/1968); The Auk, the Dodo  and the Oryx: Vanished and Vanishing Creatures by  Robert Silverberg (Kingswood, 1973; X.319/6596);  Birds and Beasts (Boston, 1990; YD.2007.b.2096);  a collection of poems by Thomas Hardy (London, 1979; X.989/53376) as well as catalogues of his numerous exhibitions.
We also have his earliest works, published in the famous Ukrainian émigré artistic journal Arka ('Arch'; Munich, 1947-1948; P.P.4842.dnr); in the jubilee edition of Slovo o polku Ihorevi  ('The Tale of Prince Ihor's campaign'; Philadelphia, 1950; J/11586.i.36); in a lovely collection of Ukrainian folk tales translated by Marie Halun Bloch (London, 1964; X.990/127).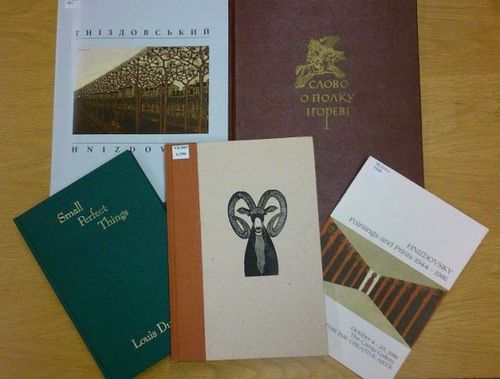 Collage of books illustrated by Hnizdovsky and catalogues of his exhibitions from our collections
In 1986 Stephanie Hnizdovsky, the artist's widow, published a small artistic book Jacques Hnizdovsky Ex Libris (Brtish Library's shelfmark YF.2010.a.21249) with beautiful bookplates made for his family, friends, collectors, libraries and museums.  In it Hnizdovsky explained:
My interest in ex libris goes back to the early thirties. Bookplates were popular then in Western Ukraine.[...] I have not created many bookplates.[...] Nevertheless I feel that the ex libris is one of the most personal and intimate art forms. It requires close cooperation between the artist and the consumer, and mutual respect on the part of each. Today when grandiosity, attention seeking "shock tactics" prevail in the art field, the ex libris offers a refreshing alternative. It may be small in size, but it certainly is not a "small" art".
Ex Libris Jacques Hnizdovsky (Sheep in a Pen). Reproduced with the permission of the Hnizdovsky estate

Hnizdovsky's best-known print is 'The Sheep', for which he was awarded the First Prize at the Boston Printmakers annual exhibition in 1962 (below on the left, with Flock of Lambs below right,  both reproduced with the permission of the Hnizdovsky Estate; more sheep and rams are to be found here). Lovers of nature and beauty and collectors worldwide remember and cherish this fine artist. Once you have seen Hnizdovsky's works you will keep them in your memory forever. And you will smile when hearing his name. I do.

Olga Kerziouk, Curator Ukrainian Studies