06 February 2015
Love it or hate it!
Across much of Europe it is carnival time.  Another year of sheer fun and exuberance.  Although its exact timing varies from place to place, the main events usually take place during February. The old, pagan tradition was for evil spirits to be shooed away in anticipation of the new spring cycle.  In later times these rituals were frowned upon by the Christian Church but tolerated when they took place in the period before the beginning of Lent.  A central feature has always been masks and masquerading.  They provided a way for people to try to understand and exert influence on their natural surroundings.  Some also believed that masks had magical powers allowing wearers to connect with their ancestors and with the spirit world.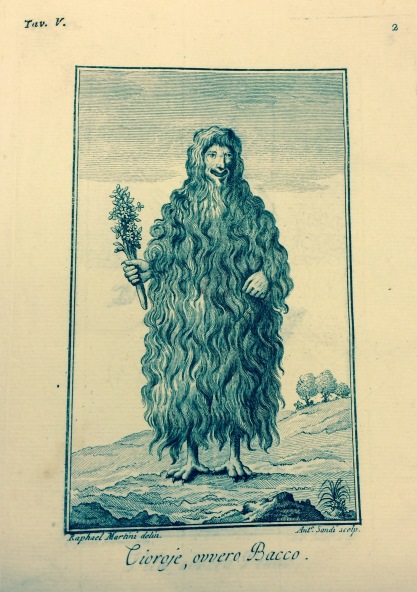 Čoroje, a carnival character from the Dubrovnik region in the early 19th century From Notizie istorico-critiche sulle antichità, storia e letteratura de' Ragusei (Ragusa, 1802) British Library 10129.ee.18.
Slovenia and Croatia are two countries where the traditions are preserved and interest remains strong.  Slovenia's major event is the festival Kurentovanje, held in Ptuj, its oldest city.  Here the central carnival figure in the parades is the Kurent, a high-spirited demon, dressed in sheepskin.  The leather masks of Kurents from different villages will have their own individual features but most are decorated with colourful flowers and ribbons, and with prominent long red tongues.   Attached to the costumes are cow bells and as the Kurents pass through the streets they shake their bodies to sound the bells.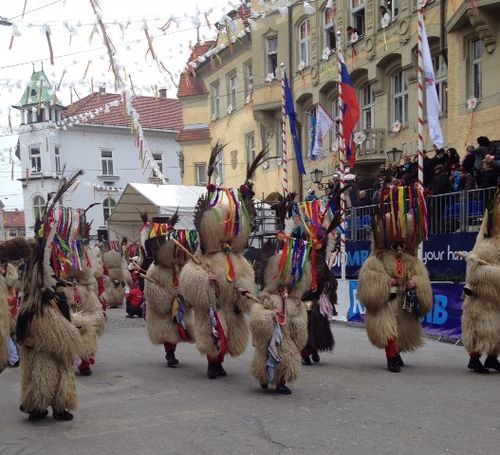 Kurents at the 2014 Kurentovanje in Ptuj.
They also carry sticks with hedgehog skins attached to the tips.  The origin of the Kurent is not completely understood but its purpose appears to have been to chase away winter and bring good fortune to the countryside for the season ahead.  As well as participating in the parades, groups of Kurents visit houses and farms in the area.  Where they are welcomed they will bring good luck, where they are not, they roll themselves on the ground and this means bad luck will follow.  The Kurent has inspired authors and artists alike.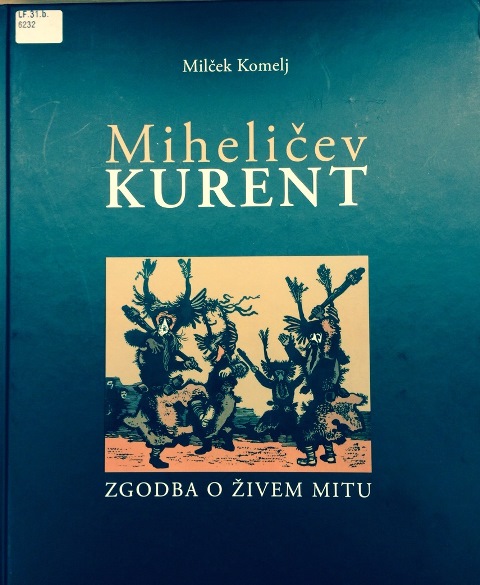 France Mihelič's painting of a Kurent. From Milček Komelj, Miheličev Kurent : zgodba o živem mitu. (Ljubljana, 2002.) LF.31.b.6232
For those who cannot attend the carnival itself, the museum in Ptuj castle has an excellent permanent display of masks and costumes. 
In Croatia in more recent times the festive season of carnival has become punctuated by masked balls and parades like the one in the city of Rijeka.  Of its older customs, the best preserved are the Zvončari, the bell men, now included in UNESCO's List of Intangible Cultural Heritage. The Croatian town of Kastav and its surrounding area are home to the Zvončari.  The rich ethnographic history of this area is somewhat comically described in Ivo Jardas's Kastavština, written in Chakavian dialect.  The Zvončari are best known as performers of pagan carnival magic.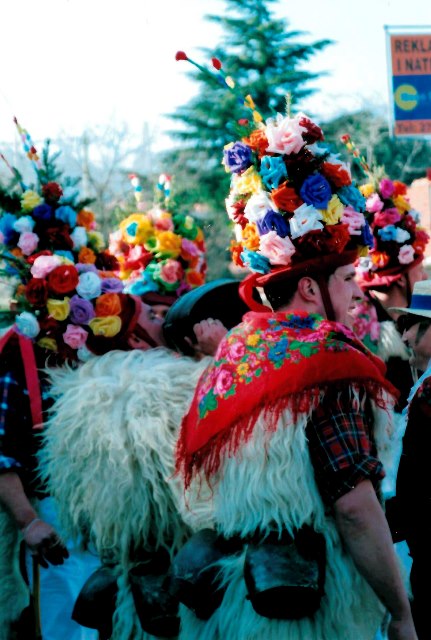 Zvončari from village of Veli Brgud. © Larisa Afrić
On their visits to neighbouring villages they move in rows of two or three, merging towards each other, sounding their huge bells.  The sound is overwhelming and leaves one with a mixture of feelings, from excitement and fear, to curiosity and thrills.  On their backs they wear long sheep fur while their hats, klobuk or krabujosnica, are the real sign of the spring to come.  Abundantly colourful displays of hand-made, paper flowers are interspersed with fir tree or asparagus branches, and ribbons.  The hats were first introduced after the First World War, when one half of the Kastav region fell under Italian rule and animal-like masks were banned.  This explains why today Zvončari from the west wear hats and Zvončari from the east wear the masks.  Although over the years the nuances of costume went through many a transformation, the custom itself looks like it's here to stay.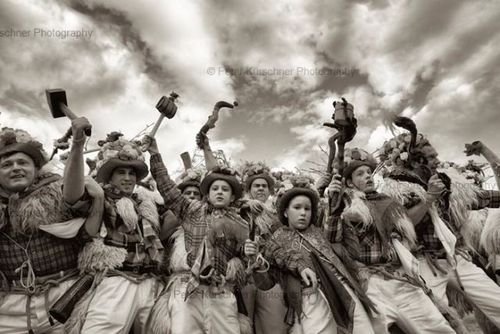 Carnival. © Petar Kürschner Photography, reproduced with permission
Lora Afric, Cataloguer Southern Slavonic Langauges, and Barbara Hawes, Curator Scandinavian Studies
Further Reading:
Niko Kuret, Maske slovenskih pokrajin. (Ljubljana, 1984.)  X.421/27014
O pustu, maskah in maskiranju: razprave in gradiva. (Ljubljana, 2003.)  YF.2011.a.21529
Ivo Jardas, Kastavština: građa o narodnom životu i običajima u kastavskom govoru, in Zbornik za narodni život i običaje, knj. 39. (Zagreb, 1957.) Ac.741/15
Lidija Nikočević, Zvončari i njihovi odjeci. (Novi Vinodolski, Zagreb, Pazin, 2014.) YF.2015.a.2654
Gary Edson, Masks and masking: faces of tradition and belief worldwide. (London, 2005.)  YC.2006.b.904
Masque et carnaval dans la litterature europeenne,  ed. Edward Welch. (Paris, 2002.)  YA.2003.a.11995.