20 February 2015
Overwintering: the Dutch search for the Northwest Passage
The phrases  'Overwintering on Nova Zembla' and 'The Saved House' are ubiquitous in Dutch culture. They refer to one of the most remarkable events in Dutch maritime history that took place at the end of the 16th Century. To this day every Dutch schoolchild learns about Willem Barents and Jacob van Heemskerck's ill-fated expedition of 1596, which saw its 17 members stranded on Novaya  Zemlya  for ten months during the polar winter.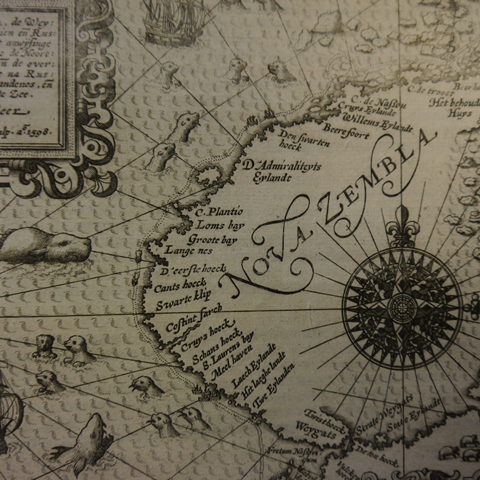 Novaya Zemlya, detail from Caerte van Nova Zembla, de Weygats, de custe van Tatarien en Ruslandt (Amsterdsm, 1598) British Library 436.b.18.(3.)
The aim of the expedition was to find a passage through the Arctic to Asia, thus shortening trade routes, as well as avoiding the Portuguese, who were still masters of trade in the East. For centuries efforts were made to discover a route through the Arctic, based on the mistaken belief that sea water could not freeze.
Our current exhibition 'Lines In The Ice: Seeking the Northwest Passage'  tells many stories of adventure, bravery and extreme suffering, endured in search of a Northwest passage through the Arctic. A previous post on our Americas blog discusses how British crews dealt with the cold, darkness and boredom that came with staying the winter in the Arctic during the 19th century. 250 years earlier Barents' and Van Heemskerck's  expedition had ended up on Novaya Zemlya (or Nova Zembla as the Dutch know it) for the winter, after their ship also got stuck in the ice. One of their fellow-officers , Gerrit de Veer,  kept a diary during the expedition, from 16 May 1596 to 1 November 1597, which was published in Amsterdam in 1598 and is one of the first items in the exhibition.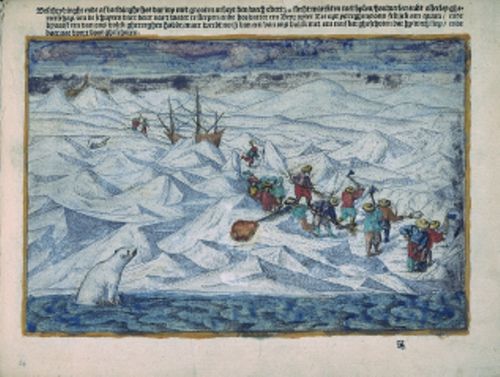 Illustration from Gerrit de Veer's Waerachtighe Beschrijvinghe van drie seylagien... (Amsterdam, 1598, British Library C.133.e.34)
In his diary Gerrit de Veer also describes the previous two polar expeditions undertaken by Barents, in 1594 and 1595. It must be every historian's dream to be locked up for months with the person whose travels you are writing about.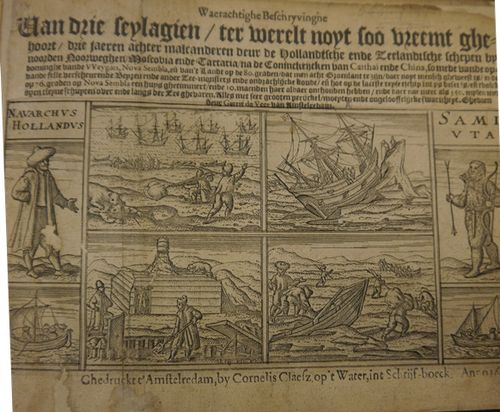 The illustrated title-page of Gerrit de Veer's account
De Veer writes fluently, in an almost literary style, which makes for a gripping read.  He vividly depicts how the ships had to navigate skilfully to avoid icebergs, whilst sailing ever further North.  The commander of one of the ships, Jan Cornelisz Rijp decided not to continue and returned to Amsterdam. The following year he would meet the survivors of the expedition on the Kola peninsula.
Barents and Van Heemskerck pressed on further North. Although they managed to round the northern tip of Nova Zembla, they did not get far after that.  They had to turn back because of the ice and eventually their ship got stuck and they could go no further.
We feel their horror as they realise they are trapped, with winter approaching. We follow in detail how they built a cabin ('Het Behouden Huys', i.e. 'The Saved House') from fallen trees and some wood from the ship. Then they hauled the cargo from the ship into the cabin, including a clock, which they managed to keep running until it froze due to the extreme temperatures. The crew kept track of time using the ship's navigation instruments and the twelve hour glass.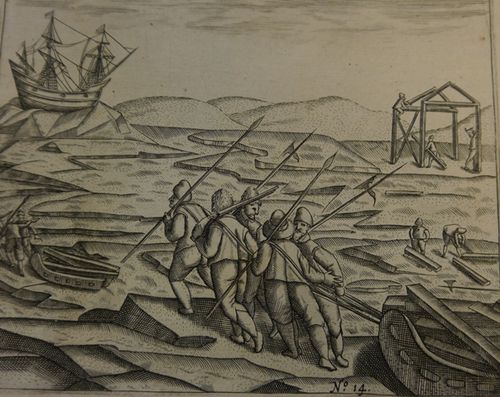 Hauling wood to build 'The Saved House'
On 7 December they narrowly escaped death from carbon monoxide poisoning when they burned coal, whilst having plugged every hole in the cabin to keep the cold out. They just managed to open the door. By Christmas despair gripped the men - the cold was almost insufferable, they got snowed in and they couldn't wait for the sun to return. The firm leadership of Barents and Van Heemskerck kept the discipline and the men's spirits were lifted by a 'feast meal' on Epiphany of rations they had put aside. On New Year's Day they started using the wine; because there was no end in sight to their adventure some men kept this 'for emergencies'(!). 
When they did go out they kept themselves busy building traps to catch arctic foxes for food (they made hats from the fur), inspecting the ship and playing sports. They killed several polar bears, but did not eat the meat, apart from one time when they cooked a liver. That made them very ill with hypervitaminosis A, which De Veer was the first to describe.  After that experience they left off the bear meat and only used the fat to burn oil lamps.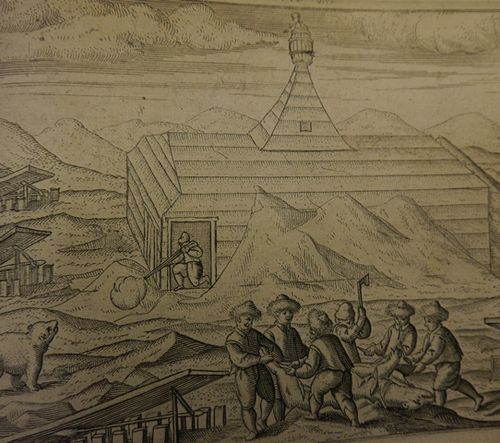 Killing and butchering polar bears
De Veer was also the first to describe a natural phenomenon that is now known as the Novaya Zemlya Effect.  Two weeks before the sun was due to re-appear he and others saw it rise. De Veer describes how he tried to verify his and other's observations by making calculations of their position. He was not to know that the sun he saw was only a mirage.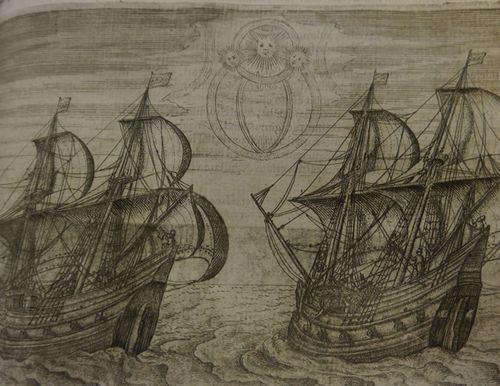 De Veer's image of the Novaya Zemlya effect
The men suffered from scurvy, and one fell ill and died. When the sun finally did return they waited to see if the ship would come free of the ice. When this did not happen they prepared two open boats and set sail for Kola. Again De Veer details their progress from day to day in milage. When they arrived they were warmly greeted by some Russians - and by their fellow explorer Rijp!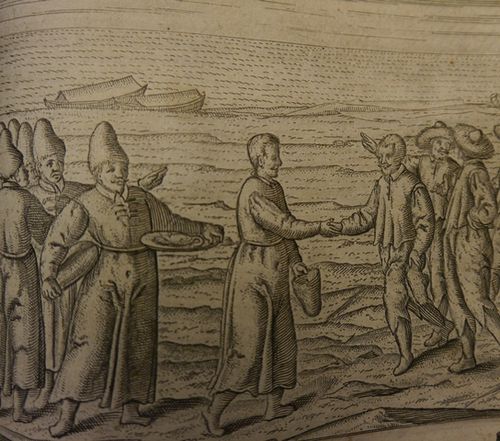 Welcomed by the Russians on Kola
Only 12 of the original 17 crew made it back to Amsterdam. Four men, including Barents himself died during that perilous journey  in open boats, exposed to the elements. Their graves have never been found.
No wonder then that Gerrit de Veer's account of the overwintering became an instant hit. It was published in Dutch in 1598; in the same  year  Latin and French translations were published in Amsterdam by C. Nicolaas , and a German translation appeared in Nuremberg . An  English translation, followed in 1609 (The full text is available via Early English Books Online).
De Veer's account has also been published by the Van Linschoten Vereeniging, a publisher specializing in accounts of explorations by the Dutch (Ac.6095.), by and its English counterpart, The Hakluyt Society (Ac.6172/12).
However, arguably the best known depiction of the overwintering on Nova Zembla is the work by history painter and illustrator Johan Herman Isings (1884-1977), pictured below.  Printed on a large format, mounted on canvas like a map these plates were used in history classes to illustrate the topics discussed.  



From: J.A. Niemeijer, J.H.Isings. (Kampen, 2000) Reproduced with kind permission of Kok Uitgeverij
References:
Gerrit de Veer, Waerachtighe Beschrijvinghe van drie seylagien, ter werelt noyt soo vreemt ghehoort, drie jeeren achter malcanderen deur de Hollandtsche ende Zeelandtsche schepen by noorden, Noorweghen, Moscovia, ende Tartaria, na deconinckrijcken van Catthay ende China, so mede vande opdoeninghe vande Weygats, Nova Sembla, eñ van't landt op de 80. gradẽ, dat men acht Groenlandt te zijn ... (Amsterdam, 1598) C.133.e.34. and  436.b.18.(3.)
French translation:  Vraye description de trois voyages de mer ... faicts en trois ans par les navires d'Hollande et Zelande au Nord ... vers les royaumes de China et Catay ... Par G. Le Ver  (Amsterdam, 1598). G.6617.(3.) and 455.b.10.(3.)
Latin translation:  Diarum nauticum, seu vera descriptio Trium Navigationum ... factarum a Hollandicis & Zelandicis navibus ad Septentrionem, supra Norvagiam, Moscoviam & Tartariam, versus Catthay & Sinarum regna ... [Translated by Charles de l'Écluse.] (Amsterdam, 1598) G.6832.(2.) and 566.k.15.(5.)
German translation: Warhafftige Relation. Der dreyen newen unerhörten, seltzamen Schiffart, so die Holändischen vnd Seeländischen Schiff gegen Mitternacht, drey Jar nach einander, als Anno 1594. 1595. vnd 1596. verricht. Wie sie Nortvvegen, Lappiam, Biarmiam, und Russiam, oder Moscoviam ... umbsegelt haben. [Translated by Levinus Hulsius] (Nuremberg, 1598) 978.d.1.  and C.114.c.9.
English translation: The true and perfect description of three voyages so strange and woonderfull, that the like hath neuer been heard of before: done and performed three yeares, one after the other, by the ships of Holland and Zeland, on the north sides of Norway, Muscouia, and Tartaria, towardsthe kingdomes of Cathaia & China. ... (London, 1605)  303.c.5. and G.2757.
Marja Kingma, Curator Low Countries studies