11 February 2015
Spaniards in Victorian London, 1841 and 1856
The second edition of Gil de Tejada's guide to London for Spaniards (Guía de Lóndres. London, 1856. British Library 10351.d.33) has been in the British Library since it was received by legal deposit in 1856.  I was able to buy the first edition from a dealer in Spain in 2006.
Guia del extrangero en Lóndres, por D. Antonio Gil de Tejada (Lóndres: en la Imprenta de Vicente Torras, No. 7, Palace Row, New Road, 1841. Publicado por Houlston y Hughes, 154, Strand, entre Somerset House y King's College, 1841). British Library RB.23.a.29673.

All I know about Gil de Tejada is gleaned from his two books. From 1843 to 1849 he was a teacher of Spanish in the University of London (University College, I presume, but note that the publisher of the first edition was next to King's College); in 1856 his book was to be had from his guest house ("en la casa de huéspedes del autor, 30, Harley Street, Cavendish Square") and the principal bookshops of the United Kingdom. I can only assume that, like the other teachers of Spanish in the University at the time such as Alcalá Galiano, he was a political exile. (His first printer's offices were steps away from that hotbed of liberalism, 142 Strand.) He waxes lyrical about the freedom of cults: he does though refer to "us catholics" and looks askance at the Protestant work ethic: the only religious holidays are Sundays, Good Friday and Christmas Day, because "time is money" (1856:135).

The 1856 edition is much expanded from the first. In 1841 there is mostly tourist information with a historical bent (he begins with a citation of Tacitus). In 1856 there is more help for the Spaniard who wants to understand British life and values.  

On Boxing he writes: "The English call this exercise with gloves Sparring; but the iniquitous and often fatal misuse which has been made of it is unworthy of a civilised people; and more barbaric beyond compare  [sic]  than our bullfights" (1841:119).

In 1856 he lists Spanish firms in London and London firms that deal with Spain (37).

The section on prisons (1841:36-43) is much expanded in 1856 (86-101) with new information on charitable institutions such as workhouses and hospitals and "hospitales de dementes". Pride of place is given not to Bedlam (97) but Hanwell (97-101), "the best asylum in the world." "Nothing better paints the progress of human society since the beginning of the century than the changes in treatment of the patients."  

All the rooms have their heaters and are gaslit. The patients work as cabinet-makers, printers, tailors, and glaziers. There are inspections every fortnight. The sexes are educated separately, studying vocal and instrumental music, and recreational applications of physics and chemistry; leisure facilties include dominos, billiards, and cards; there are pianos and a library.  The cure rate is 60 per cent ("¡un 60 por 100!" he exclaims).

Gil makes little comparison between Britain and Spain, but his knowledge in 1856 appears to be the product of first-hand experience and mature reflection. Gil had used his years between lecturing in Spanish and running a guest house wisely.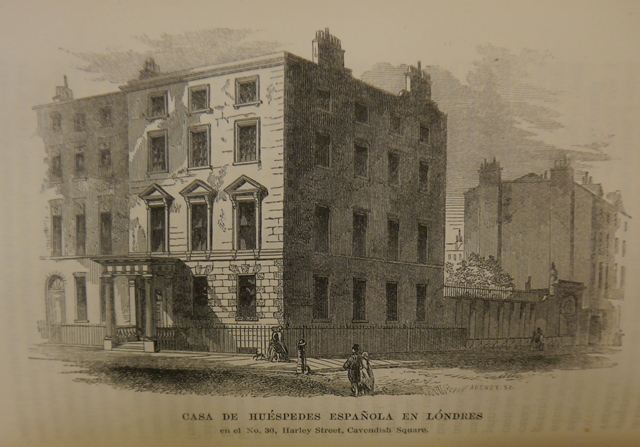 Gil de Tejada's guest house, from Guía de Lóndres, 2nd ed.,  facing p. 57.

Barry Taylor, Curator Hispanic Studies

References:

José Maria Jiménez de Alcalá, A grammar of the Spanish language for the use of students in King's College, (London, 1833) reproduced in facsimile from the second edition (1840)  with an introduction by David Hook.  (London, 1998).  YC.2003.a.15962

Rosemary Ashton, 142 Strand: a radical address in Victorian London (London, 2006).  YC.2007.a.14696