19 March 2015
The Cervantes Corpus
The jury is out about the question whether the remains exhumed in Madrid are those of Miguel de Cervantes, creator of Don Quixote (pronounced 'QUICK sot' in English).

The BBC's Will Gompertz (picture below from BBC i-Player) came to the British Library  on Tuesday 17 March  to supplement the news item with a view of some choice early Cervantina.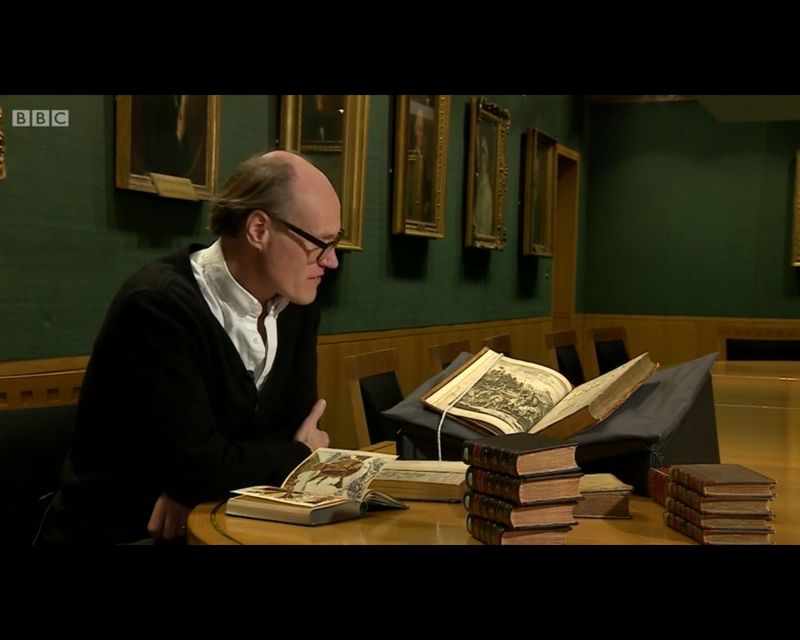 In the picture we can see:  the princeps (Madrid, 1605), the English translation of Philips (1687),
and an English version of Part 1 illustrated by Salvador Dalí (New York,1946).

I'm also reminded by this talk of the corporeality of Cervantes that there is no undisputed portrait of him.  The best document is what he himself says of himself in the prologue of the Novelas ejemplares.  Had there been a portrait in his book, he says:  
My friend might have written under it—'This person whom you see here, with an oval visage, chestnut hair, smooth open forehead, lively eyes, a hooked but well-proportioned nose, & silvery beard that twenty years ago was golden, large moustaches, a small mouth, teeth not much to speak of, for he has but six, in bad condition and worse placed, no two of them corresponding to each other, a figure midway between the two extremes, neither tall nor short, a vivid complexion, rather fair than dark, somewhat stooped in the shoulders, and not very lightfooted: this, I say, is the author of  Galatea, Don Quixote de la Mancha, The Journey to Parnassus, ... commonly called MIGUEL DE CERVANTES SAAVEDRA'.

                                            Don Quixote 12491.m.1, opposite 642
                              Retrato de Miguel de Cervantes (1547-1616), de Juan de Jáuregui (1600).
When artists came to illustrate the Knight of the Doleful Countenance, they produced a portrait which to my eye resembles Cervantes's pen self-portrait: author and creation combined.

But what can a man's face or body tell us? What greater monument can any author leave but his works?

References
The Exemplary Novels of Miguel de Cervantes Saavedra. Translated from the Spanish by Walter K Kelly. London, 1881. 2504.a.16


Barry Taylor, Curator Hispanic studies