24 April 2015
"As though everyone were alive…"
Type the word "Chernobyl" into our online catalogue, and a few thousand results will come for your attention. Unsurprisingly most of them will be scientific articles in academic journals and papers from international conferences as in the 29 years since the Chernobyl disaster a lot has been done by the world scientific community to assess the tragic event on 26 April 1986 and its consequences in all aspects. Articles and books have been published in many countries in various languages.  At the moment 13 theses about Chernobyl from universities in the United Kingdom are listed in our catalogue.
In addition our Belarusian and Ukrainian Collections offer researchers  ethnographical studies of the region of Polesia which was most severely affected by the catastrophe, as well as valuable albums of photographs by intrepid journalists who regularly visit the Chernobyl Exclusion Zone. In the Zone they take pictures of the rich wildlife there and of people who refused to leave their ancestral land and continued living in the contaminated places (they are called samosely).
Albums from our Collections
For the commemoration of the tenth anniversary of the catastrophe Ukrainian photographers published the album Imennia zori Chornobyl ('The star is called Chornobyl'; Kyiv, 1996; YA.2001.b.4323) and five years later the bilingual album Chornobyl: chas podolannia = Chornobyl: time of overcoming (Kyiv, 2001; LB.31.a.9541). British independent photographer John Darwell  travelled to the Exclusion Zone and produced a memorable album entitled Legacy. Photographs inside the Chernobyl Exclusion Zone (Stockport, 2001; LB.31.a.10507).
One of the most impressive albums was published in 2006 to commemorate the 20th anniversary of the catastrophe by the well-known Belarusian photographer, ethnographer and publisher Dzianis Ramaniuk  with the title and text in three languages: Charnobyl / Chernobyl / Tschernobyl (Minsk, 2006; LF.37.b.78) It contains outstanding colour and black-and-white photographs by Ihar Byshniou, Anatol Kliashchuk and Dzianis Ramaniuk. The album gives a comprehensive overview of the nature and history of the region and its inhabitants. The German photographer Rüdiger Lubricht took pictures of abandoned villages and of samosely and of people who were involved in dealing with the immediate results of the catastrophe (Verlorene Orte. Gebrochene Biografien (Dortmund, 2012) LF.31.a.4052). The most recent photographic album by German photographer Gerd Ludwig (he visited the Chernobyl area nine times in recent 20 years), The long shadow of Chernobyl/Der lange Schatten von Tschernobyl/L'Ombre de Tchernobyl (Baden, 2014 [Awaiting shelfmark]) with an essay by Mikhail Gorbachev has already been acquired for the British Library.  
This great catastrophe on an apocalyptic scale inspired poets from various countries – from Belarus to Wales and Venezuela – to reflect about it and the future of the nuclear energy.
Books of poetry from our Collections
A poet from Venezuela, Lucila Velasquez (1928-2009), was one of the first to write a long poem El Arbol de Chernobyl = Tree of Chernobyl (Caracas, 1989; YA.1993.a.6858) based on her meditation about the catastrophe and the future of humankind. Poems by Belarusian authors were collected in the anthology Zorka Palyn (Minsk, 1993; YA.2000.a.14105). In Britain, poet and environmentalist Mario Petrucci published two poetry books: Half life: Poems for Chernobyl (Coventry, 2004; YK.2006.a.9836) dedicated to the prominent Belarusian writer and investigative journalist Svetlana Alexievich) and Heavy water: A poem for Chernobyl (London, 2004; YK.2005.a.16818). Some of these poems can be found here. Later two versions of a documentary film were made based on Petrucci's poem: Heavy Water: A film for Chernobyl and a shorter version called Half Life: A journey to Chernobyl. They were shown at various festivals (one of reviews is available  here).
The Ukrainian poet, translator and journalist Liubov Sirota, who is a native of Pripyat and witnessed the catastrophe with her own eyes, writes extensively on the subject. Some of her poems are accessible online. The title of my blog which just touches on our vast collection about Chernobyl derives from Sirota's poem "To an Angel of Pripyat". The poem is dedicated to the talented young pianist Olenka Chemezova, who died from cancer in the summer of 1995. It was published in a photo album of the same name.  The poet imagines that the ghost city of Pripyat is returning to life through the magic touch of the young pianist:
The darkened eye sockets of dead buildings
will once again be filled with the heat of human beings…
The city will hold its breath for a moment
while you descend into your house…

And again a thousand voices from the street
will begin to sound the former daily happenings…
as though everyone were alive, and all had returned,
as though the city were still alive….
(Translated from the Russian by Liubov Sirota and Debra Romanick Baldwin)
Liubov Sirota worked together with Rolland Sergienko to create the film Porog ('Threshhold') about Chernobyl. The British Library does not hold many DVDs from Eastern Europe, but it has a DVD of the Belarusian film-maker Viktor Korzun's, Verytsʹ tolʹki vetru: Charnobylʹ 20 hadoŭ paslia (Minsk, 2007; EF.2013.x.26)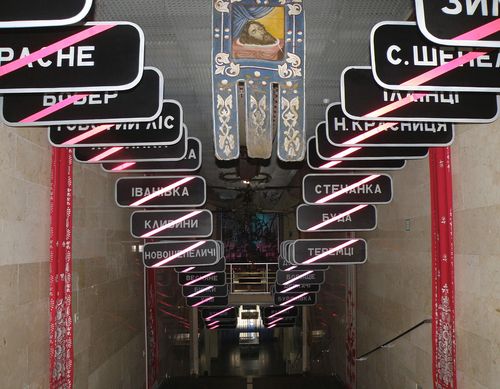 Names of Lost villages, in the  Ukrainian National Chornobyl Museum (Photo by Volodymyr Levchuk from Wikimedia Commons)
Music is another powerful vehicle to express the human pain and horror caused by the Chernobyl catastrophe. Some specimens of musical works about Chernobyl are available in our Sound collections: from Chernobyl by Blanck Mass and Chernobyl Rain by Hibbs (Gong) to orchestral music (Chernobyl by Nancy van de Vate, performed by the Polish Radio and Television Symphony Orchestra). New musical works about Chernobyl are created every year. It is heart-warming to find out that on Sunday 26 April 2015 the London-based Ukrainian composer Alla Sirenko will present the premiere of her own work in London dedicated to the victims of Chernobyl and Fukushima.
Olga Kerziouk, Curator Belarusian and Ukrainian studies
References
Aleksievich, Svetlana. Voices from Chernobyl: chronicle of the future. Normall, Il., 2005. m05/30342
Medvedev, Zhores A. The legacy of Chernobyl.   Nottingham, 2011. YC.2012.a.15740
Mycio, Mary. Wormwood Forest: a natural history of Chernobyl. Washington, D.C., 2005. YC.2006.a.10733
Park, Chris C. Chernobyl. The Long Shadow. London, 1989. YC.1989.a.6423
Read, Piers Paul. Ablaze: the story of Chernobyl. London,1993. YK.1995.a.2707
Shcherbak, Iurii.  Chernobyl: a documentary story (translated from the Ukrainian by Ian Press; foreword by David R. Morples). Basingstoke,1989.  YC.1989.a.8562 and 89/12279.