29 April 2015
While we look forward to celebrating literature in translation at this year's European Literature Night events, this post considers how we are not always as open to translations in the UK and wonders if attitudes have changed over the centuries...
When Yasmina Reza's play Art came to the London stage, the posters  gave prominence to the three actors (largely well-known comedians) who starred in it on a rotating basis, but far less prominence was given to the of the author, and there was no mention of the fact that the play was translated from the French.
The New Horizons series of books, published by Thames & Hudson in the UK, are translations from the French Découvertes Gallimard.  However, the foreign author's name doesn't appear on the cover or spine, and isn't revealed until the title page.
This authorial disguising of course has a long history, but I wonder if the motivation has changed.
When in 1589 the English publisher of Boccaccio's Fiamettta gave him the name 'John Boccace' I don't think he was hiding anything, any more than Gower was pulling the wool over his readers' eyes when he cited 'Dan Aristotle' (CA, III, 86) or the Old Spanish Book of Alexander  when it similarly called the Stagirite 'Don Aristatiles' (stanza 33): these were authors of European stature, as much at home in England as in their countries of birth.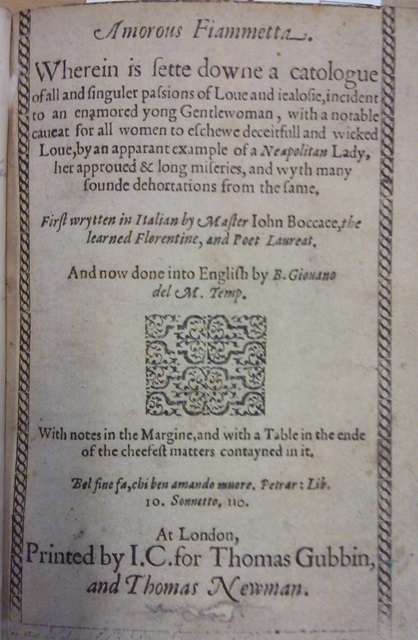 Boccaccio, Giovanni, Amorous Fiammetta, translated by Bartholemew Young (London, 1587). British Library C.57.b.46. (Having anglicised Boccaccio's name, in a curious reversal the translator italianises his own to  'B. Giovano')
As a student I was struck by Spanish translations of the works of  'Carlos Dickens'.  So far as I can judge from the Spanish union catalogue, around the 1950s he started to appear under his own name.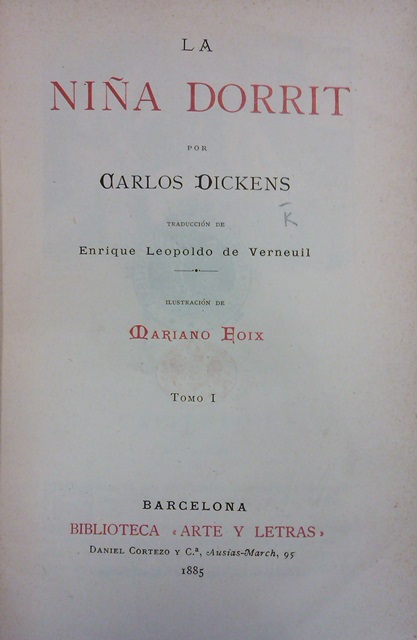 Little Dorrit  translated as La Niña Dorrit by 'Carlos Dickens' (Barcelona, 1885). 12613.dd.7.
I wonder: do the first two examples above speak of internationalism or nationalism?  Do we think English is the world language because it's perfect, or just because it's practical?
Mind you, my name doesn't have a Spanish translation, but I've never been asked to go undercover by my saint's day, and  I could have chosen from: Augustine, bishop, confessor, Doctor of the Church; Clarus, confessor; Hermes, martyr; Julian, martyr; Pelagius, martyr; Secundus and Alexander (and Abundus), martyrs.
Barry Taylor, Curator Romance collections