07 April 2015
Speaking truth to power
We live in an age of increasing demagogery and gesture politics; but like most features of our over-excited media culture this too has its predecessors.
Antonio de Guevara is a forgotten best-seller.  His Libro aureo del emperador Marco Aurelio / Golden Book of Marcus Aurelius (1528), rewritten by him as Relox de principes / Diall of princes  (1529) is a fictionalised life of the Roman Emperor Marcus Aurelius (ruled 161 to 180 AD), best known nowadays for his Meditations, written in Greek and rediscovered in 1558: thus Guevara's work predates by thirty years the princeps of the Meditations, edited by Xylander in Greek and Latin.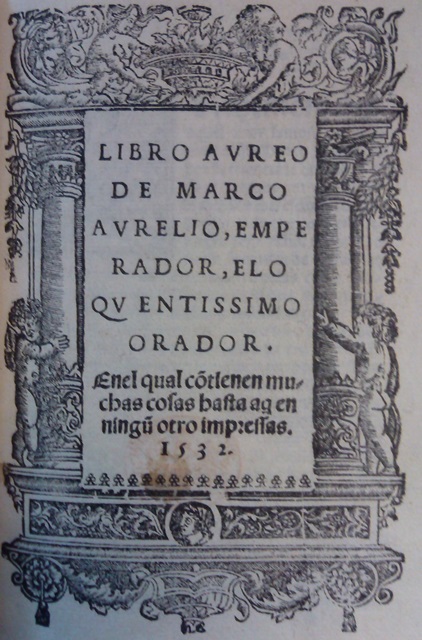 Title-page of an early edition of Guevara's Libro aureo del emperador Marco Aurelio (Venice, 1532). British Library C.53.b.9.
So speaks the true Marcus:
The art of true living in this world is more like a wrestler's than a dancer's practice.  For in this they both agree, to teach a man whatsoever falls on him, that he may be ready for it, and that nothing may cast him down.  (Meditations VII.33)
The historical Marcus was responsible for fighting a campaign on the Danube. In Guevara's account he is visited by a 'Villayn of the Danube', who tells the Emperor like it is:
The first year that I was consul, [Marcus recalls] there came a poor villayn from the river of Danubie, to ask justice of the senate, against a censure, who did divers extortions to the people.  And he had a small face, and great lips, and hollow eyes, his hair curled, bare headed, his shoes of a porkepes [hedgehog] skin, his coat of goat's hair, his girdle of bullrushes, and a wild eglantine in his hand.  It was a strange thing to see him so monstrous, and marvel to hear his purpose [speech].  Ceratainly, when I saw him come into the senate, I wende it had been some beast in the figure of a man and after I had herad him, I judged him one of the gods, if there be gods among men. [...]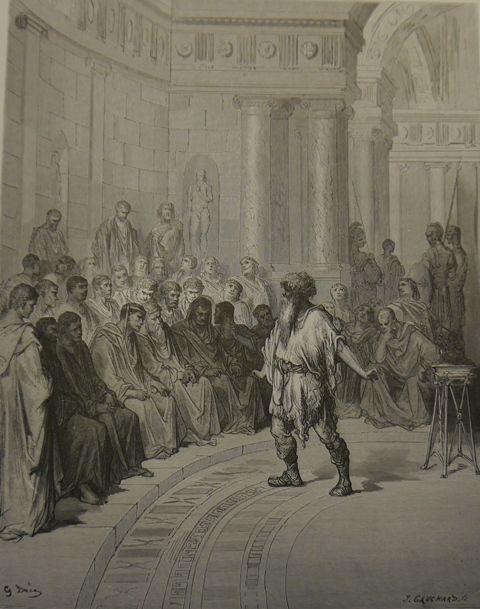 The peasant of the Danube addresses Marcus Aurelius. Illustration by Gustave Doré from Jean de La Fontaine, Fables … (Paris, 1867) 1872.b.29.
The Villayn's oration runs as follows:
"An infallible rule it is that he that taketh wrongfully another man's good shall lese the right of his own.  Regard ye romans, though I be a villain, yet I know who is just and right wise, in holding his own; and who a tyrant in possessing others'.  There is a rule, that whatsoever they that be ill have gathered in any days, the gods taketh from them in one day [...]

All ye Romans in your devices about your arms bear these words: Romanorum est debellare superbos, et parcere subjectis.  That is it pertaineth to Romans to subdue them that be proud and to forgive subjects.  But certainly ye may better say: it pertaineth to Romans to expel innocents and to trouble and vex wrongfully peaceable people for ye Romans are but destroyers of peaceable people and thieves to rob from other that they sweat for.

If my tongue hath offended you in any thing, I am here ready to make recompense with my throat.  [the Spanish says: he aqui me tiendo en este suelo para que lo pague mi garganta: see I prostern myself here on the ground so that my throat may pay the price] for in good sooth, I had rather to win honour, offering myself to the death than ye should have it in taking my life from me [...]"

The Villayn wins the day: he is made  a patrician and given a government pension.

Carlo Pincin has revealed the villayn's debt to Marcolfus: both are unbowed in the face of authority and empire.
 
References
The Golden Boke of Marcus Aurelius, tr. Lord Berners (London, 1546), chapters xxxi-xxxii, sigs N5v-O4r.  C.71.a.31.

Carlo Pincin, 'Due note su temi spagnoli: Guevara lettore di Salomon et Marcolfus', in Studi in onore di Remo Martini (Milan, 2008-2009), III, 153-66. Awaiting shelfmark; part of the article is available here
Barry Taylor, Curator Hispanic Studies