09 April 2015
The Eyes Have It
Some of the most disturbing scenes in literature have been evoked through imagery of the eyes. They mirror the soul, they express love and loathing, joy and sadness, courage and fear, and encompass so much of what is human in us. Yet with their precious complexity comes a dreadful vulnerability. King Lear has one of the most shocking scenes in drama when Gloucester's eyes are gouged out by Cornwall. In the Japanese ghost story, The Eyes! The Eyes! a young man dares to stay the night in a derelict temple with a decaying Shoji screen believed to be impregnated with the eyes of evil spirits. The next morning only his eyes are found wrapped in a dirty rag. The blue eyes of Dracula in Bram Stoker's novel flame red with a horrible vindictive look, and in Charlotte Brontë's Jane Eyre Rochester's violently insane wife Bertha is "like a foul German spectre, a vampire, with fiery red eyes".
I recently came across a short story by E.T.A. Hoffmann, the German writer, composer and painter, who was an early exponent of this kind of imagery. In Der Sandmann of 1816 he portrayed a folkloric figure who sprinkled sand in the eyes of mischievous children to make them sleep when they wouldn't go to bed. Nathanael, a child and the main protagonist, associates the Sandman with a mysterious character called Coppelius who regularly visits his father to conduct alchemical experiments. The essence of the story is Nathanael's progression into mental illness, born of a naturally unstable mind and exacerbated by the stories of the Sandman as a child.
E.T.A. Hoffmann, based on a self-portrait reproduced in Ludwig Zacharias Werner, Aus Hoffmann's Leben und Nachlass (Berlin, 1823). British Library 10706.b.41.
While the other examples I have given relied on graphic scenes for their effect, apart from one such description at the start of the story the threat to the eyes is maintained by Hoffmann more obliquely, and competes with other strong motifs such as mechanical devices and laughing. For example, when Nathanael is discovered hiding in the room where Coppelius is carrying out an experiment, he is referred to by Coppelius as 'eyes' rather than a boy: "'Augen her, Augen her!' rief Coppelius mit dumpfer dröhnender Stimme … 'Nun haben wir Augen – Augen – ein schön Paar Kinderaugen'." ('"Eyes here! Eyes here!" cried Coppelius with dark roaring voice … "Now we have eyes – eyes – a beautiful pair of children's eyes."')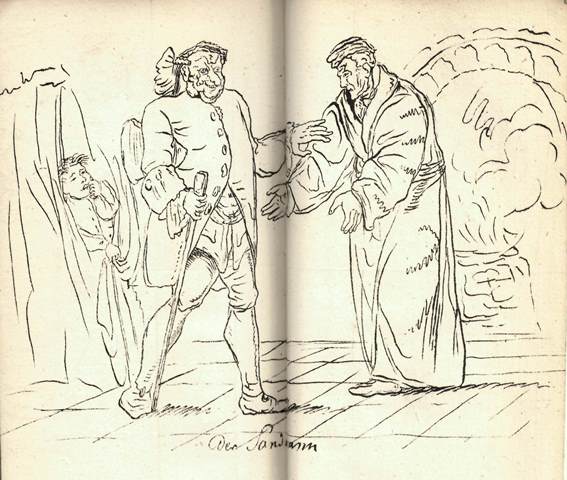 Nathanael hiding during Coppelius's experiment; drawing by Hoffmann, reproduced in Ludwig Zacharias Werner, Aus Hoffmann's Leben und Nachlass
But his one explicit example is strikingly frightening, particularly as it involves children, whose only half-formed minds struggle to rationalise the fear they experience. Their nanny tells them that if they won't go to bed the Sandman will come and throw sand in their eyes. Their eyes will bulge, drip blood and fall out. They will be taken away to the Sandman's own children who live in a nest and have curved beaks like owls which they use to peck at and eat children's eyes. The hard vowels in German reinforce the image – "damit picken sie der unartigen Menschenkindlein Augen auf".
The eyes motif is sustained throughout the story. Clara, Nathanael's fiancée, has eyes that "springen in Nathanaels Brust wie blutige Funken sengend und brennend" ("spring into Nathanael's breast, burning and sizzling like bloody sparks") and, when their love fails and Nathanael becomes infatuated with Olimpia, whom he has only seen at a distance through a telescope, she is finally revealed as merely a mechanical doll which ends up shattered on the floor, its eyes lying randomly amongst the remnants of the wooden corpse: "Nun sah Nathanael, wie ein Paar blutige Augen auf dem Boden liegend ihn anstarrten, die ergriff Spalanzi … und warf sie nach ihm, daß sie seine Brust trafen". ("Now Nathanael saw a pair of bloody eyes lying on the floor staring at him, which Spalanzi seized and threw at him, hitting him in the chest.")
Hoffmann's use of eye imagery creates powerful pictures in the reader's mind and helps to sustain the brooding menace of the Sandman throughout the story. Sigmund Freud was so impressed by it that he wrote an essay, Das Unheimliche ('The Uncanny'), wherein he interpreted it as a fear of castration. The story has become an important work as an early 19th century example of the horror short story genre.
Trevor Willimott, former Cataloguer, West European Languages