A stitch in time: embroidery as a force for social change
With just a few days left to catch Cornelia Parker's magnificent reinterpretation of the Magna Carta through embroidery, it is time to reflect on the curious paradox which it illustrates. Although embroidery may conventionally be regarded as a cosy domestic pastime with little relevance to issues of social or political importance, it has in fact served throughout the centuries to express, covertly or openly, messages about national identity, economic and gender issues, and human rights in their broadest sense. Rozsika Parker's study The Subversive Stitch: embroidery and the making of the feminine  (London, 1983; British Library X.520/36489) ensured that it could no longer be belittled or dismissed as beneath the interest of serious historians.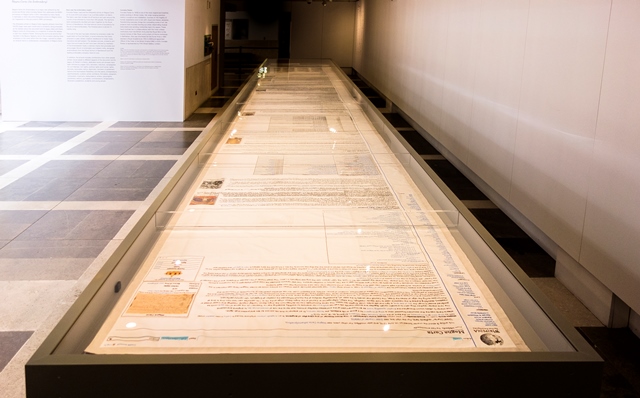 Cornelia Parker's Magna Carta (An Embroidery) on display at the British Library. Photograph © Tony Antoniou

The materials and threads in which embroidery is worked reflect the climate and culture of its origin, as until the 19th century dyes were derived from plants which grew locally; rare or imported substances such as madder and indigo retailed for considerable sums. It was not until the industrial production of aniline dyes  that a wider (and gaudier) palette became available to the needlewoman as  'Berlin woolwork'  (see Jane Alford, Beginner's guide to Berlin woolwork, Tunbridge Wells, 2003; YK.2004.b.2338)  was exported worldwide and with it commercial patterns facilitating the widespread transmission of designs conceived for the mass market.

This reversed the tradition by which distinctive forms of embroidery had evolved in rural communities, such as Hardanger  in Norway (Sue Whiting (comp.), The Anchor book of Hardanger embroidery; Newton Abbot, 1997; YK.2001.a.17530), Hedebo in Denmark (Hanne Frøsig Dalgaard, Hedebo; København: [1979]; X.419/4281)  and Mountmellick  in Ireland (Pat Trott, Beginner's guide to Mountmellick embroidery;  Tunbridge Wells, 2002; YK.2003.b.7757 ). These were worked exclusively in white thread on linen with a variety of intricate cutwork and drawn-thread techniques which often produce a lace-like effect and, as in the case of Hardanger aprons, still worn as part of Norwegian folk costume, identify the wearer's place of origin, like the Aran knitting patterns which had the slightly macabre property of enabling the identification of drowned fishermen.  
Books about embroidery from our collections
In other areas, such as Ukraine (Olena Kulynych-Stakhursʹka, Mystetstvo ukraïnsʹkoï vyshyvky: tekhnika i tekhnolohiia = The art of Ukrainian embroidery: techniques and technology; L'viv, 1996; YA.2001.b.341), whitework existed alongside other types of embroidery executed in cross stitch, predominantly in red and black, which, as in Hungary where the same colours frequently appeared, featured stylized motifs from nature such as birds, animals and the eight-pointed star which is found as far away as Iceland.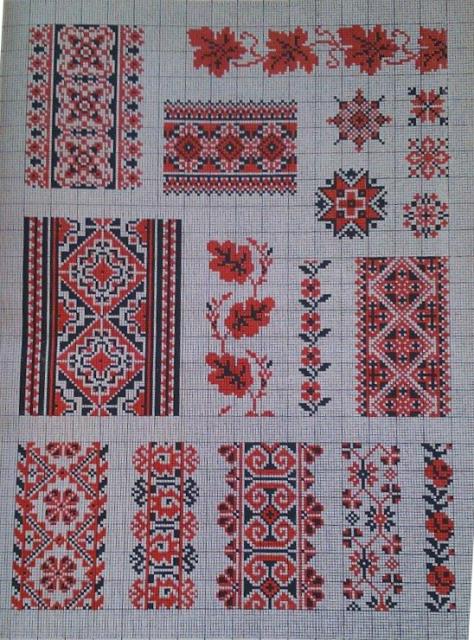 Traditional Ukrainian embroidery patterns, from A. and N. Makhno, Sbornik" malorossiiskikh" uzorov" (Kiev, 1885) J/7743.i.5.
The samplers worked by young girls often included edifying sentiments or Bible verses, and were not merely fancy-work but served the dual purpose of imparting moral virtues and the skills needed to mark and repair household linens. A particularly practical example of this is the samplers, which command high prices nowadays, made by the children taken into the care of George Müller's orphanages in Bristol. Stitched in red, these provided evidence of the makers' abilities, so that when they left the orphanage the girls would be well equipped for posts in domestic service as well as the running of their own homes one day.

While the Industrial Revolution made the large-scale production of textiles possible, handmade items retained a certain status because of the hours of intense labour and dexterity which they required. The comparative crudity of colour, texture and design already noted in mass-produced embroidery materials did nothing to raise the prestige of the medium, and it fell to William Morris to reverse this trend. His wife Jane and daughters Jenny and May were all gifted embroiderers and executed many of the designs which he created. In keeping with his belief in the importance of arts and crafts as a means of social reform, the Ladies Work Society was established in 1875 as part of the wider Arts and Crafts movement which  aimed to foster the applied arts, including textiles,  as worthy artistic disciplines. The Society provided a respectable means of employment for gentlewomen who had needlework skills and education but no other means of making a living and were commissioned to produce decoratively embroidered clothing and textiles through the Society or for sale at its premises in Sloane Street, London. By ensuring fair payment, the Society replaced the exploitation of female textile workers by recognizing and rewarding their talents and helping them to achieve autonomy and economic independence.     
Fittingly, in view of this vision of needlework as a means of stitching one's way to dignity and self-respect and of the message conveyed by Magna Carta itself, much of the embroidery in Cornelia Parker's project was carried out by members of Fine Cell Work, an organization set up in 1997 to send volunteers into prisons to teach the inmates, both male and female, needlepoint as a way of enabling them not only to pass the long hours in their cells profitably but to earn an income while in custody. Lady Anne Tree, its founder, also believed strongly in the therapeutic and meditative quality of needlework, and after many years of lobbying the Home Office changed the law to allow prisoners to earn money during their sentences. While the discovery that such activities have physiological benefits, lowering the blood pressure and heart rate, is comparatively recent, the ethical and social values which Cornelia Parker's Magna Carta embroidery transmits are timeless, and it continues the message of those who throughout history have understood that craft and creativity serve a purpose far beyond the mundane and material.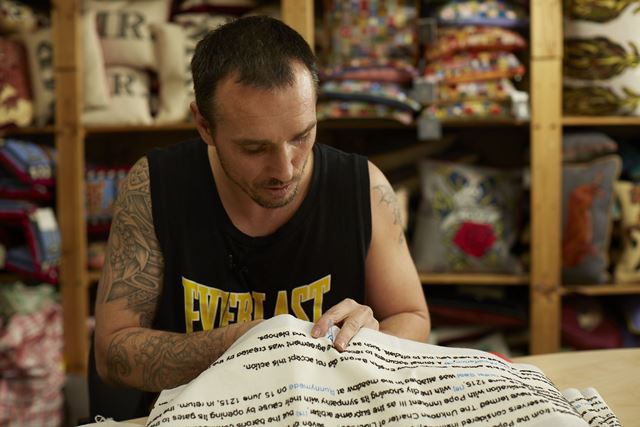 Chris, a member of Fine Cell Work, at work on Magna Carta (An Embroidery) by Cornelia Parker. Photograph by Joseph Turp
 Susan Halstead, Content Specialist Humanities & Social Sciences