06 July 2015
Theophilos and Tériade
As well as being one of the greatest publishers of livres d'artiste in Paris for some five decades [see my earlier blog post on his relationship with Matisse], Tériade played an important role in promoting contemporary Greek art in France and he was a key figure in the discovery of the 'naïve' artist Theophilos. Like Tériade, Theophilos (Theophilos Chatzēmichaēl or Kephalas, 1868-1934) was born in Vareia, a suburb of Mytilene on the island of Lesvos. He spent several years in Smyrna and later in Thessaly (Volos and Pēlion) moving from village to village, painting shop signs and decorating the walls of churches, houses and inns. Most of his work from that period has consequently not survived. His eccentric behaviour and appearance – he dressed in fustanella (the traditional Greek costume) and as Alexander the Great – often made him the butt of cruel practical jokes.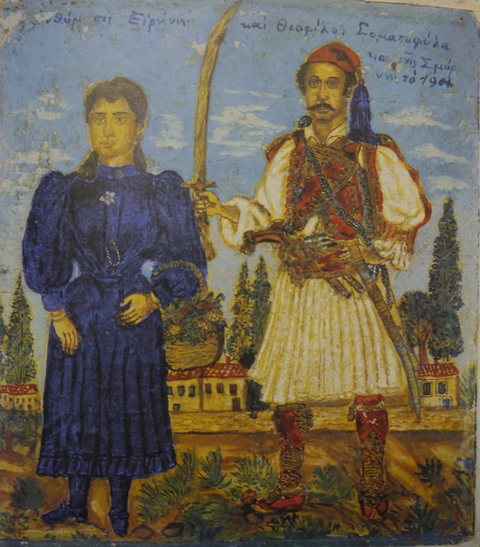 Theophilos and his sister Eirene (1904). Mytilene, Hetairia Lesviakon Meleton.  Reproduced in  Theophilos [Ekdosis Emporikēs Trapezēs tēs Hellados.] (Athens, 1966). British Library J/X.423/1787.
In 1927 Theophilos returned to his birthplace and it was there where Tériade met him, bought some some of his paintings, and commissioned more works from him. This newfound financial security proved beneficial as Theophilos produced some 120 paintings in five years.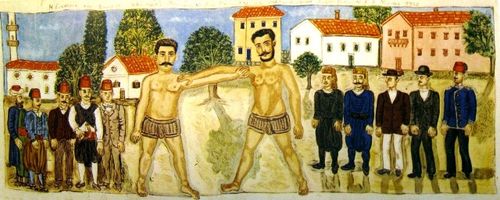 The Wrestlers of Smyrna (1930). Mytilene, Theophilos Museum, Tériade Collection.Reproduced in Theophilos: zōgraphikoi pinakes, Dēmos Mytilēnes-Mouseio Theophilou (Mytilene, 1986) LB.31.b.4493.
His sources ranged from Byzantine art to popular prints and postcards and the subjects of his paintings include Ancient Greek mythology, Byzantine history, portraits, genre scenes, and landscapes. Erotokritos, the great epic poem of the 17th-century Cretan Renaissance was a special favourite.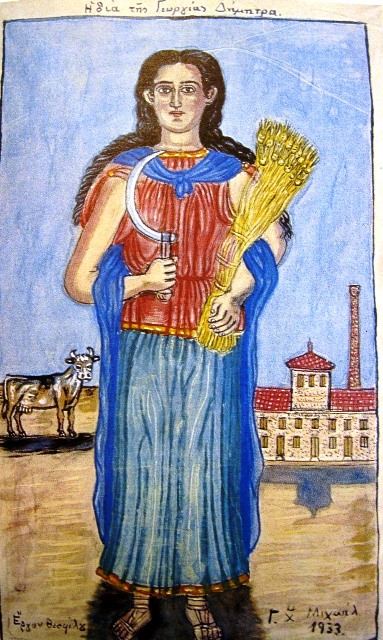 Above: Demeter, the goddess of Agriculture (1933). Mytilene, Theophilos Museum , Tériade Collection. Below: Erotokritos and Aretousa. 1928. Mytilene, I. Deles collection. Both reproduced in Theophilos (Athens, 1966)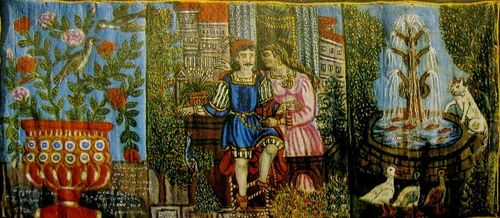 In 1936, two years after the death of Theophilos, Tériade exhibited his work in Paris where it was inevitably compared to the the work of the Douanier Rousseau. An exhibition of his work in Greece had, however, to wait until 1947, thirteen years after his death. It was held in the British Council in Athens, organised by Ronald Crichton. Rex Warner, the director of the institute, described the reactions to the exhibition in the tense political climate of the immediate post-Second World War years and in the midst of the Greek Civil War. The Communist press saw Theophilos as a popular artist and a man of the people and therefore gave the exhibition its approval with the warning, though, that it was being held "by the wrong people, in the wrong place, and in the wrong way". Right wing groups were also negative as they detected elements of Stalinist art in the style of Theophilos!
Despite the controversy (or, perhaps, because of it) the exhibition was a great success consecrating Theophilos as the epitome of Greekness. George Seferis gave a deeply-felt inaugural speech, published in the May 1947 issue of the journal Angloellēnike epitheorēsē (PP. 7618.dq) which was dedicated to Theophilos. Most of the works were lent by private collectors, notably by Andreas Empeirikos, Nikolaos Hatzēkyriakos-Gkikas (Ghika), Angelos Katakouzēnos, Alexandros Xydēs, and Odysseas Elytēs, in other words the cultural elite of Athens. In his speech Seferis talked about his gratitude to those who had had the foresight to recognise the genius of the artist, did their best to protect his paintings from destruction, and lent to the exhibition some of the best works still remaining in Athens – the last remark surely a reference to Tériade's removal of Theophilos's work from Greece.
The final consecration of Theophilos came in 1961 with the exhibition in the Musée des Arts Décoratifs in Paris of 44 paintings from Tériade's collection. In 1965 the Theophilos Museum, financed by Tériade and housing his entire collection of works by the artist, opened in Vareia followed, in 1979, by the Tériade Museum-Library  which holds Tériade's publications and also works by other French and Greek artists.
Perhaps Theophilos himself should have the last word, in the wonderful story recounted with gusto by Seferis in his above-mentioned speech:
Once upon a time, as they say, a baker commissioned a poor painter to paint a picture of him taking loaves of bread out of the oven. The painter started on his work, and when he came to putting in the baker's rake, instead of following the laws of perspective and making it horizontal, he drew it perpendicular, showing the whole breadth of its surface; then, in the same way, he drew a loaf of bread on the rake. A clever man came past and said to the painter, "That loaf of bread is going to fall down, the way you've painted it." Without bothering to turn his head, the painter replied, "Don't worry. Only real loaves fall down; the painted ones stay put, and in a picture one ought to show everything.
A Bakery in Larisa. (1933). Mytilene, Theophilos Museum , Tériade Collection. Reproduced in Theophilos: zōgraphikoi pinakes, Dēmos Mytilēnes-Mouseio Theophilou (Mytilene, 1986)
Chris Michaelides, Curator Romance collections
References
Kitsos Makrēs, Ho zōgraphos Theophilos sto Pēlio (Volos, 1939). YA.1994.a.14281.
Théophilos [catalogue of the exhibition in the Musée des arts décoratifs, June-September 1961]. (Paris, 1961). 7873.bb.29.
Rex Warner, Views of Attica. (London, 1950). 010127.b.20
George Seferis, On the Greek style: selected essays in Poetry and Hellenism. Translated by Rex Warner and Th. D. Frangopoulos. (London, 1967). X.908/9883
Hoi Hellēnes zōgraphoi. Tomos 1. Apo ton 19o aiōna ston 20o. (Athens, 1974). L.R.430.C.10.
Four painters of 20th century Greece: Theophilos, Kontoglou, Ghika, Tsarouchis. (London, 1975). X.410/10030
Tōnēs Spēterēs, Treis aiōnes neoellēnikēs technēs, 1660-1967. (Athens, 1979). X.421/25448.
George Seferis, Dokimes.  (Athens, 1981). X.950/24516.