13 August 2015
Was Stalin "The Monster Cockroach"?
It is very touching to find a copy of your first book in the National Library of a different country. Many people of my generation who were brought up in the Soviet Union might remember the 1967 edition of Korney Chukovsky's poems and fairy tales. Of course, my copy looked much  more 'lively' – it was well read all over, torn and glued together again, and significantly thicker than this BL copy that no child ever touched, because the pages were heavily thumbed and soiled. I then read the same poems and stories to my younger sister, and later  to my sons. I hope the book is still somewhere in my parents' flat in Moscow and that  I will be able to bring it over here to read to my – as yet hypothetical! – British middle-class grandchildren.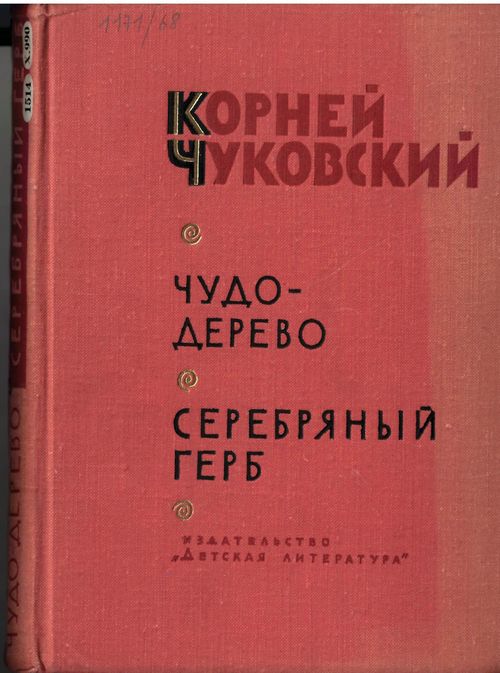 Kornei Chukovskii. Chudo-derevo. Serebrianyi gerb. Moskva: Detskaia literature, 1967. X.990/1514)
The poem Tarakanishche, translated into English as 'The Monster Cockroach' or 'Cock-The-Roach', was written by Chukovsky in 1921 and was one of the first editions was illustrated by Ilya Repin's student and a younger member of The World of Art movement Sergey Chekhonin.
Kornei Chukovskii. Tarakanishche, illustrated by Sergei Chekhonin (Petrograd, 1923) (Image from RARUS'S Gallery)  
One of the first Soviet animated cartoons for children was also based on this fairy tale (1927; director Aleksandr Ivanov, 1899-1959). The Russian Jewish poet  Elizaveta Polonskaya who in the early 1920s attended the literary studio where Chukovsky taught creative writing, later wrote in her memoirs how Tarakanishche came into being. Chukovsky initiated writing, together with his students, a funny book for children. He didn't say what it should be about, but suggested that it should start with a scene of total chaos where animals are rushing and moving about somewhere for no apparent reason. Each of the students formulated a funny line and Chukovsky put them together reciting: 
Bears went to the hike
A-riding on a bike.
Then came Tom-the-Cat,
Back-to-front he sat.
Spry mosquitoes drifted by
In a big balloon on high. (etc. )
Later Chukovsky turned it into a story where a Cockroach appears in the middle of this funny anarchy and becomes a dictator who demands sacrifices. The animals, including bears, wolves and elephants, surrender and only an innocent sparrow, who has not heard about the new regime, accidently eats the dictator. Written according to all the rules of Greek tragedy – the chorus of animals, the deus ex machina (impersonated by a sparrow) and catharsis – this fairy tale, of course, could not have been meant to point the finger at Joseph Stalin, who had not even seized the Communist Party throne by that time.  Chukovsky certainly didn't escape party criticism for inappropriate creativity which was initiated by Lenin's widow Nadezhda Krupskaia in 1928, but he didn't want to disguise a political satire aimed at a certain person under funny verses. In response to this criticism Chukovsky publically promised to write a children's book 'The merry little collective farmers', but instead stopped writing for children until the 1940s. 
However, much later, the link was bound to be made. The features of a dictatorial Cockroach were firstly applied to Stalin by Osip Mandelshtam in his satire Kremlevskii Gorets ('The Kremlin Highlander') in 1933:
His fingers plump as grubs.
His words drop like lead weights.
His laughing cockroach whiskers.
The gleam of his boot rims.  (Translated by Darran Anderson)
Left to right: Osip Mandel'shtam, Kornei Chukovsky, Benedikt Livshits, Iurii Annenkov (photo by Karl Bulla, 1914 from Wikimedia Commons)
In the imagination of people who lived through the Stalin era Chukovsky's story about a monster became associated with the regime. In her memoirs Evgeniia Ginzburg described how it was happening:
'And the cockroach became the victor and the master of the seas and forests. The animals bowed and scraped before Mr Whiskers, hoping the wretch would perish'. Suddenly I started laughing. Anton simultaneously started laughing. Yet Krivoshei became deadly serious. The lenses of his glasses flashed and sparkled. 'What is it you're thinking?' he exclaimed with unusual emotion '… surely not! Surely Chukovsky would not have dared!' Instead of answering, I read on, putting more expression into it: 'And he went around among the animals, stroking his gilded breastplate…' (Ginzburg, p.  341).
Even those who didn't read this book can guess by now that certain Krivoshei who was so worked up about this story was a KGB informer, and laughing at the cockroach's moustaches cost the memoirist her job. 
Now I know what I'll tell my – as yet hypothetical! – British middle-class grandchildren when I'm going to read them funny fairy tales about the monster cockroach and other animals.
  Various Russian and English-language editions of Tarakanishche from the British Library's collections
Katya Rogatchevskaia, Lead Curator East European Collections
References/Further reading:
Vospominaniia o Kornee Chukovskom / Sostaviteli i avtory kommentariev, Elena Chukovskaia i Evgeniia Ivanova.  (Moscow, 2012) YF.2013.a.18834
M. Tskokotukha. Eshche raz o Tarakanichshe, in Nezavisimaia gazeta (23.11.2000): http://www.ng.ru/izdat/2000-11-23/8_tarakan.html
K. Chukovskiĭ. Diary, 1901-1969. Edited by Victor Erlich ; translated by Michael Henry Heim. (New Haven, Conn., 2005) YC.2007.a.1240
Evgenia Ginzburg, Within the Whirlwind, translated by Ian Boland. (London, 1989) YC.1989.a.1567
Kornei Chukovsky, Cock-the-Roach, translated by Tom Botting. (Moscow, 1981) X.992/5087