27 November 2015
A tale of two Françoises: Madame de Maintenon (1635-1719)
When little Françoise d'Aubigné came into the world on 27 November 1635, her future seemed unlikely to be dazzling. True, her paternal grandfather was the distinguished Huguenot poet and patriot Agrippa d'Aubigné, but his son Constant had proved a sore disappointment, and had ended up in prison for conspiring against Cardinal Richelieu. He had married the prison governor's daughter Jeanne de Cardilhac with suspicious haste; Françoise was their last child, following two older brothers. At the time of her birth Constant was still in prison at Niort, and according to some sources she was actually born within the prison walls.
Even after Constant's release in 1639, his profligacy made the family's fortunes unstable, and in an attempt to restore them he swept his wife and children off to Martinique, hoping for a lucrative position in France's Caribbean colonies. The venture foundered, their house burnt down, and Jeanne returned to France with her children in 1647 in such poverty that the two youngest were reduced to begging.  Shortly afterwards Constant died, and Françoise and her brothers Constant and Charles were taken into the home of their Huguenot aunt and uncle Louise and Benjamin de la Villette. This happy interlude ended abruptly when the family of Françoise's godmother Suzanne de Neuillant insisted that she should be raised in the Catholic faith of her baptism and educated in a convent.
However, Madame de Neuillant introduced Françoise to a wider social circle in Paris and brokered a marriage for her with the celebrated author and satirist Paul Scarron. The bride was 15 and her bridegroom 25 years older, but despite this, and the fact that he was grotesquely crippled by rheumatoid arthritis, their shared literary interests made for a stable marriage in which she nursed him until his death in 1652. His pension was continued by Anne of Austria, enabling Françoise to remain in the intellectual world of Paris, but when Louis XIV rescinded it in 1666 she was preparing to set out for Lisbon in the retinue of the new Queen of Portugal when she was saved by an unlikely new friendship.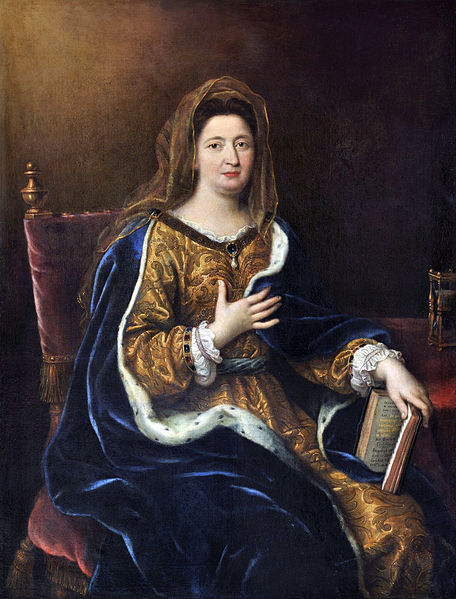 Portrait of Françoise d'Aubigné, marquise de Maintenon (1698), by Pierre Mignard (From Wikimedia Commons)
Françoise Athénaïs de Rochechouart de Mortemart, marquise of Montespan, had been a lady-in-waiting before catching the eye of Louis XIV and displacing Louise de la Vallière as his official mistress. She had dropped her homely Christian name in favour of the more ambitious Athénaïs as a member of the intellectual précieuses, and in these circles met Françoise, took a liking to her, and persuaded Louis to restore her pension. As the relationship with the king bore fruit,  'la veuve Scarron' was appointed to care for the growing brood of illegitimate royal children in a house in the Rue de Vaugirard. Discretion was taken to such extremes that even essential workmen were rarely admitted, and the practical Françoise found herself hanging pictures and curtains and even turning her hand to plumbing when a leak threatened to flood the house.
However, not only constant child-bearing but an excessive fondness for the pleasures of the table (both feasting and gaming) and the bottle would prove the downfall of Athénaïs. Jean Teulé's lively novel Le Montespan (English translation Monsieur Montespan: London, 2010; H.2012/.5122) vividly depicts her taste for fine clothing, her audacious hairstyle, and her capricious nature, which the king found increasingly wearing. Allegations that she was involved in the Affair of the Poisons  did nothing to help her cause, and in 1691 she retired to a convent.
Meanwhile Françoise had become governess to the royal children at Saint-Germain following their legitimation in 1673, and was rewarded by the king with the wherewithal to buy an estate at Maintenon the following year. In 1675 she was granted the title of Marquise de Maintenon, by which she is generally known. Louis appreciated her serene and steadfast temperament, and by the late 1670s had grown to enjoy her witty and well-informed conversation more and more. His Queen, Marie-Thérèse, also benefited from the calmer atmosphere at court following Madame de Montespan's departure in 1680.
Inevitably detractors were eager to attach scandal to the Marquise's name, and anonymous satires appeared, including La Cassette ouverte de l'illustre Criole, ou les Amours de Madame de Maintenon (1694; 1480.a.6.(1.), possibly by Pierre Le Noble, and Scarron aparu à Madame de Maintenon et les reproches qu'il lui fait sur ses amours avec Louis le Grand, in which the ghost of Scarron materializes to upbraid his widow for her unseemly familiarity with the king.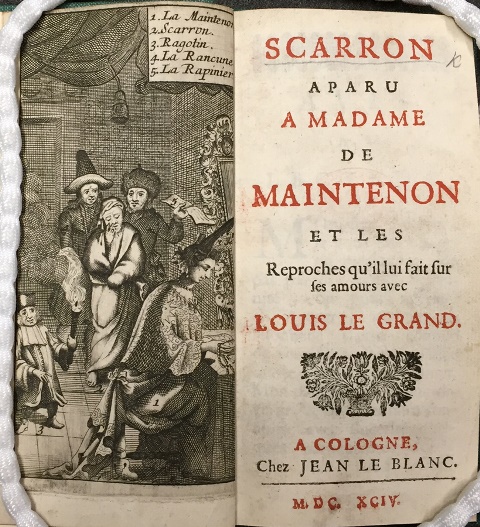 Scarron aparu à Madame de Maintenon et les reproches qu'il lui fait sur ses amours avec Louis le Grand (Cologne, 1694) 8005.a.37.
By this time, though, Louis had legitimized not only his children but his relationship with their former governess. Not long after the death of the Queen in 1683, he married Madame de Maintenon in a private ceremony conducted at midnight by the Archbishop of Paris. Their unequal rank meant that the marriage could only be morganatic and was never officially announced, but it provided both, now well into their forties, with an emotional security and true companionship hitherto lacking in their lives. Her lack of a formal position as queen made her more approachable, and she exerted a considerable and largely benign influence on Louis, who admired her good judgment and shared her religious as well as her cultural interests. Among devotional works dedicated to her, the British Library holds the anonymous Réflections sur quelques parolles de Jésus-Christ.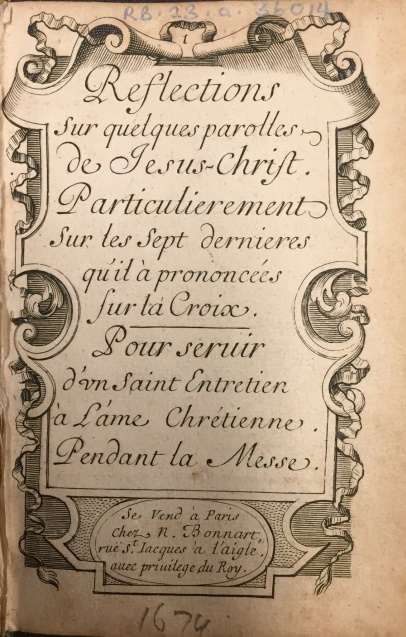 Réflections sur quelques parolles de Jésus-Christ... (Paris, 167?)  RB.23.a.36014
Notable among her enterprises was the school for impoverished girls of noble birth which Madame de Maintenon founded at Saint-Cyr. Planning a theatrical performance by the pupils, she commissioned Jean Racine to write two plays on edifying themes, Esther and Athalie, for them with great success, though not surprisingly there were those who insinuated that the first suggested the rivalry between Mesdames de Maintenon and Montespan in the virtuous Esther's displacement of the scheming Queen Vashti. Her experience as a royal governess equipped her ideally for her work with her young protégées, who regarded her with great affection. When Louis died in 1715, she retired to Saint-Cyr, where she died in 1719 and was buried in its chapel. In an age whose pursuit of celebrity cults rivals that of the 21st century, her discretion, resourcefulness, wit and tact prevailed over more obvious attractions, and have much to teach us today.

Susan Halstead, Content Specialist (Humanities and Social sciences), Research Engagement.