03 November 2015
Nikolai Misheev, an art critic of 'The Chimes'
The name of the Russian literature and art critic and playwright Professor Nikolai Isidorovich Misheev (1878-1947) is well known in the academic circles of art historians and specialists in the Russian émigré press.  Misheev was born in Kyiv and graduated first from the Seminary and then  from the Faculty of History and Philology of Warsaw University. In St Petersburg he taught at women's colleges, including the famous Smolnyi finishing school for young noblewomen. 
Misheev left Soviet Russia in 1925 and for the first four years lived in Riga, but settled in Paris in 1929. Not attempting to give a full survey of his works, I would just mention Misheev's books held at the British Library: Noveishaia russkaia literatura ('Essays on Modern Russian Literature'), the play Na rassvete ('At dawn') and Bylina ('Russian Folk Tale'). In 1935, his essay on Russian folk-tales was translated into English under the title A Heroic Legend by Gleb Struve, (a Russian literary historian and later  author of the most influential book of its time on Russian émigré literature, Russkaia literatura v izgnanii ), and the founder of the School of Slavonic Studies, Bernard Pares. 

Photographs of an exhibition of Russian émigré periodicals in Prague, from Perezvony, N18, 1926.
While living in Riga, Misheev actively contributed to one of the  Russian émigré magazines, Perezvony ('The Chimes'), published between 1925 and 1929 (British Library PP.1931.pml). The magazine was meant to continue the pre-revolutionary tradition of illustrated weekly or monthly editions for the whole family. The first issue came out on 8 November 1925 and until February 1926 it appeared weekly. From Number 14 it became a bi-monthly publication; in 1927 it became a monthly and in 1928-29 the frequency diminished to two issues per year. Among its contributors were Boris Zaitsev (also editor of the literature section), Ivan Bunin, Konstantin Balmont, and  Marina Tsvetaeva.
The editorial board paid a lot of attention to the artistic appearance of the magazine. The cover, with a tree growing in a foreign soil covered with bells that create the familiar chimes of Russian churches in the background, was designed by Mstislav Dobuzhinsky, and the influence of the "World of  Art" movement on the entire concept of the periodical is obvious.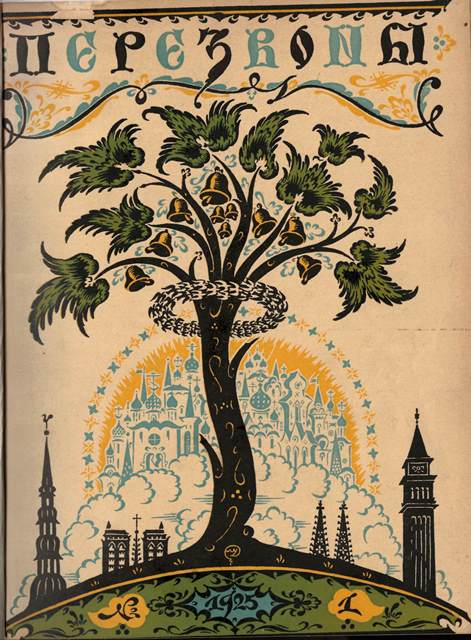 Cover of the first issue of Perezvony (1925)
Misheev took responsibility for the art section of the magazine and contributed to every issue (sometimes more than one item, in which case he use his pseudonyms, e.g. 'Pritisskii'). A great number of issues were topical and presented essays on important Russian and world artists. Misheev wrote about  the Academicians Sergey Vinogradov (1869-1938), Nikolai Bogdanov-Bel'skii (1868-1945), Mikhail Nesterov (1862-1942),  Mstislav Dobuzhinsky, Vilhelms Purvītis (1872– 1945) and many more.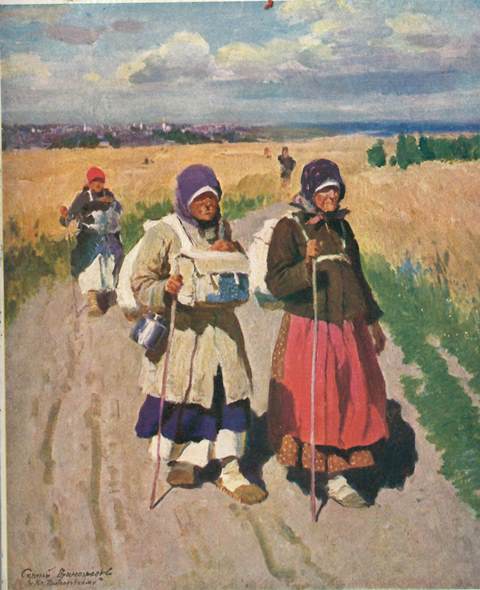 S.Vinogradov. To the Reverend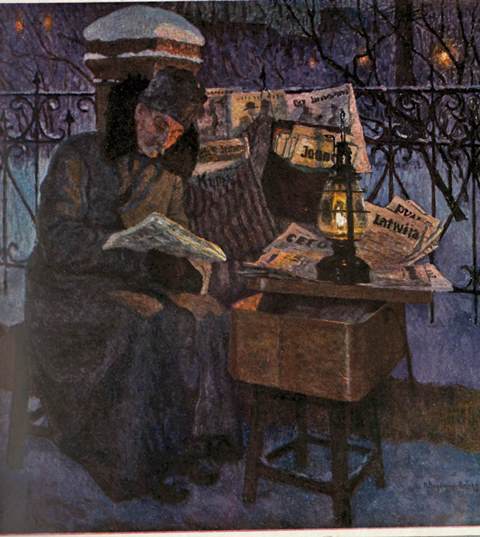 N. Bogdanov-Bel'skii. A Defender of the Motherland.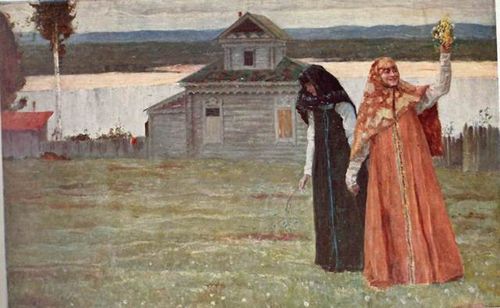 M.Nesterov. Two sisters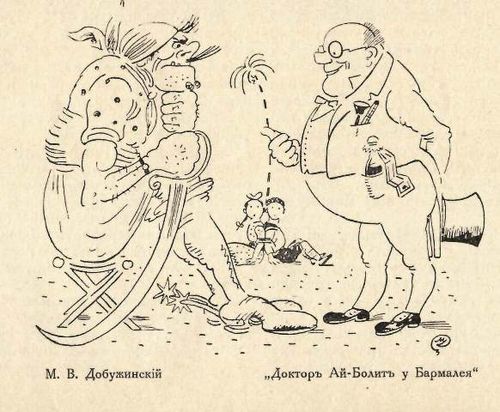 M. Dobuzhinsky. Dr Aibolit and Barmaley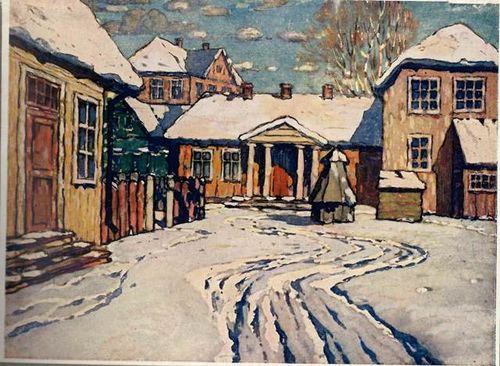 V. Purvītis. In the country.
Misheev contributed essays on Russian architecture, folklore and culture. As K. Pritisskii he wrote an article entitled  'Russkaia literatura, kak 'nakaz' russkogo naroda' ('Russian Literature as a mandate from the Russian people') (No. 19, 1926, pp. 605-609). His accessible and popular style combined with profound knowledge of the history of art and Russian culture make Misheev's essays an enjoyable read. 
Katya Rogatchevskaia, Lead Curator East European Collections
References:
Nikolai Misheev, Noveishaia russkaia literatura (St Petersburg, 1905) 1865.c.3.(83.); (Moscow, 1914) RB.23.b.6297
Nikolai Misheev, Na rassvete (St Petersburg, 1920) 11758.dd.27.
Nikolai Misheev, Bylina (Vladimirova, 1938)  YA.1996.b.7845 ; English translation by Gleb Struve and Bernard Pares:  A Heroic Legend: how the holy mountains let out of their deep caves the mighty heroes of Russia. (London, 1935) 20019.ee.33.
Gleb Struve, Russkaia literatura v izgnanii (New York, 1956) 11872.g.8.
Perezvony  (Riga, 1925-1929) PP.1931.pml; several issues are available online via Sait-arkhiv emigrantkoi pressy (The Website-archive of Russian émigré press).