09 November 2015
Politics and the Pepper-mill: Erika Mann (1905-1969)
One day in June 1935, a traveller waiting on the small Worcestershire station of Malvern Link was startled to be approached by a cropped-haired young woman in a mannish tweed jacket. Smiling, she advanced on him with the words, 'How very good of you to marry me!' There had been a double misunderstanding: in her eagerness she had alighted too early instead of at Great Malvern, and had mistaken him for the bridegroom she had never met – the poet W. H. Auden.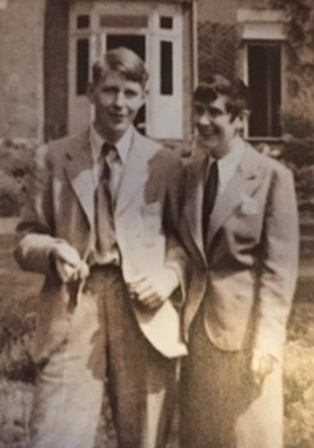 Erika Mann and W.H. Auden, reproduced in Hans Wißkirchen, Die Familie Mann (Reinbek, 1999) British Library YA2.001.a.2394.

Erika Mann had arrived at that quiet provincial station by a complicated and unlikely journey. She was born in Munich on 9th November 1905, the first child of the writer Thomas Mann and his wife Katia, née Pringsheim, and baptized Erika Julia Hedwig in honour of her mother's late brother Erik and her two grandmothers (Hedwig Dohm, her great-grandmother, had been a noted feminist author of Jewish descent). Perhaps her father also recalled Erika Grünlich, a character in his novel Buddenbrooks (1901) which had established his reputation as an author. He wrote to his brother Heinrich that he was initially disappointed that his first-born was not a son, but this was remedied the following year by the birth of Erika's brother Klaus. Four more brothers and sisters followed, but Thomas Mann always professed a special affection for the two oldest and his youngest daughter Elisabeth.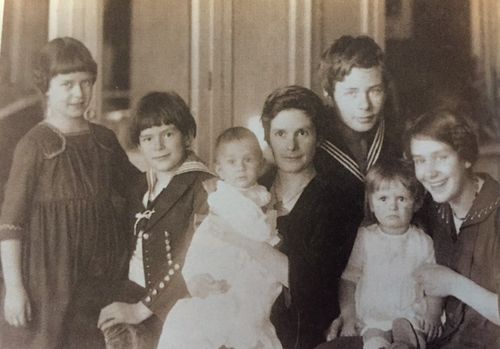 The six Mann children with their mother, ca. 1919. Erika is on the far right, holding Elisabeth, with Klaus next to her (reproduced in Hans Wißkirchen, Die Familie Mann) 
With a family heritage rich in literary and dramatic talent (her aunt Julia Mann was an actress), it was not surprising that young Erika soon began to show gifts in these directions, and become something of a trial to her parents. It was obvious that the strongly academic German Gymnasium tradition had little appeal for her, and while still attending the Luisengymnasium in Munich she and Klaus, who were inseparable, set up their own theatre group, the Laienbund Deutscher Mimiker. She was also engaged by Max Reinhardt  to make her debut with the Deutsches Theater, Berlin. In his novella Unordnung und frühes Leid (Disorder and Early Sorrow; Berlin, 1926: 12552.p.11) Thomas Mann paints a lively picture of his family's colourful and sometimes chaotic life; the pranks played by the adolescents Bert and Ingrid are only too close to the antics which led their father to send Erika and Klaus to the progressive Bergschule Hochwaldhausen for some months in 1922.
Back at the Luisengymnasium Erika managed to scrape through her Abitur before embarking on her training for the stage. Through this she met the actor Gustav Gründgens (portrayed in Klaus Mann's novel Mephisto (1936) as the opportunist Nazi sympathizer Hendrik Höfgen), whom she married in 1926. The marriage ended in divorce in 1929, increasingly strained by the couple's very different sexual and political orientations, and in 1933 Erika founded the cabaret Die Pfeffermühle (The Pepper-mill) with Klaus and the actress Therese Giehse, writing its pronouncedly anti-fascist material herself.
With the rise of Hitler, the Mann family came under increasing scrutiny; Heinrich Mann was among the first to be stripped of his German citizenship and fled to France, while Thomas, Katia and their children left for Zurich, subsequently taking first Czechoslovak and then American citizenship. Erika, the last to leave, rescued many of her father's papers before joining her parents in Switzerland, where her cabaret became a focal point for exiles but also caused difficulties with the renewal of her permits to live and work there. It was for this reason that she sought a marriage of convenience with the British author Christopher Isherwood, whom she knew from Berlin; he suggested that his friend Auden might oblige, and the ceremony duly took place in June 1935 at Ledbury Register Office. Secure in her possession of British citizenship, the bride left immediately afterwards on the London train and never saw Auden again, but they remained on good terms, and after Erika's death Auden always  gave his civil status as 'widower'.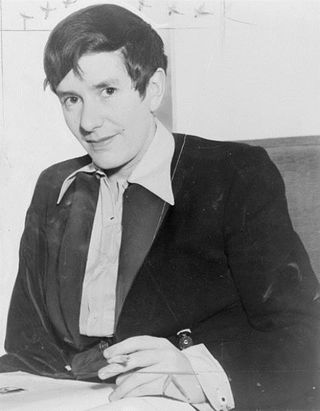 Erika Mann in American exile (Image from the Library of Congress New York World-Telegram & Sun Collection)
Her British passport enabled Erika to travel to New York in 1938 to rejoin her brother, Therese Giehse and other artists exiled from Nazi Germany and to relaunch Die Pfeffermühle in a new setting. However, despite a distinguished career as an author and journalist, she came under investigation by the FBI, as did Klaus. She had been one of the few women to report on the Spanish Civil War and the Nuremberg Trials, and had published a trenchant account of the Nazi educational system, School for Barbarians, but nevertheless both siblings' political and sexual identities brought them under suspicion. In 1949, despairing of finding a place in the post-war world, Klaus took his own life.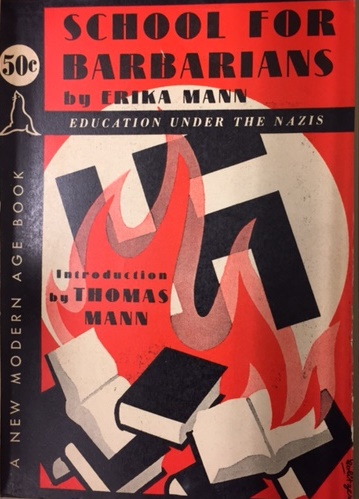 Erika Mann, School for Barbarians (New York, 1938) British Library 8359.a.7.
The growing paranoia of the McCarthy era made life in the USA intolerable to the Mann family, and in 1952 they returned to Zurich. Erika became her father's and brother's literary executor, preparing an edition of Thomas Mann's letters and writing a sensitive memoir of his final months, Das letzte Jahr  (The last year: Frankfurt am Main, 1968; X.989/24331.) published in the year before her own death. Readers who admire her scrupulous editorial skills and incisive political comment may be surprised to learn that her earliest writings included a series of children's books, among which the British Library holds copies of Muck, der Zauberonkel (Muck the Magic Uncle; Basle, 1934: ) and of Štofek letí přes moře (Prague, 1934: X.990/4256), a Czech translation of her first book Stoffel fliegt übers Meer (Stoffel flies across the sea; 1932) issued by her father's Prague publisher Melantrich. The variety of her works in the Library's catalogue testifies to Erika Mann's vivid and highly original approach to life and to the integrity and loyalty which she showed to the people and causes fortunate enough to win them.
Susan Halstead, Content Specialist (Humanities and Social Sciences), Research Engagement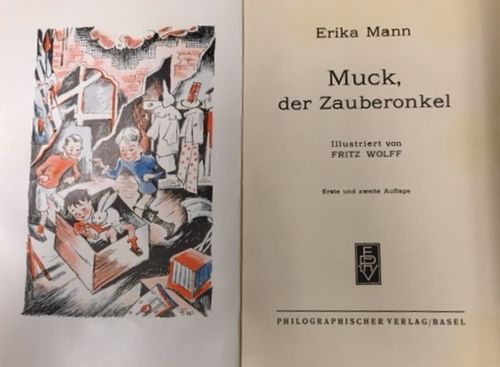 Erika Mann, Muck der Zauberonkel (Basel, 1934) X.990/5963