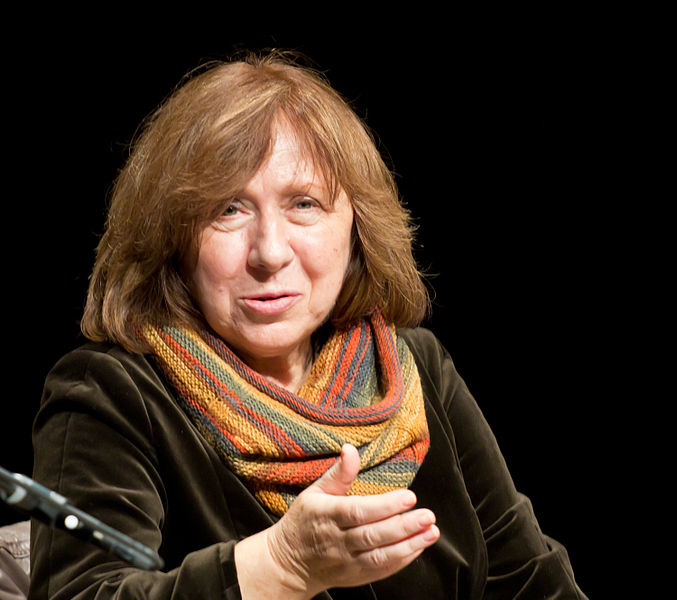 Swetlana Alexijewitsch 2013 (From Wikimedia Commons,   ©Elke Wetzig; Licensed under CC BY-SA 4.0)
On 8th October a new winner of the Nobel Prize in Literature was announced. Svetlana Aleksievich became the first writer from Belarus and the first woman author who writes in Russian to receive this prestigious award. Born in Ivano-Frankivsk to Ukrainian mother and Belarusian father, Aleksievich also provides Ukraine with an opportunity to take pride in her.
The Nobel Prize has always attracted so much attention and controversy that very few laureates were received with solid approval and joy. Aleksievich is not an exception, being in the honourable company of Ivan Bunin, Boris Pasternak, Aleksandr Solzhenitsyn, Herta M√ľller, Orhan Pamuk and others. I will leave it for the readers to find more immediate responses to this award for themselves and take this opportunity to reflect on Aleksievich'Äôs writings. 
Journalist by training, Svetlana Aleksievich finished her first book The War'Äôs Unwomanly face just several years before the launch of perestroika in the Soviet Union. Cut by censorship, cautious editors and the author herself, fragments of this book were first published in literary magazines and in 1985 'Äď as a book. In a short time the overall print run of several consequent editions reached two million copies. The book told real stories of women 'Äď participants in WWII. Aleksievich interviewed hundreds of women veterans and let them speak for themselves in their own words, so that the book reads as a series of individual monologues: memoirs, accounts, cries and confessions. The tone of the book presented a sharp contrast with the Soviet official line on treating the subject of the war with Nazi Germany as heroic sacrifice for the Soviet Motherland. Aleksievich showed the war in its entirety as horror and madness, fear and pain, hard labour and exposure of the best human and the worst beastial features in people. On the one hand, Aleksievich followed the steps of Ales Adamovich and Daniil Granin with their The Blockade Book and Solzhenitsyn'Äôs The Gulag Archipelago. Some critics trace the roots of her style to Truman Capote, Norman Mailer and Joan Didion.  On the other hand, Aleksievich turned document-based prose into a unique creative method. By removing the author figure from her books Aleksievich eliminated any distance between her heroes and the reader and created a narrative where the reader felt unprotected by an intermediary. The reader is 'Äėnaked'Äô in front of the text and is wounded by the simple words in which the stories are expressed.
For the next 30 years Aleksievich continued to work in this genre, which I would describe metaphorically as 'Äėwritten oral history'Äô. Together with her first book The Last Witnesses: A Hundred of Unchildlike Lullabys (about children at war), Zinky Boys: Soviet Voices from the Afghanistan War, and Voices from Chernobyl: The Oral History of a Nuclear Disaster form the cycle that she entitled Voices from the Big Utopia. Her other two books Enchanted with Death (stories about suicides in the early post-Soviet period), and Second-hand Time (2013), that examines such as phenomenon as the Soviet Man, are written in a similar style and are closely linked to the cycle.
Prior to her major award, Aleksievich had received over twenty national and international prizes. Her works are translated into more than 30 languages. Over 20 films and a dozen theatre productions are based on Aleksievich'Äôs books, including Prayer for Chernobyl  directed by Jenny Engdahl  at the New Vic Basement in 1999 and Juanita Wilson'Äôs directorial debut The Door, a 16 minute short film based on Monologue About a Whole Life Written Down on Doors, the Testimony of Nikolai Fomich Kalugin 'Äď one of the accounts from Voices from Chernobyl. We sincerely congratulate Svetlana Aleksievich and wish her further great strength to write more books that challenge our understanding what it is to live, love and be human.
 Katya Rogatchevskaia, Lead Curator East European Collections, European Studies