09 May 2016
As European Literature Festival 2016 begins, we welcome back journalist and broadcaster Rosie Goldsmith to our blog as she introduces the events and gives a hint of what to look forward to at the Writers' Showcase event on Wednesday 11th
For European Literature (EL) lovers, the month of May is the equivalent of Christmas, Hanukkah or Eid – it's the festive highlight of our year when we celebrate our year-round efforts to publish and promote our beloved EL. Time to polish the champagne glasses (Boyd Tonkin), buy a new T-shirt (Daniel Hahn) and get out those red shoes (Rosie Goldsmith). This May we have an embarrassment of international literary riches: our first ever European Literature Festival and the first ever annual Man Booker International Prize (MBI)  in conjunction with the Independent Foreign Fiction Prize (IFFP: RIP) .
Eight years ago we had a dream, that we could gather together the best writers from the rest of Europe to London for a one-night-only special event. It had never been done before. Thanks to the mass collaboration of sponsors and partners, our dream became reality. The event became European Literature Night (ELN), initiated by EUNIC London, the Czech Centre and the British Library, and taking place in London and cities all over the continent. Over these eight years our ELN evening has become a week, then a month and this May it is the showcase event in our first European Literature Festival (ELF), embracing more than 30 countries, 60 writers and including poetry, graphic novels, literary fiction, non-fiction, crime thrillers and translation workshops. This year we also have some real British celebrities to boost the brand – Kate Mosse, Mark Lawson and Ian McMillan – and not just cut-price slebs like me and Danny Hahn. EL in the UK has itself become a celebrity. Next year maybe the cover of Vogue? Although we'll have to do something about our acronyms.

Rosie Goldsmith at the podium on European Literature Night 2015 (photo (c) MELA)
Here's the full, fabulous programme: www.europeanliteraturefestival.org.uk and congratulations to ELF's Artistic Director Jon Slack for making it happen.
As chair of the judges, Director of European Literature Network (ELNet) and host of ELN (keep up!), May is my personal merriest, busiest month. And I can guarantee that we have pulled it off again: the best of contemporary European literature (ok, EL!) is coming your way. British Library (BL – of course!), Wednesday 11th May.
Our six 'winning' writers are all literary celebrities 'back home,' magnificently translated and selected by us, the judges, from a pool of 65 European writers submitted by publishers and cultural organisations last November. Joining me on stage will be: Burhan Sönmez (Turkey), Dorthe Nors (Denmark), Gabriela Babnik (Slovenia), Peter Verhelst (Belgium), Jaap Robben (Netherlands) and Alek Popov (Bulgaria). They are all outstanding - unique, original, mind-expanding and fun. I love ELN and my two hours on stage, vicariously bathing in the reflected glory of our stars, conducting the equivalent of a BBC Live broadcast. (British Broadcasting Corporation!)
As our ELF Publicity promises: "The discussion will travel from the Turkish prison cells of Burhan Sönmez's Istanbul, Istanbul to the turned upside-down-lives in Dorthe Nors'  twisted and imaginatively-realised streets of Copenhagen; to Slovenian writer Gabriela Babnik's  seductive tale of forbidden love on the dusty plains of Ouagadougou, Burkina Faso; via Peter Verhelst's deadpan Belgian humour in his Gorilla-narrated fable about the story of human civilisation (and its collapse). There is a tormented relationship unfolding between widow and son on Dutch-writer Jaap Robben's remote and stormy island (located somewhere between Scotland and Norway); and we finish in Alek Popov's strange and comic novel that moves between Bulgaria and New York, where two brothers question whether their long-deceased father is, in fact, dead."

This year's ELN line-up
As our ELF superstar-host Kate Mosse says: "At a time when the countless shared histories and stories from our many friends and strangers in Europe are danger of being lost in the politics of the EU debate, an initiative like the European Literature Festival is more important than ever." Who needs supermodel Kate Moss on a Vogue cover when you have superstar novelist Kate Mosse?
On behalf of ELNet & EUPL & with thanks 2 ACE & ELIT I'll c u 4 ELN @BL! LoL RGx
29 March 2016
The first complete illustrated edition of Cervantes's novel of Don Quixote appeared not in the original Spanish but in a Dutch translation, printed in Dordrecht in 1657. It contained as many as 24 illustrations, plus two frontispieces. Jacob Savery, the printer, was most probably also responsible for the engravings. In 1662, 16 of his illustrations were then reused in a Spanish edition printed by Jan Mommaert in Brussels. Then in 1672/73, Hieronymus and Johannes Baptista Verdussen of Antwerp printed an edition with the two frontispieces and 32 engravings of which the 16 were retained from the 1662 edition and 16 were new. These latter were engraved by Frederik Bouttats; the artist is unknown.
The illustrations of the three editions focus inevitably on narrative action with an emphasis on the more physical episodes. This supports the argument that in the 17th century Don Quixote was read largely as a work of entertainment. Limitations of space have restricted the current display in the British Library's Treasures Gallery  to just two examples from this important tradition. Savery's illustration of the unfortunate Sancho being tossed in a blanket is common to all three editions. One feature of these illustrations is the inclusion of more than one incident in a single image. Here, two incidents in chapters 17-18 of Part 1 are combined: the tossing of Sancho in a blanket (ch. 17) and Don Quixote's attack on the flock of sheep in the background (ch. 18).
 Sancho Panza is tossed in a blanket in the inn yard; Don Quixote attacks the flock of sheep (Background). Miguel de Cervantes, Den verstandigen vroomen ridder Don Quichot de la Mancha (Dordrecht, 1657) Cerv.114. facing p. 58.
The same technique can be seen also in Savery's illustration in all three editions depicting the concluding moments of Part 1 chapter 8. The narrative ends abruptly with Don Quixote and the 'brave Basque' confronting each other with swords raised ready to strike. The interruption occurs because, so it is claimed, the source text ended at this point. (The 'discovery' of a continuation is subsequently described in chapter 9.). Don Quixote and the Basque are placed in the foreground, in front of a coach and its lady passenger whom the Basque is escorting. In the background we can see also the preceding incident of chapter 8, Don Quixote's disastrous charge against the windmills.
 Don Quixote and the vizcaíno with raised swords; the charge against the windmills (background). Miguel de Cervantes, Vida y hechos del ingenioso cavallero Don Quixote de la Mancha (Brussels, 1662), vol. 1. 1074.i.5., facing p. 52.
The illustrations added to the Antwerp edition of 1672/73, engraved by Fredrick Bouttats, are technically superior to those in the editions of 1657 and 1662. Don Quixote's meeting with the enchanted Dulcinea, the result of Sancho's stratagem, includes the same characters, but is livelier and more expressive. Both the knight and his squire are shown kneeling in homage to the 'lady' Dulcinea. Moreover, unlike Savery's 1657 illustration, it illustrates in the background the subsequent action when Dulcinea rides off and is unseated by her donkey. Quixote and Sancho come to her aid.
Don Quixote and Sancho greet the supposedly enchanted Dulcinea; Dulcinea is thrown from her mount (background). Miguel de Cervantes, Vida y hechos del ingenioso cavallero Don Quixote de la Mancha (Antwerp, 1672-73), vol. 2, 1074.i.8. facing p. 80.
On their own the images of the 1657 edition had limited subsequent circulation except in Dutch versions, but those in the 1672/73 Antwerp edition were widely used in versions in French, English, German and Spanish until well into the 18th century.
Geoff West, former Curator Hispanic Collections
References/further reading:
Patrick Lenaghan, Imágenes del Quijote: modelos de representación en las ediciones de los siglos XVII a XIX (Madrid, 2003). LF.31.a.88
José Manuel Lucía Megías. Leer el 'Quijote' en imágenes. Hacia una teoría de los modelos iconográficos. (Madrid, 2006). YF.2007.a.12503
Centro de Estudios Cervantinos. Quijote Banco de imágenes 1605-1915: http://qbi2005.windows.cervantesvirtual.com/
29 December 2015
On Saturday 19 December, two teams of 30 Dutch and Flemish spelling aficionados went head to head in the 26th edition of Het Groot Dictee, or The Big Dictation. This spelling contest is broadcast live on television in the Netherlands and Belgium, from the chamber of the Dutch Senate in The Hague, no less. In its 26 years the Big Dictation has become an institution, with its own website, Twitter feed,  and a version for children. 
So, what is it about? Now you're asking. Is it simply about spelling, or competition, or national identity, with a (friendly!) rivalry between the Dutch and the Flemish?
Who knows? It's probably a bit of all three. One of the attractions is probably that everyone can participate, albeit unofficially, from their own living rooms. It probably also helps that  weeks before the contest the organizing newspapers, the Dutch De Volkskrant (The People's Paper) and the Flemish De Morgen (The Morning) as well as language organizations offer practice exercises to get people in the mood. Schools participate, too, since children can do the children's version. Isn't this a fun way of learning how to spell? Words you've always struggled with will stick for ever in your mind, once it featured in the Groot Dictee.
Dutch spelling is formalised in the standard dictionary of the Dutch language: The 'Dikke' (Fat) Van Dale, a commercial title and in the Woordenlijst der Nederlandse Taal (Word list of the Dutch Language), or Het Groene Boekje (The Little Green Book) as it is better known. The latest edition of the Little Green Book was published in October this year, for the first time also by Van Dale.  It is compiled by De Taalunie the body that oversees policies in the area of the Dutch language, and there is a free online edition.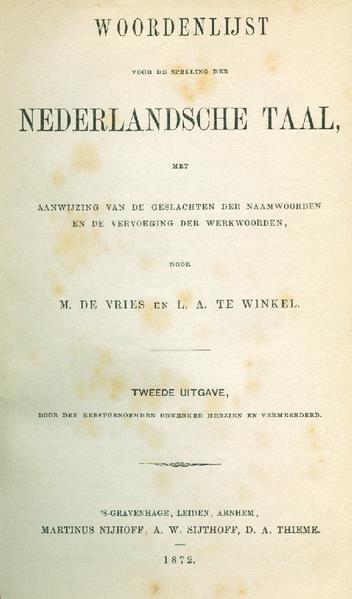 Second edition (1872) of Matthias de Vries and L.A. te Winkel Woordenlijst voor de spelling der Nederlandsche taal, the predecessor of today's Groene Boekje  (British Library 1608/2709.)
This formalised approach to the Dutch language is similar to that of the French. It should therefore come as no surprise that the French were the first to come up with the idea for a Big Dictation.  There it is held in the Bibliothèque nationale de France, which is where Philip Freriks, Paris correspondent for De Volkskrant in the 1980s and 90s, first saw it and subsequently brought it over to the Netherlands.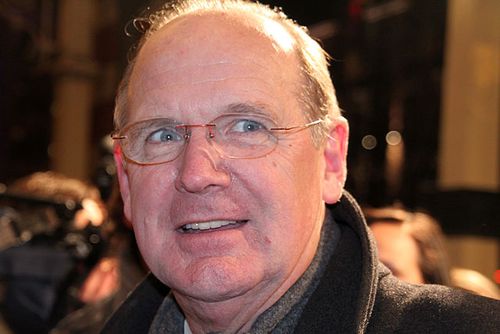 Philip Freriks . Photo by Maurice Vink from Wikimedia Commons
Freriks has presented the Big Dictation for many years and other journalists have contributed by writing the text, such as this year's author Lieve Joris, journalist and travel writer. Originally from Flanders, she now lives in Amsterdam, when she is not travelling the world. She is known for her award-winning travel writing about the Middle East, for example The Gates of Damascus (London, 1996; YC.1997.a.94)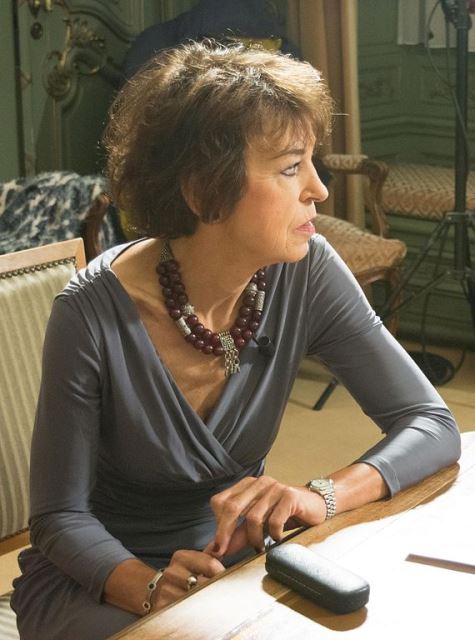 Lieve Joris at the 2015 Big Dictation. Photo by Ruud Hendrickx from wikiportret.nl 
Although it was the Dutch team that won this year, overall the Flemish contestants made the least mistakes. 31 Dutch participants made 747 mistakes, against 620 by the 29 Flemish.
This year saw a few 'firsts':
The contest was between the Dutch and the Flemish teams, whilst before the participants selected from the readers of De Volkskrant and De Morgen were pitted against the Dutch and Flemish celebrities. 
There was a final. After writing the Dictation the best Dutch reader and celebrity and best Flemish reader and celebrity battled it out over ten very difficult words. 
There was a Polish participant; a 'wild card' added to the Dutch team. 
Needless to say any use of electronic spellcheckers is strictly forbidden, although the words for these devices pop up in the Dictation; such as 'spellingchecker'. Now there's a fine example of how the Dutch incorporate English words into Dutch. That aside, it doesn't look as if spelling checkers have taken the fun out of spelling, so it is to be hoped that 'The Big Dictation' will see many more episodes. It is a true celebration of the richness of the Dutch language.
Marja Kingma, Curator Dutch Language Collections
Further reading
(This is a small selection of the many titles about Dutch spelling which can be found in the British Library catalogue.)
Henriëtte Houët, Grammatica Nederlands : woorden, zinnen, spelling. (Houten, 2011). YF.2012.a.14746.
F.J.A. Mostert, 'Dutch Spelling Reform',  Language International, vol. 8, no 2, 1996, pp. 18-20. 5155.709680
G.C. Molewijk & Vic de Donder, De citroen van de gynaecoloog : de sitroen van de ginekoloog : de nieuwe spelling: pro of contra (Amsterdam, 1994) YA.1995.a.7045.
G.C. Molewijk, Spellingverandering van zin naar onzin (1200-heden). (The Hague, 1992) YA.1993.b.9041.
 
30 October 2015
The current Animal Tales exhibition includes a copy of the Esbatement moral, Des animaux (British Library C.125.d.23), an anonymous French verse adaptation of Aesop's fables in sonnet form. It was published in Antwerp in 1578 by the engraver Philippe Galle (1537-1612). Little can be inferred about the identity of the anonymous author, who claims to be 'tout nouveau en la langue Françoise', apart from the dedication to Charles de Croÿ and his connections with Philippe Galle himself  and Pierre Heyns, writer of the verse preface, and part of the community of Antwerp humanists. Heyns's preface refers to 'des Heroiques vers / En Sonets bien troussez... / A Londres entonnez et finiz en Anvers', pointing to a cultural relation between Flanders and England, which is also relevant to the illustrator, Marcus Gheeraerts the Elder.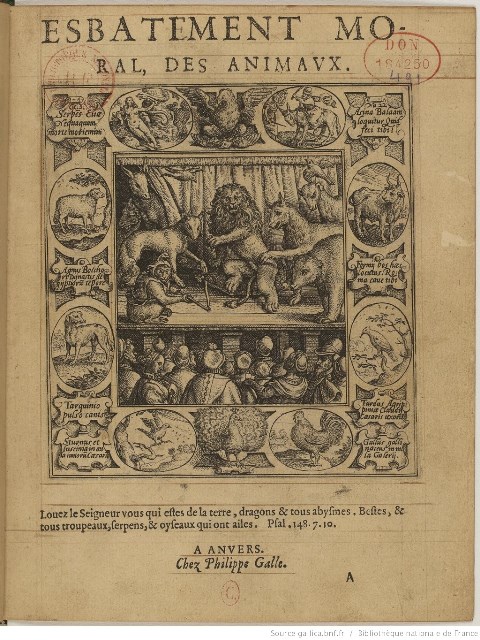 Esbatement moral des animaux (Antwerp, 1578); image from a copy in the Bibliothèque nationale de France, RES P-YE-550, available online via Gallica
This work shows the interest in Aesopian fables within Flemish humanistic circles in the Renaissance. It expresses the desire to combine classical wisdom with the Christian message, using text and images to support this didactic purpose.
The title of the collection, 'Esbatement moral', or 'moral entertainment', covers the double ambition of the fables, docere et placere, to instruct and to please. Staging animals to represent human behaviours, foibles and virtues, is part of the appeal of these short didactic tales. The preface immediately plays on this double register, as man is characterised first by religion and second by the Aristotelian category of animal rationabile, as opposed to that of bestia. Interestingly, no reference is made to Aesop, either in the title or in the introduction: at the bottom of the frontispiece, a quotation from Psalm 148 exhorts animals to praise the Lord. The purpose of the book is clearly the didactic dissemination of a Christian moral.
The frontispiece shows animals on a theatrical stage in front of a curtain while men and women are attending the performance. Although the animals are represented in a naturalistic manner, the cushion used as seat by the lion, king of the animals and the fool's outfit worn by the monkey contribute to their anthropomorphism. Animals are privileged actors on the stage of the theatrum mundi: a century later, Jean de La Fontaine presents his collection of fables as 'Une ample comédie à cent actes divers, / Et dont la scène est l'univers' (Fables, V, 1, 1668).
Around the central illustration, medallions containing portraits of individual animals are interspersed with Latin inscriptions allowing the reader to identify the protagonists of specific biblical or classical stories (Eve and the serpent, Balaam's ass, the speaking dog of Tarquin the Proud...). This sets up a biblical and classical cultural horizon for this collection of fables, even if the core language of the collection is not Latin but French.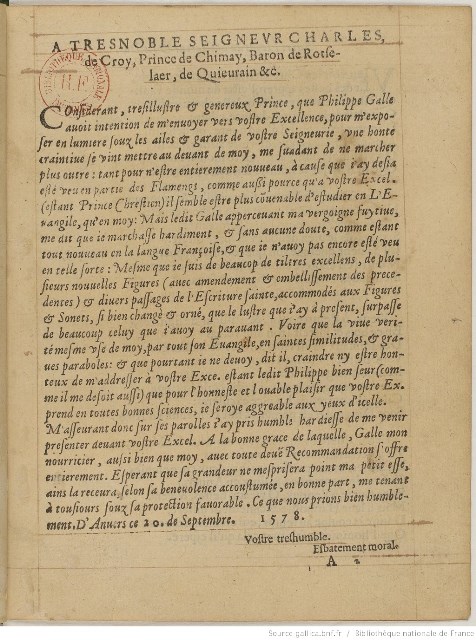 Dedication of the Esbatement moral des animaux, f. A2.
The Esbatement is dedicated to Charles III de Croÿ, prince de Chimay (1560-1612), a keen collector of books and artworks. The author highlights his religious and educational purpose: in his dedication, the expected association of fables with oral tales and classical fiction, gives way to references to the Gospel and the Holy Writ, mentioning 'figures', 'similitudes' and 'paraboles' as means to access the truth, 'vive verite'.
The Aesopian sonnets are introduced by Pierre Heyns (1537-1598), who wrote and translated several didactic and pedagogical works. His  preface is directed to the 'Spectateur et Lecteur', highlighting the essential combination of the visual and textual aspects of the book.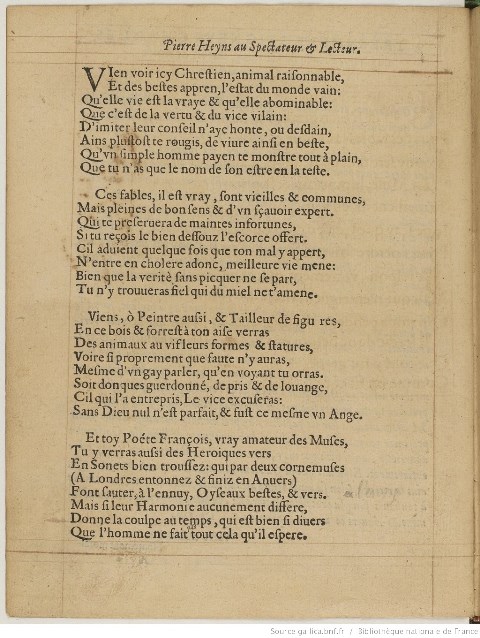 Verse preface by Pierre Heyns, from Esbatement moral des animaux, f. A2v
The author also considers the images as essential: his dedication mentions 'plusieurs nouvelles figures... et divers passages de l'Escriture Sainte, accommodés aux figures et sonets...'. For the author, the biblical quotations seem as important as the fable itself.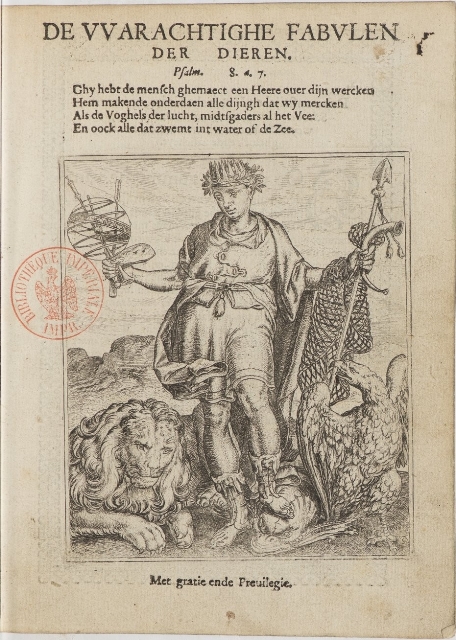 Edewaerd de Dene, De warachtighe fabulen der dieren (Bruges, 1567). Image from the Bibliothèque nationale de France copy , RES-YI-19, via Gallica
The artist, Marcus Gheeraerts the Elder, had illustrated a collection of Aesopian fables, De warachtighe fabulen der dieren ('True animal fables'), translated into Dutch by Edewaerd de Dene (British Library 640.l.22 is a collection of engravings from this edition). The Dutch edition has a different frontispiece (above) and is introduced by the engraver and printer Hubert Goltz.
A preface to De warachtighe fabulen… by Lucas d'Heere, a Flemish painter, poet and writer was used as model for Pierre Heyns's foreword to the French edition. The 1578 Esbatement des animaux also reused 107 etchings from this edition, with 18 additional illustrations, also by Gheeraerts.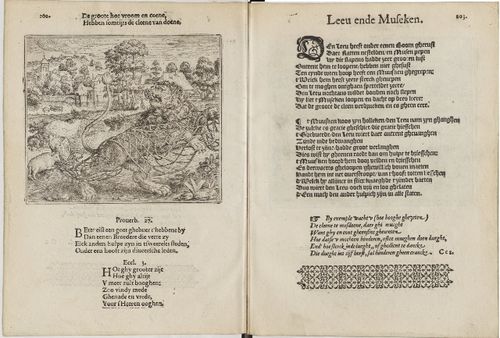 Durch version of   'The Lion and the Mouse', from De warachtighe fabulen der dieren, ff. 202-203.
In the Flemish copy (above), the illustration of 'The Lion and the Mouse' features on the left page, preceded by a motto and followed by two Bible quotations: one from Proverbs 27, and the other from Ecclesiastes 3 (the choice of quotations in the French version is different). The Dutch fable is also versified, but in alexandrines, and is longer. The moral is set distinctively from the narration by the use of an indented paragraph and of italics, and it is preceded by a pointing hand, a manicula.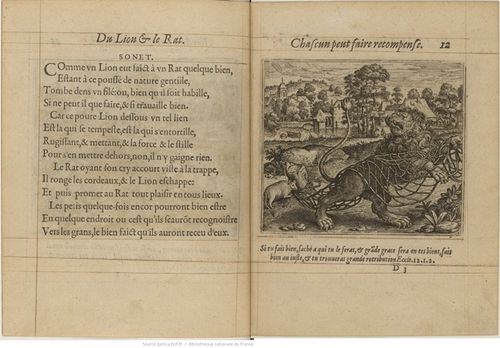 French version of  'The Lion and the Mouse', from Esbatement moral des animaux, ff. 11v-12.
In 'Du Lion et le Rat', the verse fable, placed on the left page, faces an etching on the right page, framed by a devise on top ('Chascun peut faire recompense') and a Bible quotation at the bottom (Ecclus. 12:1,2). In the illustration of 'the Lion and the Mouse', the lion is depicted with a lot of movement and vivacity, at the forefront of the image: he is trying to untangle himself from the net wrapped around him. He stands on his back legs, tail up, head contorted and expressing anguish, with an open jaw which reveals his tongue and teeth, and an aggrieved look. His confusion contrasts with the calm of the mouse in the bottom left of the image, who starts biting into the thread.
The sonnets follow the rhyme scheme set up by the French poet Clément Marot (1496-1544): two quatrains of alexandrines in enclosed rhymes (abba) followed by a couplet (cc) and a last quatrain of enclosed rhymes (deed). However, visually and syntactically, the poem appears as a sequence of two quatrains and two tercets, in the tradition of the Italian or Petrarchan sonnet. The last tercet is an ideal location for the moral of the fable, which echoes the two sentential statements on the facing page.
This collection of Aesopian fables in French can appeal to different kinds of audience: readers will enjoy this poetical rewriting of the fables in the short sonnet form, but the author first puts the emphasis on the moral and Christian instruction they provide, along with the lively illustrations which will appeal to both younger and older readers.
Irène Fabry-Tehranchi, Curator, Romance Collections
References / further reading:
Edward Hodnett, Marcus Gheeraerts the Elder of Bruges, London, and Antwerp (Utrecht, 1971) X.421/5858.
Hollstein's Dutch & Flemish etchings, engravings and woodcuts (1450 - 1700) (Rotterdam;  Amsterdam, 1949-2001) L.R.419.bb.2  
Manfred Stefan Sellink, Philips Galle (1537-1612) : engraver and print publisher in Haarlem and Antwerp (Rotterdam, 2000) YA.1999.b.4195
16 October 2015
A few days ago I attended a talk by Belgian author Johan Op De Beeck, who specialises in the Napoleonic Wars. His latest book Waterloo: De laatste honderd dagen van Napoleon focuses on the roles played by Dutch, Belgian and Nassau troops before and during the battle of Waterloo on 18 June 1815.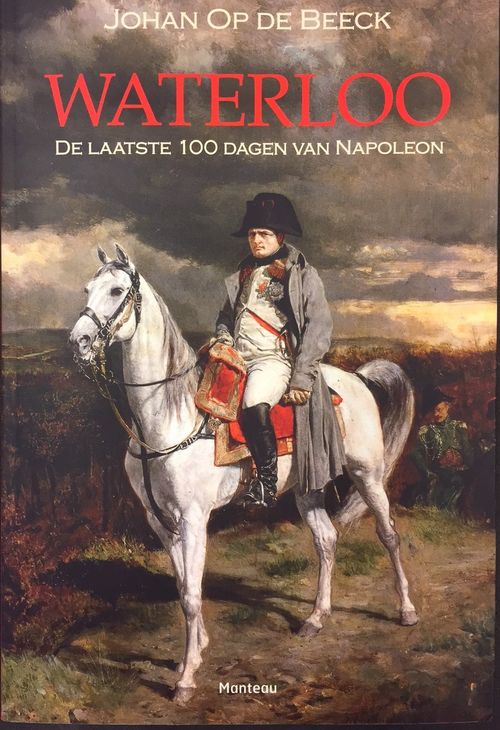 Johan Op de Beeck, Waterloo: de laatste honderd dagen van Napoleon. (Antwerp, 2013). British Library YF.2015.a.14916; the cover shows 1814 by Jean-Philip-Ernest Meisionier (The Walters Art Museum, Baltimore)
It is often said that the truth is the first casualty in war and Waterloo is no exception. Op de Beeck's view is, that all parties involved created their own 'truth' and that future historians have been all too gullible in accepting highly one-sided accounts from mainly the British. After all, 'history is written by the victor', as Winston Churchill observed. For nearly 200 years the accepted narrative has been that the British army, under command of the Duke of Wellington secured victory practically singlehandedly. No-one contests the fact that Wellington's army won the battle of Waterloo, but there has been a distinct lack of acknowledgement of the major and sometimes decisive contributions and sacrifices the Dutch, Belgian, Nassau and Prussian armies made on the battlefield. Wellington's own account of affairs does not mention that it was the Dutch, Belgian and Nassau armies who held the French at bay at Quatre-Bras until British reinforcements arrived on 16 June. Nor does the Duke mention the Dutch actions that proved instrumental in securing the victory during the final stages of the battle at Waterloo.
The Dutch King William I and his son, the Prince of Orange, who had fought in the front line and was wounded, were outraged. They demanded acknowledgment of the sacrifices the European allies of the Brits had made, but to no avail.

Prince William of Orange (later King William II), from Het leven van Koning Willem II (Amsterdam, 1849) 10760.d.8.
Things did not get any better for the Dutch and Belgians when William Siborne (1797–1849) published his History of the War in France and Belgium in 1844. In it, Siborne dismisses the Dutch and Belgians as deserters. He particularly attacks the Prince of Orange, whom he describes as 'incompetent' and 'inexperienced' , a bit of a loose cannon. Siborne's book had such an impact that it was simply accepted as the truth by future British historians, until far into the 20th century: Jac Weller criticizes the Dutch in his 1992 book Wellington at Waterloo.
Siborne's account was challenged as early as 1846, amongst others by Dutch Lieutenant-General and military historian W.J. Knoop (1811-1894). His reaction to Siborne appeared as a pamphlet, entitled Beschouwingen over Siborne's Geschiedenis van den oorlog van 1815 in Frankrijk en de Nederlanden. Knoop strongly objected to Siborne's view that practically the whole Dutch army deserted at Waterloo. The same year his pamphlet was translated into German, (M.L.df.1) and French ( 9076.ff.41) and met with great approval. In Britain it was merely noted.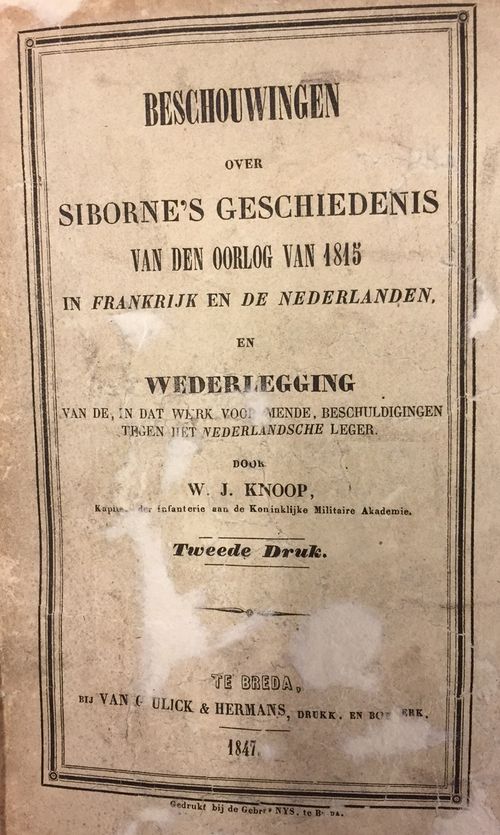 W.J. Knoop, Beschouwingen over Siborne's Geschiedenis van den oorlog van 1815 in Frankrijk en de Nederlanden (Breda, 1847). 1435.g.4.
The Dutch government did not give up and sent Knoop's pupil François de Bas to Britain to research Siborne's archives. De Bas found that Siborne had been rather selective in choosing his resources, but he did not get anywhere with the Brits. On the contrary, the British views were only reinforced when Siborne's son Major-General Herbert Taylor Siborne (1826-1902) published Waterloo Letters in 1891.
So strong was support for Siborne that the Scottish historian Sir Herbert Maxwell was accused of being 'anti-British', when he dared point out how important the Dutch, Belgian and Nassau contributions to the victory had been in his 1899 Life of Wellington.
However, the Brits weren't the only ones to exaggerate their role in events. The Dutch and Belgians did the same for their sides, mainly inspired by a desire to strengthen the position of the very young new Kingdom of the Netherlands, which was only established two years earlier.
Throughout the 19th century commemorations and celebrations of Quatre-Bras and Waterloo were held at every opportunity, which led to a flood of highly patriotic songs, poems and other publications, such as those illustrated below.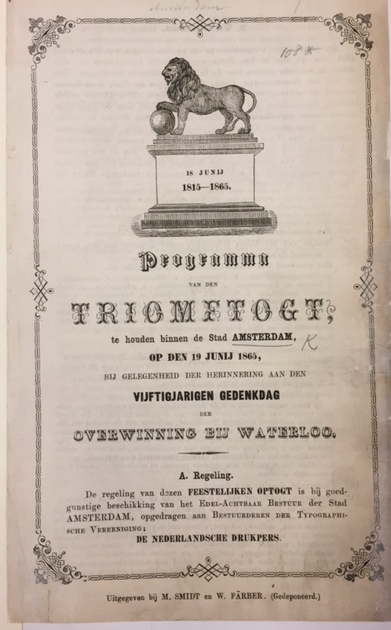 Programma van den triomftogt, te houden binnen ... Amsterdam, op den 19 Junij 1865 ... ([Amsterdam, 1865]) 1871.e.1.(108*.)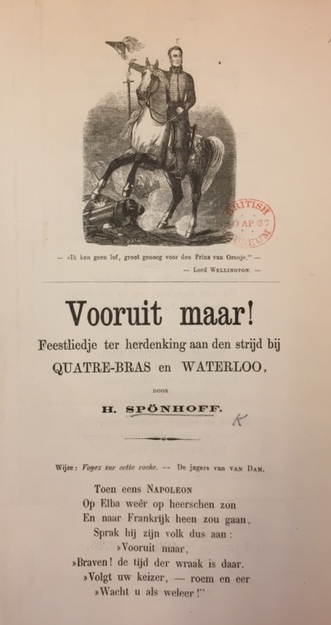 Vooruit maar! Feestliedje ter herdenking aan den strijd bij Quatre-Bras en Waterloo.(Utrecht. [1865]) 1871.e.1.(111.)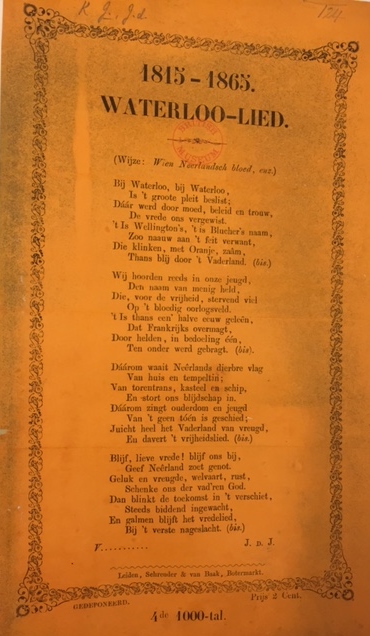 1815-1865 Waterloo-lied (Leiden, [1865]) 1871.e.1.(124.)
It wasn't until well into the 20th Century that more balanced views started to be aired, both within and outside Britain. When written in English, the latter are better picked up by British scholarship, which promotes a more critical approach of earlier studies, such as Siborne's. Jeremy Black's The Battle of Waterloo (2010) and Alan Forrest's Waterloo (2015) are good examples of this less biased approach.
There is of course no one real truth about Waterloo and so researchers will have plenty of work to do unpicking the truth and debunking the myths surrounding Waterloo. What better place to start than at the British Library?! Very few libraries in the country can rival our holdings published both within and outside Britain, expressing many different views, in various languages and forms.
Marja Kingma, Curator Germanic Collections
References/further reading:
William Siborne, History of the War in France and Belgium, 1815; containing minute details of the battles of Quatre-Bras, Ligny, Wavre, and Waterloo. (London, 1844) 1435.g.7-8, and online: http://access.bl.uk/item/pdf/lsidyv37be609e
Jac Weller, Wellington at Waterloo. (Greenhill, 1992). YK.1992.a.7961.
Herbert Taylor Siborne, Waterloo Letters: a Selection from Original and hitherto Unpublished Letters bearing on the Operations of the 16th, 17th, and 18th June 1815, by Officers who served in the Campaign (London, 1891) 9079.bb.36, and online: http://access.bl.uk/item/pdf/lsidyv30b6053a
Sir Herbert Maxwell, The Life of Wellington: the Restoration of the Martial Power of Great Britain ... (London, 1899) 010817.k.14.
Jeremy Black, The Battle of Waterloo (New York, 2010) m10/.15369
Alan I. Forrest, Waterloo. (Oxford, 2015) (awaiting shelfmark)
Jeroen van Zanten, 'Hoe dapper was 'Silly Billy'?' Historisch Nieuwsblad, Vol. 24, no. 6 (June 2015) pp 33-39. []
Ruscombe Foster, Wellington and Waterloo: the Duke, the Battle and Posterity. (Stroud, 2014) YC.2015.a.2532
21 September 2015
The Flemish artist Jan van der Straet, also known as Joannes Stradanus (1523- 1605), spent most of his working life in Florence where his enormous output included religious paintings, frescoes in the Palazzo Vecchio, tapestry cartoons, and also designs for various series of prints.

Portrait of Johannes Stradanus ca 1580. Print made by Johannes Wierix  after J. Stradanus.  British Museum 1879,0510.428  (©Trustees of the British Museum. CC BY-NC-SA 4.0)
Between 1566 and 1577 Stradanus executed preparatory drawings for a series of hunting scenes  for tapestries to decorate the Medici villa at Poggio a Caiano near Florence. The success of these led Flemish publishers to commission  hunting scenes by Stradanus for engravings, an indication that the artist's fame had by then spread north of the Alps. Six large-format engravings with scenes representing the tapestries at Poggio a Caiano were published by the renowned print publisher Hieronymus Cock in 1570, and in 1574 and 1576 Volxcken Diericx, Cock's widow, published two series prints based on the same designs but without their ornamental borders.

Wild Boar Hunt with Nets. 1570 (Series of hunting scenes with borders). Engraving. Published by Hieronymus Cock, after Jan van der Straet.  British Museum 1870,0514.1233 (©Trustees of the British Museum. CC BY-NC-SA 4.0)
Stradanus had by then begun his collaboration with Philips Galle (1537-1612), another engraver and print dealer who had earlier worked in Cock's workshop. This resulted in two new series of hunting scenes. The first, which numbered 44 prints, was published in 1578-80 and some 15 years later an additional 61 prints were produced, providing a greater variety of scenes. Both series were combined into a single collection  published in 1596 as Venationes, ferarum, arium, piscium [Hunts of wild animals, birds and fish]. Several engravers were engaged on this ambitious publication which was reprinted several times during the 17th century by Galle's heirs.

Title page of Venationes Ferarum, Avium, Piscium. British Library C.107.k.7
The British Library has two copies of the work, 1899.cc.71 and C.107.k.7. Both  have the same engraved title page, on which the name of Joannes Galle  has replaced that of  his father Philips, as it does on all the plates. This edition was first published in 1634 but as the date does not appear on the title page of either of our copies, perhaps they are later reissues. Judging by the quality of the plates, 1899.cc.71 is the earlier of the two. It is incomplete – a selection of 38 plates – whereas  C.107.k.7 has all 104 plates. 
The prints are approximately 20 x 26.5 cm. They are grouped into thematically related depictions of animal and bird hunts, fishing, scenes from history or legend, fights between animals, or between wild animals and men in arenas. At the bottom of each picture there are verses explaining its subject. The examples below  give an idea of the great variety of subjects and their treatment, and of Stradanus's inventiveness and exuberance. The landscapes, drawn following Flemish and Italian pictorial traditions, are a reminder both of the artist's country of origin and of  his adopted country.
Scenes from history and legend
Whale Hunt by the Emperor Claudius at Ostia. Engraved by Adriaen Collaert [Plate 86]. Claudius fought a killer whale which was trapped in the harbour, an event witnessed by Pliny the Elder. The whale sinks a boat with a gush of water from its mouth.
Animal hunts
Hunting panthers using mirrors. Engraved by Jan Collaert II  [Plate 16]. In the foreground panthers are lured into traps which contain mirrors; on a wooded outcrop above, huntsmen wait to spring the traps; to right, other panthers are caught in nets; a group of hunstmen, with spears, approach along a riverbank.
Gazelle hunt.  Engraved by  Joannes Galle [Plate 51]. One of the most spectacular engravings in the collection.  At right foreground a group of hunters are preparing for the hunt, two of them putting on their climbing shoes. At left mid-ground, hunters armed with spears, accompanied by dogs, chase gazelles up cliffs; on the opposite side of the ravine, men drive the gazelles off the cliff.
Bird hunts
Hunting of reed warblers with owls. Engraved by Jan Collaert II [Plate 68]. Three owls perch on poles tethered with cords and a fourth stands on a cage. They attract the warblers which fly down to mock them. Lying on the ground are hunters camouflaged as bushes (their hands and faces can be seen) holding lime-twigs on which the birds land and become trapped. In the foreground, a couple is handing dead birds to an older woman who is putting them in a basket; a little boy observes the hunt.
Catching swallows from rooftops using discs. Engraved by Joannes Galle [Plate 85]. One of the rare cityscapes in the series. In the foreground, boys catch swallows from the roofs and balconies of buildings using circular discs suspended from long sticks; groups of figures watch them from an Italianate square.
Beekeeping. Engraved by Joannes Galle [Plate 83]. Beekeeping is curiously included as an example of bird hunting. A man on a ladder scrapes bees from the trunk of a tree into a hive; another figure supports the base of the ladder; two figures beat pans with sticks , and a third watches a swarm of bees flying above. A row of hives can be seen to right.
Fishing
Fishing with dip nets in the river Arno. Engraved by Joannes Galle [Plate 96].  In the right foreground a river god, holding a cornucopia, is seated upon a lion representing Florence; fishermen wade in the river Arno with dip nets; to left and right, the city of Florence flanks the river.
Chris Michaelides, Curator Romance Studies
References/further reading
Jan van der Straet, Philippus Gallæus, Cornelis van Kiel  Venationes Ferarum, avium, piscium, pugnæ bestiariorum et mutuæ bestiarum. … . ([Antwerp, after 1634?]). 1899.cc.71.
Jan van der Straet, Joannes Gallæus, Cornelis van Kiel, Venationes ferarum, auium, piscium….  (Antwerp,  [after 1634?]). C.107.k.7.
Alessandra Baroni & Manfred Sellink, Stradanus, 1523-1605 : court artist of the Medici  (Turnhout, 2012). LD.31.b.3160
Alessandra Baroni Vannucci,  Jan Van der Straet detto Giovanni Stradano: flandrus pictor et inventor.  (Milan, 1997).  LB.31.b.19393
Manfred Sellink, Philips Galle (1537-1612): engraver and print publisher in Haarlem and Antwerp.  ([Amsterdam?], 1997).  YA. 1999.b.4195.
Johannes Stradanus, compiled by Marjolein Leesberg; edited by Huigen Leeflang. (Amsterdam, 2008). YF.2009.b.2177
Yvonne Bleyerveld, Albert J. Elen, Judith Niessen, Bosch to Bloemaert : early Netherlandish drawings in Museum Boijmans Van Beuningen, Rotterdam (Paris,  [2014]). YF.2014.b.1669. 
10 November 2014
As sponsor of the seminar 'Language and the Making of Nations'  this Friday, NISE's coordinator Luc Boeva explains the role of NISE in safeguarding archives on national movements in Europe.

Since the end of the 18th century nationalism has played an important role in the history of Europe. Its protagonists, assembled in national movements, were involved in the construction of nations and national identity, contributing both to the constitution and the dissolution of states. Also today, it remains a complex phenomenon that exerts an important influence on the cultural and political evolution of Europe.

Nationalism is the object of sustained and intensive research. However, although national movements are in fact pre-eminently transnational, researchers often remain unaware of results from studies of other national movements. Case studies are therefore often carried out without a contextual or comparative dimension. Moreover, theory formation is insufficiently based on the results of comparative empirical research. Comparative studies tend to be complicated, due to language barriers and the unavailability of controlled and systematically presented data. And there has not been any coordinated effort on a European level to collect sources on national movements, nor to conserve and disclose them for research.
Image by permission of NISE
That is why NISE (National movements and Intermediary Structures in Europe) was established in 2008, providing an interdisciplinary research, heuristic and archival platform for sustained cooperation at European level between academics as well as research and heritage organizations from all over Europe. The main objective of the organization is to enable comparative and transnational studies of national movements. Mapping out institutional and personal relations between them enables researchers to study political and cultural transfers.
Image by permission of NISE
NISE collects, checks and structures data about the intermediary structures (political parties, organizations, societies and the people involved) of national movements in Europe. This information is linked in an English-language database with four other types of information: archival, bibliographical, institutional and contextual.
Images of Flemish nationalists in the Francophone satirical magazine Pan, an example of the kind of material collected by NISE (Image by permission of NISE)
The data are harvested as a result of projects, conferences and workshops, migration from other databases, etc. NISE also accompanies the collection, conservation and disclosure of the historical and current archival and printed sources from and about national movements. The organization issues various publication series, including the online journal Studies on National Movements - SNM.

Photo taken during the interwar years at a meeting of the Algemeen Katholiek Vlaams Studentenverbond (AKVS), a student organisation connected with the Flemish movement [source: BE ADVN VFA6770]
Luc Boeva, Coordinator NISE, [email protected]

Further reading:

Boeva, Luc, Rien de plus international. Towards a comparative and transnational historiography of national movements, (Antwerp, 2010). YD.2015.a.2492. An abridged version is available in English, Dutch, French, Spanish, German and Russian.

Boeva, Luc, Introduction: a database, a heuristic guide and an archival instrument for transnational comparative research into the national movements in Europe = Introductie = Introduccion = Einführung. (Antwerp, 2010). YF.2015.a.6849

Boeva, Luc, De beste plaats : de collectie nationale bewegingen in het ADVN. (Antwerp, 2009) YF.2013.a.15117
Boeva, Luc, "Pour les Flamands la même chose" : hoe de taalgrens ook een sociale grens was. (Gent, 1994) YA.1995.b.4720 

For more information, see www.nise.eu or contact the coordination center in Antwerp (Belgium) ([email protected]).


27 October 2014
Félicien Rops (1833-1898), painter, printmaker, and illustrator, was active in both his native Belgium and in France, where he moved in 1874; his vast and varied output included landscapes, portraits, and, above all, representations of modern life, often caustic and disconcertingly frank. A leading figure of the Belgian avant-garde, he is perhaps best known for his etchings and book illustrations of the 1870s and 1880s which, with their heady mixture of of erotic (or frankly pornographic) and macabre imagery, make him one of the great figures of the late 19th-century Decadent Movement, and an artist whose work often reflects  the themes investigated in the British Library's current exhibition 'Terror and Wonder: the Gothic Imagination'.
His friendship with Baudelaire during the two unhappy years (1864-66) the poet spent in Belgium had a profound and lasting influence on Rops, and determined much of his later imagery. Baudelaire went to Belgium in April 1864 to give a series of lectures and to evade his creditors. Already seriously ill, plagued by money worries and a broken man, his despair there manifested itself in ferocious misanthropic attacks on Belgium and the Belgians. Rops was well-known by then as a caricaturist, his lithographs of social and political satires in the style of Daumier and Gavarni published in various Belgian newspapers and magazines, and also for realist subjects inspired by Courbet. Rops was introduced to Baudelaire in May 1864 by Auguste Poulet-Malassis, the poet's publisher and friend and, like him, in self-imposed exile in Belgium evading his creditors. Rops and Poulet-Malassis were the only persons whose company, in the words of the poet, "lightened [his] sadness in Belgium".
Images of skeletons are evoked in Baudelaire's poetry and described in his art criticism (for example Alfred Rethel's series of engravings Auch ein Todtentanz). They evidently influenced Rops who confided to Poulet-Malassis that he shared the poet's "…love for the primary crystallographic form: the passion for the skeleton". He was accordingly commissioned to execute the frontispiece of Les Épaves, a collection of incidental verse by Baudelaire which would include the six censored poems from the 1857 edition of Les Fleurs du mal. Les Épaves was finally published in 1866 with the Rops frontispiece illustrating the complex iconographic programme elaborated by Baudelaire. It depicts a skeleton, symbolising the tree of good and evil, in whose feet grow flowers representing the seven deadly sins. Angels and cherubs are flying high above around a medallion of the poet carried away by a chimera.

Frontispiece by Rops from Baudelaire's Les Épaves (Paris, 1866). British Library 011483.c.19
This was the first of a series of skeletons that would feature regularly in Rops' work over the next three decades, most of them direct or indirect evocations of Baudelairian themes, showing the lasting effect of the poet's work. They include La Mort qui danse  ('Death Dancing', ca 1865), and the painting La Mort au Bal ('Death at the Ball', 1865-75), both of which show a skeleton dressed as a woman and evoke Baudelaire's poem 'Danse macabre'. Mors Syphilitica (1875) shows the grim reaper masquerading as a prostitute in a doorway whereas La parodie humaine (1878) shows death hiding behind the elegant appearance of a young fashionable woman (another syphilis warning).

Félicien Rops, La Mort au bal. (1865-75) (Otterlo, Kröller-Müller Museum)

Félicien Rops, La parodie humaine (1878) (Namur, Musée provincial Félicien Rops)
Satan is also sometimes depicted as a skeleton, as in the two versions of Satan semant l'ivraie ('Satan sowing seeds among the wheat'), one pastoral and one urban. The earlier of these images (1867, below left) shows Satan dressed as a peasant sowing the seeds of discord, in the later print (1882, below right), a gigantic Satan is crossing Paris, his right foot resting on the towers of Notre-Dame; in this case the seeds of discord, sown with his right hand, are women (a typically misogynistic image of woman as the instrument of the devil).

The two versions of Satan semant l'ivraie (Musée provincial Félicien Rops, Namur)
Finally, skeletons appear in various guises in Rops illustrations to literary works by, among others, Joséphin Péladan's Le Vice suprême (1884). Curiously, Rops never illustrated a work by Edgar Allan Poe, whose prose works would have been known to him through Baudelaire's translations.

'Le vice suprême' from Josephin Aimé Péladan, Études passionnelles de décadence. Le vice suprême (Paris, 1884) Tab.603.a.29.
Postscript: It was while visiting the baroque Jesuit church of Saint-Loup in Namur on 15 March 1866, in the company of Rops and Poulet-Malassis, that Baudelaire had a seizure which led ultimately to aphasia, paralysis and, the following year, his death. His collapse occurred as he was praising the elaborate confessionals of the church the interior of which he had earlier described as a "terrible and delightful catafalque" and as a "catafalque embroidered in black, pink and silver". Four years earlier Baudelaire had an ominous warning, which he described in his diaries in apocalyptic terms – "I constantly suffer from from vertigo, and today… I felt pass over me the wind of the wing of imbecility"; he must have now realised that the end was imminent.
The Church, a masterpiece of Belgian architecture, has recently been deconsecrated and is currently being restored. A stone's throw away, the Musée provincial Félicien Rops, houses a rich collection of the artist's  work. Its façade is adorned with a street sign showing Pornokratès, Rops's most famous work, its rather curious putti bearing a distinct resemblance to those of his frontispiece of Baudelaire's Les Épaves, an appropriate reminder of the poet in this neighbourhood redolent with baudelairian associations.
Chris Michaelides, Curator Italian and Modern Greek

Félicien Rops, Pornokratès (Museum Félicien Rops, Namur)
References:
Charles Baudelaire, Les Épaves: Pièces condamnées – galanteries – épigraphes – pièces diverses – bouffonneries. (Brussels, 1866). 011483.c.19.
Félicien Rops, 1833-1898, lithographies, gravures, dessins, peintures. (Namur, [198?]). YA.2000.a.15029
Michel Draguet, Rops. (Paris, 1998). LB.31.b.17754
Bernadette Bonnier, André Guyaux, Hélène Védrine, Autour des Épaves de Charles Baudelaire (Antwerp, 1999) YA.2001.b.1454
Bernadette Bonnier, Véronique Carpiaux, Museum Félicien Rops (Oostkamp, 2003) YF.2006.a.5513.
Bernadette Bonnier (ed.), Le Musée provincial Félicien Rops, Namur (Brussels, 2005). LF.31.b.2064
19 September 2014
On 4 August 1914, the German army invaded neutral Belgium on their way to Paris and a speedy victory. In the event, the Germans met with unexpected resistance from the Belgian army which slowed their progress and allowed time for the arrival of the British Expeditionary Force (BEF).  Accounts from Belgium, Luxembourg, and Northern France of German troops engaged in the mass execution of civilians and the wilful destruction of towns helped mobilise support for the war in Britain as well as influence public opinion in neutral countries such as the Netherlands and Switzerland.  The Germans countered that their actions represented harsh but just punishment for attacks on their troops by civilian snipers ('francs-tireurs').  In reality such attacks did not take place in 1914, but the Germans had indeed had to contend with civilian snipers in the Franco-Prussian War of 1870, and so were expecting to come under fire from civilians on this occasion too.
The German writer Arnold Zweig, best known for his later anti-war cycle, Der Große Krieg der Weißen Männer ('The Great War of the White Men'), based on his actual experiences serving with the German army in Belgium, Serbia and at Verdun, began his literary career penning nationalistic stories fictionalising German propaganda about Belgian snipers. In Die Bestie (Munich, 1914;  012552.i.24/3), the eponymous 'beast' is a treacherous Belgian farmer who is justly executed for cutting the throats of three sleeping German soldiers. In Zweig's later Erziehung vor Verdun (Education before Verdun), on the other hand, the German investigating judge Mertens discovers that 'In Luxemburg alone over 1,350 houses had been burned, and more than 800 people shot. In Belgium and Northern France the same methods had led to even worse results'.
The 'sack of Louvain' (Leuven) and destruction by arson of the university library during the week 25-28 August struck a particular chord both at the time and in popular memory as a wilful attack on a cultured university town, the 'Oxford of Belgium'. 
John Neat, Remember Louvain. March (London, 1914) h.3827.x.(31.)  Cover illustration signed M.H.
Englebert Cappuyns, a lawyer from Louvain and refugee based in Kingston upon Thames, provided an early eye-witness account in his Louvain: a personal experience (Kingston upon Thames, 1914; 9082.de.15), while the narrative of An eye-witness at Louvain (London, 1914; 09083.b.36(1)) by an anonymous Professor at Louvain 'furnished through Father Thurston, S.J. of Farm Street', concentrates on the execution of the Jesuit priest Father Dupiérieux. Albert Fuglister, a Swiss businessman based in Louvain, and present during 25-28 August, countered German propaganda in his Louvain ville martyre (Paris & London, 1916; 9083.f.14). In addition to the usual eye-witness accounts, Fuglister includes many photographs. In an appendix, 'Comment j'ai  photographié leurs crimes' ('How I photographed their crimes'), he explains that he took photographs of Louvain in ruins from 2 September 1914 onwards.  He also reproduces photographs taken by others, in particular the two Arnou brothers.  Photographs from the Arnou album are on show in the 2014 Leuven exhibition Ravaged: art and culture in times of conflict

Fuglister reproduces a German propaganda postcard depicting the alleged Louvain snipers (above). The caption reads 'The atrocities against unsuspecting German troops in Louvain'. Fuglister's counter caption tells his readers that 'this widely circulated postcard is intended to show the public how German soldiers were attacked by the population of Louvain. This street does not exist anywhere in Louvain except in the imagination of the author of this drawing'.
Here Fuglister uses before and after photographs of the Grand Hall in Louvain University Library  (below) to highlight the impact of the devastation wrought by the Germans.

The caption explains that the library 'held [note the imperfect tense] more than 300,000 books, incunabula, manuscripts of incalculable value reduced to ashes in the space of one night. The fragments are found within a radius of five kilometres'.  
Fuglister's book has a preface by the Belgian poet, and Louvain graduate, Emile Verhaeren. Verhaeren, himself a refugee in London and Wales from September 1914 to January 1915, and transformed by his shock at the fate of his country from a cosmopolitan man of letters into a 'Belgian Paul Déroulède' used his time in Britain tirelessly producing patriotic verse, and touring the country in support of his native land. His preface to Fuglister's book mentions an earlier book by a citizen of a neutral nation, the retired Dutch professor L. H. Grondijs, author of The Germans in Belgium (London, 1915; 08028.de.82/2).
As for Louvain University Library, it was reconstructed after the war largely with American money (though see The reconstruction of the Library of the University of Louvain: an appeal for further contributions by Henry Guppy, the Librarian of the John Rylands Library, Manchester (Manchester, 1919; 011903.d.16)). This new library and collection was in turn destroyed in the Second World War. Finally, the Belgians themselves dismantled the new post-Second World War collection when the French-speakers were evicted from the now exclusively Flemish university and the collection was divided equally between the old foundation and the new university at Louvain-la-Neuve.
Teresa Vernon, Lead Curator French Studies
References/Further reading:
Arnold Zweig, Erziehung vor Verdun (Amsterdam, 1935) 12557.y.11.  English translation by Edward Sutton, Education before Verdun (London, 1936) 12554.r.14.
Sophie De Schaepdrijver ,The 'German Atrocities' of 1914  http://www.bl.uk/world-war-one/articles/civilian-atrocities-german-1914
Fernand Van Langenhove, Comment naît un cycle de légendes : francs-tireurs et atrocités en Belgique (Lausanne; Paris, 1916). 9083.ff.10.  English translation by E.B. Sherlock, The Growth of a Legend (New York, 1916) 9083.gg.29.
 John Horne and Alan Kramer, German atrocities 1914: a history of denial (New Haven, 2001) m01/34099
Alan Kramer, Dynamic of Destruction: Culture and Mass Killing in the First World War (Oxford, 2007) YC.2008.a.8001
Leuven University Library 1425-2000 edited by Chris Coppens, Mark Derez and Jan Roegiers.  (Leuven, 2005). LF.31.b.7798
30 July 2014
Following on from a previous post related to the Tour de France, this piece talks about the Dutch word 'Fiets'. At first glance the word doesn't seem to bear any resemblance to its equivalents in English (bicycle), French (vélo) or German (Fahrrad) and it was this realisation that prompted a spat of research on its etymology.
First port of call was the Woordenboek der Nederlandsche Taal, or Dictionary of the Dutch Language (WNT). The WNT is the largest etymological dictionary in the world, in any language. It is available online, but the British Library holds a copy on the open shelves in the Humanities 1 reading room (HLR 439.313).
Despite its erudition the WNT doesn't provide a satisfactory etymology for the word 'fiets'. It offers two possible sources, neither are conclusive.  Not much fun there, then.

Image taken from page 211 of The Z.Z.G. or the Zig Zag Guide round and about the beautiful Kentish coast (London, 1897) 10352.g.28.
Some more digging around in the catalogue brought up a title that proved to be just the ticket. Ewoud Sanders' Fiets! (The Hague, 1996; YA.2002.a.1177), brings together columns previously published in the Dutch newspaper NRC Handelsblad. The little book is beautifully bound in a hard grey cover, and printed in the best of Dutch printing traditions. In eight chapters, or 'étappes' (stages) Sanders discusses the various theories on the origins of the word 'fiets', as offered by etymologists, journalists and cycle fanatics alike. Apparently, no other word has kept the Dutch and Flemish so pre-occupied as 'fiets'. When the bicycle was introduced to the Low Countries from France, it was knows as a 'vélocipède. At the Language and Literary Congress in Leuven in 1869 heated discussions were held over the question whether a Dutch language variant should be found and if so, which one. Shortly after this congress cycling took off in The Netherlands, which had to have consequences for the vocabulary associated with it.
Fiets! gives a fascinating account of the history of cycling in the Low Countries as well as of the development of the word 'fiets'. The WNT is mentioned several times, because its editors were heavily involved in the discussions around it. The bibliography reflects the fascination people had with 'fiets' and includes over 50 titles, ranging from the WNT to letters from the archives of the ANWB, the Dutch equivalent of The AA.
In the end Sanders supports the theory that 'fiets' originates in the vernacular as spoken by Dutch school boys, back in the 1870s. That is probably why the word was considered to be a sort of 'F' word by the educated classes. How different things are these days.
The Dutch language abounds in expressions around 'fiets' or 'fietsen', (to cycle), which proves just how much 'fiets' has become firmly settled in the Dutch language, just like the article itself has become an icon of Dutch culture. Sanders doesn't go into this, but cycling (whipping) through the 'Van Dale' dictionary (Van Dale groot woordenboek, door W. Martin en G.A.J. Tops. (Utrecht, 1984-1986) HLR 439.313) will clarify how it is you can have a 'bicycle rack' in your mouth, as in when you have 'gappy teeth'. If you suddenly see where I'm coming from, you may exclaim: 'Oh, op die fiets!' ('Oh, on that bike!').
Thieves' slang gives a clue on how much a stolen bike would sell for one hundred years ago. A 'Fiets' to them is two 'thalers', or five guilders. Thieves also may have used bicycles to get away on; hence the use of 'fiets' for 'arms and legs'. When by now you've had enough of me, you're probably telling me to get on my bike, just like the Dutch say: 'Ga toch fietsen!'  
Marja Kingma, Curator Low Countries Studies