11 May 2015
In another guest post for this year's European Literature Night, Gallic Books translator Emily Boyce introduces the French-based Algerian writer Yasmina Khadra
Yasmina Khadra, who will appear at European Literature Night at the British Library on Wednesday 13 May, is a novelist who has often been drawn to tackle controversial and current topics such as global conflict and extremism in his fiction.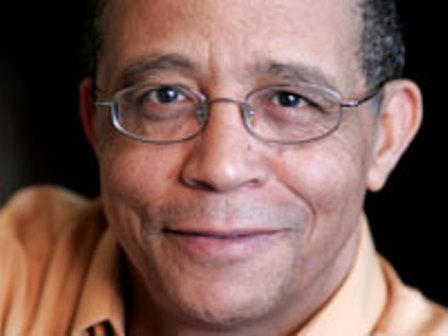 Yasmina Khadra (photo © E. Robert-Espalieu from Gallic Books website)
Khadra began writing under his wife's name to avoid censorship while serving in the Algerian army, and revealed his identity after moving to France in 2001. Informed by his experience as a Muslim of North African origin living in the West, he is a leading voice on many of the defining issues of our time. He recently appeared on Al Jazeera to discuss his thoughts on literature and freedom of speech in light of the Charlie Hebdo attacks, while his contribution to BBC Radio 4's Letters from Europe series warned of the growing threat of racism and intolerance in the continent.
Khadra confronted the rise of the Taliban in 2002's Les hirondelles de Kaboul (The Swallows of Kabul, to be discussed in this month's BBC World Book Club), and explored the motivations of suicide bombers in his Tel Aviv-set L'Attentat (The Attack). This book was adapted into a 2012 film which will be screened at the Institut Français on Tuesday 12 May, followed by a Q and A session with the author.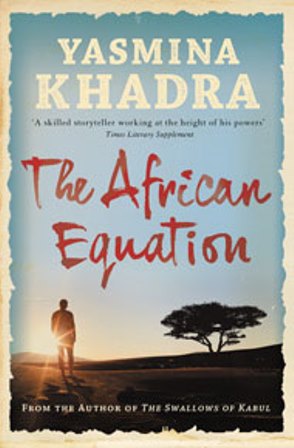 Khadra's latest novel, L'équation africaine, published in English as The African Equation by Gallic Books in February this year, takes the problem of East African piracy as its starting point, and goes on to portray one man's ordeal as a hostage and his life-altering encounter with a fellow captive who holds a very different view of the continent and its people.
In all his fiction, Khadra brings empathy to characters in desperate situations. As The Literary Review put it, 'Khadra is a passionately moral writer but he rarely sits in judgment.'
 To mark his forthcoming appearance at European Literature Night, Khadra has written a moving piece in reaction to the migrant crisis in the Mediterranean, published on the Culturethèque blog of the Institut français UK.
 Emily Boyce, Gallic Books
Selected works by Yasmina Khadra in the British Library (for full holdings see our catalogue)
Les anges meurent de nos blessures: roman (Paris, 2013) YF.2014.a.12993
L'équation africaine: roman (Paris, 2011) YF.2013.a.25944; English translation by Howard Curtis, The African Equation (London, 2015) awaiting shelfmark.
Ce que le jour doit à la nuit : roman (Paris, 2008) YF.2009.a.3841; English translation by Frank Wynne, What the Day owes the Night (London, 2010) Nov.2011/207.
Les sirènes de Bagdad: roman (Paris, 2006) YF.2007.a.1939; English translation by John Cullen, The Sirens of Baghdad (London, 2007) Nov.2007/2364.
L'Attentat: roman (Paris, 2005) YF.2006.a.7205; English translation by John Cullen, The Attack (London, 2006) Nov.2006/2043.
Les hirondelles de Kaboul: roman (Paris, 2002) YA.2003.a.14765; English translation by John Cullen, The Swallows of Kabul (London, 2004)
A quoi rêvent les loups: roman (Paris, 1999) YA.2003.a.6391; Engish translation by Linda Black, Wolf Dreams (New Haven, Conn., 2003) Nov.2007/33.
08 May 2015
Today's guest post for European Literature Night 2015 considers how the original language of a work can influence its international success
In his 2007 New Yorker essay, 'Die Weltliteratur: European novelists and modernism', Milan Kundera poses the question - would anyone today know the work of Kafka if he had written his works in Czech and not German? For anyone writing in, or translating from, what is considered a 'small' or 'lesser known' language, this is the kind of question which could keep one awake at night and could easily induce a bitter sense of being neglected by history. For it does seem that nations such as the Czech Republic, not to mention the even smaller Macedonia or Montenegro, are left at the footnotes of history books; their writers excluded from the canon of European Literature. How many books written by Macedonian writers can you name?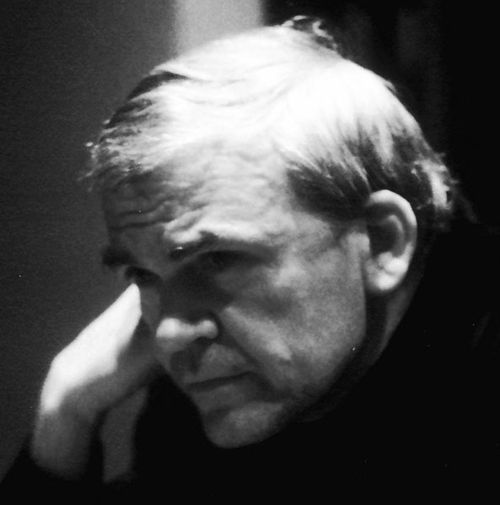 Milan Kundera (photo by Elisa Cabot from Wikimedia Commons)
Arguing for a 'World Literature' instead of a number of juxtaposed 'literatures', Kundera considers cultural diversity to be the greatest European value. His essay is a plea against 'provincialism' – either from the larger nations by ignoring the literary output or smaller nations, or from the writers of smaller nations themselves, who hide behind their obscurity, not daring to add their voice to the international dialogue. Brandishing the now infamous '4%' statistic, publishers of literature in translation in the UK can often feel very frustrated by the constant reminder that the massive geographical reach of the English language makes many readers feel as if the world is writing in English. Insular as we are, the job of discovering writers from other nations, and then going through the lengthy process of having them translated, might seem to be pointless. But then we are reminded of how many works in translation have had so much influence in terms of literature as a whole – from Herta Müller  to Murakami, and even Kundera himself – and we have to admit that we would all be the poorer without it (with the added relevance that Herta Müller, like Kafka, lived in Romania – a 'lesser-known' country and a smaller language group, but wrote in the much 'bigger' language of German).
So if Herta Müller and Franz Kafka had written in the lesser-known languages of their native countries it is very possible – given the low rate of translated fiction here in the English-speaking world – that they would never have been able to achieve the international reputation they now enjoy. This in itself should be argument enough for the benefit and relevance of translated literature. It is why a number of dedicated publishers continue to seek out new writers – however small the nation they come from – and why cultural institutions like the EU Culture Fund and the Arts Council continue to encourage and finance literary translation. Like Kundera, we feel that cultural diversity is Europe's greatest value, and one worth preserving.
Susan Curtis-Kojakovic 
Susan Curtis-Kojakovic is publisher of Istros Books, an independent publishing house dedicated to promoting the literature of South-East Europe. For this year's European Literature Night she nominated and is supporting Slovenian author Evald Flisar
06 May 2015
In another guest post for European Literature Night 2015, the Danish author Naja Marie Aidt, appearing at the writers' event, reflects on grief  and literature.
Naja Marie Aidt
In late February I walked the streets of Manhattan and came across a small shop. A beautiful green jacket hanging in the window caught my eye. I went straight in and bought it even though the sleeves were way too long. Perfect for spring, I thought, and jumped on the subway, feeling uplifted and very happy. In March I suffered a terrible loss in my immediate family. Everything turned dark inside me and on the outside, the world seemed to disappear. In April the trees turned green, the cherry trees started blooming with a rich intensity, an almost vulgar pink prettiness. Nature had once again dug its way out of the long, cold, winter and transformed itself into a tempting scene of life: the sun was out, almost too bright, too clear, revealing my grief as a disgrace against the beauty of everything else. But grief is not a disgrace and it is not ugly. It's heavy and it pulls the body towards the ground as if to bring you closer to the beloved missing person, burried deep in the wet cold soil. I walked the streets, blinded by the light, I dragged my mourning body onward even though it did not want to move. I tried to find my way back to the simplest activities: making coffee, showering, heating up a bowl of soup. I had forgotten about the before because this was the after and nothing would ever be the same again. I knew it when I looked up at the cherry trees and I know it now. Fortuna has played her sick game, just for the fun of it. The tragic coincidence that changed my life over night had no meaning, no purpose. I could almost hear the goddess laughing, and I hated her – hated the chaos of life, the unpreditable chaotic life that we usually believe we are in control of. But we are not. When we move through our lives, mostly uplifted and happy, we walk on invisible cracks and sometimes those cracks expand and make us stumble, sometimes they open up wide and swallow us. Simply by coincidence. I've written about those cracks in Baboon and in my forthcoming novel Rock, Paper, Scissors, but the difference between writing about getting hit by a car and actually getting hit by a car is obviously huger than huge.

One day in early May, grabbing a shirt from my closet, I came across the green jacket. I looked at it as if I had never seen it before and I realized that the pattern was almost identical to the image on Jordan Stump's English translation of Marie NDiaye's novel Self-Portrait in Green. There I stood, looking at the jacket,  thinking about Self-Portrait in Green, a remarkable mysterious story about repression and obsession where the dead mingle with the living and vice versa, and a certain type of woman – a victim, always unhappy, ghostly – is always dressed in green. I reached for the jacket and put it on. Perfect for spring, thanks to the too-long sleeves, as if in mourning seeking the ground.  I told Ms. Fortuna I didn't give a shit for her spoiled, cruel games and went to the park with Self-Portrait in Green in my hand.
Maria NDiaye's Self-Portrait in Green and the green jacket.

Naja Marie Aidt

Works by Naja Marie Aidt in the British Library

Vandmærket : noveller (Copenhagen, 1993) YA.2002.a.1404

Trilogi : digte (Copenhagen, 1995) YA.2003.a.30299

Huset overfor : digte (Copenhagen, 1996.) YA.2000.a.4948

Rejse for en fremmed (Copenhagen, 1999.) YA.2001.a.7331

Balladen om Bianca (Copenhagen, 2002). LF.31.a.1685

Rundt på gulvet (Gråsten, 2004.) YF.2006.a.7677

Bavian : noveller (Copenhagen, 2006.)

Åsted (Gråsten, 2008.) YF.2012.a.16708

Alting blinker : digte (Copenhagen, 2009.) YF.2011.a.14098

Sten saks papir (Copenhagen, 2012.) YF.2013.a.5872


01 May 2015
In a new guest post for European Literature Night 2015 Rosie Goldsmith, presenter of the authors' event and chair of the judging panel, casts her vote for European Literature.
It will hardly have escaped your notice that we are in the midst of an election campaign in the UK and that one of the key platforms is European literature: do we allow it in to the UK or do we keep it out? Is it taking over our home-grown English literature? Should there be a referendum on it? What are the business advantages to the UK of supporting it? And so on.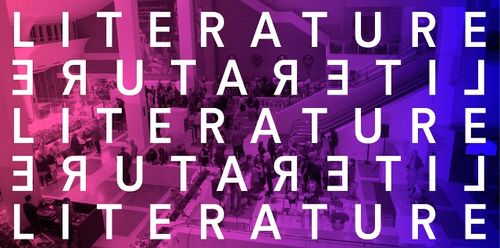 On May 13th there'll be some key post-election analysis at our annual 'European Literature Night' at the British Library. However, as your host I feel obliged to warn you that I have already come out in favour of European Literature. Sorry, but The Lady's Not For Turning.
We've enjoyed an impressive pre-election build-up. Our ELN manifesto was published in early autumn 2014; nominations closed in December; the jury met in January 2015; early results were published in March 2015. In the interests of transparency and full disclosure I reprint some sections of the official 'ELN Call For Participation', sent out to all 'Cultural Institutes or Embassies, literary organisations, educational institutions, publishers, booksellers and professional literature practitioners' stating that nominated writers,
* Must be reasonably established in their home country…..
* Must have had a book published in English after January 2012 or ….by May 2015;
should preferably speak English sufficiently well to be able to participate in readings and discussions.
* Must supply an extract of work (up to 15 pages of a novel or a small selection of poems).
As ELN party leader for the seventh year running (although my re-election seems to be based purely on my shoe choice), I take my responsibilities seriously. My New Year's Eve was spent  reading through 44 literary extracts from all over Europe, including a high representation of what is officially termed lesser-known languages and minority cultures in UK-Eurolit politics: Croatia, Cyprus, Latvia, Macedonia, Slovakia and Slovenia. And if you are a keen pollster and trend-spotter you'll be pleased to know there was a good spread between 'East' and 'West' (are we permitted to distinguish these days?), of publishers, of well-known and lesser-known writers; a broader spread of genres than other years – including our first e-book and Young Adult novel. But one trend remains constant: the presence of the big fat Spanish novel. (Discuss: do the Spanish write longer novels than other nationalities?).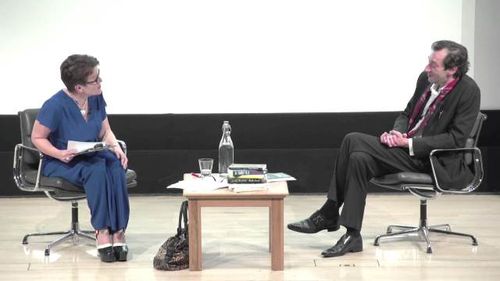 Rosie Goldsmith interviewing French author Antoine Laurain at European Literature Night 2o14
The quality of translations was also excellent (an upward trend). And a first: nearly half of all submissions were written by women. Sadly though, by the time we judges convened, and I was forced to relinquish total control over the party, our final selection of 6 authors comprised 4 men and only 2 women (although one author masquerades as a woman – the French novelist Yasmina Khadra is a man).

However, reflecting the UK's general election landscape, ELN boasts a high representation of women in leading positions, both running the campaign and the final show: Sarah Sanders and Sharmilla Beezmohun of 'Speaking Volumes Live Literature Productions';  Janet Zmroczek, Head of European Studies at the British Library and the deputy Director of the Czech Centre Renata Clark. (And I hesitate to point this out, but I am also a woman.) Increasingly though ELN men are forging ahead and making up for decades of oppression. See the full list of events and participating male members here.
So what are we to make of our final list of candidates? Our Six Authors in Search of Fame and Fortune in the UK are supremely multi-cultural, a testament to the broadmindedness of the British voting public, a guaranteed boost to the publishing and bookselling economy (book sales at ELN in 2014 were, to quote one voter' 'bonkers') – and quite frankly all six books are a joy to read.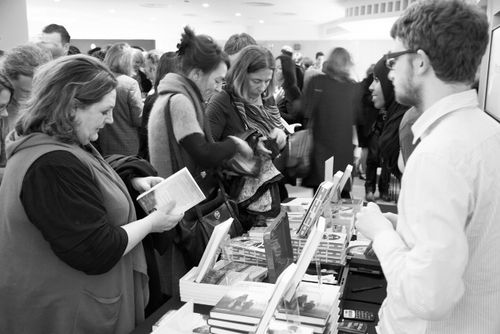 The busy ELN bookstall
Naja Marie Aidt brings her crisp and clear short story collection Baboon from Denmark, although rather excitingly she is originally from Greenland (another ELN first); Yasmina Khadra, author of The African Equation is that superb male novelist from France, writing under his wife's name (how times have changed, dear Reader); Andrea Bajani is a novelist, playwright and journalist from Italy and for once the book blurb is correct - Every Promise is 'remarkable'; Wioletta Greg from Poland is this year's perfect ELN poet, taking us on a moving literary journey through her family history with her collection Finite Formulae and Theories of Chance; Evald Flisar is from Slovenia and his novel My Father's Dreams is, as promised, 'controversial', 'shocking' and 'sensual' (an erotic first for ELN!), whereas Jesús Carrasco from Spain has written the heart-breaking, visceral  novel Out In The Open – compared with Cormac McCarthy's The Road and, bucking all Spanish trends, it is only 184 pages long.
So, there you have it: my vote in May is for European Literature. And as party leader I encourage you to vote ELN too. See you at the polling booths on May 13th.
Rosie Goldsmith

27 April 2015
In the first of a series of guest blog posts by translators, authors and others involved in this to European Literature Night 2015 on 13 May, Marek Kazmierski introduces us to his work as a publisher and translator and to the Polish poet Wioletta Grzegorzewska.
When I set up the publishing house OFF_PRESS a few years back, and started focusing on translations from Polish into English, I had zero experience, no qualifications and just enough time, money and stupidity to press on into publishing waters. I knew poetry didn't sell, though didn't yet no why. Nevertheless, I said to my editorial team – we don't want to lose any more money than is strictly necessary, hence – no poetry!
History, of course, runs its own course, regardless of our best-laid plans. I started translating and publishing dozens and dozens of Polish poets, both living at home and abroad, because I found it easy to contact and work with them, quickly put out books and anthologies and, most of all, I really enjoyed the challenge of confronting the problem poetry translations. Everyone I have ever met has always said "You translate poetry? That must be really hard!" and I always nod and smile and wonder to myself, in silence, at which point in evolutionary history it was we decided, as a species, that the easy way was the one to choose in life.
Truth is, when I started translating poetry, I had just stopped delivering creative writing in HMP Feltham in west London, and started working as a human rights governor in the same prison. Awful, complex, exciting work. Translating poetry, making hand-made books, organising events and festivals, was a great way to relieve work-place stress. Without training, without financial support, I went about reaching for the best the Polish poetry world had to offer – and, considering the history of Polish poetry, there is lots of greats to choose from, living and gone – Tuwim, Dehnel, Bargielska, Herbert, Amiel, Sosnowski, Fiedorczuk, Wojaczek – I have had a good go at most of them.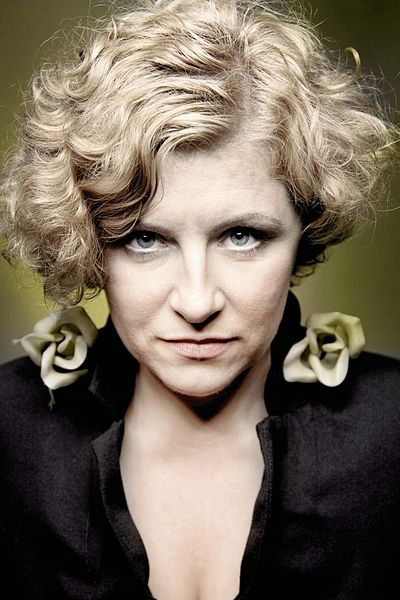 Wioletta Grzegorzewska. Picture by Sylwia Rogala from Wikimedia Commons
Of the hundred-plus poets I have worked with, Wioletta Grzegorzewska, based on the Isle of Wight, always held the greatest promise. Her poetry was always complex and linguistically rich, yet narratively accessible and easy to engage with. It was only much later, after I published her verse in several books, that she owned up to having also always written prose. This makes her an interesting proposition to translate. Her work tells a story, but the language is a work of art in itself. A quality now not only recognised by Arc Publications, who put out a selection of her poems and prose last year (Finite Formulae and Theories of Chance), but also by the European Literature Night team and most recently the jury of the Griffin Prize  in Canada, who have selected it for the four-strong shortlist of the best poetry published in the English language anywhere in the world last year.
Wioletta Grzegorzewska, Finite Formulae and Theories of Chance. (Todmorden, 2014) Awaiting shelfmark
Wioletta's book tells the story of her family, from 1914 to 2014, and covers two World Wars, several births and deaths, many loves and moves about the map of the world. Her debut novel, Guguly ['Unripened fruit'] (Wołowiec, 2014; YF.2015.a.415) is going to be published next year by Portobello Books, and covers similar ground – the challenges of growing up a woman, of being an outsider, of seeing the world through "gypsy" eyes. The credit for the success of her poetry in English goes not just to me, but to the wonderful Stephen Watts, who edited my translations, Marcelina Amelia, the artist who designed the cover for Arc, and Dr Urszula Chowaniec and Dr Ros Green, who regularly featured Wioletta's work at various conferences and festivals, in the UK and abroad.
Literature has always been a team effort, and it saddens me that people still think of writers and translators as solitary creatures. The best of us adventure with the best of them – something which should resonate in our words.

Marek Kazmierski  
Marek Kazmierski is a writer, publisher and translator. He escaped communist Poland as a child and settled in the UK. Joint winner of the Decibel Penguin Prize and sole recipient of the BIKE Magazine Philosopher of the Year award, Marek is also the managing editor of a prison literary magazine Not Shut Up and founder of OFF_PRESS, an independent publishing house which has worked with English PEN, the South Bank Centre, the Polish Cultural Institute, the Mayor of London and various universities across Europe. His work has been published in numerous journals and titles, including The Guardian, 3AM Magazine and Poetry Wales.


14 May 2014
Reportage as a literary genre is a product of the 20th century mass society. Mass communication, the ease of travel, cultural diversity and the impact of global media have strongly contributed to the development of this genre. However, some elements of reportage were present in the works of writers of the previous centuries. The word 'reportage' came to some languages, including Polish, via French. The Polish school of reportage has a long tradition in Poland's cultural and political heritage. 
Melchior Wańkowicz (1892-1974) is considered the father of Polish reportage, and his contemporaries included Ksawery Pruszyński (1907-1950) and Arkady Fiedler (1894-1985). His first book, a result of his journey to Mexico, was published in 1927. However, Wańkowicz, a war correspondent for the Polish Armed Forces, only rose to fame after his eye-witness account of the battle of Monte Cassino was published in 1945, Bitwa o Monte Cassino (Rzym, 1945-47; 9101.dd.43).
An ace of Polish reportage was Ryszard Kapuściński (1932-2007), a reporter and writer of international prestige. He started his literary career as a poet and then turned to journalism in the darkest period of the communist era.  For many years he was the only foreign correspondent of the Polish Press Agency.  In 1955 he had to hide from the authorities for publishing a critical article about working conditions in one of the largest industrial sites in Poland.  Ironically, the totalitarian system paved the way for the success of Polish reportage.  Due to the lack of freedom of expression, writers had to use Aesopian language to convey the hidden meaning of their intentions.  Reportage seemed an ideal genre for this purpose.  Kapuściński's The Emperor (London, 1983; X.809/67171), written in 1978, is about the collapse of the absolutist regime of Haile Selassie in Ethiopia.  All autocratic systems have many things in common, and thus, unsurprisingly, the book has been regarded as an allegory of communist power in Poland.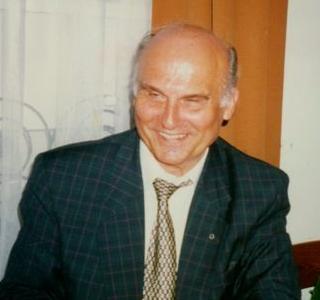 Ryszard Kapuściński (Photograph by Mariusz Kubik from Wikimedia Commons CC-BY 2.5)
When asked about the definition of reportage, Kapuściński used to emphasize two elements:  a writer has to travel with the aim of describing a particular event, and the event must be thoroughly documented by him.  Moreover, good reportage is a synthesis of private experience and wider historical context. The writer not only describes the events he has seen with his own eyes but is expected to provide a comprehensive explanation for them.  His narrative journalism often assumed the shape of literary fiction where facts were mixed with imagination. Before starting his own writing, Kapuściński avidly engaged himself in reading a large number of works related to the topic of his subsequent book.  Amusingly, he used to travel with a suitcase predominantly containing books, and on one occasion they were accompanied by a pair of jeans and a frying pan, which aroused the astonishment of a customs officer.
Kapuściński favoured personal perception over objectivity, and therefore his books are full of his reflections on life. Focused on the situation of man, entangled in the complexities of modern life, Kapuściński felt that his moral duty was to report on wars, conflicts and poverty.  He observed and experienced them over a period of forty years of extensive travel in the Third World. Advocating the equality of cultures, he hoped that his writing, even if marginally, might contribute to reducing tensions and hostility between peoples.
Kapuściński has many followers in Poland.  A large group of young Polish reportage writers, such as Jacek Hugo-Bader, Wojciech Tochman, Mariusz Szczygieł, Beata Pawlak, Wojciech Jagielski and others, adopted a similar style focusing on personal experience rather than on factual description.  Witold Szabłowski, a journalist and writer, also belongs to the school of literary reportage shaped by Kapuściński.  He studied political science in both Warsaw and Istanbul, and specialises in Turkish affairs.  Zabójca z miasta moreli (Wołowiec, 2010; YF.2012.a.9212) is a collection of stories from Turkey. The book provides an in-depth picture of social, cultural and political life in modern Turkey and touches upon shocking incidents that tear Turkish society apart.  This reportage, translated into English by Antonia Lloyd-Jones under the title The Assassin from Apricot City (London, 2013) will represent Poland's literary output at this year's European Literature Night at the British Library on 14 May.
Magda Szkuta, Curator Polish Studies

Witold Szabłowski
09 May 2014
In another guest post for next week's  European Literature Night, the German author Julia Franck  describes the  stimulating and rewarding experience of attending a symposium with some of her many translators.
In the spring of 2008 I had the special pleasure of being invited as an author to Straelen for a translators' symposium. The European College of Translators in Straelen has for many years offered residencies and bursaries for translators working in different genres and and languages; they have at their disposal an impressive library which extends over every area of the building – specialist dictionaries and literature can be found even in the guest-rooms. Working here must be splendid for translators. True, the deeply Catholic Lower Rhine region offers no cultural inspiration or distraction of any kind; even in culinary matters the people here are of a positively protestant modesty, but the wealth of literature and the opportunity to work without interruption is magnificent.
Europäisches Übersetzer-Kollegium in Straelen (Picture from Wikimedia Commons)
Our symposium was devoted to the first of my novels, which has been translated into just under 40 languages to date, Die Mittagsfrau ('The Blind Side of the Heart'/'Blindness of the Heart'). All the translators were invited to the plenary discussion, and as many as 18 of them were able to come to Straelen for our symposium. We were supported by the literary critic Dennis Scheck, acting as moderator, and by a linguist who took minutes throughout the entire week, so that a compendium of our work was available even to those translators who had been unable to make the journey.  Among us, as well as the illustrious British translator Anthea Bell and the young and equally experienced Brazilian Marcelo Backes, were such rare languages as Georgian and such strange-sounding ones as Finnish – and even the Hebrew translator came from Israel.
Julia Franck
Throughout the week, the great cultural differences and the processes of detection and discovery were exciting, as was the realisation of how often translation involves a combination of knowledge, humility, inner freedom and creativity – and how important the awareness of the most subtle social distinctions is when these take root in semantics or grammar. For example, even the Romance languages were far from unanimous about whether the term of address 'mother' and its direct translation was appropriate to the period and class in which the novel was set. While in France many parents are still addressed today  as 'vous' (although 'maman' is nevertheless preferred to 'mère'), it seemed completely unthinkable to the Romanian and Italian translators that an eight-year-old would called his mother 'mother' and not 'mamma' – unless this signified a cool relationship between mother and child. In German it was quite customary into the 1950s, and in some areas into the 1960s and 1970s, for children to address their mothers as 'Mutter', not in all families, but it was not unusual in cultured families with a regard for courtesy and etiquette – and without a cool relationship being the reason. Clearing up this question was a simple and at the same time fascinating example of what traps can lurk in texts and translations; it was, in addition, amusing and instructive for all the translators. At this point too we were also compelled to admit that every translator bears an absolutely sole and exclusive responsibility for his or her seismographic feeling for a language. How certain can a single individual be in such decisions? And how intuitively do we often have to set our own linguistic sensitivity above research which has overstepped its limits?
During the week some extremely stimulating conversations arose, full of information, explanations and enjoyable confrontations, which taught each of us about the nature of the different languages,. The discovery of contradictions and the development of solutions – yes, even the process of infecting one another with our deliberate breaches of linguistic correctness and their beauty and even, at times, something like elegance constituted an intensive course of study for us.
Another extremely fine example occurred on our last evening, which we rounded off with a small public presentation of our work. For the local audience,  who had appeared in great numbers, and mostly spoke only German, though some spoke some Dutch, as Straelen lies only a few kilometres from the Netherlands, we provided spontaneously improvised tasters from our symposium by all gathering on the little stage and asking one another questions. In the novel there is an intense scene in which Helene goes into the woods with her son, in the middle of the war, to look for mushrooms. Hunger and misery accompany them on their quest, and as Helene repeatedly runs away from her clingy and hungry child and disappears from his sight, they come upon a train with cattle-trucks waiting on the line, apparently lost. A whistle can be heard; obviously a search is going on for a fugitive. Helene stumbles over the emaciated man; almost delusional but perhaps lucid, she believes that she recognizes in his eyes the eyes of her sister. Here she realises the immediate danger to which not only her sister must be exposed but she too would be if she had not falsified her identity and gone hunting hungrily through the woods for mushrooms with a son who does not and must not know her true identity. In this scene her state of extreme tension and anxiety is clear as apparently innocent sequences of nursery rhymes fall into the stream her of thoughts. These are two typical German nursery rhymes with innocent hares as heroes – in one the hare gets shot. No matter how well a translator may have studied and learnt German, without experiencing these in childhood he or she will hardly recognize these nursery rhymes as such. Every German, however, knows these rhymes by heart. 'Really?' asked the French translator. 'Of course!' a lady in the audience announced delightedly, and rose to her feet to strike up the song as proof. With no need for further invitation, all the people in the room joined in; they sang both songs from the first to the last verse, happily and joyfully – for the virus of that transmission, in which speech reflects not only syntax and grammar but cultural content, and makes whole worlds accessible, had leapt over to them too.
Translation: Susan Halstead
Julia Franck's The Blind Side of the Heart is published in English by Harvill Secker ( Nov.2009/1636). It was originally published in German by S. Fischer Verlag as Die Mittagsfrau (YF.2007.a.30990). Her second novel to be translated into English is 'Back to Back', also published by Harvill Secker (German original  Rücken an Rücken, YF.2014.a.7255)  


05 May 2014
In a guest post for European Literature Night 2014, Fiona J. Doloughan, Lecturer in English (Literature and Creative Writing) at the Open University and chair of the panel discussion at this year's event, considers the role of language and translation in our society.
As someone who grew up in Northern Ireland at the height of the Troubles, issues of language, culture and identity have always been part of my psychological as well as my intellectual make-up and development. Whether a speaker of Gaelic or not, it would be difficult not to register relationships between language and culture and to be aware of the various 'translations' that take place when
situating yourself in relation to your place of birth depending on who you are talking to and the extent of their knowledge of and/or familiarity with the source culture or, should I say, 
cultures. One might go so far as to say that coming from Northern Ireland, one is already primed to understand something of what it means to translate and be translated.
In my case, this was at more than just a metaphorical level: as a student first of Modern Foreign Languages, then of Comparative Literature, I moved first to England, incorporating a year abroad in France, then to the US and back to England again, arriving at a time when, sadly, Modern Foreign Languages were already on the wane in the UK and English was extending its global reach. European Studies Centres, where the focus was on high-level knowledge of the culture, politics and linguistic and institutional history and habits of European nation states, were being replaced by Language Centres where a range of (mostly) European languages was offered at (mostly) lower levels. Meanwhile, the rest of the world, or so it seemed, was acquiring (a variety of) English in addition to their first language or languages, such is the more complex linguistic reality in parts of the new world order.
A recent trip to the US for a translation-themed seminar confirmed this changing world order: every other person on the streets of Nueva York seemed to speak a language other than English and of the non-English speakers, every second person seemed to be of Hispanic origin; bus drivers and barmen switched effortlessly between American English and some variety of Spanish, leaving me thankful that at my Northern Irish grammar school in the 1970s they had had the foresight to introduce Spanish alongside French and German. If this all sounds a little fanciful, a look at the US Census Data for 2010  confirms the general trend: of the 308.7 million residents in the US, 50.5 m or 16% declared themselves to be of Hispanic or Latino origin, while figures for NY are about 28.5% of the total population.
So what has all this to do with European Literature Night and a panel discussion on 'Stories in Translation: Translating the Untranslatable?' It reminds us, I think, if we need reminding, that even supposedly monolingual countries like the US are anything but; it also helps situate the place of English in the greater scheme of things. For all its resistance to Modern Foreign Languages, neither is the UK monolingual. Indeed parts of it (e.g. Wales) have a commitment to bilingualism; and much contemporary writing draws on other languages and cultures, if not overtly, then certainly covertly. A glance at the writers and writing in Granta's Best of Young British Novelists from spring 2013 is sufficient evidence of the diverse provenance, themes and settings experienced and explored. Perhaps what is really changing is an understanding of translation at a time when assumptions about particular languages in relation to particular cultures are being challenged in the wake of increased migration, both voluntary and enforced. What it means to translate in more multilingual, multicultural settings and how translation, as a mode of reading and writing, helps constitute, rather than merely reflect, cultural identities are just some of the issues to be discussed with our writers, translators and publishers.

British bilingualism: a  Welsh English road sign from Hay-on-Wye (Photo by Aloys5268 from Wikimedia Commons CC BY-SA 3.0)
30 April 2014
In a double guest post for European Literature Night, Belgian author Dimitri Verhulst reflects on having his work translated, and translator David Colmer considers the role of humour in translating Verhulst's work.

On Translations and Foreign Countries

When it comes to translations I can hardly complain: ever since the Germans bought the translation rights to my Problemski Hotel in 2003, every book of mine to appear has been followed by a translation. The tally is up to almost 30 languages. As I'm a Dutch-speaking Belgian author, I have been welcomed abroad more than once as a Dutchman, sometimes as a Fleming, sometimes as a Belgian, which amuses me. I'm a Belgian writer who lives in Sweden and is published in Amsterdam with Dutch as my magnificent raw material, but I don't need a passport. My nationality is literature: I might not have been born there, but it is definitely where I will die. And if literature transcends anything, it's borders.
Dimitri Verhulst
I'm not going to feign modesty. Of course it would be fabulous if my work was automatically stocked by the airport bookshops of say, Stockholm and New York. A large number of translations is not the same as international recognition. Many times I have been translated and published abroad out of love, by publishers who realised that I probably wouldn't earn them much money, but believed that my work should be made available. That's fantastic and much more than I ever hoped for when posting off my first manuscript.
Compared to my other books, my novel Godverdomse dagen op een godverdomse bol ('Shithouse Days on a Shithouse Planet', Amsterdam, 2008; shelfmark YF.2011.a.10875), which I myself love, is relatively untranslated. Perhaps because it's too literary. Or because it's considered subversive. Or because it's controversial to certain religions. Despite all that, it's been translated into Farsi and smuggled into Iran by brave people who are passionate about literature. I can't imagine anything more moving: people who still believe in books so deeply they are willing to risk prison or worse for them. The discrepancy with cultures that virtually ignore translations is enormous. But complaining? No, I don't do that. I don't have the right. I know that here and there on this Earth the reading lamps still burn brightly. And I kiss both my hands and my feet – if my stomach muscles cooperate – for having been translated more often than some of my literary idols.
As long as there are cultures that continue to believe in literature as a universal language, there will be translations. And as for those who are content to stick to their own increasingly folkloristic national letters, I can only wish them a good massage, seeing as extended navel-gazing gives you terrible neck-ache.

Dimitri Verhulst (Translation: David Colmer)

Laughing at The Misfortunates
I know that laughter in the workplace is not always a good thing. Especially if you're self-employed. Sometimes it's even a sign of a vakidioot*, to use an excellent Dutch word. I remember a friend of mine decades ago, a news cameraman, guffawing loudly at the TV news, but when I ran in to ask what had happened, expecting a ludicrous politician or a monumental blunder, something like a freeway exit that forms a full circle, he could only say, "That shot was out of focus!"
So yes, slaving away in the isolation of my tiny translation den, proceeding sluggishly through book after book, word after interminable word, I should be wary of amusement and always remember that it's profoundly relative and that I, as one of the galley slaves of literature, am easily tickled, that my constant dictionary-pounding and synonym-slotting has numbed my critical facilities and turned me into a desperate creature, all too willing to see the funny side of a typo or endorse my authors' feeblest attempts, and yet... but still...
After translating four of Dimitri Verhulst's books and long excerpts from as many others, he still manages to surprise me with his ability to find humour in the grimmest and most unlikely situations and his fearlessness, not just in the face of political correctness, but also when ignoring the arbiters of conventional taste. (See for example this review of his novel De helaasheid der dingen / The Misfortunates) Verhulst can be hilarious but he also knows that sometimes the best joke is a bad joke. And at the same time he combines his humour with warmth, tragedy, social criticism, politic agitation and, dare I say it, love for his characters.
No surprise then that one of the greatest challenges when translating his writing is trying to make the humour work in English, struggling to get the timing of the punchlines just right, balancing sentences that only shine when they're teetering on the brink,  finding equivalents for the puns, no matter how bad (good) they might be. And sitting here in the solitude of my translation den, sometimes there is an immediate reward and I hear myself laughing, not just first time round as a reader, but guffawing again, loudly, as I type the translation, a vakidioot after all.
David Colmer
* Pronounced almost exactly like an English four-letter word that starts with F, "vak" means "trade" or "profession". "Idioot" means, unsurprisingly, "idiot".  Together they form vakidioot, which is not a professional idiot, but more an idiotic professional, someone who is so narrowly preoccupied with their specialisation they have lost touch with the world at large.
Dimitri Verhulst's  De helaasheid der dingen (Amsterdam 2006 ; YF.2006.a.19900) is published in David Colmer's translation by Portobello Books as The Misfortunates (London, 2012; YK.2012.a.23657).


25 April 2014
In an earlier guest post for European Literature Night, we heard from one of the translators of Antoine Laurain's  The President's Hat. This was Laurain's  first novel to be published in English and was among the first batch of Gallic Books titles sold in the United States by Consortium. It was one of twelve titles chosen by a panel of independent booksellers for the ABA Indies Introduce Debut Authors promotion in Fall 2013 and Antoine was invited to appear at bookstores across the country. Here he  describes his experience of that tour.
When I wrote Le Chapeau de Mitterrand I thought perhaps it might find a readership in France, and indeed this proved to be the case. A year later, another story began...
A few weeks after Gallic Books released The President's Hat in the UK in March 2013, the fantastic feedback from British readers gave reason to believe that my very French story – which takes place in 1980s Paris in the days of François Mitterrand's presidency – might appeal to a whole new audience. It seemed the 'fairytale' dimension, humour and optimism of the story could also work in another language. And not just any language, but the most widely spoken language in the world.
It was around this time that Jane Aitken and her team began to discuss the possibility of taking The President's Hat on a tour of the USA. As American independent booksellers got behind the book, the three cities on the itinerary quickly grew to ten! From San Francisco to Boston by way of LA, Salt Lake City, Milwaukee, Chicago, New York... Like a presidential candidate on the campaign trail, I set off to meet my novel in bookstores across the country for much of September 2013. I gave talks (in English, if you please, and without forgetting to throw in the customary joke), answered questions and signed many, many books. I think the last Frenchman to embark on a tour of this scale must have been Maurice Chevalier! Indeed my French publisher, Flammarion, said as much just last week: 'I've never known any of our authors to do a US book tour ... apart from Michel Houellebecq, of course.'
The President's Hat visits another President's house.
One of the most memorable and surprisingly moving aspects of the trip was hearing my American readers pronounce the names of my characters : 'When Daniel Mercier takes the hat ... talking about Fanny Marquant ... My favourite character is the nose, Pierre Aslan ... Do men like Bernard Lavallière still exist in France?' There was something amazing about hearing the names I had come up with at my desk in Paris two years earlier pronounced in an American accent! I kept telling myself I was going to wake up one morning and find myself back home with the novel still unfinished and the idea of promoting it in the USA nothing but a dream. But it really was happening. This fairytale for grown-ups had worked its magic once again.
I sometimes have a look online and am thrilled to find that new reviews are still appearing regularly from both sides of the Atlantic. I'm delighted to have been able to bring a little happiness to readers I never imagined I could reach. I'm grateful to the team at Gallic Books and to my British and American readers for making all of this possible.
You can see Antoine's photo diary of his tour here.