03 November 2021
On 8 November 2021 the British Library is hosting a free online event looking at the role of Venice in the current environmental, cultural and social global crises.
For centuries at the helm of a trading empire, the city of Venice has amassed wealth and culture in every palace, church, canal. Its lagoon constitutes a harmonious example of man-made transformation of the environment, conquered from mud, yet liveable and sustainable. A unique place for the circulation of ideas, home to fine printing, art and literature, a bridge between East and West. Venice is both a muse and a maker.
Still from Bêka and Lemoine, Homo Urbanus Venetianus, 2019 copyright of Bêka and Lemoine
After the decline and fall of the Republic of Venice, the city seemed the last Romantic fantasy during the industrial revolution. Nowadays, the number of inhabitants is diminishing, whilst tourism has reached its peak. The city is becoming a resort and is at risk of forgetting its own history, uniqueness, identity. Without its people, Venice might end up looking like one of its hundreds of replicas around the world.
There is not one way to describe Venice, nor 55. 55 is the number of fictional cities described in Italo Calvino's 1974 work, Le Citta' invisibili (Invisible Cities; Turin, 1978; X.908/86292) by Venetian explorer Marco Polo to Kublai Khan, Emperor of Mongolia. After hearing about all of them, Kublai Khan said:
'There is still one of which you never speak.'
Marco Polo bowed his head.
'Venice,' the Khan said.
Marco smiled. 'What else do you believe I have been talking to you about?'
The emperor did not turn a hair. 'And yet I have never heard you mention that name.'
And Polo said: 'Every time I describe a city I am saying something about Venice.'
Italo Calvino, Invisible cities, translated by William Weave (London, 1974). X.989/29509
F.T. Marinetti and his futurist fellows did not like Venice. They repudiated it for its slavish devotion of the past. They suggest to "burn the gondolas" and fill the canals with the rubbish of the crumbling palaces. "May the dazzling reign of divine Electrical Light at last free Venice from her venal furnished room's moonshine", says a manifesto thrown in thousands of copies from the Clock Tower of St Mark's Square, in 1910.
Filippo Tommaso Marinetti, Futurist Venice (Milan, 1910). 1879.c.8.(24.)
Episodes of acqua alta, high water, have been recorded since the XIII century, but Marinetti would have never imagined that the rising sea levels would become a serious threat to the very existence of the city. The exceptional acqua alta in November 2019, when 85% of the city was covered by water, has been subject of a film by architects and film makers Bêka and Lemoine, Homo Urbanus Venetianus, observing the daily habits of tourists and venetians being disrupted by environmental contingencies. Is this an admonition for other cities?
The most imitated, the most celebrated, the most oneiric of all cities is menaced by water and global tourism.
Will Venice spark a creative response to its problems and find a sustainable way to survive, as it has done in the past?
As world leaders and experts are gathered in Glasgow to find a strategy against climate change, join our free online event on 8 November 2021 to look at how Venice embodies the emergencies we globally face and how literature and technologies can uncover these stories. Guests will be Bêka and Lemoine, Professor of Architecture and Spatial Design Sophia Psarra and Dr Giorgia Tolfo, writer and producer of the podcast The Fifth Siren (read Giorgia's blog on the event on the Digital Scholarship Blog).
The event is supported by the Festival of Italian Literature in London (FILL) and the Italian Cultural Institute in London.
Valentina Mirabella, Curator Romance Collections
Additional reading and resources:
Piero Bevilacqua, Venezia e le acque: una metafora planetaria (Rome, 1998). YA.2002.a.20745
Sergio Pascolo, Venezia secolo ventuno : visioni e strategie per un rinascimento sostenibile (Conegliano, 2020). Awaiting shelfmark
Sophia Psarra, The Venice variations: tracing the architectural imagination (London, 2018). DRT ELD.DS.472744
Salvatore Settis, Se Venezia muore (Turin, 2014). YF.2016.a.2992
21 December 2018
2018 has marked 120 years since the death of Aubrey Beardsley (1872–1898), the British master of Art Nouveau who has been repeatedly named an emblem of Victorian Decadence. Born into the age of quick photomechanical reproduction of images, he exploited this new technology to circulate his black-and-white designs worldwide. 'No artist of our time', noted the poet Arthur Symons in his tribute to Beardsley, 'has reached a more universal, or a more contested fame; […] none has had so wide an influence on contemporary art'.

Above: Frederick Hollyer, photograph of Aubrey Beardsley, 1890s. Below:  Aubrey Beardsley, 'The Dancer's Reward', illustration from Salome, 1893. Both images reproduced in Arthur Symons, Aubrey Beardsley (London, 1898) L.R.269.a.2/3.
Among the histories of Beardsley's extraordinary international influence, his Ukrainian reception is among the most surprising ones. Thus, a single look at the works by Vsevolod Maksymovych (1894–1914) justifies the artist's nickname of the 'Ukrainian Beardsley'. Like Beardsley, Maksymovych was a prodigy. At 19, he produced most of his paintings that shared the period's preoccupations with exoticism, mysticism, and sexuality. At 20, he committed suicide. His short life did nevertheless overlap with key cultural events of the early 20th century, including the fading of the Art Nouveau style, the birth of the Futurist movement, and the earliest avant-garde experiments in film.

Vsevolod Maksymovych, Masquerade, 1913, Oil on canvas, reproduced in Ukrains´kyi modernizm 1910-1930 = Ukrainian Modernism, ed. by Anatolii Mel´nyk and John E. Bowlt (Kyiv, 2006), LF.31.b.3196
Maksymovych was born in the city of Poltava in 1894. In the West, it was the year of the Beardsley Boom, when the volumes of the Decadent almanac The Yellow Book and Oscar Wilde's drama Salome disseminated Beardsley's notorious designs. After Beardsley's premature death in 1898, the international circulation of his images persisted through fashionable periodicals. In Eastern Europe, his drawings were popularised by the St Petersburg aesthetic journal Mir iskusstva (1899-1904; P.P.1931.pmb.) and the Moscow review Vesy  (1904-1909; Mic.F.430). The Kyiv magazine V mirie iskusstv (1907-1910) dedicated an illustrated essay to Beardsley in 1907.

Cover of V mirie iskusstv, 1 (1909). ZA.9.d.620
At the beginning of the 20th century, a Ukrainian art lover such as Maksymovych would have inhabited a world permeated by Beardsley's visual language and imagery. While it was common for the artists of the 1910s to adopt Beardsley's stylised line and black-blot technique, Maksymovych stood out among the imitators. The painter transferred the intricate graphic lace of Beardsley's black-and-white illustrations to his colossal – up to four-metre-wide – oil canvases. As the art historian John Bowlt observes, 'if certain esthetic ideas did bloom late on Ukrainian soil, they tended to assume luxuriant, hybrid proportions'.
 Vsevolod Maksymovych, Self-Portrait, 1913, Oil on canvas, National Art Museum of Ukraine, reproduced in Ukrains´kyi modernizm 1910-1930 
Maksymovych's life-size Self-Portrait is an example of such luxuriant blooming. The picture centres on the immaculately-dressed figure of the artist who, like Beardsley, posed as a dandy. Even more fascinating than Maksymovych's self-depiction is the backdrop which incorporates familiar details from Beardsley's Salome designs: the dramatic peacock patterns formed of curvilinear tails and foaming crescents. Those Beardsleyesque backgrounds dominated the responses of contemporaries to Maksymovych's work. In the words of the Futurist writer Boris Lavrenev: 'His canvases consisted of circlets and rings, tangled and intertwined, […] which resembled a pile of soаp bubbles'. 
Lavrenev and Maksymovych met in Moscow in 1913 during the filming of The Drama in Cabaret No 13. This film is considered the first cinematic experiment of the global Avant-Garde. Directed by a pioneer of abstract art, Mikhail Larionov, it featured Futurist celebrities such as Vladimir Mayakovsky and David Burliuk. Although the film itself has been lost, surviving frames allow the identification of the male lead. It was, undoubtedly, Maksymovych, or the 'artist Maks' as he was called within the Futurist milieu.

A scene from The Drama in Cabaret No 13 featuring V. Maksymovych and N. Elsner, reproduced in M. L. Polianovskii, Maiakovskii-kinoakter (Moscow, 1940) YA.1997.a.3234.
The 'artist Maks' lived through the clash of the languorous Art Nouveau aesthetics with the revolutionary Avant-Garde. Despite Maksymovych's prominent position in the Futurist networks, the style of his work was sadly out of date by the standards of 1914. When his one-man Moscow exhibition of that year failed, the 'Ukrainian Beardsley' overdosed on drugs.

A scene from The Drama in  Cabaret No 13, from M. L. Polianovskii, Maiakovskii-kinoakter
After the painter's suicide, his works did not stand much chance of entering official Moscow art collections. Maksymovych's mother and the art collector Fedir Ernst eventually succeeded in bringing his works back to Ukraine. Ideologically incompatible with official Soviet culture, the paintings reemerged from the cellar of the National Art Museum of Ukraine only at the turn of the 21st century. Today, as we celebrate the international legacy of Aubrey Beardsley, it is time to look closely at his Ukrainian disciple and examine the transformations of art works, styles, and myths when they travel across national borders.
Sasha Dovzhyk, Birkbeck, University of London
References/Further reading
R. M. Iangirov, 'Smert´ poeta: Vokrug fil´ma "Drama v kafe futuristov No. 13"', in Tynianovskii sbornik: Sed´mye Tynianovskie chteniia, ed. by M. O. Chudakova, E. A. Toddes, and Iu. G. Tsiv´ian (Riga, 1995) YF.2004.a.14913
Linda Gertner Zatlin, Aubrey Beardsley: a catalogue raisonné (New Haven, 2016) LC.31.b.15403
V. N. Terekhina, 'Vsevolod Maksimovich sredi moskovskikh futuristov', in Russkoe iskusstvo: XX vek, Vol. 3 (Moscow, 2009), pp. 147–156. ZF.9.a.7176
28 September 2018
On Saturday 27 October, the British Library will be hosting a study day, 1918: A New Europe on Film, that will look at 1918 and the end of the First World War from the perspective of those nations that were founded as a consequence.

Still from the Latvian film Lāčplēsis (1931) courtesy of the LAC Riga Film Museum collection.
Borders were redrawn and nations once part of larger entities were given a chance to determine their own course. Those borders were not necessarily natural, however, and the new geographies inspired new sets of problems. For some nations, this independence was short-lived and that precarity lives on today for many of these same nations.
1918: A New Europe on Film brings to light the many cinematic representations of this formative period and will show how film, documentary and television constructed and were constructed by an ever-shifting concept of national identity over a turbulent century. 1918 features as a key subject in every period and genre of film-making. It resurfaces as a paradigm for the now, a figure for great transformation, for endings, revolutions and new beginnings, and it often serves to express and comment on contemporary situations that could not bear direct representation.
An exciting programme includes expert speakers discussing Turkey, Latvia, Croatia, Czech Republic, Hungary, Romania, Ukraine and Finland, covering archival footage, documentary, feature film and television across the century. Each presentation will be illustrated by film extracts, some of this material being shown for the first time, following very recent research. Film critic, programmer and expert in Czech and Eastern European Cinema, Peter Hames will introduce the study day.
The day has been organised in collaboration with Professor Dina Iordanova, University of St Andrews, and Professor Ewa Mazierska, University of Central Lancashire, with the cooperation of Yunus Emre Enstitüsü, The Finnish Institute in London, The British Croatian Society, The Romanian Cultural Institute in London and The Embassy of Latvia. For details of how to book see: https://www.bl.uk/events/1918-a-new-europe-on-film
The study day forms part of a wider programme of events, entitled 1918: A New World?, aimed at approaching the 1918 centenary from alternative perspectives. Do join us in rethinking the century!
20 March 2018
With the current enthusiasm for all things Danish, from the cult of hygge to crime dramas, it is fitting, on the 50th anniversary of his death, to examine the legacy of Denmark's greatest contributor to the history of cinema, Carl Theodor Dreyer (1889-1968).

Portrait of Dreyer directing in 1931, from Ebbe Neergaard, En filminstruktørs arbejde. Carl Th. Dreyer og hans ti filmer (Copenhagen, 1940) 11796.bb.43
Certainly, judging by the subjects of his films and the events of his own life, it would be difficult to regard Dreyer as a typical representative of 'Europe's happiest nation'. He was, in fact, only half Danish; his mother, Josefine Bernhardine Nilsson, was a servant on a farm in Sweden where she was seduced by her Danish employer Jens Christian Torp – a situation familiar to readers of Martin Andersen Nexø's novel Pelle Erobreren (Copenhagen, 1906-10; 12581.r.18.). Torp was already married, and when Josefine died he placed their illegitimate son in an orphanage. At the age of two the little boy was adopted by a typographer named Carl Theodor Dreyer, and his wife, Inger Marie, who gave him a home and a name but little in the way of emotional warmth or security. When he was 16 he broke away from his adoptive parents, but their lasting influence is evident in the ideology which underpins many of his films, set in a Denmark where religious conservatism prevails and failure to conform can have fatal consequences.
At the time when Dreyer made the transition from journalism to film, the Danish silent cinema was in its early stages, and even during his mature career as a director he lacked the support of a well-established national film industry. This apparent disadvantage, in fact, accorded well with Dreyer's preference for solitude and independence at all costs. In his biography En filminstruktørs arbejde, Ebbe Neergaard describes the moment when the young Dreyer, visiting the vaults of the Great Northern Telegraph Company in the company of an elderly accountant who proudly pointed to his life's work – a collection of musty files – recoiled in horror from the prospect of a similar fate and promptly resigned his post to strike out alone.
Throughout his life Dreyer was outspoken in his criticism of mass-production film-making, and his insistence on the integrity of the individual, no matter what the outcome, runs through his work. He began in a small way, writing film scripts for Nordisk Film (1913-19). Although he later called this period 'a marvellous school', it coincided with the decline of Danish film during the First World War, where, although neutral, Denmark lost many of its foreign markets and Nordisk's German theatre chain was bought up by Ufa in 1917. Dreyer then left Denmark to work in the French film industry; while living in France he met Jean Cocteau and other members of the French artistic scene and in 1928 he made his first classic film, The Passion of Joan of Arc. This, like his next effort, Vampyr (1932), privately funded by Baron Nicolas de Gunzburg who also played the hero, was a commercial failure. Both were subsequently recognized as masterpieces of emotional realism and surreal expressionism, but Dreyer was deterred from making any more films until 1943, when he directed one of his greatest works, Day of Wrath. Denmark was by now under German occupation, and this story of the persecution of alleged witches in a remote Danish village stands as a metaphor for the climate suspicion and oppression which flourished in those days.

Montage of images from The Passion of Joan of Arc reproduced on the cover of  En filminstruktørs arbejde
Many of Dreyer's films are set in small, tightly-knit communities in rural districts. However, they do not portray an idealised world of neighbourly cosiness but demonstrate how an apparently secure web of relationships can become a trap. In Master of the House (1925), he depicts a tyrannical father's hold over his family and its eventual subversion; on a wider scale, The Word (1955) shows the stranglehold of religious bigotry over the lives of villagers, with a strict father forbidding his daughter to marry out of their sect and a young man transformed into an eccentric 'holy fool' by excessive theological study. Yet there remains hope, even though in this case it requires the death of his sister-in-law Inger in childbirth to bring about the miracle which eventually transcends and dissolves the artificial boundaries which constrict their lives.

'The degeneration of family life': the birdcage scene from Master of the House; pictures from En filminstruktørs arbejde
David Bordwell's The Films of Carl-Theodor Dreyer (Berkeley, California, 1981; L.42/1194) provides a masterly study of the cinematic techniques which Dreyer employed throughout his career, culminating in his last film, Gertrud (1964). He analyses not only Dreyer's use of the camera but his choice of plays and stories to adapt in exploration of spiritual conflict, social pressure to conform and the fate of those who defy it, and the concepts of sin and transgression (though Dreyer later disowned Two People (1945), based on a crime story and directed while he was living in exile from the Nazis in Sweden). But in his choice of Kaj Munk's play Ordet as the source for The Word, he made common cause with a figure whose defiance of a corrupt regime, like Joan of Arc's, cost him his life. Unsparing in his condemnation of moral compromise and hypocrisy alike, Dreyer invites his audience to explore the borderlands of the natural and the supernatural, earthly and spiritual, and to think for themselves in drawing their own conclusions.
Susan Halstead, Subject Librarian (Social Sciences), Research Services
Further Reading
Carl Theodor Dreyer, Fire film ... Jeanne d'Arc, Vampyr, Vredens Dag, Ordet. Udgivet med indledning af Ole Storm. (Copenhagen, 1964) X.900/560. (English translation: Four Screenplays (London, 1970) X.981/1902.)
Carl Theodor Dreyer, Om filmen. Artikler og interviews. Udgivet af Erik Ulrichsen (Copenhagen, 1964) X.908/793. (English translation: Dreyer in double reflection ed. by Donald Skoller (New York, 1973) 75/22116
Claude Perrin, Carl Th. Dreyer ... points de vue, documents, filmographie, bibliographie, chronologie, 50 illustrations (Paris, [1969])
Tom Milne, The cinema of Carl Dreyer (New York, 1971) X.900/6387.  
Maurice Drouzy, Carl Th. Dreyer, né Nilsson (Paris, 1982) X.950/26307
Edvin Kau, Dreyers filmkunst (Copenhagen, 1989). YA.1991.b.411
11 August 2017
In Anthony Mann's film of El Cid, the hero lays siege to Valencia, held by Al Kadir, in 1093-4. To quote the novelisation by Robert Krepps:
Al Kadir awoke slowly as was his habit. The pangs of hunger already ate away at his swollen belly [...] He heard a confused noise outside the palace; probably the damned machinery of the infidel was hurling stones already, for he could hear between the babbling cries of the people the short thunks of missiles striking tiles and earth.
[...] He could see only people moving at staggering runs through the dark streets below. One of them waved something. It looked like a big loaf of bread, but could not be. [...]
'What is it? What is it he?' shouted, rushing across the broad wall to them.[...]
'The infidels are bombarding the city,' said one, saluting without straightening up. 'With food'. (pp. 196-7)
 Cover of Robert Krepps, El Cid (London, 1961) X.907/3319
The more sober historian Richard Fletcher writes in The Quest for El Cid (London, 1989; YC.1989.b.6501):
Food shortages began to be felt in the city. No relief force appeared. About the end of May Ibn Jahhaf opened negotiations. Terms of surrender were agreed. Rodrigo Díaz had made himself the master of Valencia.( p. 164)
The great Spanish philologist Ramón Menéndez Pidal (1869-1968) was advisor to director Anthony Mann. The plot drew on not only the medieval epic Poema de Mío Cid (1200?) but also the ballads, which supplied the love of the Cid and Doña Jimena.
Title-page of a 16th-century printed version of the Cid story ([Seville], 1541) C.39.g.5.
From the 11th century we now move to the 20th, no more civilised.
Here too we find food – bread in particular – as a weapon. Paul Preston writes in The Last Days of the Spanish Republic (London, 2016; YC.2017.a.6495):
It was said that more than 400 people died of inanition each week in Madrid [...]In November [1938], when the Francoists bombed Madrid with fresh white bread, JSU [Juventudes Socialistas Unificadas, actually a communist group] militants denounced this as a insulting gesture and burned the loaves in street bonfires. Alvaro Delgado, a student at the time, told the British historian Ronald Fraser: 'It came down in sacks with propaganda wrapped round it saying: "This bread is being sent you by your nationalist brothers." It was beautiful, white bread. Some came through a broken skylight at the Fine Arts School, and when no one was around I and other students ate so much we felt sick.' On the streets, others trampled the bread in a fury. Despite their hunger, people were shouting: "Don't pick it up." Even [Segismundo] Casado recalled later that women and children launched themselves on to some men who were seen picking up the bread. They collected the loaves and took them to the Dirección General de Seguridad, the national police headquarters, whence it was transported to the battlefront and handed back to the Francoists. (p. 41)
Even the most dedicated Waitrose shopper needn't be reminded that in the 1930s the most prestigious bread was white.
Republican soldiers distributing bread in the Spainish  Civil War
I learn from John Aberth's A Knight at the Movies: Medieval History on Film (London, 2003; YC.2005.a.214) that the medieval film scene was not only fictitious, and modelled on the events of the Civil War:
But even [Menéndez] Pidal, who places great emphasis on the Cid's humane treatment of his enemies, does not go so far as to say that his hero fed the inhabitants of a city he was trying to starve into submission. Instead, the scene closely follows a characteristic piece of Nationalistic propaganda: that its conquering forces were humanitarian 'liberators', as evidenced by carefully staged film footage of female members of the Falange distributing bread and food from the backs of trucks to the outstretched hands of a grateful crowd (p. 140).
We can all appreciate the sacrifice the Republicans made in destroying the loaves, but we should also remember that there is a taboo in Spain on wasting food, particularly bread.
Barry Taylor, Curator Romance Studies
22 June 2017
Guest blogger Ilia Rogatchevski looks back at one of the events accompanying our exhibition Russian Revolution: Hope, Tragedy, Myths  and considers the role of music in the Revolution.
What is a revolutionary sound? Is it defined by the characteristics of the music alone or does context form an integral part of the music's revolutionary temperament? On Friday 5 May, an event at the British Library attempted to answer these questions. Late at the Library: Sounds of the Revolution featured performances by Gabriel Prokofiev and The Renegade Orchestra. Organised in collaboration with Dash Arts, Kino Klassika  and Prokofiev's Nonclassical label,  the event incorporated compositions old and new, including the debut performance of The Renegade Orchestra: Journey One.

Gabriel Prokoviev performing at the event on 5 May (photograph: Samantha Lane)
Composed by Alexander Manotskov, Journey One tells the story of three musicians from post-Soviet states who operate in a liminal musical environment, which draws inspiration from styles as diverse as jazz, classical, folk and electronic. Brought together by Dash Arts' artistic director, Josephine Burton, for a workshop in Kazbegi, Georgia last year, the musicians worked at combining their disparate experiences into a united sonic strategy. Marina Kryukova (violin, pipes, voice), Shavkat Matyakubov (sato tanbur, kushnai, voice) and Vladimir Volkov (double bass, voice), along with Manotskov on cello, experimented with augmenting traditional forms by deconstructing expectations of music's temporal nature.

Performing Journey One (photograph: Samantha Lane)
In between rehearsals, which took place the previous day in the Library, Manotskov elaborated on the concept of musical time by stating that "only through divine, abstract, musical time can time that is accidental, personal, mortal, historical, be conquered". He went further than simply inverting T.S. Eliot's quote from the Four Quartets ("Only through time time is conquered") by adding that the "binary opposition of freedom and not freedom is essential to the musical piece". Furthermore, in composition it is "important to have something more general, something more elevated than social context". The verbatim texts that wove in and out of the music, recalling snapshots of lives from the former Soviet Union, are a testament to this idea. These moments provided context, of course, but also something more general too: alternative sonic textures.
Unlike Manotskov's Journey One, Prokofiev's compositions did not betray a sense of nostalgia. Howl, which was originally scored for Maurice Causey's all-electronic ballet, mirrored, in its contemporaneity, Arseny Avraamov's Symphony of Sirens ('Simfoniia Gudkov'). Performed in Baku to commemorate the fifth anniversary of the Russian Socialist Federative Soviet Republic, Avraamov's notorious piece employed the sounds of the city itself – factory sirens, bus horns, cannons et al – in celebration of industry, communism and the future. Prokofiev did not conduct a city, but instead, dueted synthesised sounds from a laptop alongside Lydia Kavina's theremin.
'Graphical score' of Avraamov's Symphony of Sirens. Reproduced in Sergeĭ Rumiantsev, Ars Novyĭ, ili Dela i prikliucheniia bezustalʹnogo kazaka Arseniia Avraamova (Moscow, 2007) YF.2008.a.31612.
Reflecting on the hopes, tragedies and myths of the Russian Revolution, Prokofiev conceded that "there is a kind of desperation, a loneliness, a cry – a howl" apparent in such momentous events. "You reach a breaking point when you revolt," he continued. "Most people wouldn't go as far as a revolution, unless they're pushed so hard. And that's what happened in the Middle East. That's what happened in Russia."
As if to emphasise the ambiguous nature of catastrophic political change, the evening climaxed with a new guided improvisation for Vsevolod Pudovkin's 1927 silent classic, The End of St. Petersburg. Prokofiev was joined on stage by the Renegade Orchestra, Kavina, Manotskov, Jason Alder (bass clarinet) and Molly Lopresti (percussion).
Scenes from Pudovkin's The End of St. Petersburg, reproduced in A.M. Maryamov, Narodnyi artist SSSR Vsevolod Pudovkin (Moscow, 1951). 11796.b.43. 
Together, the musicians constructed an alternative vision of the Revolution, one that did not simply celebrate the overthrow of a redundant despot or the provisional government that succeeded him, but focused on the people who suffered not only through the failings of the monarchy, but also the shadowy beginnings of the Soviet regime as well. Peasants and bankers had their own leitmotifs, characterised by Matyakubov's dutar and Kavina's theremin respectively, but neither purported to have moral supremacy over the other. The audience, too, collaborated with the musicians, towards the end of the feature, in a collective vocal exercise, oh-ing and ah-ing, like lamentful ghosts of revolutions past, to images of cannons firing on the silver screen.

(Photograph: Samantha Lane)
In summary, it is not the sounds or the context that are revolutionary in of themselves. Rather, it is their combined presentation that leaves its mark on the public consciousness. Performing in the cavernous lobby of the British Library certainly throws up some challenges, especially when most of us are used to experiencing music in a concert hall, but it is precisely this unorthodox arrangement that helps to carry the music forward. On this point, both Manotskov and Prokofiev agree. Music has to evolve, particularly in the formal ways in which it is performed. To quote the former composer: "We should open our eyes and see that nothing is conventional. Everything is new and shocking. This is where we are musically and it's a great place to be."
The exhibition Russian Revolution: Hope, Tragedy, Myths  is open until 29 August 2017 and is accompanied by a range of events. You can hear more music on 27 June at the free 'Strains of the Revolution' performances. Details of all events are on our 'What's On' pages. 
15 June 2015
Roger Fry, the Bloomsbury art critic, thought that Caravaggio would make a superb "cinema impresario". With his dramatic use of light and dark, the Italian painter pretty well invented cinematic lighting. His great altarpiece of 1601, The Conversion of St Paul, glowed with such a photographic sharpness that contemporaries suspected some trick.In a revolutionary re-telling of the scriptures, Paul lies prone beneath his horse on a dirt road to Damascus, his arms outstretched in proto-filmic shafts of light. There are no heavenly visions in Caravaggio, only humans on the long, grubby pilgrimage of life.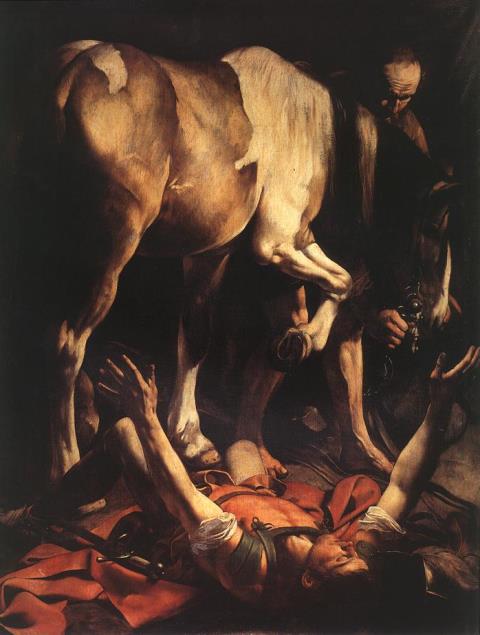 Caravaggio 'The Conversion on the Way to Damascus', 1600-01.  Rome, Santa Maria del Popolo (image from Wikimedia Commons) 
Much has been made of Caravaggio's influence on the fierce pauperist Catholicism of Pier Paolo Pasolini. At the end of his film Mamma Roma (1962), staring Anna Magnani, the working-class hero lies dying on a prison bed like a sanctified Jesus, a stark image that also refers to Mantegna's Dead Christ. The implied blasphemy of Caravaggio's low-life Christs and Virgin Marys thrilled the iconoclast in the Italian film-maker, whose miserable death was somehow foretold in his own work.
On the morning of 2 November 1975, in slumlands outside Rome, Pasolini was found beaten beyond recognition and run over by his Alfa Romeo Giulia. A 17-year-old rent boy was charged with the killing – a homosexual tryst gone murderously wrong. Or was Pasolini the victim of a political hit? His presumed killer turned out to be affiliated to Italy's neo-fascist party; the verdict is still open. Pasolini was 53.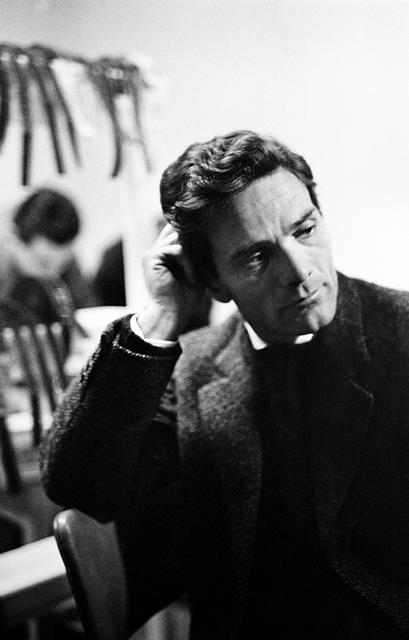 Pier Paolo Pasolini, from La Rabbia. (Photograph by Mario Dondero, ©1963. With the kind assistance of the Ccentro Studi Pier Paolo Pasolini di Casarsa delle Delizie, Pordenone)
Saint Paul, published posthumously in 1977 and presented for the first time in English in 2014 (translated by Elizabeth A. Castelli, British Library. YC.2015.a.592), is Pasolini's screenplay for the life of the apostle Paul. Drafted in 1966 and re-written subsequently, it was intended to form a sequel to his film The Gospel According to Matthew (1964), shot in the lunar landscape of Italy's remote Basilicata region. The screenplay, with its New Testament voiceover, typically mingles an intellectual Leftism with a Franciscan Catholicism: blessed are the poor, for they are exempt from the unholy Trinity of materialism, money and property. The film was never made for lack of funds.
Pasolini's solidarity with the Italian poor was at heart romantic. La Ricotta, his 35-minute episode in the collaborative movie RoGoPag (1963), features Orson Welles as an American director shooting a film in Rome about the Passion of Christ. Stracci ("Rags"), the sub-proletarian actor who plays the part of the good thief, dies on set from a case of real-life starvation. For all its manifest compassion, the film led to a suspended prison sentence for Pasolini on blasphemy charges. Over a tableau vivant inspired by Rosso Fiorentino's painting of the Deposition Welles cries out sacrilegiously: "Get those crucified bastards out of here!"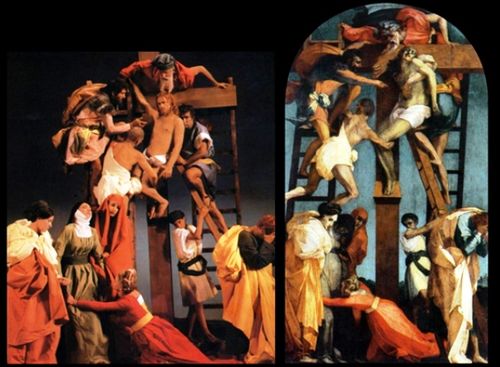 The deposition tableau from Pasolini's La Ricotta (left) and Rosso Fiorentino's painting (right).
Like La Ricotta, Saint Paul champions those who have been disinherited by capitalism and the "scourge of money". The consumerist "miracle" of 1960s Italy had undermined the semi-rural peasant values of l'Italietta (Italy's little homelands), Pasolini believed. In his retelling of the Bible, St Paul stands as a bulwark against the "corruption" brought to Italy by the trappings of American-style consumerism.
Nevertheless, as a Pharisee and former persecutor of Christianity, Paul was an ambivalent figure for Pasolini. After his conversion Paul took his mission round the world and became the founding father of the Christian Church in Rome with its hierarchy of prelates and pontiffs. In some measure, then, Paul lay behind the Catholic church that Pasolini had come to know in 1960s Rome, with its Mafia-infiltrated Christian Democrat Party and pursuit of power and political favours. In the screenplay, Paul is by turns arrogant and slyly watchful of his mission.
The saint's story is updated, cleverly, to the 20th century. Cohorts of SS and Vichy French military collaborationists  stand in for the Pharisees of the first-century Mediterranean. With a fanatic's heart, Paul oversees the killing and mass deportation of Christians. The action then fast-forwards to 1960s New York, where the post-Damascus Paul is preaching to Greenwich Village "beats", "hippies", "blacks" and other outcasts from conformist America. His attempts to overturn capitalist values in Lyndon Johnson-era America are met with hostility by FBI operatives and White House flunkies. In the end he is murdered on the same hotel balcony where Martin Luther King was assassinated in 1968. Pasolini's approximation of the apostle of black liberation to the apostle of Orthodox Christianity just about works.
Though fascinating, Saint Paul is not the "literary work of the first magnitude" that the French philosopher Alain Badiou would have in his foreword to the screenplay. (Rather, it reads like a preliminary sketch for something to be coloured in later.) Inevitably one scans the screenplay for clues to Pasolini's murder. The novelist Italo Calvino believed that Pasolini was killed from a "D'Annunzian"  hankering after redemption through violence. The scene of the film-maker's murder, the shanty town of Idroscalo near Fiumicino airport, presents a typically Pasolinian pasticcio of the poetic and the squalid: shacks lie scattered across a filthy, blackened beach and in the distance rise the tenement slums of Nuova Ostia. At best, Pasolini's was a sleazy kind of martyrdom; at worst, it was a bludgeoning out of tabloid crime-sheet.
Ian Thomson, University of East Anglia
References
Pier Paolo Pasolini, Mamma Roma. (Milan, 1962) X24/8626.
Pier Paolo Pasolini  Per il cinema. (Milan, 2001). YA.2002.a.5985.
Ian Thomson will deliver the Italian Studies Library Group Annual Lecture 'Pasolini and Rome' at the British Library  on 29 June 2015. 
09 February 2015
With five awards at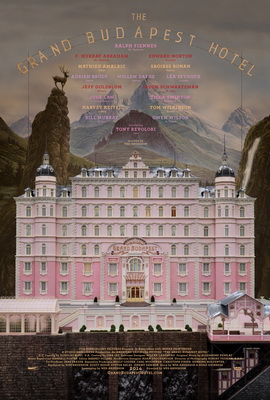 Sunday's BAFTAs and nine nominations at the upcoming Oscars, The Grand Budapest Hotel (dir. Wes Anderson, 2014) has shown surprising staying power in the memories of the voting members, following its early release last year. We might say that the film's stylised nostalgia – it's a kind of a nostalgic film about nostalgia (one gets lost in all the narrative layers) – managed to evoke its own pang of nostalgia in the minds of the judges, when they came to vote.
Left: Theatrical release poster for Wes Anderson's film, The Grand Budapest Hotel (2014).
It is precisely that yearning for a long-gone 'age of security' that is said to link the atmosphere of the film to the writings of Stefan Zweig (1881-1942), the Austrian bestseller who went into exile before the start of the Second World War. Drastic change and destruction in the first half of the 20th century cut Zweig's care-free, aesthetic period so sharply, he would later refer to his 'three lives', a life dissected by war and exile. Writing in his memoirs, Zweig can see only too clearly, with decades of distance, how fragile the security of pre-war life was:
Today, now that the word 'security' has long been struck out of our vocabulary as a phantom, it is easy for us to smile at the optimistic delusion of that idealistically dazzled generation, which thought that the technical progress of mankind must inevitably result in an equally rapid moral rise (The World of Yesterday, translated by Anthea Bell,  p. 26).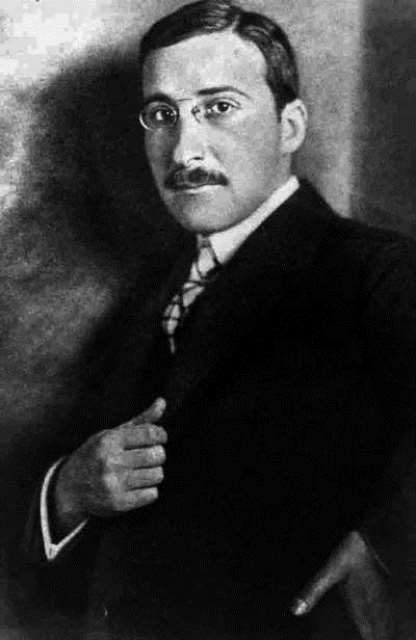 Stefan Zweig ca 1912. (Image from  Wikimedia Commons)
Through its framed narrative, The Grand Budapest Hotel adopts a similarly debunked perspective, which shows the demise of all the decadent features of European high culture that the hotel once represented. An unpopulated and worn-down anachronism it may be, but, as the proprietor (and the third or fourth layer of the narrative structure, depending whether we include Zweig himself, whose introduction to his novel Ungeduld des Herzens is quoted directly) Zero Moustafa deems, 'I love it all, just the same. This enchanting, old ruin' (Screenplay, p. 7).
The film plays on this tension between vivifying the traditions of old and dismantling them at every turn. As Nelson has it, Anderson 'has always played around at collapsing with one hand the same meticulous dollhouse structures he's built up with the other' (Los Angeles Review of Books). The old world is not only threatened by the most obvious narrowing restrictions of a growing fascist presence (lead by 'Henckels', played by Ed Norton), but every paradigm of that world is undercut somehow. Monsieur Gustave's (Ralph Fiennes) neo-romantic, and often nonsensical, verse is always interrupted, for example. Elsewhere, the Dutch-style portrait 'Boy with Apple', in pride of place in the mansion of the deceased Madame D, is replaced by an Egon Schiele nude, shocking its ornamental surroundings (before it, too, and the modernity it represents, is smashed to pieces). Zweig's own neo-romantic beginnings (see his first collection of poetry, which he later disowned, Silberne Saiten,  British Library, W30/2847) and his uneasiness towards the radical turn in modernist culture ('artificial wildness with desperate haste', The World of Yesterday, p. 323) parallel these moments.
Zweig and Gustave are united in the European-ness of the hotel, this 'refined, highly-cultivated society' (Screenplay, p. 73), and when the hotel is not the main setting, the film moves to a train or another transitional space (Richard Brody). Yes, it is true that such settings lend a temporariness to the experiences, contributing to the threat of the coming fascism or modernity. Yet, they are simultaneously suggestive of a free Europe, of the potential for encounter, of new experiences. Zweig, as the quintessential European mediator of culture and ideas, felt, with the advent of restrictions to freedom of travel, the end of his life's thrust. And, true to his model, Monsieur Gustave also begins to lose faith, after being first accosted during a security check on a train:
'You see? There are still faint glimmers of civilisation left in this barbaric slaughterhouse that was once known as humanity. Indeed, that's what we provide in our own modest, humble, insignificant -- (sighs deeply) Oh, f**k it' (Screenplay, p. 31).
In an interview between George Prochnik, author of The Impossible Exile, an exploration of Zweig's exile period, and Wes Anderson, printed in the collection The Society of the Crossed Keys, the director links this idea of Europe and encounter to the idea of 'collection'. He says:
You can see why this turn of events would be the beginning of everything that became too much to bear. Not only because he was someone who had friends all over Europe and collected people actively […] He also collected manuscripts and books and musical scores, and he was gathering things from all over – among artists he admired (p. 15).
As Monsieur Gustave decides to sell his valuable artwork and move away with his lobby-boy companion, Zweig, too, sold the majority of his collected items by 1936. What remains, as 'The Stefan Zweig Collection of Musical and Literary Autograph Manuscripts', was officially donated to the British Library by Zweig's heirs in 1986, while the hundreds of other once-owned manuscripts are mostly housed in the foundation of their original buyer Martin Bodmer in Geneva (Oliver Matuschek has produced a catalogue of Zweig's pre-sale collection). Prochnik refers to the collection as a 'museum of Europe', so fitting for the Grand Budapest Hotel, 'that would serve as a microcosm of the whole vast continent before it all got blown asunder' (The Society of the Crossed Keys, p.16). Zweig lived inside, what he once termed, the 'Welt der Autographen' (world of autograph manuscripts), this museum of Europe. Yet, even in this world of creative nostalgia, elements of that same destruction are present in the form of the notes for a speech by Adolf Hitler (Zweig MS 158), sat between poems by Hesse and Hofmannsthal, and an article by Mussolini (Zweig MS 174).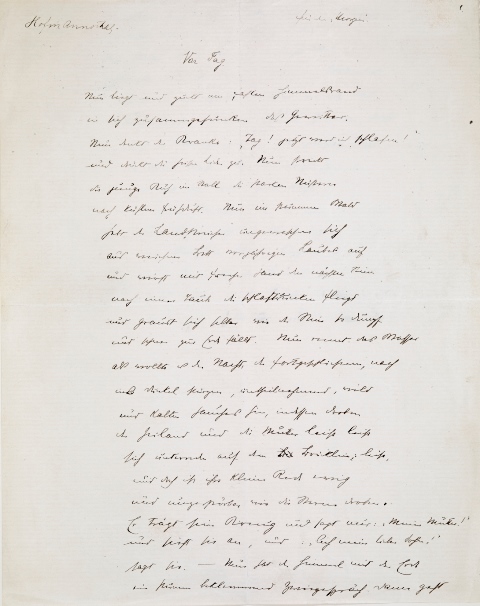 'Vor Tag', poem by Hugo von Hofmannsthal from  Zweig's collection (Zweig MS 159)
Describing the films of Wes Anderson, Michael Chabon relates them to the 'boxed assemblages of Joseph Cornell', and imagines both men summing up their work in the phrase: 'I have put the world in a box' (introduction to The Wes Anderson Collection, p. 23). Stefan Zweig , too, created his world in a box –  the manuscripts of European giants, 'im brüderlichen Schrank' (in the fraternal cabinet), where there is the productive encounter with ideas, creativity, difference.
As The Grand Budapest Hotel slowly retreats from its inner narratives, our storyteller adds: 'To be frank, I think his world had vanished long before he ever entered it -- but, I will say: he certainly sustained the illusion with a marvellous grace!' (Screenplay, 116). This world has indeed 'vanished' and yet continues to be 'sustained' through its staging in nostalgic homage, through representation – the 'framing', or 'boxing' of European cultural memory.
Pardaad Chamsaz,  Collaborative Doctoral Student
References and further reading:
Wes Anderson, Screenplay: The Grand Budapest Hotel
The Society of the Crossed Keys: Selections from the writings of Stefan Zweig, (London, 2014). YK.2014.a.19878
Stefan Zweig, Die Welt von gestern : Erinnerungen eines Europäers. (Stockholm, 1942) YA.1990.a.17913. English translation The World of Yesterday (trans. Anthea Bell), (London, 2009). YC.2011.a.55
Stefan Zweig, Ungeduld des Herzens (Stockholm, 1949) X.989/77992. Englsh translation, Beware of Pity (trans. Anthea Bell) (London, 2011) H.2012/.6135
Matt Zoller Seitz, The Wes Anderson Collection, (New York, 2013). LC.31.b.13686
Arthur Searle, Catalogue of the Music Manuscripts, The British Library Stefan Zweig Collection (London, 1999).  MUS 780.164 BRI
Oliver Matuschek, Ich kenne den Zauber der Schrift: Katalog und Geschichte der Autographensammlung Stefan Zweig (Vienna, 2005) YF.2006.a.13265
Stefan Zweig Collection: Music, literary and historical manuscripts, (British Library, Zweig MS 1-218)
Richard Brody, 'Stefan Zweig, Wes Anderson, and a longing for the past' (The New Yorker, 14/03/2014)
Max Nelson, 'Wes Anderson's Elegy to Stefan Zweig', (Los Angeles Review of Books, 14/03/2014)


08 December 2014
Introducing the Germanness of all things Gothic in an earlier post, Susan Reed draws the borderline between the South – 'fine art, classical civilisation and the Renaissance' - and the gothic North, concluding that 'it's harder to be gothic under a blue and sunny sky.' This separation has a lot to do with meteorological, agricultural and gastronomical particularities – the vines simply stop growing by the time you get to the North.
What this means for Northern life and its artistic and cultural responses is something quite different to the restrained pietism and often ideal imagined worlds of classicism. As Jonathan Meades has it, in his 2008 documentary Magnetic North, 'The North is the unpromised land of darkness, the gothic in all its forms, the thrilling grimness, exhilarating harshness, inky canals, fog, glistening cobbles – of buildings which respond to vast lands and skies with spires.' One needs only to compare, for instance, the Isenheim Altarpiece (Matthias Grünewald 1512-1516) to a Raphael alternative – take Crucifixion with the Virgin, Saints and Angels. The German representation of the crucifixion is plague-ridden, screaming pain, whereas the Italian version shows an almost peaceful death. The hostile conditions of the Northern world are, therefore, tangibly transmitted into its art forms, which seek to escape the same world through a fantastical imagination always already informed by everyday horror.
The Gothic Exhibition is tinged with, if not haunted by, this hostile northernness (and its particular German variety). Once you navigate around the black spaces of the exhibition, brushing past black diaphanous dividing curtains, you reach the Dracula room, separated off in a dark corner, to be greeted by the black and white of a film projection – F.W. Murnau's Nosferatu: Eine Symphonie des Grauens (1922). Murnau's film is self-consciously based on Stoker's Dracula and yet critics argue that, had Murnau not admitted his source, the works differ so much that it might have been easy to forget the connection (Mayne). Anders Larsson – firmly in the pro-Nosferatu camp – understands Stoker's Dracula as 'sophisticated, culturally aware, aristocratic, and seductive' even engaging in 'banter, seduction, small talk.' In other words, Dracula is decidedly a human type, an intelligent, attractive one at that.

Dracula, from the first illustrated edition of Bram Stoker's novel (London, 1901) C.194.a.862
A quick glance at the list of actors in the English-speaking role only confirms this Anglo-American conception of the monster: Bela Lugosi, Christopher Lee, Gary Oldman, and Luke Evans (who is in this year's Dracula Untold). Nosferatu, or Count Orlok, as he is known, is rather 'repulsive in every way' and certainly 'not a sexy vampire'. Bald-headed, grotesquely exaggerated facial features, ever-lengthening fingernails, Orlok is (deliberately) rodent-like, far from conventional notions of beauty, yet perhaps far closer than Dracula to a shared concept of monstrosity. The difference is best articulated in the words of the film critic Roger Ebert: 'Say "Dracula" and you smile. Say "Nosferatu" and you've eaten a lemon.'

Max Schreck as Count Orlok in Nosferatu (1922)
Countering the critical idea that Nosferatu is somehow Dracula avant la lettre, Saviour Catania attempts to show the already extant German romanticism and mysticism in Stoker's work itself. The story is then Germanized both before and after the fact. Stoker has the vampire say, 'I love the dark and shadow', which Catania sees as a German romantic obsession with the 'shadowy self, fragmenting into a more insubstantial parallel realm.' If the story is indeed a play of dark and shadow, we begin to see the reasons for Nosferatu's appeal, as film itself, in its earliest, silent, monochromatic form, is already a vampyric medium – a play of light and dark. In the scratchy, sketchy imprint of the remaining copies of Murnau's film, the modern viewer is disturbed by default. Blackness engulfs the frame. Orlok becomes shadow, always hiding in them, rarely appearing in close-up, and Catania understands Murnau's achievement as precisely the 'ingenious ways of incarnating in visual images Stoker's verbal descriptions of what is visible but incorporeal.'
Like the gruesome artworks of Grünewald, Bosch and northern Gothic in general, Nosferatu is inventive, fantastical and self-reflexive; it draws attention to its artifice, showing that both the horror and its representations are all the work of man, confining the horror to the ever-alienating and deadly potential of our world. We cannot escape. Shadow encroaches onto the edges of the film and re-asserts our uncertainty and the very real fears of the viewers' worlds.
Florence Stoker, the wife of the author, immediately sought legal action after the appearance of Murnau's film. A long drawn-out battle eventually saw the court order the destruction of all copies of the film. Living up to its name, Nosferatu (Romanian for 'un-dead'), could not be destroyed and the film re-surfaced two years later. The film continues to haunt the legacy of Dracula as well as the Dracula room in the Gothic exhibition. We may even read the strong presence of (black and white) film in the exhibition, with its flickering play of projected light (and dark), as a nod to the 'death-mask' (André Bazin, in Catania) that is cinema itself, and the intangible shadowiness of our underlying horrors. However we understand the Dracula story and in whichever German, English, literary, or filmic mode, the vampire is here to stay, forever haunting the imagination. We can join Jonathon Meades in concluding, the Gothic 'never went away, it never will.'
Pardaad Chamsaz, Collaborative PhD Student
References/Further Reading
F. W. Murnau, Nosferatu. Eine Symphonie des Grauens.  Sound collections 1DVD0006027
Henrik Galeen, 'Nosferatu. eine Symphonie des Grauens: Scenario adapted from Bram Stoker's Dracula' in Masterworks of the German cinema. Introduction by Dr. Roger Manvell (London, [1973].). X.989/24324.
Jackson, Kevin, Nosferatu : eine Symphonie des Grauens  (London, 2013.) YC.2014.a.7043
Thomas Elsaesser, 'Six degrees of Nosferatu', http://old.bfi.org.uk/sightandsound/feature/92
Wayne E. Hensley, 'The contribution of F. W. Murnau's Nosferatu to the evolution of Dracula'. Literature Film Quarterly, 30 (1), 2002, pp. 59-64. 5276.721100
Judith Mayne, 'Dracula in the Twilight: Murnau's Nosferatu (1922)', in German Film and Literature, (New York; London, 1986). YC.1986.b.2491
Roger Ebert, 'Nosferatu', http://www.rogerebert.com/reviews/great-movie-nosferatu-1922
Anders Larsson, 'Nosferatu as 20th century German zeitgeist', http://www.academia.edu/4140848/Nosferatu_as_20th_Century_German_Zeitgeist
Saviour Catania, 'Absent Presences in Liminal Places', Literature Film Quarterly, 32 (3), 2004, pp. 229-236.
Jonathan Meades, Magnetic North, (BBC4, 2008). (available online at:  https://www.youtube.com/watch?v=Dw6J9bYQ4XY_1
13 August 2014
In 1955 the winner of the Golden Lion at the sixteenth Venice International Film Festival was an unlikely choice. Ordet (The Word), the only film which brought its director Carl Theodor Dreyer  critical or commercial success during his lifetime, portrays life in a Danish rural community, telling the story of the farmer Morten Borgen and his three sons Mikkel, Anders and Johannes. From the opening shot of white sheets fluttering in the sea-wind to the final transfiguring scene of a miracle which resurrects Mikkel's wife and heals the schisms and religious conflicts among the villagers, the simplicity and directness of the film gives it a timeless quality which ensures its classic status almost sixty years after its release. Yet those who admire it may know little of Kaj Munk, the author of the play which Dreyer had adapted for the screen, whose life was as dramatic as any of his works.
Kaj Harald Leininger Petersen (1898-1944, picture (left) from Wikimedia Commons) was born on the Danish island of Lolland and, after being orphaned at an early age, was fostered by a family named Munk whose name he adopted. He was ordained as a Lutheran pastor, and in 1924 was appointed to Vedersø, a parish in western Jutland. Widely read in history, philosophy and modern drama, he translated Hamlet into Danish (1938: BL shelfmark X.955/51), and his admiration for Shaw and Ibsen is evident in the plays which he began to write in 1917 with Pilatus (first published in 1937: Cup.400.f.15); Ordet (1925: published in 1932; X.909/23062) was the second of these. Like Ibsen, he frequently set the action in bygone days – mediaeval Denmark or biblical times – which emphasized the ageless nature of the moral dilemmas confronting his characters while placing them at a 'safe' distance from the increasingly dangerous times in which he lived.
Throughout the 1930s Munk viewed the rise of Hitler and Mussolini with growing concern. He had initially acclaimed Hitler's achievement in providing a rallying-point for a united Germany, which he felt lacked a counterpart in Scandinavia, but came to repent of his ill-judged remark and spoke out with increasing vehemence, culminating in 1938 with an open letter to Mussolini published in the newspaper Jyllands-Posten attacking the persecution of the Jews.
Munk's concern proved to be justified when, in 1940, Hitler occupied Denmark. He continued to use drama as a means of openly criticizing Nazism, as in Niels Ebbesen (1942; 11756.b.6), whose hero, a mediaeval Danish squire who assassinates another German invader, Count Gerhard III, represented an obvious parallel to the current situation. Such figures combined the dramatic importance of a central character prepared to suffer for deeply-held beliefs with Munk's conviction that in perilous times a single strong leader was needed to act decisively and steer the people to safety.  
As Munk's opposition to Nazism and those prepared to collaborate with it grew ever more vociferous, his friends tried to persuade him to go underground, but he refused to, preaching increasingly outspoken sermons, culminating in one which he delivered in spite of a Nazi ban in Copenhagen Cathedral on Advent Sunday in December 1943 (, published as a special issue of the magazine Folk og Frihed; P.P.7256.da.(2.)). A month later, on 4 January 1944, he was arrested by the Gestapo, and the following morning his body, with an abusive note claiming that he had worked for Germany anyway, was discovered in a ditch on a country road near Silkeborg. His death proved to be the turning-point in rousing resistance to the German invasion, with 4,000 Danes attending his funeral; his body was subsequently taken back to his parish church for burial, and his widow Lise was granted permission by the Danish government to live in the parsonage until her death in 1998.
To the last years of his life Munk continued to write lyrical poetry, such as the collection Liv og glade Dage ('Life and happy days'; Copenhagen, 1936. X.619/8387), affirming the beauty of creation as well as expressing intransigent moral opposition to the outrages of his times. His life bore witness the words of Martin Luther: 'I cannot and will not recant anything, since it is neither safe nor right to go against conscience', and by his death he at last gave the Danish people the focus they needed, in his view, to turn against their oppressors. He is commemorated as a martyr in the Lutheran church's Calendar of Saints on 14 August.

Susan Halstead, Curator Czech & Slovak