17 March 2017
The German poet Friedrich Hölderlin, whose personal vision of Greece inspired much of his poetry and whose life spanned the years of the Greek struggle for independence, wrote in his elegy 'Brod und Wein' (c.1800) the famous words 'Wozu Dichter in dürftiger Zeit?' These words, pondering the purpose of poets in times of crisis and oppression, would be only too applicable to the career of the Greek poet Takis Sinopoulos ,born 100 years ago today.
 Cover of Maria Stephanopoulou, Takēs Sinopoulos: Hē poiēsē kai hē ousiastikē monaxia (Athens, 1992) YA.1994.a.10059.
Sinopoulos was a 22-year-old medical student at the University of Athens when, in 1940, the Greco-Italian War  broke out. During this and the two conflicts that followed – the German-Italian occupation (1941-44) and the Civil War (1945-49) – he served as a doctor in the Sixth Army hospital at Loutráki on the Corinthian Gulf, and then with fighting units during the guerrilla fighting of the Civil War. Despite the professional control and objectivity which he was forced to exercise in carrying out his medical duties, he was deeply affected by the horrors which he observed, and throughout the rest of his life he sought to process and purge them in his paintings and poetry.
Sinopoulos had come of age under the dictatorship of Ioannis Metaxas, whose coup of 4 August 1936 led to a system modelled on Italian fascism where censorship was brutally enforced. It was not until 1951 that he wrote his first collection of poems, introducing images and themes which would recur throughout all his later works as he attempted to expunge the hallucinations which haunted him throughout his creative life. The first poem of all, 'Elpenor', recalls the fate of the first Greek hero to fall in the Trojan War, but also a terrifying vision which Sinopoulos experienced one blazing summer day in 1944 when he distinctly saw a childhood friend who had been killed in battle two years earlier.
The poems echo with the existential loneliness of humans even within friendship or erotic relationships, making true communication eternally impossible, and with the conviction that true happiness is unattainable, even when the figure of Helen of Troy, and all that she symbolizes, flickers through the pages of the Cantos (1953). The temptations of death and oblivion which they proclaim haunted him for several years afterwards, plunging him into a psychosomatic crisis in which he believed himself to be gravely ill. This suddenly resolved itself in 1956 with the publication of Hē gnōrimia me ton Max ('Acquaintance with Max'), the only poem which he ever completed with such rapidity. Max is at once an alter ago, a builder of houses, and an elder brother with Christ-like qualities, but ultimately a figure who vanishes amid the images of burning and destruction, terror and death in life which reappear in Sinopoulos's later writings.
The earliest of Sinopoulos's poems in the British Library's holdings is To hasma tēs Iōannas kai tou Kōnstantinou ('The song of Joanna and Constantine'). This took him seven years to write as he experimented with the imagery of the Song of Songs and the mingling of Eros and Thanatos in the disjointed narrative of a couple living in a farmhouse near his native village of Agoulinitsa, the shadowy figures of a mother-in-law, neighbour and dead child, and, once again, the futility of any attempt to build communications between them.
Title-page of To hasma tēs Iōannas kai tou Kōnstantinou (Athens, 1961) X.900/506.
Although he continued to experiment with automatic writing to break his writer's block, political events once again conspired to delay the publication of his next and perhaps greatest work until 1972. The military coup of April 1967 inevitably hampered freedom of expression, but provided an apt context in which to revisit Sinopoulous's experiences as a doctor in the army with which he had served for almost five years. In Thessaly and Macedonia he had seen captured guerrillas shot without mercy and his own friends and comrades blown apart by mines and grenades, and had had to gather fragments of their bodies from the blasted trees and bushes where they had landed. The result was Nekrodeipnos ('Deathfeast', 1972). In an equally fractured landscape recalling Eliot's Waste Land, the shades of the dead mingle with the banalities of contemporary life and nostalgic images of June evenings in Athens many years before. There are reminiscences of Homer's catalogue of the ships in the litany of names of the dead who crowd around the poet, and even a direct encounter with God does little to relieve the overall bleakness of a climax in which the poet is certified as an 'inhabitant of the eternal'.
Cover of Takis Sinopoulos, Nekrodeipnos: 1981, X.950.23290.
Unlike the poets of the First World War, those of Greece's decade of agony are less well known to English-speaking readers, although Kimon Friar produced a fine translation of a broad selection of Sinopoulos's work in Landscape of Death: the selected poems of Takis Sinopoulos (Columbus, Ohio, 1979: X.950/6323). Through his evocation of scenes as poignant and horrifying as those of Goya's Desastres de la Guerra, Sinopoulos, though unable to save the men whose tragedies he witnessed, could at least ensure that they would not be forgotten.
Susan Halstead, Content Specialist (Humanities & Social Sciences), Research Services
19 August 2016
As the 2016 Olympics draw towards their close, in the spirit of Olympic internationalism and respect between nations, we thought we'd pay a BL European Studies homage to the successes enjoyed by Team GB with images from our historic collections showing some of the sports in which British athletes have won gold this year.
Britain's very first medal in Rio was a gold – for swimmer Adam Peaty. Clearly he didn't learn from the clumsy figures in Melchisedech Thevenot's manual L'art de nager, first published in 1696, some of whom appear to be drowning rather than swimming successfully:

Melchisedech Thevenot,  L'art de nager ...Quatrième édition (Paris, 1782)
The last of these looks as if he might have just executed a rather clumsy dive – not something you would find synchro diving winners Jack Laugher and Chris Mears doing. Diving developed as a sport in Sweden and Germany in the early 19th century, and was linked to the development of gymnastics, a sport where Britain won Olympic gold for the first time in Rio. In honour of Max Whitlock's two winning disciplines, here are some 19th-century German pommel horse and floor exercises:

Illustrations from Hermann Robolsky und Adolph Töppe, Abbildungen von Turn-Uebungen (Berlin 1845)
It's been a good year all round for British tennis, with Andy Murray's second Wimbledon singles title and successful defence of his 2012 Olympic one. In 18th-century France, his sport would have been jeu de paume, illustrated here, with some of the tools involved in racquet making, from an encyclopaedia of arts and professions:

François Alexandre de Garsault, Art du Paumier-Raquetier, et de la paume, from Descriptions des Arts et Métiers, vol. 7 (Paris, 1767) 1811.c.20.(7.)
Tennis is a rather stereotypically British sport, as is anything to do with horses, which brings us to dressage. Many of our books on 'horse dancing' are more haute école than modern Olympic dressage, but we think Charlotte Dujardin might recognise these moves from an 18th-century Spanish manual: 

Salvador Rodriguez Jordan, Escuela de a cavallo dividida en tres tratados… (Madrid, 1751) 7907.e.
Equestrianism has long been seen as the sport of kings, but if there's one discipline where Britain has ruled in Rio, it's cycling. This illustration from a late 19th-century German book suggests that this too was once the pastime of princes, here Ludwig Ferdinand and Alfons of Bavaria, though Britain's lycra-clad winners – too many to name individually – with their lightweight, high-tech machines, might find it harder going with tweeds, bow ties, boaters and heavy bikes.

Two Bavarian princes and their bikes, from Der Radfahrsport in Bild und Wort (Munich, 1897) YA.1989.b.4724
Finally (and with apologies to all the wonderful medallists whose sports we've had to miss out) a reminder that the modern Olympics were the brainchild of a Frenchman, Pierre de Coubertin, and that the first modern Games in 1896 were held, like their ancient predecessors, in Greece – although in Athens, not Olympia, as this souvenir album, with Coubertin's likeness on the cover, makes clear.

Cover of Anamnēstikon leukōma tōn Olympiakōn Agōnōn tou 1896 (Athens, 1896) 1788.d.3.

03 June 2016

 Sebastián de Covarrubias Horozco, Emblemas morales (Madrid, 1610) 637.g.22. Centura III, emblema 79 (f. 279).
Anda agora el mundo tal
que no se cual va tras cual
[It's upside-down!
Now, who can say
Who's the chaser
And who the prey?]
This emblem shows mice chasing cats and hares chasing dogs (or is it the other way round?).
Nowadays I think we'd think in terms of cats chasing dogs: after all, the two are natural antagonists, as in the film of 2001. And in the 18th century this Portuguese mock epic does indeed pit the cat against the dog:
João Jorge de Carvalho, Gaticanea, ou Crudelissima guerra entre os cães, e os gatos (Lisbon, 1781) 11452.aaa.20.
(I wonder if the phrase "raining cats and dogs" refers to the commotion caused when cats and dogs fight.)
But cat vs dog isn't the only bout in town.
Back at the dawn of literature, in Aesop's fables, the protagonists are never cats and dogs. To further complicate the matter, cats aren't cats. Olivia and Robert Temple argue:
Precision in the terminology also reveals facts such as that household pets in ancient Greece were not cats but domesticated polecats, or house-ferrets (galē). (The Complete Fables, p. xix).
Terminological exactitude, or the translator's age-old desire to outdo his predecessors?
Barry Taylor, Curator Romance Studies
References:
Alberto Pimentel, Poemas herói-comicos portugueses (Porto, 1922)
X.908/25214.
Aesop, The complete fables; translated by Olivia and Robert Temple; with an introduction by Robert Temple. (London, 1998) YK.1998.a.7044
24 March 2016
Throughout Europe, the tradition of the Passion Play has a long history, reaching back to an age where it was a powerful means of bringing the dramatic events of the last week of Christ's life before the eyes of those who could not read. Although the comparatively late Oberammergau Passionspiel  is perhaps the best-known example, many others were performed in the Eastern as well as Western churches.
             Bust of Nikos Kazantzakis in Heraklion (Image from Wikimedia Commons CC-BY.2.0)                    
It is one of these which the Cretan author Nikos Kazantzakis (1883-1957) describes in his novel Ho Christos xanastauronetai (1948). The British Library holds a numbered copy of the seventh edition signed by his widow Eleni Kazantzakis. It was translated into English in 1954 by Jonathan Griffin under the tile Christ Recrucified (12589.d.18), and ran into several subsequent editions.
Signature of Eleni Kazantzakis from copy no. 216 of a limited edition of the Greek original of Christ Recrucified. (Athens, [1959?]) 11411.e.96 
Kazantzakis was born at a time when Crete was still part of the Ottoman Empire rather than the modern Greek state which had existed for just over 50 years, and the village of Lykovrissi ('Wolf's Spring') in which he sets the action recalls his experience of growing up in a society where Greek and Turk, Christian and Muslim existed side by side in comparative harmony for the most part. What destabilizes the equilibrium of the community is not internal friction but the arrival of a group of refugees whose own village has been destroyed by the Turks. They reach Lykovrissi at a time when parts are being allocated for the next year's Passion Play, performed every seven years, and these two events ignite the tumult which ultimately ends in bloodshed and self-sacrifice.
Throughout his life Kazantzakis was a spiritually questing and perpetually restless soul whose challenges to established religious dogma and practice caused him – like his hero Manolios – to face excommunication, though it was never actually pronounced. However, his later novel The Last Temptation of Christ (1955) caused such a furore that the Roman Catholic Church placed it on its index of forbidden books. Though controversial, his portrayal of Christ as a fully human being who understands and engages in the dilemmas of existence to the utmost is close to those of Kahlil Gibran and Dennis Potter, and provided the basis for Martin Scorsese's film of the same name (1988). Christ Recrucified was also made into a film in 1957,  Celui qui doit mourir, by Jules Dassin, with Melina Mercouri in the role of Katerina . 
It was in another medium, though, that Christ Recrucified found additional dramatic expression. Throughout his life Kazantzakis had been a frequent traveller, and had lived in many countries, including the Soviet Union and Czechoslovakia. When the Czech composer Bohuslav Martinů encountered his work, he immediately recognized its potential for an opera, and the two artists began a correspondence in French which is available in a Czech edition as Řecké pašije: osud jedné opery : korespondence Nikose Kazantzakise s Bohuslavem Martinů, edited by Růžena Dostálová and Aleš Březina (Prague, 2003; YF.2005.a.6912).
Bohuslav Martinů in 1942. Image from Bohuslav Martinu Centre in Policka, inventory number: PBM Fbm 115, via Wikimedia Commons (CC BY-SA 3.0 CZ)
Martinů composed the original version of his opera between 1954 and 1957, when memories were still fresh of the Slánský show trials  and the worst excesses of political intolerance and corruption within a communist state where religion was actively suppressed. With no chance of staging it in Czechoslovakia, he offered it to the Royal Opera House, Covent Garden, but it was not until 1961 that a revised version received its premiere in Zürich, two years after the composer's death.  The Royal Opera House staged a production by David Pountney (in English) in 2004, conducted by Charles Mackerras, thus making amends for not producing it earlier as originally intended.  
Kazantzakis himself, though disillusioned with Soviet communism and never a party member, had admired Lenin and the general principles which he believed communism represented, many of which find their way into his novel. As the year progresses, the villagers – Manolios, cast as Christ, Katerina, the widow and prostitute chosen as Mary Magdalene, and the various disciples, as well as Panayotaros, the Judas – gradually find themselves assuming the characteristics of the figures whom they portray, and embodying them in their actions towards one another and the starving refugees. The village priest Grigoris denies the fugitives shelter for fear of cholera, and sends them and their own priest Fotis to starve on the mountain of Sarakina. Manolios, regarded with suspicion by the village elders as a 'Bolshevik' and 'Muscovite', leads his neighbours to help them, and offers his life to save the village from the wrath of the local Agha following the murder of his boy favourite Yousouffaki, but it is Katerina who sacrifices hers, struck down by the Agha after claiming responsibility for a crime which she did not commit. As Manolios inspires others to leave their possessions and join him in a life of prayer and seclusion, the mob, headed by Panayotaros, kills Manolios on Christmas Eve as the refugees resume their flight, led by Father Fotis, who reflects, 'When will You be born, my Christ, and not be crucified any more, but live among us for eternity?'

Cover of Nikos Kazantzakis, Christ Recrucified , translated by Jonathan Griffin (London, 1962) X.908/5908.
Though nominated nine times for the Nobel Prize in Literature, Kazantzakis never won the award. However, in this as in his other works, he proved himself to be not only a truly European but a universal figure, whose writings continue to raise existential issues of personal integrity and human responsibility – more timely than ever as a new stream of refugees pours into Greece in the weeks before another Easter.
Susan Halstead, Content Specialist (Humanities and Social Sciences), Research Engagement
05 August 2015
On 19 August 1839, the astronomer François Arago demonstrated to the French Academy the startling new photographic process invented by Louis Daguerre, by which an object was imprinted on a metal plate without human intervention, through the action of light alone. Within just a few weeks, budding daguerreotypists had learned the technique and set off to try their luck in far-flung destinations across Europe, Africa and the Near East.
This was no easy task: the travellers had to transport nearly 300 pounds of equipment, dangerous chemicals and inconvenient supplies; with no precedents to guide them in climates very different from that of Paris they had to experiment with lighting, aspect, exposure times, chemical combinations and conditions for developing the pictures; they often had nothing to show for their efforts but a blank plate. Where they succeeded, however, they produced the first photographic images ever made of these regions, having enormous historical and aesthetic importance, and inaugurated a practice which would forever alter the experience of travel.
But for the foresight of an enterprising Parisian optician and maker of scientific instruments named Noël-Paymal Lerebours, there would be little evidence of this pioneering photographic activity: the daguerreotype process does not allow the plate to be reproduced and few originals survive. Lerebours gathered together over a hundred of these daguerreotypes, had them traced and then engraved: the resulting Excursions daguerriennes: Vues et monuments les plus remarquables du globe (Paris, 1841-42; British Library 1899.ccc.18) was the first book to be illustrated from photographs. The images represented sites throughout Europe, from Russia and Sweden to Spain (fig. 1) and Greece; around the Mediterranean from Algiers to Beirut (fig. 5); and further afield to the Americas (fig. 2). 

Above:Fig. 1.  Edmond Jomard, The Alhambra (1840); Below: Fig. 2.  Hugh Lee Pattinson, Horseshoe Falls, Niagara (1840), both from Excursions daguerriennes

Each image was accompanied by a text signed, in most cases, by a professional critic or man of letters. The photographers, on the other hand, are not indicated and most are therefore unknown.
There are two notable exceptions. Gustave Joly de Lotbinière, a Swiss-born Canadian seigneur who was in Paris en route to the Near East when Daguerre's invention was announced, and Frédéric Goupil-Fesquet, a student of the French painter Horace Vernet whom he was preparing to accompany to Egypt and the Levant, both grasped the potential of the new process and quickly availed themselves of it. Joly left for Greece on 21 September 1839 and became the first person ever to photograph Athens; over the following eight months he took daguerreotypes of Egypt, Syria, Lebanon, Palestine, Cyprus, Rhodes, Istanbul, and Malta. Goupil-Fesquet left for Egypt with Vernet in October, taking a slightly different route through the Levant and back to France by way of Izmir and Rome. Both photographers kept journals of their travels and drew upon them for the texts that they wrote to accompany their images in Excursions daguerriennes. Joly contributed the chapters on the Parthenon, the Propylaeia, the temple at Philae, the Temple of the Sun at Baalbek and the Muslim cemetery at Damascus. Goupil-Fesquet produced those on Pompey's Pillar, the harem of Mehmet Ali in Alexandria, Luxor, the Great Pyramid, Jerusalem, Beirut, Acre and Nazareth. 
Photography offered unprecedented benefits over other means of recording travel.  As a process in which the object or site imprinted itself upon the plate, it was considered to have a realism, immediacy and authenticity unavailable in other media. Not that anyone was naïve about this: for example, the Introduction to the Excursions states openly that human figures were added to the engraving to "enliven" the picture. And Joly and Goupil-Fesquet both emphasise the limitations of the new medium: its restricted frame, its inability to reproduce colour, its dependence on variable conditions of light and atmosphere, the ways a view could change in the long exposure times necessary. On the other hand, photography could provide a useful corrective to previous travel albums, in which the views were "always modifed by the taste and imagination of the artist". 
Both Joly and Goupil-Fesquet called the daguerreotype to witness in this assault on the myths and clichés of the picturesque tradition. The ultra-rational Joly is especially sarcastic, mocking the lyrical fantasising of his Romantic predecessors such as the poet Alphonse de Lamartine, author of a famous Voyage en Orient (1835), and stating the more prosaic truth. His images, striking as they are, take an unsentimental approach: his view of the Parthenon from the northwest, for example (fig. 3), shows the crumbling building surrounded by rubble, with a modern hut in the foreground, the mosque which stood in its centre until 1842, and the marks on the columns made by cannonballs during the Greek War of Independence. 
Fig. 3.  Gustave Joly de Lotbinière, The Parthenon (1839), from Excursions daguerriennes
Goupil-Fesquet was more polite but no less keen to avoid the stale conventions of travel literature. Of his image of Luxor, he states: "The reader will look in vain […] for some propylaeum, sphinx, obelisk or other gigantic fragment which is indispensable to every Egyptian site.  However, it is Luxor, nothing can be truer […]."  Instead of these tropes, "well known to everyone," the image depicts an ordinary scene of boats on the Nile being repaired or prepared for sailing, modern houses in the centre, and a minaret on the right (fig. 4). 
Fig. 4. Frédéric Goupil-Fesquet, Luxor (1839), from Excursions daguerriennes
His impressive view of Beirut (fig. 5), looking over the rooftops toward Mount Lebanon with the Palace Mosque in the centre, retains the laundry hanging on the lines and between the crenellations on the walls, while modern villas in the light, airy countryside of the background contrast with the dense, strongly shadowed jumble of buildings in the old city, cut off at the bottom, in the front.
Fig. 5.  Frédéric Goupil-Fesquet, Beirut (1840), from Excursions daguerriennes
Travel photography would soon establish its own clichés and stereotypes. But in this initial stage, it offered a new approach to travel literature, one which exposed the old falsehoods while also making clear the contingency of the picture, plunging the reader into the immediacy and unpredictability of the experience itself. With its 111 images from the earliest period of photography, the Excursions daguerriennes is an especially significant example from the British Library's outstanding collections of both foreign-language and photographically illustrated books. 
Michèle Hannoosh, Professor of French, University of Michigan
References:
Frédéric Goupil-Fesquet, Voyage en Orient fait avec M. Horace Vernet en 1839 et 1840 (Paris, 1843).  1425.k.6
Pierre-Gustave Joly de Lotbinière, Voyage en Orient: Journal d'un voyageur curieux du monde et d'un pionnier de la daguerréotypie, ed. Jacques Desautels, Georges Aubin and Renée Blanchet (Quebec, 2010). YF.2014.a.664
Le Daguerréotype français. Un objet photographique, ed. Quentin Bajac and Dominique Planchon de Font-Réaulx (Paris, 2003).  LF.31.a.4688
06 July 2015
As well as being one of the greatest publishers of livres d'artiste in Paris for some five decades [see my earlier blog post on his relationship with Matisse], Tériade played an important role in promoting contemporary Greek art in France and he was a key figure in the discovery of the 'naïve' artist Theophilos. Like Tériade, Theophilos (Theophilos Chatzēmichaēl or Kephalas, 1868-1934) was born in Vareia, a suburb of Mytilene on the island of Lesvos. He spent several years in Smyrna and later in Thessaly (Volos and Pēlion) moving from village to village, painting shop signs and decorating the walls of churches, houses and inns. Most of his work from that period has consequently not survived. His eccentric behaviour and appearance – he dressed in fustanella (the traditional Greek costume) and as Alexander the Great – often made him the butt of cruel practical jokes.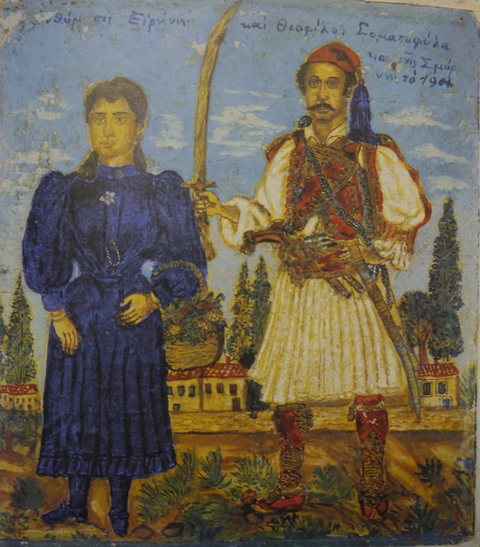 Theophilos and his sister Eirene (1904). Mytilene, Hetairia Lesviakon Meleton.  Reproduced in  Theophilos [Ekdosis Emporikēs Trapezēs tēs Hellados.] (Athens, 1966). British Library J/X.423/1787.
In 1927 Theophilos returned to his birthplace and it was there where Tériade met him, bought some some of his paintings, and commissioned more works from him. This newfound financial security proved beneficial as Theophilos produced some 120 paintings in five years.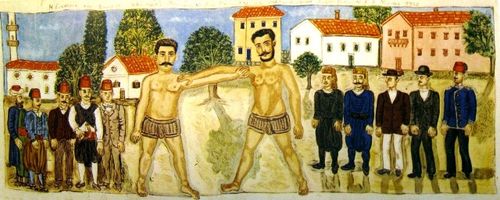 The Wrestlers of Smyrna (1930). Mytilene, Theophilos Museum, Tériade Collection.Reproduced in Theophilos: zōgraphikoi pinakes, Dēmos Mytilēnes-Mouseio Theophilou (Mytilene, 1986) LB.31.b.4493.
His sources ranged from Byzantine art to popular prints and postcards and the subjects of his paintings include Ancient Greek mythology, Byzantine history, portraits, genre scenes, and landscapes. Erotokritos, the great epic poem of the 17th-century Cretan Renaissance was a special favourite.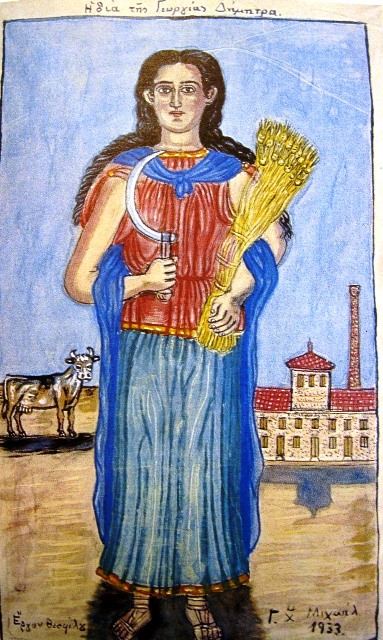 Above: Demeter, the goddess of Agriculture (1933). Mytilene, Theophilos Museum , Tériade Collection. Below: Erotokritos and Aretousa. 1928. Mytilene, I. Deles collection. Both reproduced in Theophilos (Athens, 1966)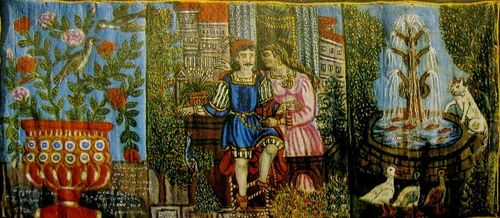 In 1936, two years after the death of Theophilos, Tériade exhibited his work in Paris where it was inevitably compared to the the work of the Douanier Rousseau. An exhibition of his work in Greece had, however, to wait until 1947, thirteen years after his death. It was held in the British Council in Athens, organised by Ronald Crichton. Rex Warner, the director of the institute, described the reactions to the exhibition in the tense political climate of the immediate post-Second World War years and in the midst of the Greek Civil War. The Communist press saw Theophilos as a popular artist and a man of the people and therefore gave the exhibition its approval with the warning, though, that it was being held "by the wrong people, in the wrong place, and in the wrong way". Right wing groups were also negative as they detected elements of Stalinist art in the style of Theophilos!
Despite the controversy (or, perhaps, because of it) the exhibition was a great success consecrating Theophilos as the epitome of Greekness. George Seferis gave a deeply-felt inaugural speech, published in the May 1947 issue of the journal Angloellēnike epitheorēsē (PP. 7618.dq) which was dedicated to Theophilos. Most of the works were lent by private collectors, notably by Andreas Empeirikos, Nikolaos Hatzēkyriakos-Gkikas (Ghika), Angelos Katakouzēnos, Alexandros Xydēs, and Odysseas Elytēs, in other words the cultural elite of Athens. In his speech Seferis talked about his gratitude to those who had had the foresight to recognise the genius of the artist, did their best to protect his paintings from destruction, and lent to the exhibition some of the best works still remaining in Athens – the last remark surely a reference to Tériade's removal of Theophilos's work from Greece.
The final consecration of Theophilos came in 1961 with the exhibition in the Musée des Arts Décoratifs in Paris of 44 paintings from Tériade's collection. In 1965 the Theophilos Museum, financed by Tériade and housing his entire collection of works by the artist, opened in Vareia followed, in 1979, by the Tériade Museum-Library  which holds Tériade's publications and also works by other French and Greek artists.
Perhaps Theophilos himself should have the last word, in the wonderful story recounted with gusto by Seferis in his above-mentioned speech:
Once upon a time, as they say, a baker commissioned a poor painter to paint a picture of him taking loaves of bread out of the oven. The painter started on his work, and when he came to putting in the baker's rake, instead of following the laws of perspective and making it horizontal, he drew it perpendicular, showing the whole breadth of its surface; then, in the same way, he drew a loaf of bread on the rake. A clever man came past and said to the painter, "That loaf of bread is going to fall down, the way you've painted it." Without bothering to turn his head, the painter replied, "Don't worry. Only real loaves fall down; the painted ones stay put, and in a picture one ought to show everything.
A Bakery in Larisa. (1933). Mytilene, Theophilos Museum , Tériade Collection. Reproduced in Theophilos: zōgraphikoi pinakes, Dēmos Mytilēnes-Mouseio Theophilou (Mytilene, 1986)
Chris Michaelides, Curator Romance collections
References
Kitsos Makrēs, Ho zōgraphos Theophilos sto Pēlio (Volos, 1939). YA.1994.a.14281.
Théophilos [catalogue of the exhibition in the Musée des arts décoratifs, June-September 1961]. (Paris, 1961). 7873.bb.29.
Rex Warner, Views of Attica. (London, 1950). 010127.b.20
George Seferis, On the Greek style: selected essays in Poetry and Hellenism. Translated by Rex Warner and Th. D. Frangopoulos. (London, 1967). X.908/9883
Hoi Hellēnes zōgraphoi. Tomos 1. Apo ton 19o aiōna ston 20o. (Athens, 1974). L.R.430.C.10.
Four painters of 20th century Greece: Theophilos, Kontoglou, Ghika, Tsarouchis. (London, 1975). X.410/10030
Tōnēs Spēterēs, Treis aiōnes neoellēnikēs technēs, 1660-1967. (Athens, 1979). X.421/25448.
George Seferis, Dokimes.  (Athens, 1981). X.950/24516.
24 November 2014
Constantine Cavafy (1866-1933) is the best-loved modern Greek poet whose life and work has inspired a legion of artists, men of letters, and film-makers. Already a legend during his lifetime, friends and admirers held regular literary gatherings in his apartment in Alexandria, where foreign visitors also paid their respects. Filippo Tommaso Marinetti (1876-1944) was one of those visitors and his meeting with Cavafy must count as one of the most surprising encounters in literary history, comparable to the friendship between T.S. Eliot and Groucho Marx  or the encounter between Guy de Maupassant and Algernon Charles Swinburne.
Marinetti (top) and Cavafy (bottom) ca. 1930
The two men were temperamentally very different. Cavafy was retiring, patient and gentle, Marinetti brash, ebullient, theatrical. They were both united, however, in their love for Alexandria, their shared birthplace. Marinetti was introduced to Cavafy by Atanasio Catraro, the scion of a distinguished Triestine family (he was a great-grandson of Ciriaco Catraro, the founder of the Stock exchange in Trieste). A friend of Cavafy and an habitué of his salon, Catraro translated some of Cavafy's poems into Italian and in the 1960s wrote a memoir about Cavafy, published only in a Greek translation in 1970.
The meeting with Cavafy came about in 1930 during Marinetti's visit Alexandria to give a series of lectures on Futurism to the city's Italian community. Marinetti's account of the meeting was first published in the Gazzetta del popolo in Turin on 2 May 1930 and was included in the volume Il fascino dell'Egitto, a collection of articles about his visit to Egypt, first published in 1933. Another account is given  in Catraro's book and it was probably Catraro who provided Marinetti with information about the Greek writers discussed.
In his article Marinetti evokes, with a few deft strokes, the atmosphere of Cavafy's salon. The head of the poet is maliciously described as that of "the small, grey head of a sweet and intelligent tortoise whose slim arms are rowing out of its immense Greco-Roman shell of learned shadow";  the room has dark red velvet walls and is hung with paintings encrusted with "the dust of centuries". After whisky and soda and the traditional cheese meze are served, conversation begins with Cavafy praising Futurism and the merits of free verse. Marinetti points out  that Futurist poetry goes much further than free verse, into the simultaneism of words-in-freedom which are the expression of "our great mechanical civilization of speed."
The ensuing discussion about modern Greek literature shows how French literature, especially poetry, was, at the time, the yardstick used in assessing the merits or otherwise of all literary works. Kostēs Palamas, the great rival of Cavafy, is deemed to be verbose like Victor Hugo and sentimental like Lamartine, Miltiadēs Malakasēs a cross between Alfred de Musset and Sully-Prudhomme, Lampros Porfiras  a cross between Baudelaire and Verlaine, the sonnets of Giannēs Gryparēs like those of José Maria de Heredia. Contemporary Greek playwrights like Grēgorēs Xenopoulos and Paulos Nirvanas are deemed to be under the spell of Ibsen. By contrast,  Spyros Melas  and his "Scena libera" (Eleutherē Skēnē), headed by Marika Kotopoulē ("the Greek Eleonora Duse"), are praised for their performances of French avant-garde plays.
The conversation also touches on the merits of Demotic language in poetry, the language of Giannēs Psycharēs, its dynamism and its use of foreign words, especially Italian ones. Cavafy recites, for the benefit of Marinetti, some verses where Italian words like 'porta', 'cappello', 'calze', 'guanti', 'carriera' are harmoniously incorporated into the Greek text as necessary neologisms whereas English, French or Spanish words would  have a jarring effect.
The assembly then  asks Cavafy to recite one of his new poems. He finally obliges with "God abandons Antony", his slow recitation accompanied by gestures tracing minute arabesques in the air.
In Catraro's account Marinetti, pacing up and down and gesticulating, filled the room with his presence, like an actor on stage. He suddenly declared Cavafy a Futurist, an honour the poet gently declined, remarking that the little he knew about Futurism made him think that he would be considered a passéist. Marinetti conceded that Cavafy was, to a certain extent, a passéist in that he was not impressed by the beauty of machines and he still used verbs and punctuation: a passéist in form but intellectually a Futurist, like Michelangelo, Leonardo, Wagner and all other artists who revolted against tradition.
Marinetti's article omits his unsuccessful attempt to proselytise Cavafy and it ends on an unexpectedly lyrical and wistful note. After leaving Cavafy he drives to the beautiful gardens of the Villa Antoniadis. In the full moon, he hears the song of nightingales which are, however, interrupted by the noise of machines demolishing the old villa to erect in its place a modern one destined for visiting foreign sovereigns. In a typical Marinetti simile, the funereal crash of demolitions is likened to the sound of exploding grenades. When the noise finally dies out, Marinetti movingly concludes his article by assimilating the landscape of Alexandria to the poetry of its great poet: "the Mahmoudieh Canal is  full of liquid nostalgia-inducing moons, like the free verses – modern and at the same time ancient – of Cavafy, the Greek poet of Alexandria."
The Gardens of the Villa Antoniadis in the 1920s, from Alec R. Cury, Alexandria: how to see it  (4th edition; Alexandria, 1925) British Library 10094.b.7.
The Villa Antoniadis, where Marinetti had his nocturnal reverie, was built in 1860, as a miniature Palace of Versailles, by Sir John Antoniadis (1818-1895), a wealthy Alexandrian of Greek origins, and in 1918 was bequeathed to the city of Alexandria by his son together with the family's collection of Egyptian and Graeco-Roman antiquities. At the time of Marinetti's visit its gardens formed part of  a green area which also included zoological and botanical gardens. In antiquity this area was a suburb of the city, the residents of which included Callimachus, the librarian of of the ancient Library of Alexandria. Appropriately, the villa and its gardens now form part of the Bibliotheca Alexandrina.  Cavafy's apartment is now a Cavafy museum. 
Chris Michaelides, Curator Italian and Modern Greek Studies
References:
Atanazio Katraro, Ho philos mou ho Kavaphēs  (Athens, 1970). Awaiting shelfmark
Filippo Tommaso Marinetti,  Il fascino dell'Egitto. (Milano, 1981) X. 809/66786
29 August 2014
Greek paper icons are devotional prints that flourished from the 17th to the end of the 19th century. They depict saints or religious scenes, and often include panoramic views of monasteries, with accurate depictions of their buildings and the surrounding area together with scenes of monastic life, and representations of the monastery's patron saints, thaumaturgical icons and miracles connected with them. Inscriptions provide a key to the various scenes and give additional information about engravers, or the donors who commissioned the works.
The prints were addressed to a wider, less educated public than guides in book form and were given by travelling monks to the faithful, encouraging them to support their monastery or make a pilgrimage to it; alternatively, they were kept as mementoes of a visit to a particular monastery.
Venice and Vienna were originally the biggest production centres of Orthodox religious prints but printing workshops later appeared in the Balkans, Moscow and, by the end of the eighteenth century, in Constantinople and on Mount Athos. Though important in the history of graphic arts in the Balkans, relatively few of these prints have survived (the authoritative catalogue by D̲orē Papastratou, first published in 1986, lists 618 items). It was only in the late 19th century, with the revival of interest in folk art, that they became collectable (like Russian religious lubok prints).
The British Library has a small but choice collection of 11 Greek paper icons kept at shelfmark HS.74/2135. All are views of Mount Athos monasteries, printed in Vienna (nos 1,8), Venice (nos 2,5) Moscow (no 6) or Mount Athos (nos 3,4,7,9,10) between 1764 and 1879. They are all mounted on board, 92 x 57 cm in size. Two prints (nos 5 and 9) are duplicates. The list below gives brief notes about the prints and includes their catalogue numbers in Papastratou's  indispensable work, which provides fuller iconographic descriptions, transcriptions of texts, and information about variant versions.
1.Hē Monē tou Hagiou Paulou [The Monastery of Hagios Paulos] (Vienna,1 May 1798). Engraving. [Papastratou 501]

There are three registers. In the top register, the three images show, left to right,  the Icon of the Virgin which was miraculously saved after it was thrown into the fire by the iconoclast Emperor Theophilos (813-842), the Holy Trinity with St George and St Paul (the monastery's patron saints), and the adoration of the Magi (whose gifts, as the inscription reminds us, are kept in the
monastery). The magnificent view of the monastery in the central and largest register, includes an abundance of details: a boat pulling into dock, the monastery's shipyard (Ταρσανάς), a monk drawing water from a well with a pulley and a chain, another fishing in a sea teeming with creatures including a sea-monster (κῆτος); various buildings and other locations are named in the image. Finally, the text (in Greek and Church Slavonic) at the bottom register gives details of the donors. The influence of earlier Western art on this and other landscapes in paper icons can be seen comparing it to Fra Angelico's Thebaid in the Uffizi.
2 (and 5). Hoi Hagioi Tessarakonta Martyres [The Forty Martyrs of Sebaste] (Venice, 1764).  Engraving. [Papastratou 482]

The Monastery of Xeropotamou is dedicated to the Forty Martyrs of Sebaste, a group of Roman soldiers who, in 320, converted to Christianity and were condemned to be exposed naked upon a frozen lake near the city of Sebaste (present-day Sivas in Turkey). One of the soldiers lost heart, left
his companions and sought shelter in a warm bathhouse (left). His place was taken, however, by one of their guards who, seeing the crowns of glory shining in the sky, proclaimed himself a Christian and joined the other thirty-nine. The frozen bodies of the martyrs were carried away in carts and burned, and their ashes dispersed though some were preserved as precious relics. The subject was popular in Byzantine art, thanks to its dramatic potential; the various stages of the story are here clearly depicted and explained in the accompanying key to the characters and action. The names of the donors are also given. 
3. Hē Panagia hē Oikonomissa, Hē Monē Megistēs Lavras kai Skēnes apo ton Vio tou Hagiou Athanasiou [The "Panagia Oikonomissa", The Monastery of Great Lavra and Scenes from the life of St Athanasius] (Hagion Oros, 1868). Engraving. [Papastratou 433]

The monastery of Great Lavra was the first monastery built on Mount Athos. The icon shows the Virgin and Child with Saint Athanasius and Saint Michael Synadon. At left and right, ten scenes from the life of Saint Athanasius, the founder of Great Lavra in 963. This is a variant of an 1810 engraving. The most notable difference is the reversal of the view of the monastery.
4 (and 9). Hē Monē Koutloumousiou – Hē Metamorphōsē tou Sōtēros [The Monastery of Koutloumousiou – The Transfiguration] (Hagion Oros, 1839). Engraving. [Papastratou 473]

The monastery of Monastery of Koutloumousiou is dedicated to the Transfiguration of Christ which here occupies a larger than usual part of the print and is better integrated into the landscape. As in the much copied and imitated Raphael prototype of which this is a distant echo, the radiant Christ is at upper centre between Moses and Elijah, and Peter, James, and John are crouched in disarray below. The lower part shows the Monastery of Koutloumousiou with, at left, a monk ploughing a field and, at right, a Phiale for the blessing of the waters, and a chapel.
6. Hē Panagia Portaïtissa tōn Ivērōn – Hē Monē tōn Ivērōn [The "Panagia Portaitissa" and the Monastery of Ivērōn] (Moscow, November 1838). Engraving. [Papastratou 455].

The Monastery of Ivērōn is dedicated to the Dormition (Assumption) of the Virgin. Its name denotes that it was founded by 'Ivērites' (i.e. natives of Georgia). The icon is that of the Virgin Portaïtissa. According to legend, a widow from Nicaea (Νίκαια), in north-western Anatolia (part of modern İznik) threw the icon into the sea to save it from destruction by the soldiers of the
iconoclast Emperor Theophilos. The waves brought it to the coast of Ivēra where it was found by Gabriel, a monk in the monastery, who placed it in its Katholikon (the major church building in the monastery). The icon was later lost three times but each time it miraculously re-appeared at the gate of the monastery (hence its name). At left and right there are 12 scenes, 10 of which illustrate the history of the icon. Under the icon there is a view of the Monastery of Ivērōn and its seashore and, below, a parallel text in two columns, in Greek and Church Slavonic, gives the names of the donors. The engraving was first published in Halle in 1794. This 1838 printing includes some new details, for example the figure of the monk in the foreground (presumably Gabriel) holding the icon.
7. Hē Monē Pantokratoros [The Monastery of Pantokrator] (Hagion Oros, February 1844). Engraving.[Papastratou 479].

The Monastery of Pantokrator is, like the Monastery of Koutloumousiou, dedicated to the Transfiguration of Christ. The icon of the Transfiguration is framed at upper centre with Christ, Moses and Elijah above and nine apostles shown kneeling or prostrate below. Three scenes from the life of Elijah are shown: at left, his ascension in a chariot of fire and, below, the angel appearing to him; at right, the prophet fed by ravens. This is a variant of a 1779 engraving with notable differences  in the landscape.
8. Hē Monē Vatopediou [The Monastery of Vatopedi] (Vienna, 1879). Lithograph. [Papastratou 446].

This panoramic view is the only lithograph in this collection, and derives from a photograph. Stylistically it is very different from all the other prints in the collection and the only one without an icon or patron saint component. The inscription provides a key to 20 buildings of the monastery and the identity of the donor.
10. Hē Monē Koutloumousiou – Hē Metamorphōsē tou Sotēros [The Monastery of Koutloumousiou – The Transfiguration] (Hagion Oros, ca 1850). Engraving [Papastratou 474].

The Transfiguration here occupies the upper half of the engraving. The monastery is shown at lower left, with St Anne carrying the Virgin and, in a reliquary on the ground, one of the most treasured relics in the monastery, the right leg of St Anne.
11. Hē Monē Karakal(l)ou [The Monastery of Karakal(l)ou] (Hagion Oros, February 1843) Engraving. [Papastratou 494].

The top register depicts the Twelve Apostles, with Saints Peter and Paul (the monastery's patron saints) in the centre. The inscription at the bottom register indicates that the engraving was commissioned by the grocers of the town of Redestos, and executed by Kyrillos, an Athonite monk. Kyrillos was active between 1834 and 1862.
Chris Michaelides, Curator Italian and Modern Greek 
References:
Waldemar Deluga, and Iwona Zych, "Greek Church Prints," in Print Quarterly 19, no. 2 (June 2002): 123-35. P.423/617.
Ḏorē Papastratou, Chartines eikones: orthodoxa thrēskeutika charaktika, 1665-1899 (Athens, 1986).  LB.31.b.347 [English edition: Paper icons: Greek orthodox religious engravings, 1665-1899.(Athens, 1990) f91/0114-5]
Theocharēs Mich.Provatakēs, Charaktika Hellēnōn laïkōn dēmiourgōn, 17os-19os aiōnas.(Athens, 1993). YF.2013.a.3460.
Graviura Grecheskogo mira v moskovskikh sobraniiakh / Prints of the Greek world in Moscow collections. (Moscow, 1997). YA.1999.b.1598.
La Stampa e l'illustrazione del libro greco a Venezia tra il settecento e l'Ottocento: atti della giornata di studio , Venezia 28 ottobre 2000.  (Venice, 2001). YF.2012.a.30117; especially Anastasia Tourta, "Greek religious engravings printed in Venice", pp. 67-78, and George Golobias/Ioustinos Simonopetritis, "Paper icons, from Venice to Mount Athos", pp. 53-63.
Paulos M. Mylōnas, Ho Athos kai ta monastēriaka tou hidrymata mes' apo palēes chalkographies kai erga technēs (Athens, 1963). Cup.21.w.14.
Peter Noever (ed.) Ikonen auf Papier [exhibition at the Österreichisches Museum für angewandte Kunst, 18. Dec.1998-28. Feb.1999]. (Vienna, 1998) [Awaiting shelfmark]
Evtim Tomov, Estampes de la Renaissance Bulgare. (Sofia, 1978) [Awaiting shelfmark]
21 March 2014
Aesop, Fables ([Augsburg, ca. 1480])  G.7805.
The sight of this 1480 edition of Aesop's fables in the 'Printing' section of the newly revamped Sir John Ritblat Gallery: Treasures of the British Library here at St Pancras leads me to ponder some long-standing conceptions or misconceptions regarding Aesop as a book for children.
Nowadays we tend to assume that Aesop is for children on the basis of two received ideas: that animals appeal to the infant mind and that illustrated books are for a juvenile audience. Both these ideas do indeed have historical precedent (what I once heard a museum curator refer to as 'time-depth'): in the prologue to John of Capua's Directorium humanae vitae (ultimately derived from the Panchatantra) we are told that 'the sages met together and decided to make a book and adapt it to the language of birds and beasts, for three reasons. First, to discover the sources of wisdom. Second, this book is for knowledge and play: the wise man will learn because of its wisdom and the fool will derive entertainment. Third, because children, and those who delight  in hearing parables and childish words, will take pleasure in learning and their learning will be made easier by the sweetness of the words and the sight of figures and images.' (The original Latin text is here.)
Animal fable was also associated with humour, and on occasion this is linked with the stigma of being lightweight: Seneca recommended that his friend Polybius should gather 'the tales and fables of Aesop' [fabellas quoque et Aesopeos logos] as an exercise in 'the lighter kind of literature' [haec hilariora studia] to distract him from his grief [Ad Polybium 8.3]. When the French Jesuit François Vavasseur dignified fable with critical attention in the 17th century it was in the significantly named De ludicra dictione (Paris, 1658; British Library 88.k.11.(1.)).
If we look inside the edition of Aesop displayed in the gallery, with the aid of the online facsimile made from a copy in the Bavarian State Library we will find tales which are of the earth earthy: did you hear the one about the new wife who complained about her husband because he didn't measure up to the donkeys she was used to seeing on her parents' farm? Or see the pictures of bodily functions such as this one:
The message of other fables is one of Realpolitik: the animals take revenge on the lion once he is old and weak:
Young readers might also be disappointed to find the fables couched in Latin elegiac verse.
Fables in one sense are the most naked of fictions, telling of the plain absurdity of talking animals.  But this impossibility alerts us to the fact that pleasant (and sometimes unpleasant) fictions can enclose a hard truth for the alert and adult reader.
Barry Taylor, Curator Hispanic studies
References:
Fabula docet: illustrierte Fabelbücher aus sechs Jahrhunderten (Wolfenbüttel, 1983)  2708.h.57
Barry Taylor, 'Aesop', in Encyclopedia of literary translation, ed. Olive Classe (London, 2001)  HLR 418.02 or YC.2001.b.170
26 August 2013
As I recently read in the 'Trending' section of the Independent, young people looking for new flatmates have on their list of requirements such qualifications as doing the washing-up and skill in banter.  Wanted: someone who can fire off a zinger.
Banter has a long and illustrious history.
In philosophy, the pre-Socratics, notably Diogenes the Cynic, roamed Greece pronouncing wise words on the spot; they were gathered in gnomonologies such as Diogenes Laertius's Lives and sayings of the philosophers.  The noble acts of the Greeks and Romans were preserved by Valerius Maximus, Facta et dicta memorabilia.  Two works of erudition to be found on the shelves of any Renaissance man of learning.
Diogenes's most famous put-down was to Alexander the Great.  Diogenes was at home in his barrel. Alexander asked him, 'What can I do for you?'  Diogenes riposted, 'Get out of the way: you're keeping the sun off me' (Diogenes Laertius, VI.38). This is the anecdote of his which is most commonly illustrated.

A witty put-down: Alexander and Diogenes by Cornelis de Vos (Image from Wikimedia Commons)
Rhetoric, the art of language, has always valued the quick response, especially for its percussive quality.  As Cicero says:  'There are two types of salt: the eloquent and the witty.  Use the first for elegance and the second when shooting the arrows of ridicule.' (Orator, xxvi, 87).
Antonio Beccadelli, scholar at the court of Alfonso the Magnanimous of Aragon (1396-1458) compiled a whole book of his deeds and sayings:
The king was being pestered over his dinner by an importunate old man.  Said Alfonso: 'Donkeys leave better lives than kings.  When their masters feed them, they leave them to eat in peace and quiet, something kings can never enjoy.'
The genre in question is the Apophthegm, which sketches the circumstances giving rise to a sharp comment: probably the best-known collection was Erasmus's.
In 1642 Gracián, a Jesuit theoretician of wit, drew on Erasmus (unacknowledged of course) for his chapters on 'Heroic sayings' (XXIII, 'De los dichos heroicos') and 'Quick ingenious answers'  (XXXV, 'De las respuestas prontas ingeniosas').
Two formative influences from my boyhood reading were 'Useless Eustace' in the Daily Mirror by Jack Greenall (1905–1983) and Mad Magazine's 'Snappy Answers to Stupid Questions', by Al Jaffee, published from 1964 on. In 'Useless Eustace' the joke was in two parts: the situation (rendered visually) and Eustace's obiter dicta, in the caption.
Looking at a fishmonger's stall showing a sign reading 'Smelt', Eustace says to the fishmonger: 'Phew! Why the past tense?  They still do.'  The fishmonger's reaction is represented by an exclamation mark hanging over his head.
Mad's  'Snappy Answers' were in the more pugnacious tradition:
Customer in clock shop: Do you carry clocks?
Assistant: No. All we have are these silly round things with numbers and hands.
To end, a sample garnered from the Euston Road.
Drunk bloke on 73 bus:  XXXX you.
Driver: Get off my bus!
Drunk: I'm not getting off.  I've paid.
Driver: Get off.
Drunk: Don't say anything to me.
Driver: Get off.
Drunk: Don't say anything to me.
[Repeat ad infinitum]
What Diogenes, King Alfonso and the drunk on the 73 have in common is the desire for the last word.  That's the mark of a good aphorism: it's quick, it's clever, and there's no answer to it.
Barry Taylor, Curator Hispanic Studies
References:
Antonio Beccadelli, Libro de los dichos y echos elegantes y graciosos del sabio rey don Alonso de Aragon (Zaragoza, 1552), fol. Xrv;  a modern edition (Zaragoza, 1997)  is at YA.2001.a.26273
Baltasar Gracián, Arte de ingenio, ed. Emilio Blanco (Madrid, 1998), YA.2000.a.26595,  pp. 260-65, 325-32.
Louis Lobbes, Des Apophtegmes à la Polyanthée: Érasme et le genre des dits mémorables (Paris, 2013)