31 January 2014
There is no surer way to arouse controversy in theatrical circles than to adapt a well-loved work of literature for another medium, as the heated response of Tolstoy, for example, to Tchaikovsky's Eugene Onegin indicates. The uproar which greeted a similar endeavour in Denmark in the early 20th century is perhaps less well known in British circles. However, when it was revealed in 1906 that Vilhelm Andersen, a literary historian, was working with the composer Carl Nielsen on an opera based on Ludvig Holberg's comedy Mascarade, the project was regarded by many as sacrilege.  
Holberg (3 December 1684-28 January 1754) is one of the foremost figures in the history of Scandinavian literature, and, as the creator of the classic character comedy, might be termed the Molière of the Danish theatre. Several of his comedies remain in the Danish standard repertoire, including Mascarade, his contribution to a debate on public masquerades in the newly-built playhouse in Copenhagen's Grønnegade, which opened in 1721 under his directorship.
A scene from Abracadabra, one of Holberg's many comedies. Image from Holbergs Gallerie. Förste Hefte (Copenhagen, 1828). British Library 1601/650.
Holberg was not, however, only a playwright, though the humour of many of his plays, such as Kjærlighed uden Strømper ('Love without Stockings') and Jeppe paa Bjerget('Jeppe of the Hill') still retains its freshness and vigour. Born in Bergen, Norway, he was orphaned by the age of eleven and, after studying in Copenhagen, earned his living as a private tutor and by giving lessons on the flute and violin during his travels which, in 1706, took him to London and Oxford.
His visits to Oxford University's libraries inspired him to become an author, and in 1711 he published his first work, Introduction til de Europœiske Rigers Historier ('Introduction to the history of the nations of Europe'), of which the British Library possesses a copy of the expanded 1757 edition (shelfmark 1308.a.7).
Funded by a grant from King Frederick IV, he travelled throughout Europe (1714-16), but the title of Professor which accompanied the award did not guarantee him an income, and it was only in 1718, after years of poverty, that he was appointed Professor of Metaphysics and subsequently of Public Oratory at the University of Copenhagen. He had previously written only on law, philology and history, but in 1719 he published his heroic-comic poem Peder Paars, widely regarded as the first classic of Danish literature (the British Library holds the 1772 edition at 85.g.11).
Until the 1720s French and German had been the only languages in which plays were performed in Denmark, but in 1722 a Danish translation of Molière's L'Avare was staged at the new theatre, rapidly followed by a series of original comedies by Holberg himself – concluding, alas, with a 'funeral of Danish comedy' which he composed for the final performance before the theatre closed in 1727 as a result of financial problems.  The great fire of 1728 put an end to his hopes of seeing any of his later plays performed in Copenhagen, and he returned to prose works, including the satirical fantasy Nicolai Klimii iter subterraneum ('The underground journey of Niels Klim').
Titlepage and frontispiece from Holberg's, Nicolai Klimii Iter subterraneum novam telluris theoriam ac historiam quintæ Monarchiæ adhuc nobis incognitæ exhibens e Bibliotheca B. Abelini (Copenhagen, 1741) 1079.g.14.
Nielsen's Mascarade is now famous as Denmark's national opera, which would have delighted Holberg, a strong believer in the potential of comedy as a means of spreading Enlightenment ideas about equality in the language of the people: 'as long as the masquerade lasts, the servant is as good as his master'.
Susan Halstead  Curator Czech, Slovak and Lusatian.


04 September 2013
This September will see the opening of not one, but two, productions of Ibsen's Ghosts in London, the first at the Rose Theatre (co-produced with English Touring Theatre) and a week later at the Almeida Theatre. Add to that an adaptation of Hedda Gabler by the Ibsen Stage Company at the New Diorama Theatre, entitled Recording Hedda, and the continuing and very successful Young Vic production of A Doll's House – now transferred to the Duke of York's Theatre – and it will be a month of autumnal delight for Ibsen enthusiasts in London!
However it is interesting to remember that the initial reception given to Ibsen in Victorian London was somewhat mixed - a source of delight for some but for others, moral outrage.   

It was Edmund Gosse, poet, author, critic and one-time librarian at the British Museum, who was first responsible for bringing Ibsen to the public's attention in Britain. In an article in The Fortnightly Review in January 1873 entitled 'Ibsen, The Norwegian Satirist', Gosse predicted that the plays 'sooner or later, will win for their author the homage of Europe'.

The critic and translator William Archer was probably Ibsen's greatest champion.  His reviews and articles on Ibsen, as well as his translations, were key to making the dramatist better known and understood in Britain. Quicksands, Archer's adaptation of Pillars of Society, was the first of Ibsen's plays to be performed in England - at the Gaiety Theatre in 1880. The neutral reception of this performance gave little indication of the great controversy around Ibsen's plays - in particular their examination of the conflict between the individual and society - that was to follow.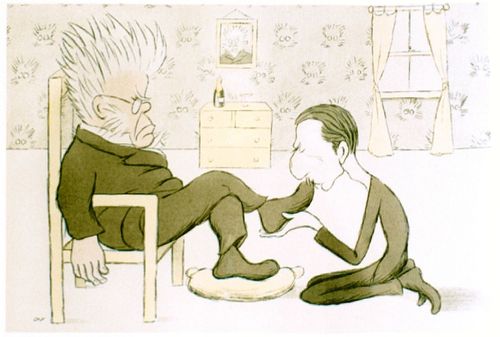 'Henrik Ibsen receiving Mr William Archer in Audience'. Cartoon by Max Beerbohm. (Image © Museum and Study Collection at Central Saint Martins College of Art and Design, reproduced by kind permission)

A Doll's House at the Novelty Theatre in June 1889 was the first substantial production of an Ibsen play in England and it provoked the start of a heated debate. Clement Scott, theatre critic for The Daily Telegraph, was one of Ibsen's fiercest opponents. In common with many, he questioned the motives of the central character, Nora, in abandoning her children at the end of the play. In 1891, further outraged, he described Ghosts as 'positively abominable' likening it to 'an open drain', 'a loathsome sore unbandaged' because it dealt with topics one would not expect to be addressed in the theatre of the time - such as venereal disease and euthanasia. 

Ibsen and his plays continued to generate a great deal of interest and discussion. As Henry James observed, Ibsen had become 'the theme of many pens and tongues… a barometer of the intellectual weather'.  Bernard Shaw was a lively defender of Ibsen, and his work, The Quintessence of Ibsenism (originally a lecture for The Fabian Society) first appeared in June 1891 at the height of the Ibsen 'storm'. Shaw focused on Ibsen's plays as a means of exposing middle-class hypocrisy, writing that 'the statement that Ibsen's plays have an immoral tendency, is, in the sense in which it is used, quite true. Immorality does not necessarily imply mischievous conduct: it implies conduct, mischievous or not, which does not conform to current ideals.'

A number of English actresses became famous for their portrayal of Ibsen's female characters.  Of particular importance was Elizabeth Robins who co-produced and played the lead role in the first British staging of Hedda Gabler.  When it opened in April 1891, it was described by a Sunday Times critic as 'one of the most notable events in the history of the modern stage' and was influential in winning round Ibsen sceptics.  In 1928, the centenary of Ibsen's birth, she gave a lecture entitled 'Ibsen and the Actress', in which she reflected on how 'no dramatist has ever meant so much to the women of the stage as Henrik Ibsen'.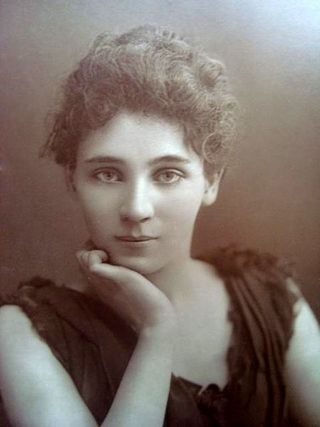 Elizabeth Robins, London's first Hedda Gabler (Albumen print by W&D Downey, ca. 1890s, Image from Wikimedia Commons)
Edmund Gosse would surely have been pleased that his prediction on Ibsen's standing in Europe was correct, and that it remains so 140 years later.  And I like to think that he would also have been pleased to know that the British Library, the successor to the institution for which he worked, now has such rich holdings of material relating to Henrik Ibsen.   These include first editions, translations, manuscript letters, recordings of play performances, as well as a veritable wealth of secondary literature.   
Barbara Hawes, Curator Scandinavian Studies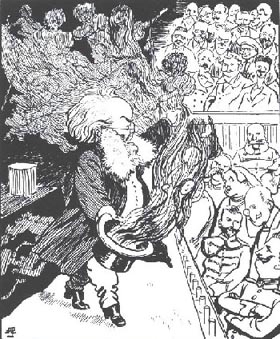 'Ibsen on the world Stage', Drawing by Alfred Schmidt in Hver 8. Dag (1898). (Image from the National Library of Norway)
References:
Edmund Gosse, 'Ibsen, The Norwegian Satirist' in The Fortnightly Review, January, 1873. PP.5939.c

Henry James, 'On the Occasion of Hedda Gabler' in New Review, June 1891.  P.P.6004.gmg

G. Bernard Shaw, The Quintessence of Ibsenism. (London, 1891) 011824.g.15

Elizabeth Robins, Ibsen and the Actress.  (London, 1928) 012359.b.4.a/15.