18 August 2017
One of the exhibits in our current exhibition Russian Revolution: Hope, Tragedy, Myths is a cartoon from the satirical magazine Novyi Satirikon. It shows the religious mystic Grigorii Rasputin sitting on a throne, gazing out with his trademark intense stare. Tsar Nicholas II and his wife Alexandra crouch at Rasputin's feet while the German Kaiser Wilhelm II stands behind the throne.

Novyi Satirikon,  No. 23,April 1917. RB.31.c.900
This reflects the popular view at the time that Rasputin had undue influence over the Russian royal family and that he and the German-born Alexandra plotted against Russian interests during the First World War. The same belief is reflected in a Japanese cartoon of the period, which shows the Tsarina, Kaiser and Rasputin (in the guise of a demon) sitting conspiratorially round a table.

Cartoon from Itō Chūta, Ashurachō (Tokyo, 1920-21). ORB.30/757 
But one interesting point about the Novyi Satirikon cartoon is that it was actually published in April 1917, four months after Rasputin's death (and two after Nicholas's abdication). Such a caricature would of course have been hard to get past the censors while Rasputin was alive and enjoying the patronage of a still-intact monarchy. But it is striking that, even after his death and the fall of the monarchy, his image was a powerful enough symbol of corruption to make the front page of a satirical magazine.
This is an early example of Rasputin's afterlife in propaganda, history, conspiracy theory and popular culture. Rumours and legends – such as his wartime plotting and the belief that he and Alexandra were lovers – had grown up before his death but afterwards they were given ever freer rein, with stories of a criminal youth, of wild parties and orgies in St Petersburg, of hypnotic powers, and of an almost supernatural resistance to his murderers' poison and bullets.

'Rasputin's Diary', a White Russian propaganda leaflet published in Rostov-on-Don (private collection)
A look at some of the books about Rasputin in our catalogue give an idea of his reputation. Titles describe him as 'Holy Devil' (10790.pp.22.), 'Prophet, Libertine and Plotter' (010795.aaa.7.), one of 'Twelve Monstrous Criminals' (06055.ee.17.), an 'All-powerful Peasant' (010795.a.52.), 'Satyr-monk and Criminal' (10796.aa.37.) and 'Rascal Monk' (10796.a.28.). This last was by the thriller-writer and conspiracy theorist William Le Queux who, perhaps thinking that 'Rascal' might sound rather playful, followed it up with the more strongly titled The Minister of Evil.

William Le Queux, The Minister of Evil (London, 1918) 010795.a.9. 
However lurid and fanciful some of their claims, these works were presented as factual – even George Sava's bizarre Rasputin Speaks (London, 1941; 10795.p.27), supposedly Rasputin's own story told to Sava through a Russian spirit medium. But of course Rasputin made his way into works defined as fiction too, beginning as early as 1923 with Ivan Nazhivin's Rasputin (English translation New York, 1929; 010795.aa.66). Since then he has featured in everything from straightforward historical novels to elaborate conspiracy thrillers where he wields supernatural powers or works evil from beyond the grave. More recently Rasputin has appeared in graphic novels, usually in his more fantastical guise as in the Hellboy universe or Alex Grecian's Rasputin series  (vol. 2, 2016 at YKL.2017.b.2935).

A selection of Rasputin-related fiction from the BL collections
Rasputin appeared on film even before he appeared in fiction, starting in 1917 with The Fall of the Romanoffs, featuring Rasputin's former ally and later antagonist, the Monk Iliodor, as himself. The 1932 film Rasputin and the Empress led to a lawsuit from Prince Felix Yusupov, one of Rasputin's assassins, and his wife Irina, angered in particular that a character believed to represent Irina was portrayed as Rasputin's lover. A curious, if indirect, aspect of Rasputin's legacy is that the lawsuit resulted in the introduction of the now-familiar disclaimer in film credits that the characters 'bear no resemblance to living persons'.

Some of the press coverage of the Yusupovs' libel case, reproduced in Sir David Napley, Rasputin in Hollywood (London, 1989) YC.1990.b.3188.
Of course Rasputin is a gift for any actor with a powerful presence and intense gaze – step forward, among the Brits, Christopher Lee (Rasputin the Mad Monk, 1966), Tom Baker (Nicholas and Alexandra, 1971) and Alan Rickman (Rasputin, Dark Servant of Destiny, 1996). While the latter two are straight historical dramas, the first is at the lurid end of the scale. But perhaps the nadir of Rasputin's film career is the 1997 animation Anastasia in which he returns from limbo (with a wisecracking bat sidekick) to pursue the surviving Grand Duchess Anastasia.
In Anastasia, Rasputin gets to sing, as he also does in at least three operas: Rasputin's End (1958; F.1256.q) by Nicolas Nabokov, and two works simply entitled Rasputin by Jay Reise (1988) and Einojuhani Rautavaara (2003). He has been sung about too, perhaps most famously in Boney M's 1978 hit 'Rasputin' which immortalised him for a generation as 'Russia's greatest love machine'. But 45 years earlier Allie Wrubel and Joe Hoover had come up with a similar concept in 'Rasputin, that Highfalutin' Lovin' Man' (VOC/1933/WRUBEL).

Rasputin surrounded by women, reproduced in Rasputin goes to Hollywood.  His elite female admirers were fascinated more by Rasputin's  mysticism than by any supposed sexual magnetism.
Reputable modern non-fiction tends to reject the more lurid stories about Rasputin or to engage seriously with their origins and likely veracity. However, as so few facts are known about parts of Rasputin's life and so many things reported as facts cannot be proven or otherwise, we can never know the whole truth. Clearly he was not the evil mastermind depicted by many writers, nor was he the kindly and slandered saint recalled by his daughter Maria in her two books attempting to clear his name of any scandal or wrongdoing. But even for those who seek a balanced and scholarly view of the real Rasputin, there is much fascination in exploring his enduring afterlife in popular culture.
Susan Reed, Lead Curator Germanic Collections
The exhibition Russian Revolution: Hope, Tragedy, Myths is open until 29 August 2017, telling the extraordinary story of the Russian Revolution from the reign of Russia's last Tsar to the rise of the first communist state. You can also read articles from our experts exploring some of the themes of our exhibition on our Russian Revolution website. 
06 March 2017
The current British Library exhibition 'Victorian Entertainement: There Will Be Fun'  starts with a poster advertising the day performances and 'Soirées Fantastiques' of French magician Robert-Houdin, 'The Father of Modern Magic'. After the Revolution of February 1848, which deposed the French King Louis Philippe, Robert-Houdin went to London where he performed at the St James's Theatre in the summer of 1848.
       Poster for Robert Houdin, 'Soirées Fantastiques', St. James's Theatre, Piccadilly. 1848 (Evanion 528)
The third part of the show involved a Levitation Illusion, called 'Escamotage de Robert-Houding Fils, Suspension Etherenne', which is illustrated at the bottom of the poster. The trick is still used nowadays by street performers throughout the world. In this performance, starring his own son, Robert-Houdin associated the trick with the use of ether, claiming that he had discovered a new marvellous property of the substance: its inhalation would make the boy's body as light as a balloon, allowing him to float in the air with only a stick as a support.
Robert-Houdin was an inspiration for Evanion, the London conjuror and ventriloquist who started performing in 1849 and whose collection of ephemera related to Victorian entertainment, magic and performance is currently on display in the exhibition.
Among the French items in the collection  several posters advertise performances held at the Foire du Trône in Paris in the 1880s. They show the diversity of the attractions held at this fair, dating back to the Middle Ages, which still takes place every year around Easter. The fair used to be held by the Abbey of Saint-Antoine and was called 'Foire au Pain d'Epice' because of the gingerbread made by the monks for the occasion.
The Fair owes its name to its location, a square in the East of Paris which used to be called 'Place du Trône' after the throne erected there as part of the celebrations for the wedding of Louis XIV and Maria Theresa of Spain in 1660 (depicted in L'entrée triomphante de leurs majestez ... dans la ville de Paris... (Paris, 1660) British Library 37/604.i.22.). During the French Revolution, it became the square of the Toppled Throne, 'Place du Trône renversé', where a guillotine was set up, and it was later renamed Place de la Nation.

"Le lundi de Pâques à la foire aux Pains d'Epices", Le Journal Illustré, 16 April 1893 (Bibliothèque nationale de France)
In an engraving printed in Le Journal Illustré of 16 April 1893, crowds of adults and children wander through the fair and its tents; open air activities include, from left to right, the selling and throwing of confetti, snack selling, giant effigies, musicians, a game of balls, an air balloons themed Ferris wheel, and the Hammer game.
Examples of Foire du Trône attractions featuring in the posters collected by Evanion include races accompanied by military bands and riding lessons for the general public at the Hippodrome (1881, Evanion 593, pictured above).
Poster for Rothomago.  Foire du Trône, 1881. Evanion 1257
It also included performances of Rothomago, a fairy spectacle in 3 acts and 16 tableaux (including the Enchanted Twig, the House of the Devil, the Speaking Talisman, and the Genius of the World, finishing with an Apotheosis illuminated with electric light 'even during daytime'), with painted backgrounds, cardboard sets and exotic costumes. The exuberance of this dramatic love comedy exudes from the illustration at the centre of the poster, peopled with characters of different dress and status, from the majestic fairy standing at the top of a jungle temple, to the lovers at the centre of the scene.
Poster for the wax museum, "Grand musée français de sujets en cire", Champ de Foire, Paris, 1881. Evanion 594
The 'Champ de Foire' was a space for the display of curious, instructive, entertaining or terrifying exhibits, like the Great French Museum of Wax Characters, focused on contemporary military and religious figures. It included life-size effigies of the sovereigns of Europe, and the tribal chiefs of Zululand, with an action scene showing the recent dramatic death, in 1879, of the young prince Napoleon (son of the emperor Napoleon III), who had joined the British troops in the Anglo-Zulu War. The show also displayed models of the most famous contemporary criminals. The author presents himself in the tract as an accredited and serious 'artist', who uses historical accessories (costumes and arms are '300 to 400 years old') and distances himself from fairground entertainers and charlatans: his 'gallerie' is not designed to entertain the idle, as one needs to be 'vraiment intelligent' to appreciate its riches, though three 'explicateurs' will guide visitors.

Poster for the glass-weaver, "La fileuse de verre", Foire du Trône, Paris, 1887. Evanion 1271
The fair featured the Glass Weaver, a 'famous artist' who would make her 'chefs-d'oeuvre' in front of the public, producing a variety of objects such as carafes, test tubes, crystal flowers, and wonderfully long threads of glass (1887). The illustration shows how craft making becomes a performance: rays of light emanate from her head and she works at a table, behind a glass screen, surrounded by clouds of smoke and flanked by two monumental lions.
The Foire du Trône hosted a variety of shows and performances, from the technologically sophisticated, like cinematographic projections, which started in the 1890s, exalting the wonders of modern science, to the more modest, like the Living statues act, with street artists dressed and made up to impress the crowds (see the backstage preparation of 'Golden men' in 1893).

La baraque de la Goulue, à la Foire du Trône; reproduced in Lautrec par Lautrec., ed. Philippe Huisman and M. G. Dortu (Paris, 1964). L.R.409.p.5.
The fair held many stands and entertainments tents. In 1895, Toulouse-Lautrec painted two panels for the oriental booth of La Goulue ('the Glutton'), Louise Weber, a cancan dancer who had gained fame and wealth by performing at the new Moulin Rouge cabaret which opened in Montmartre in 1889. In the left panel La Goulue, dances at the Moulin Rouge with her partner, the tall and gaunt Valentin the Désossé ('the Boneless'); in the right panel she performs a 'danse mauresque', belly-dancing accompanied on the piano, next to two characters in oriental costumes. Unfortunately, her show at the fair was a failure and eventually closed down.
Throughout the 20th century, the Foire du Trône remained a major venue for popular entertainment: its atmosphere was captured in the 1920s and 1930s by news agencies like 'Agence Rol', 'Meurisse' or 'Mondial Photo-Presse' and in the 1950s and 1960s by famous photographers like Doisneau, Izis, or Depardon.


Above: Coronation of the Queen of the Foire au Pain d'épice, 27 avril 1922 , Agence Rol (Bibliothèque nationale de France); below, Crowds at the fair, April 1924 (Bibliothèque nationale de France) 
On the Bibliothèque de France Gallica Website you can listen to recordings of songs and music of the Foire du Trône, like Jean Nivel's 'Pots-pourris de marches, valses, tangos, boleros, javas, polkas, slow, fox', from 1955, or Jean Bérard playing his barrel organ in the 1960s.
Irène Fabry-Tehranchi, Curator, Romance collections.
References:
Parade: la Foire du Trône, 1936-1947, photographies, Marcel Bouvet; présentées par Gérard Gagnepain (Pont l'Abbé, 2006).
Le cirque d'Izis: avec quatre compositions originales de Marc Chagall. Préface de Jacques Prévert (Monte-Carlo, 1965). LB.31.c.1694
Rosolen, Agnès, De la foire au pain d'épice à la foire du Trône (Charenton-le-Pont, 1985) Awaiting shelfmark
16 September 2016
Gudrun Gut, drummer and bassist in German punk bands such as Din-A Testbild, Einstürzende Neubauten, Mania D. and Malaria, says she was there when Jäki Eldorado (née Hildisch) — 'Germany's first punk' — licked Iggy Pop's leg during a Stooges gig in 1977. Purely a publicity stunt according to Jäki, but one that would provide an iconic punk photo.

Jäki Eldorado licks Iggy Pop's leg (Image from mutantmelodien)
A decade after 1968, punk adopted a more chaotic and 'publicity stunt' mentality that had 'nothing to do with social criticism', Jäki suggests in Jürgen Teipel's 'docu-novel' Verschwende deine Jugend (p. 66). He continues: 'Punk Rock was so interesting precisely because there was no longer any ideological baggage. You could go crazy. Party. You wouldn't care if someone walked around with a swastika or if someone else supported the RAF [Red Army Faction]'. Cyrus Shahan, in his Punk Rock and German Crisis: Adaptation and Crisis after 1977 (New York, 2013; YC.2014.a.10231) explains the phenomenon thus: 'whereas student movements of 1968 and German terrorism both sought to establish (theoretically, violently) their own conceptions of a just, utopian society, punk was decidedly invested in an endless dystopia of the present' (p. 2). Shahan echoes Eldorado in saying later, 'Punk did not want to establish a new order to stave off chaos of the past. Punk wanted chaos. Punk did not want to erect barriers between fascism and the present. It wanted to tear down the present' (p. 13).

Cover of Jürgen Teipel, Verschwende deine Jugend (Frankfurt am Main, 2001) British Library YA.2003.a.21455
While 'punk in Germany was not English punk' (Shahan, p. 11), punk bands in England did to some extent spark the creation of a German punk culture and music scene – arguably predominantly in Düsseldorf – in the summer of 1977. Alfred Hilsberg, contributor to Sounds magazine and owner of the labels Zickzack and What's so funny about, calls English punk in England the 'trigger' for him to do something similar in Germany. Describing the performances he saw in London in 1976, he says, 'it really blew me away that such a thing was possible: this eclectic, crazy cluster of people. There was a violent element of course. But that was only a game. It clearly wasn't serious when they waged war with one another' (Teipel, p. 28). This inspired Hilsberg to organise the first punk concerts in Germany, bringing over The Vibrators and The Stranglers. 'Although, The Vibrators only half-count as punk. It was more rock,' he says, 'but at the time no one really knew what punk was' (Teipel, p. 28).

The Ratinger Hof, a pub in Düsseldorf where the first punk performances in Germany took place (photo by Ralf Zeigermann from Wikimedia Commons)
Punk was a term that didn't carry a solid definition sonically or aesthetically, an idea which blurred at the margins and incorporated or appropriated a broad range of references. In A Cultural Dictionary of Punk (London, 2009; YC.2010.a.8548), Nicholas Rombes, in line with Hilsberg's understanding, labels The Vibrators a 60's-influenced 'pop-punk' group: 'Bands like The Vibrators cultivated the open spaces that more radical bands like the Sex Pistols cleared, making possible a longer arc for punk and a deliberate future in the face of No Future' (p. 296). That 'arc' is evident in their recent resurfacing in Berlin's Cassiopeia Club, nearly 40 years after their first gig in the city.
Frank Z, guitarist and singer from Abwärts, remembers The Vibrators' second gig in Germany, in Hamburg's Winterhuder Fährhaus — what Hilsberg calls a 'nice place all round, the kind of place you went for tea and cake' (Christof Meueler, Das ZickZack-Prinzip: Alfred Hilsberg – ein Leben für den Underground, Munich, 2016; YF.2016.a.22745). Frank Z again: 'the singer [Ian 'Knox' Carnochan] was a proper skinhead. He came on stage – and then the first available person on the front row got a boot. Right in the face [Aber voll in die Fresse]' (Teipel, p. 28). Axel Dill, the Abwärts drummer, corroborates: 'they played for ten minutes – and then with a few brawlers, which they had brought with them, they set off into the crowd and started a huge fight. It was a full-on battle. All the furniture was flying through the air. Everyone was beating everyone. That was their concept' (Teipel, p. 28). But Moishe Moser, an associate of Hilsberg's and The Vibrators' road manager on a later German tour, provides evidence of the band's softer side. On the last night of the tour he went to give the band their share of the proceeds before realising that the money wasn't there: 'Then, The Vibrators clubbed together so that I could get a taxi home. That was the beginning of a friendship that is still going today' (quoted by Meueler).
Style was undoubtedly influenced by the fashion in the English punk scene, something also focused on in the British Library's 'Punk 1976-78' exhibition. Peter Hein – another pretender to the title of 'first German punk', and singer in Charley's Girls and Fehlfarben among other bands – says as much: 'to become punk was a totally conscious decision. I saw a picture in the New Musical Express – with jacket and paperclips and kid's sunglasses. And I thought: 'I'd like to look as good as that.' So I wandered about just like that. Kid's glasses, paperclips on my jacket collar.' Amidst the chaos of the 'No Future' punk ethos, Peter Hein does appear to leave some room for thought into his own future. In another supposed – but presumably not wholly applicable – borrowing from England, Hein avoids alcohol during his years of creativity. This is, for him, in contrast to American bands who subscribe to a drug-fuelled lifestyle:
We were the juice-drinkers. At the time I drank no alcohol. Punk was a straight movement for us. […] We were against the druggy-bands. Against the pisshead bands. We were absolutely England-oriented. The Americans we never took seriously because their punk-rockers took drugs. That was not cool.

Peter Hein, playing with the band Fehlfarben in 2006 (Picture by Ulf Cronenberg from Wikimedia Commons CC BY-SA 3.0)
A bizarrely sanitized life, then. And, even more bizarrely, one inspired by our punk scene so closely associated with precisely the sort of intoxication Hein refuses. In the nostalgic accounts of German punk protagonists, there is a sense of openness and acceptance, where anything goes, but without a stereotypical radicalism. Jäki Eldorado says as much when he suggests that, whereas in England there may have been a radical break with what came before, in Germany there was a more fluid merging between hippy and punk movements: 'when I started working in Dschungel [a punk record store], I even had long hair still' (Teipel, p. 27).
Pardaad Chamsaz, Collaborative Doctoral Student, British Library and University of Bristol
05 August 2016
Tonight, and for the next two weeks, the eyes of the world will be turned on Rio de Janeiro for the ceremonies and contests of the 31st modern Olympic Games. 80 years ago, the focus was on Berlin, where perhaps the most notorious of modern Olympiads was well under way. The 1936 Olympics had been awarded to Germany before the Nazis came to power, but the new regime, despite initial suspicions about the internationalist spirit of the Olympic movement, quickly adopted the Games as a showcase and propaganda vehicle for their 'new Germany'.

German posters for the 1936 winter and summer Olympics, reproduced in Die Olympischen Spiele 1936 in Berlin und Garmisch-Partenkirchen (Hamburg-Bahrenfeld, 1936)  Cup. 408.l.28
Much has been written about the 1936 Games and the surrounding controversies. The British Library, of course, holds a wealth of material, both British and German, on the topic, but we also have a number of German books published at the time to celebrate the Games. 

Vignette from Olympia 1936 und die Leibesübungen im nationalsozialistischen Staat (Berlin, 1934)  X.625/172.
Despite its title, the large-scale Olympia 1936 und die Leibesübungen im nationalsozialistischen Staat was published ahead of the Games and so has little to say about the actual event. Most of its 687 glossy pages are devoted to the history and current state of Olympic sports in Germany. The authors claim to identify Germanic folk traditions at the root of many popular sports, and emphasise the importance of sport in building a healthy nation. Chapters have titles such as 'Handball – an ancient German sport' or 'Physical education as a national-political task', and most end with fiercely patriotic exhortations and celebration of the 'German fighting spirit'.

The 26 Olympia-Hefte with their cardboard slipcase. RF.2016.a.30.
Serving a similar purpose, but aimed at a more modest audience, is the series of 26 small Olympia-Hefte, pamphlets issued in the run-up to the games by the 'Propaganda Committee for the Olympic Games' and available for 10 Pfennigs each from party offices, workplaces and sports clubs. A brief historical introduction to the Olympics (Heft 1) is followed by 23 pamphlets focusing on individual sporting disciplines in the past and present, ending with a plug for the 'Strength through Joy' organisation (Heft 25) and a glossary of sporting terms (Heft 26). The idea was to encourage the general public to take up sports themselves, something today's Olympic host countries still seek to achieve among their citizens.

Cover of Von Athen nach Berlin: Führer zu den Olympischen Spielen Berlin 1936 (Duisburg, 1936) YA.1996.a.20027
Another modest-looking production is the guidebook Von Athen nach Berlin. Its title and striking cover refer to the torch relay, an invention of the 1936 Games which endures to this day. Although in many respects a practical guide, complete with blank tables where the names of medallists in each event can be filled in, the publication also sets a strong propaganda tone: an essay on the ancient Olympics describes their Greek founders as 'an Aryan people', and later the author exhorts his readers to show foreign visitors that 'we are once more a united people … knowing only one goal: Germany.'
Title-page of Olympia 1936 die XI. Olympischen Spiele, Berlin, und die IV. Olympischen Winterspiele, Garmisch-Partenkirchen (Berlin, 1937) 7915.w.24., with the much-reproduced image of Hitler and Olympic officials entering the main stadium in Berlin
The books in our collections which were issued after the Games tend to be somewhat less overtly propagandist in tone. For example, souvenir albums Die Olympischen Spiele 1936 and the two entitled Olympia 1936, record events and results with little comment as to the nationality or race of the medallists, and none can ignore the fact that Jesse Owens was the outstanding athlete of the Games. Some, however, acknowledge this through gritted teeth: So kämpfte und siegte der Jugend der Welt (Munich, 1936; 7915.w.16) pointedly emphasises the race of Owens and other black runners almost every time they are mentioned, and adds details of the best white and European performers in the events won by black and American athletes. And casual ideological asides can appear in unexpected places: one of the Olympia 1936 publications explains how much work had to be done to cleanse Berlin of run-down and ugly bulidings, 'the remnants of the Marxist regime.'

Jesse Owens and the German long-jumper Luz Long, from Die Olympischen Spiele 1936 in Berlin und Garmisch-Partenkirchen 
All these books are also well illustrated. Indeed, in the case of Die Olympischen Spiele 1936, published by the Reemstma tobacco company,  the whole point was to fill in the album with pictures bought using vouchers given away in cigarette packets. But perhaps the finest illustrated book, although smaller and less lavish in format, is Was ich bei den Olympischen Spielen sah, by the Games' official photographer, Paul Wolff. Here the focus is as much on the experience and challenges of photographing the games as on the actual events, and Wolff includes an appendix listing the technical details of each picture. The photographs included are a mixture of action pictures of the sporting events, artistic images of the stadium and ceremonies, and informal shots of athletes, spectators and technicians. Wolff's interest in the technology of recording the Games reflects another theme common to most of the books: a pride in the technical achievements that enabled the Berlin Games to be broadcast around the world and individual events and performances to be judged with greater precision than ever before.

A starting pistol and a camera for filming photo-finishes: the latest technology as shown in  Die Olympischen Spiele 1936 ...
Many of the features of these books – pride in a nation's achievement in hosting the games and in the successes of the home team – are common to every host country's recording of their Games. But the abuse of Olympic ideals by a repressive fascist regime give these books a particularly sinister spin, and remind us why the 1936 Olympics will remain particularly notorious in the history of the Games. 
Susan Reed, Lead Curator Germanic Studies
More information about some of the items mentioned here, and a bibliography of modern and contemporary books on the 1936 Olympics can be found on our archived Sport and Society webpages.

The Olympic Bell, one of the major symbols of the 1936 Games, with its motto 'Ich rufe die Jugend der Welt' ['I summon the youth of the world']. Image from Olympia 1936...
28 July 2016
Of all the fortnightly pieces which Paul Jennings (1918-89) wrote for the Observer between 1949 and 1966, few are funnier than 'Babel in the Nursery', collected in Golden Oddlies (London, 1983; X.958/20513). Glancing at the translations of Beatrix Potter's works listed on the jacket on one of her books, Jennings reflected on the role of translators ('heroes or fools') in opening up the 'transcendentalized English village' set firmly in the Cumbrian countryside to young readers throughout the world. Even the characters' names undergo changes which transform their bearers into very different figures: 'Sophie Canétang , a Stendhal heroine … the awful Mauriac Famille Flopsaut … Noisy-Noisette, the Mata Hari of the twenties, as depicted by Colette … Tom Het Poesje, a kind of Dutch Till Eulenspiegel … Il Coniglio Pierino, the swarthy Sicilian bandit.'
Today, as we celebrate the 150th anniversary of Beatrix Potter's birth, we may well admire the ingenuity of translators in tackling these challenges and giving her works to the children of the world in multilingual versions, many of which appear in the British Library's catalogues.

Beatrix Potter, Histoire de Pierre Lapin (London, [1921]) British Library 12800.a.55, Peter Rabbit's first outing in French
The French translator Victorine Ballon was one of the first to attempt the task of presenting Peter Rabbit in a new guise. Her Histoire de Pierre Lapin was the first of several versions of Potter's works in French, followed by Histoire de Jeannot Lapin (London, [1921]; 12800.a.56), translated in collaboration with Julienne Profichet, as were Histoire de Poupette-à-l'épingle (London, [1922]; 12800.a.57) and Histoire de Sophie Canétang (London, [1922]; 12800.a.54). While Peter's cousin Benjamin Bunny was rechristened as the typically French Jeannot, Jemima Puddle-Duck presented more of a problem. Ballon's clever solution combined 'caneton' (duckling) and 'étang' (pool), preceded by a first name recalling the French idiom 'faire sa Sophie', aptly suggesting the prim old-fashioned airs of Potter's Jemima.

Beatrix Potter, Le tailleur de Gloucester , translated by Deborah Chataway (London, [1967]) X.998/1267
Young readers in Germany were soon able to enjoy Potter's tales too with the appearance of Die Geschichte des Peterchen Hase, translated by Clara Röhn and Ethel Talbot Scheffauer (London, [1934]; 12800.a.69.). Before long Peter had been joined by his relatives the Flopsy Bunnies in Die Geschichte der Hasenfamilie Plumps, translated by Hildegarde M. E. Marchant (London, [1948]; 12830.e.15), imagined by Paul Jennings as 'a lesser version of the Krupp dynasty, an endless succession of stern characters extending the family factories in the Ruhr'. When the same translator set to work on The Tale of Mr. Tod, she found a more straightforward solution, replacing the Cumbrian dialect word for a fox with a name recalling the mediaeval beast epic and Goethe's Reineke Fuchs in Die Geschichte von Herrn Reineke.

Title-page from Beatrix Potter, Die Geschichte von Herrn Reineke (London, 1952) 12830.a.120.
Translations into  Italian, Spanish, Dutch and Swedish also followed, issued, like the French and German ones, by Potter's London publisher, Frederick Warne. Slavonic languages were slower to follow suit, and none are to be found in the British Library's holdings, presumably because Warne did not publish any. But alongside the more familiar Western European languages, some surprises can be found. Who, for example, is mevrou Kornelia Kat, sunning herself on the stoep as she waits for her guests to join her for tea? Why, it is none other than Mrs. Tabitha Twitchit, mother of Tom Kitten (now Gertjie Kat – short for Gerhardus) and his sisters Pootjies and Oortjies (Mittens and Moppet), mysteriously transported to the veld in an Afrikaans translation by Louise Promnitz (Cape Town, 1970; X.990/4885). The disobedient kittens come to grief after an encounter with the Puddle-Ducks: 'meneer Hendrikus Plassie-Eend', Rebekka and Meraai – Jemima in the South African identity which she retains in her own story, Die Verhaal van Meraai Plassie-Eend, also translated by Promnitz (Cape Town, 1971; X.990/4883). Indeed, some of the earliest translations in the British Library's collections are those into Afrikaans by Antoinette Elizabeth Carinus-Holzhausen, dating from the 1930s, where Benjamin Bunny features under a new alias in Die Verhaal van Bennie Blinkhaar (Pretoria, 1936; 12800.a.64) and Mrs Tittlemouse in Die Verhaal van Mevrou Piefkyn (Pretoria, [1936]; 12800.a.66). Peter had already pipped them to the post in Die Verhaal van Pieter Konyntjie (London, [1930]; 12800.a.65).

Tom Kitten and Jemima Puddle-Duck in Afrikaans
Closer to home, Welsh-speaking children were able to read the adventures of Jemima Puddle-Duck as Hanes Dili Minllyn, translated by 'M.E.' (London, [1925]; 12800.a.61), followed by those of Peter Rabbit, Hanes Pwtan y Wningen (London, [1932]; 12800.a.62), an anonymous translation, and those of his cousin Benjamin Bunny, Hanes Benda Bynni (London, 1930; X.990/5922) by K. Olwen Rees, as well as Mrs. Tiggy-Winkle (Hanes Meistres Tigi-Dwt; London, [1932]; 12800.a.63). More recently, just over a century after his first appearance in 1902, Peter Rabbit addressed the world in Scots, courtesy of Lynne McGeachie's The Tale of Peter Kinnen (London, 2004; YK.2006.a.4550), in which the murderous 'Maister McGreegor' finally gets to speak in his own 'Scots tung' as he pursues the intruder with a rake, 'waggin a scartle an roarin oot, "Stop briganner!"' For those of a scholarly bent, there are even three Latin translations, Fabula Petro Cuniculo (London, 1962; 012845.g.28) by E. Walker, Fabula de Jemima Anate-Aquatica (London, 1965; 12846.t.15) by Jonathan Musgrave, and an anonymous Fabula de Domino Ieremia Piscatore (London, 1978; X.990/10193), where the characters speak in effortlessly Ciceronian language (even Dominus McGregor as he chases Peter with cries of 'Cessa, fur!').

Some of Potter's characters in (l.-r.) Scots, Welsh and Latin
Though her marriage to William Heelis was childless, Beatrix Potter had a great love of her many young friends and correspondents (several of the books began as illustrated letters), and would no doubt have been delighted that her work was available to readers throughout the world. She never condescended in her use of language or compromised in the artistic quality of her illustrations for children's books (C.S. Lewis, for example, in his autobiography Surprised by Joy ([London], 1959; 4921.cc.28), recalled those to The Tale of Squirrel Nutkin (London, 1903; Cup.402.a.5) as epitomizing the essence of autumn for him as a boy). On her 150th birthday, she would surely have wished to celebrate the efforts of those who had helped her creations to travel, like Pigling Bland, 'over the hills and far away'.
Susan Halstead Content Specialist (Humanities and Social Sciences), Research Engagement
10 July 2016
Many people will have seen the sadly familiar images of some English football fans engaging in antisocial behaviour in the streets of French towns during Euro 2016. The reputation of the English for violent pastimes and delight in disorder has a long pedigree. Here's a Swiss view from the last decade of the 17th century.
Béat Louis de Muralt (1665-1749), the scion of a patrician family from Berne, visited England in 1694. His Lettres sur les Anglois (translated into English in 1726 as Letters describing the character and customs of the English… nation, 10106.ee.6 ), consisting of six letters to an unnamed Swiss correspondent, were written during this visit, but not published until 1725.

Titlepage of Béat Louis de Muralt, Lettres sur les Anglois et les François et sur les voiages … (Cologne, 1725). 792.c.3 (also available online)
A friendly, though not uncritical observer, Muralt, in common with other foreign visitors, comments adversely on the ferocious pastimes of the common people such as throwing at cocks, watching men or animals fight, and playing football in the streets:
Quelquefois il [le Peuple] se divertit de maniere incommode, & où il y a de l'insolence mêlée; comme lors qu'il pousse le Balon à coup de pieds par les ruës; & se plait à casser les Vitres des Maisons  & les Glaces des Carrosses qu'il rencontre sur son chemin… (Lettres sur les Anglois, pp. 44-5)
There's another [diversion], very troublesome and insolent; this is Foot-ball, where they take a great deal of Pleasure in breaking Windows, and Coach Glasses if they meet any… (Letters describing the character and customs..., p. 38)

A small, but seemingly aggressive, 18th-century football game in the market place at Barnet. Reproduced in Robert W. Malcolmson, Popular Recreations in English Society 1700-1850 (Cambridge, 1973) X.529/44470.
Teresa Vernon, Lead Curator, Romance Collections
01 April 2016
Fools have a long history in literature as people who dare to speak truth to power or figures of fun who reflect and thus rebuke our own follies. In early modern Germany, the popular genre of Narrenliteratur used the latter kind of fool to satirise contemporary types and their behaviour, most notably in Sebastian Brant's Narrenschiff.

Title-page of Ein kurtzweilig leren von Dyl Ulenspiegel  ... (Strassburg, 1515) C.57.c.23(1); this is the only complete surviving copy of this early edition.
A less didactic German literary fool from the same period is the trickster Till Eulenspiegel, whose exploits first appeared in print around 1511. Most of Till's tricks spring simply from a love of mischief. In the second of the 95 chapters in the book, we learn that from the age of three he 'applied himself to all kinds of mischief' and was declared a scoundrel ('Schalck') by his neighbours. Confronted with this accusation by his father, young Till offers to ride behind him through the village to prove that he is unfairly maligned; unseen by his father, he bares his backside at the neighbours, whose loud complaints convince the father that Till was simply 'born in an unlucky hour'.

Till tricks his father and offends the neighbours. From Ein kurtzweilig leren... (f. 4r)
Sometimes Till plays tricks not just for the sake of mischief, but to gain food or money or as a form of vengeance against those who exploit or insult him. Employed as a watchman by the Count of Anhalt, when nobody remembers to bring him food he deliberately shirks his duty, claiming he is too weak with hunger to blow his horn. Later he sounds a false alarm which sends the Count's men rushing from the castle so that he can steal their dinner.

Till as watchman. From Ein kurtzweilig leren... (f. 28v)
Till attempts many trades and crafts in his life and generally causes mayhem, often by deliberately misunderstanding an instruction or taking figurative language literally. Again, this is sometimes a ploy to get his own back on a master he dislikes, but sometimes just pure foolery, as when he works for a tailor and is told to sew 'so that no-one will see it' so hides beneath a tub to work.
In other tricks, Till exposes the folly or greed of authority figures. Even on his deathbed, he manages to trick a greedy priest into digging deep into a 'pot of gold' which in fact contains excrement beneath a thin layer of coins. If this seems a tasteless detail, it is in fact one of the milder examples of the scatological humour which characterises many of the tales. This element was gradually toned down in later centuries when the stories became popular as children's literature; it was only with the revival of academic interest in the book that unexpurgated editions became  more widely available again.

Till tricks the greedy priest. Illustration by Alfred Crowquill, from The marvellous adventures and rare conceits of Master Tyll Owlglass translated by Kenneth R. H. Mackenzie (London, 1860). 12316.d.22. In this bowdlerised version the pot contains pitch beneath the coins.
The last chapter shows Till's epitaph with the motif of an owl and a mirror. 'Owl-Mirror' is the literal translation of 'Eulenspiegel', and in one tale Till leaves pictures of these attributes with the Latin words 'hic fuit' over the door of a smithy where he has tricked his master – 'Eulenspiegel woz ere'.  A memorial in the North German town of Mölln shows a figure holding the same symbols and is claimed as the resting place of the original Till, who lived in the early 14th century. However, in its present form the plaque post-dates the first publication of the book by at least two decades, and there is no firm evidence that there was ever a 'real' Till Eulenspiegel.

Till's epitaph (and the printer's colophon), from Ein kurtzweilig leren ... (f. 130r)
But whether based on a real figure or entirely imagined, once in print Till was unstoppable. The book went through many editions and translations, and the character of Till became well-known in Germany and beyond. Wilhelm Busch borrowed two of Till's pranks for his own classic tricksters Max und Moritz, while Richard Strauss's 1895 tone poem Till Eulenspiegels lustige Streiche  was inspired by the character and stories. Till's name has been given to a satirical magazine and a publishing house as well as various other brands. There are at least three Eulenspiegel museums in Germany, and even some schools bear his name, something which might give a touch of rebellious pleasure to any disaffected pupil who has read how the uneducated Till defeated the learned professors of Prague and Erfurt.
Susan Reed, Lead Curator Germanic Studies

Till 'teaches an ass to read' to get the better of the Erfurt professors, from Ein kurtzweilig leren ... (f. 39v)
22 March 2016
How much truth is in a proverb? Perhaps, you, dear reader, were pondering this question the last time you heard someone saying 'Necessity is the mother of invention' or 'The pen is mightier than the sword.'
Proverbs have a long history, some going back all the way to antiquity, and they are an important part of many languages. Each culture and each generation can form new proverbs or cause others to die out. Moreover, equivalent proverbs exist in multiple languages to express similar sentiments, e.g. the German proverb 'Morgenstund hat Gold im Mund' and the American 'The early bird gets the worm' essentially mean the same thing.
When it comes to their truthfulness though, proverbs evade any concrete assessment by being both ambiguous and contradictory. This does not usually become apparent in conversations, because we always choose a proverb to fit a situation, which makes them appear to be of universal wisdom.

 Title page of Deutsche Sprüchwörter und Spruchreden in Bildern und Gedichten (Düsseldorf, ca 1852)  555.d.40.
The illustrations in Deutsche Sprüchwörter und Spruchreden in Bildern und Gedichten ('German Proverbs and Sayings in Pictures and Poems') explore the meaning of proverbs by creating specific situations to match various German sayings, many of which are still in use today. An interesting example is the image that accompanies the proverb 'Nach gethaner Arbeit ist gut ruhen' ('After finishing work, one can rest well').

The illustration ingeniously portrays two meanings at once: firstly, the old man as a gravedigger who just finished a day's work and can now relax; and secondly, the old man at the end of a strenuous life, ready to finally rest in peace. The young girl looking into the grave might even underline the meaning of the proverb by contrasting it with its opposite, namely that an untimely death is never peaceful – for the person or their family.
Another fascinating example is the illustration that goes with 'Der grade Weg, der beste' ('The straight/direct path is the best,' the equivalent of 'Better beg than steal').

As you can see, here the illustrator opted for a literal and rather ironic representation of the proverb. Again, multiple readings are possible: perhaps the two men should have gone directly to church without stopping at a pub and getting drunk, which only made them end up in a riverbed; or they show us that if the direct path is through a riverbed, maybe you should accept that you have to walk longer to take the bridge but at least that way you will not make a fool of yourself.
Proverb expert Wolfgang Mieder states that the truly marvellous thing about proverbs is their ubiquity. Proverbs do not only exist in many languages, but they have also inspired a lot of literary and artistic work. A prominent example is Pieter Bruegel's painting 'Netherlandish Proverbs', in which he portrayed at least 112 common sayings. Especially for proverbs in English, Shakespeare's influence has to be mentioned. The bard, whose 400-year anniversary the British Library celebrates with an exhibition which opens on 15 April, has coined a large number of proverbial sayings still used today. Mary Cowden Clarke's 1848 collection of Shakespearean proverbs is a beautiful little volume worth checking out.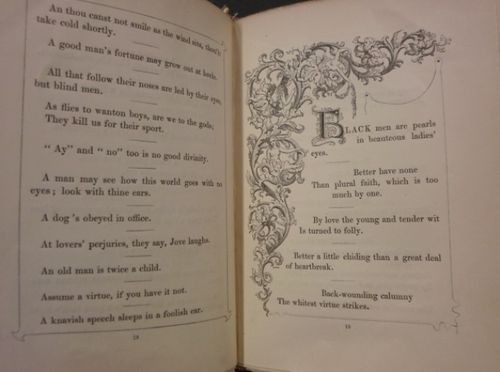 Sample Page from Mary Cowden Clarke, Shakespeare Proverbs; or, the Wise Saws of our wisest poet collected into a Modern Instance (London, 1848) 1344.a.20 
Lena Böse, Intern, Western Heritage Collections
References / Further Reading
Wolfgang Mieder, Wise Words : Essays on the Proverb. (New York, 1994). YC.1994.a.2436.
Wolfgang Mieder, Sprichwort – Wahrwort?! Studien zur Geschichte, Bedeutung und Funktion deutscher Sprichwörter. (Frankfurt am Main, 1992). X.0709/839(23.).
On the Web
You can find a list of all the proverbs identified in Pieter Bruegel's painting here: https://en.wikipedia.org/wiki/Netherlandish_Proverbs
If you can read German, the Deutsche Welle has a really interesting interview with Professor Mieder on its website: http://www.dw.com/de/no-pain-no-gain-warum-wir-immer-noch-in-sprichw%C3%B6rtern-sprechen/a-18809256
17 February 2016
Maurice Vignaux (d. 17 February 1916) was twice world champion in the game of billiards, a man famous on both sides of the Atlantic for his prowess and his technical knowledge of the game. As the magazine Sporting Life described on the occasion of his death 100 years ago, 'Vignaux was born in Frogonville [sic], in the South of France, in 1846. While a youth in Toulouse, where he was reared, he displayed talent for the game and attracted the attention of François Ubassy, one of the greatest players in France. With Ubassy as mentor, Vignaux made rapid progress, and in 1874 he came to the United States and in his introductory tournament became a champion, winning the first three ball tournament for the championship of America.'

Title-page and frontispiece portrait of Vignaux from Le Billiard (Paris, 1895) 7913.e.31.
 Vignaux contributed to billiards in a further way. His hefty 'traité du billiard' entitled Le Billiard carries the enticing subtitle Théorie des effets – Coups de Série – Détermination du point du choc – Quantité de bille – Différence entre le point de choc et le pont visé – Angle de déviation – Visé special des coups de finesse. It is an illustrated manual for the game detailing the logic behind impact, angles of deviation, strike zones, as well as all possible shots in billiards as it was developed up until that point. The 200 pictorial representations of games scenarios make this 400-page book a not uninteresting read for the uninitiated. As a word of warning, H. Desnar, who wrote the preface, suggests that although 'it does not contain transcendental mathematics […] a veritable attention is necessary to grasp all the demonstrations.'

Diagrams and explanations of game scenarios from Le Billiard
If anything, this curio, written by a 'great player before God' in the words of Desnar, serves to show
 the taste for such a work amongst a certain demographic at a particular time. The British Library's copy has a handwritten note on the inside (right) putting it in the possession of a British captain stationed in the Persian Gulf in 1910. Perhaps it was still in his possession a few years later during wartime. If so, Charles Darwin's alleged resort to billiards in order to 'drive the horrid species out of his head' might have been the same experience our captain found in Vignaux's study.
Pardaad Chamsaz, Collaborative Doctoral Student, British Library / University of Bristol
25 December 2015
Few Christmas carols are better known and loved than 'Stille Nacht' / 'Silent Night', and probably none has such a familiar romantic tale attached to its origins. Most people know the story of how the church organ in the small town of Oberndorf near Salzburg was found to be broken on Christmas Eve 1818, and how the priest, Joseph Mohr, and organist, Franz Xaver Gruber, hastily wrote the words and melody of a song which could be performed to a guitar accompaniment instead.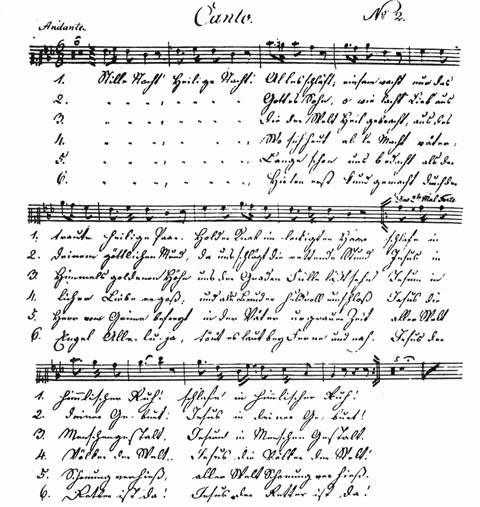 Facsimile of a manuscript of 'Stille Nacht' made by Franz Xaver Gruber in 1836, from Alois Leeb, 'Bibliographie des Weihnachtsliedes "Stille Nacht, heilige Nacht".' Oberösterreichische Heimatblätter, Jg, 23 (1969). British Library 2737.eg.3.
This is partly true. The song was indeed written by Mohr and Gruber and first performed, to a guitar accompaniment, at Christmas 1818, but Mohr had in fact written the words two years earlier and the story of the damaged organ is speculation (besides, presumably there were existing carols which could have been sung to a guitar…).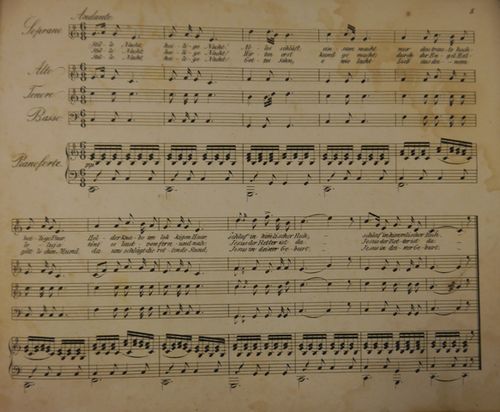 The first published version of 'Stille Nacht', in three-verse form, from Vier ächte Tyroler-Lieder ... Gesungen von den Geschwistern Strasser aus dem Zillerthale.(Dresden, [1832?]) Hirsch M.1291.(18.)
Although the song quickly gained local popularity around Oberndorf, it was taken to a wider audience by two families of singers, the Strassers and the Rainers, who both came from another part of Austria, the Tyrolean Zillertal. The Strassers were glove-makers who started singing as a group to attract custom to their stall at the Leipzig Christmas fair. They were subsequently invited to perform at Christmas services and concerts in the city, and for a few years in the early 1830s they devoted themselves to a singing career, travelling around Germany with 'Stille Nacht' as a popular part of their repertoire. They cut Mohr's original six verses down to three, and this is the form of the song that is known today and was first published in a collection of 'authentic Tyrolean melodies' as performed by the Strassers.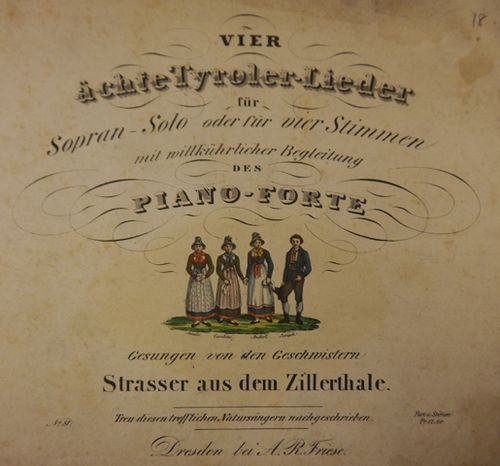 Title-page of Vier ächte Tyroler-Lieder...  with a (probably fanciful) picture of the Strassers
Incidentally, the Strassers apparently first heard of 'Stille Nacht' from Carl Mauracher, an organ-builder who rebuilt the church organ at Oberndorf in 1825. Could his role in the transmission of the song have inspired the story of a broken organ forcing Mohr and Gruber to improvise?
The Rainers were a more professional and longer-lived group. They travelled beyond Germany, taking  'Stille Nacht' to international audiences, including America, where they toured from 1839 to 1843, and where the first English translation of the song appeared in 1849. Ten years later the most familiar English version was published by an American Episcopal priest, John Freeman Young.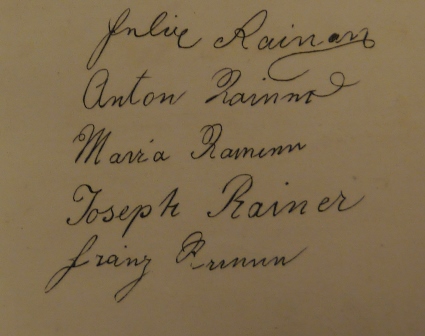 Fascimile signatures of the Rainer Family Singers, from an edition of 'Tyrolese melodies' published in London (R.M.13.f.22.). The signatures guaranteed that this was an authentic and approved edition, evidence of the Rainers' more professional and businesslike approach to their singing career.
Like the Strassers, the Rainers were advertised as singing traditional Tyrolean songs, and 'Stille Nacht' was not attributed to either Mohr or Gruber in its earliest publications. The melody was generally thought to be either a Tyrolean folk-tune or the work of Michael Haydn. In 1854 the Prussian Court Chapel in Berlin wrote to St Peter's Abbey in Salzburg asking for clarification; the letter found its way to Gruber who wrote an account of the song's origins, identifying Mohr as author and himself as composer, although a  printed score in the British Library (F.1171.mm.(22.)) attributes the tune to Michael Haydn as late as 1921.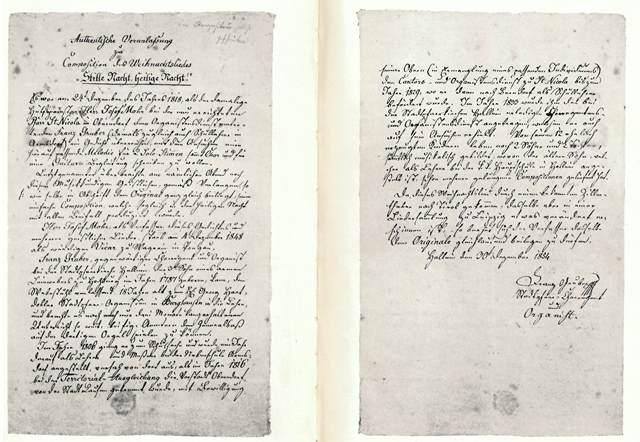 A facsimile of Gruber's report of 1854, explaining the origins of 'Stille Nacht', from  Max Gehmacher, Stille Nacht, heilige Nacht! Das Weihnachtslied, wie es entstand, und wie es wirklich ist (Salzburg, 1937) 11858.c.95
Despite Gruber's efforts, legends and misinformation continued to accumulate around the song. A completely untrue claim that Mohr translated the words from Latin dates from 1899 and was still being quoted nearly a century later. The story has been fictionalised several times and there have been film and theatre adaptations, all adding various romantic subplots and embellishments to the original tale, many of which can be found today presented as truth on the Internet and elsewhere.
But none of this mythology would have accumulated without the song's genuine popularity and power to move. For British audiences in particular it has gained in emotional impact by becoming linked with the story of the 1914 Christmas Truce (another true story around which many legends have been built), when British and German soldiers sang it together across the lines. It has been translated into over 300 languages and dialects, and in countries all round the world Christmas would not be Christmas without it. No wonder we love the story of its rise from humble origins to worldwide fame.
Susan Reed, Lead Curator Germanic Studies