26 October 2022
The Nordic Pavilion at this year's Venice Biennale has been transformed for the first time into 'The Sámi Pavilion'. Three Sámi artists, with the guidance of Sámi elders, have created works that 'celebrate the art and sovereignty of the Indigenous Sámi People'. One of the chosen artists, Pauliina Feodoroff, a 'Skolt Sámi theatre director, artist and land guardian from Keväjäu'rr (Finland) and Suõ'nnjel (Russia)', works with Snowchange Cooperative, a Finnish environmental organisation devoted to protecting and restoring the boreal forests and ecosystems through 'the advancement of indigenous traditions and culture'. Honoured with the 2021 St Andrews Prize for the Environment, Snowchange, led by its President and leading climate scientist Tero Mustonen, have a long list of publications, most of which have recently been acquired by the Library.

Still from a performance of Pauliina Feodoroff's 'Matriarchy' as part of the Sámi Pavilion at the Venice Biennale 2022. Photo: Chen Chen-Lun / Office for Contemporary Art Norway
As the Climate Emergency creeps up the priority list of governments, often reticent to disturb centuries-long systems of global extraction, indigenous and traditional communities at geographical extremes have been experiencing its devastating effects for decades. For hundreds of years, colonising economic powers have exploited the natural resources of the Arctic. That dispossession depended culturally on the imposition of new knowledge systems and languages that would normalise the exploitative relationship to the land. It is ironic and necessary that we now rely on ancient indigenous wisdom to re(dis)cover nature's balance, beauty, wildness, in order to survive. Snowchange's work tells us that by protecting the lands of Sápmi, we protect the Sámi peoples, and vice versa. In Pauliina Feodoroff's words:
Sámi knowledge is knowledge about how to be with your environment, how to have your relationships with humans and with the world. Therefore, the most effective ways of controlling a people involve destroying the things that compromise the reality of that people. In the North this ancient knowledge has been beaten and destroyed for centuries in order to make the Indigenous peoples forget this knowledge. If there is nothing else to do to stop this, at least we can try to prolong things. To buy us a bit more time to survive. We can try to gather traditional knowledge from the elders who are still holding onto it. We can try to create safe havens of ecosystems, which can contain our knowledges – the fjells, forests, and lakes which remain in pristine condition. (The Eastern Sámi Atlas)
Cover of The Eastern Sámi Atlas (Awaiting Shelfmark)
Snowchange's list of publications, many of which are available to read online, comprise not only scientific reports but also personal histories of significant community figures, hunters and fishermen, as well as novels and poems. This eclectic mix reflects the core idea that the environment, thought broadly, can only be changed by bringing together Western science and traditional knowledge, empirical research and storytelling, the intimately personal, the cosmic and the global.
The monumental Eastern Sámi Atlas 'provides a clear view of the histories, land use and occupancy' of the perhaps lesser-researched communities in the Kola Peninsula, speakers of Skolt, Kildin, Ter, and, before their recent extinction, Kemi and Akkala Sámi languages. It contains over 60 maps, unique artwork and photography, poems, songs, and chapters outlining the history, geopolitics and environmental developments in the region.
On the ground, Snowchange is involved in major restoration projects such as the Landscape Rewilding Programme, stretching over 52,000 hectares of which Snowchange owns 3100 hectares in five different areas across Finland, with its flagship site in Linnunsuo, North Karelia. Or, up in the Skolt Sámi area, the Näätämö River collaborative management project is described as the first of its kind in Finland, centring indigenous observations on biodiversity in the river basin to develop new models to protect a major Atlantic Salmon spawning site.
Covers of (above) Drowning Reindeer, Drowning Homes and (below) Kotoperäinen maailma. Kuivasjärven ympäristöhistoriaa, an environmental history of Kuivasjärvi Lake in the Pirkanmaa region (both awaiting shelfmarks).
While the organisation regularly updates through scientific reports available online, the research often leads to longer form publications, such as the Atlas mentioned above and the significant Life in the Cyclic World: A Compendium of Traditional Knowledge from the Eurasian North. In the latter, Tero and Kaisu Mustonen ground the two-volume collection of Indigenous observations and perspectives on biodiversity in 'an attempt for a dialogue, a meeting, perhaps an encounter between the knowledge systems'. In acquiring and promoting these books, we hope the library is doing its small part in surfacing traditional knowledge and joining the conversation.
Indeed, while we have to accept that 'Indigenous societies of the Arctic feel their viewpoints and understanding of their worlds and cultures has not happened' when it comes to a matter of 'decisions regarding the North', cultural organisations in Northern Europe and beyond are recently engaging in more and more projects that bring to the fore the heritage of Europe's only Indigenous population. Sámi literature was a focus of the Frankfurt Book Fair in 2019, when Norway was guest of honour. The British Museum's exhibition Arctic: Culture and Climate worked closely in collaboration with Arctic communities. And, most relevant to the Library perhaps, the Digital Access to Sámi Heritage Archives project seeks to locate and make available Sámi cultural heritage in archives and collections across Europe on their upcoming platform, Nuohtti.
Cover of It is the Sámi who own this Land (Awaiting Shelfmark)
Inspired by such projects, we have begun the process of assessing the library's own Sámi items, identifying our own potential contributions to Nuohtti, and thereby furthering that dialogue between cultural worlds. But that's the subject of another post. For now, we thank Snowchange for sharing with us their publications and their knowledge, as only when we try to understand those different cultural worlds, can we start to live justly in the world we share.
We were delighted to hear from Tero Mustonen, chair of Snowchange Cooperative, who wanted to comment on this collaboration:
Whilst initially being pleasantly surprised by the contact from the British Library, we responded swiftly to the exchange and deep understanding the Curators saw in our work. Now all publications by the knowledge holders, scientists, reindeer herders, Indigenous women, fishers and Elders are in the esteemed British Library. Acts of kindness, learning and cultural dialogue can only be achieved by individuals who offer the first gesture. This has now happened. We thank the Library and especially Pardaad Chamsaz for being the guiding light in creating a connection between small northern villages and the Library. For these efforts we will dedicate a recovering boreal peatland – a central site in the fight against climate change and maintenance of northern biodiversity – to the British Library in the spring 2023 to mark the dialogue, mark the courage and ultimately, mark the understanding across cultures that the world needs. In this way, this will be remembered and there will be a physical, natural symbol of this act. We thank the Library.
Pardaad Chamsaz, Curator Germanic Collections   
An area of boreal peatland restored by Snowchange (photo: Tero Mustonen)
17 July 2020
As we prepare to celebrate the 300th anniversary tomorrow of the birth of Gilbert White, whose Natural History and Antiquities of Selborne has proved so popular that it has never been out of print since its first appearance in 1789, we may wonder whether a similar figure – both priest and naturalist – ever emerged in Bohemia. In fact, there is a close parallel in his nearly exact contemporary, Aleš Pařízek, whose accomplishments ranged from composing and performing music to drawing, painting and illustrating some of his own books.
Portrait of Aleš Vincenc Pařízek. Source: Wikimedia Commons
Pařízek was born on 10 November 1748. Although his parents were not wealthy, he received a good education, and in 1765, aged 17, he entered the Dominican order and was ordained to the priesthood in 1771, serving in Prague as a confessor, preacher and monastery librarian.
When a new teacher training college was established in Prague he studied the Socratic method, attended lectures on pedagogics, and was appointed to conduct catechism classes at the parish school of St. Aegidius. He subsequently taught history, calligraphy and natural history at the college, and in 1783 became head of a new high school in Klatovy. By the time of his death on 15 April 1822, he had risen to become dean of the faculty of theology at the University of Prague. His works in both Czech and German include a book of prayers in Czech for children (1789) a concise history of the world for young readers (1782), handbooks on religious education for parents and teachers, and a manual of Czech orthography for schools in Bohemia (1812). Here, however, we consider the Kurzgefaßte Naturgeschichte Böhmens, zum Gebrauch der Jugend ('Concise Natural History of Bohemia, for the Use of the Young'), published in 1784, of which the British Library possesses a first edition.
Frontispiece of Aleš Vincenc Pařízek, Kurzgefaßte Naturgeschichte Böhmens, zum Gebrauch der Jugend (Prague, 1784) 973.a.14
Pařízek explains in the preface that his aims are twofold: to provide young people with information which may be of practical use in their future careers, but also to inspire them with wonder at God's creation and the natural history of their homeland (the word 'patriotic' frequently recurs).
From the outset Pařízek emphasises that this is not a work of scholarship, and that details of specific types of teeth and claws, for example, would only render it dry and tedious. It is divided into three sections on the minerals, plants and animal life of Bohemia, with an appendix on a creature found far beyond its borders – man – noting the similarities between humans and other living creatures. In keeping with his intentions, Pařízek explains the useful properties of different types of minerals, plants and timber, possibly foreseeing that his juvenile audience might adopt careers as mining engineers or physicians.
As the book was written in German, it seems likely that it was aimed at the educated middle classes, and this may explain a curious feature of the third section, in which domestic animals are given much more coverage than the wildlife of Bohemia. Presumably, Pařízek was envisaging his readers becoming estate managers or gentleman farmers; he devotes considerable amounts of space to diseases which may affect livestock, explaining that poor husbandry is generally to blame (keeping animals in dirty stables and sties, or driving cattle to pasture when the ground is frozen), rather than the activities of witches and suchlike, as 'foolish and superstitious' people believe. His statements are supported by practical observation, but his scientific objectivity is not always unblemished. While he devotes a lengthy paragraph to the praises of the faithful dog, 'almost indispensable to the household', he dismisses the cat in a mere four lines, stating that although it is 'crafty, cunning and false', it is useful for driving away mice, rats and toads. Clearly Pařízek was no cat-lover.
Frontispiece from an 18th century German book by the painter, naturalist and entomologist August Johann Rösel von Rosenhof. Historia naturalis ranarum nostratium... (Nürnberg, 1758) 458.f.12.  
Turning to wild animals, Pařízek describes many species which are still found in the region today or, like the lynx, are making a comeback. He notes that the bear is usually peaceable except when disturbed, and that the wolf, though so fierce that sometimes it does not even spare human beings, normally only shows itself in especially harsh winters. Plentiful details are provided of 'red game' (various species of deer) and 'black game' (boar), and the reserves where they are protected for hunting purposes. Birds, fish and insects are similarly described, and if we might raise an eyebrow at the lip-smacking relish with which the author evokes the 'delicious' or 'extremely tasty' nature of certain types of fish such as salmon or trout, this may be forgiven when we recall that as a devout Catholic he would have consumed these regularly on Fridays or fast-days.
His awe and reverence for God's creatures, however, appears limited when he considers certain amphibians. Describing the toad (included in the section on quadrupeds), he dismisses it as 'much uglier than the frog', covered with yellow and green warts and spots all over its body. The equally luckless frog is 'a small, naked amphibious creature, of a somewhat disgusting appearance', although he comments that, unlike toads, 'some of them are eaten by us'.
Yet even these less appealing beings have one attribute which might startle many theologians – a soul. Although man is 'the masterpiece of creation, and the noblest and most splendid creature on the whole earth', he shares an immortal soul with other living creatures, distinguished only by the fact that while the human soul is endowed with reason, those of animals are not. They do, however, have the power to feel emotions such as affection, sorrow and pain, and the underlying message to the young reader is that all sentient beings deserve humane and respectful treatment.
Just four years before Pařízek's death, the National Museum in Prague had opened its doors, displaying magnificent collections of mineral, plant and animal specimens as well as antiquities, coins and medals. We may imagine how many visitors, and possibly contributors, had first had their love of natural history kindled by reading Pařízek's little book.
Susan Halstead, Subject Librarian (Social Sciences), Research Services
24 December 2018
Christmas is associated with sparkling lights that lift the eyes up to the stars in motionless awe. On Christmas 1875, a curious traveller wrote about a less-known yet equally magical light that drew his eyes below the horizon, a light that flared up with the breaking waves: sea sparkle.

Sea sparkle (Photo by Sander van der Wel from Wikimedia Commons [CC BY-SA 2.0])
The traveller, count József Zichy, a politician of the Austro-Hungarian Monarchy, was on a semi-official Asian tour to expand trade and political relations, and to learn about the world through personal experience, a practice not uncommon among members of the aristocracy.

Title page of József Zichy's manuscript diary: "From 1875 November 22 to 1876 September 22 | Diary of my travels in Asia | original manuscript: I.-XVII. notebooks 'Nulla dies sine linea'" Reproduced in Zichy József, Zichy Mihály (ed), Gróf Zichy József utazásai, Volume 1 Ázsia 1875-76 (Budapest, 2013) YF.2014.6057

Map of Zichy's travel in Asia in 1875-1876, from Gróf Zichy József utazásai
En route from Aden, Yemen to Pointe de Galle, Sri Lanka, in the Arabian Sea, , Zichy described his encounter with sea sparkle in a few words but with great precision:
December 22. Lat. 12.16 - long. 46.20
We are on open sea again […]. […] - In the evening we can't help but staring at the sea's phosphorescence, which is much stronger here than anywhere else. We are leaving behind a pretty fiery trail and gazillions of sparks are scattered when the waves brake on the side of our huge ship's hull. - The weather is splendid, a mild breeze makes the heat more tolerable than it was in the Red Sea.
December 26. Lat. 9o12', long. 63 o55'
[…] The evenings are not so beautiful any longer because the sea's phosphorescence is much weaker here than it was in the Gulf of Aden; the weather remains good.
[Translation: Andrea Deri]
What Zichy observed was bioluminescence, generated by high concentration of tiny planktonic organisms, probably Dinoflagellates (δίνη, Greek, refers to whirling, swirling; flagellates, Latin, refers to the flagellum or flagella on the surface of the algae). However, a wide range of species of several taxonomic groups may bring about similar phenomena.
The cold glowing white-blue light of sea sparkle is the result of biochemical reactions within marine organisms. The light flares up with wave action that may be produced by walking, swimming or vessel movement. The light is assumed to deter the Dinoflagellates' predators or act as a 'burglar alarm', which may attract secondary predators to prey on the primary ones.
Sea sparkle can occur in coastal and shallow waters of tropical and temperate seas. Current blog posts and daily newspapers document sea sparkle from India's western coast to Anglesey. 
Mariners have known bioluminescence for long time. Fishers and traditional navigators of South India's Malabar coasts and around Bombay 'have reported a luminous sea surface and at times a milky sea invariably during dark nights following calm or sultry weather and during overcast monsoon periods' and glowing sea surface like fireflies in Bengal.
Bioluminescence is now even used as a tourist attraction to small islands off the south Indian coast. While Zichy mentioned some of them, Lakshadweep and the Maldives, the distance from the atolls and the time of the night did not allow him to record any further observations:
December 27. Lat. 8o 15', long. 68o 34'
[…]Tonight we are going to pass between the Lakedires and the Maldives. To see these islands we will barely do because their shores are rather low. […]
[Translation: Andrea Deri]
Zichy did not have the public in mind when he wrote his diary. Yet, its publication by the Hungarian National Széchenyi Library and the publisher Széphalom with the editorial scholarship of Mihály Zichy, a member of the same family, adds great value to history, linguistics, anthropology, arts and sciences.
József Zichy's entries also demonstrate the significance of personal diaries in environmental change research, especially when the traveller's environmental and cultural observations include metadata such as longitude and latitude coordinates. Mapping Zichy's observations shows that he was able to observe sea sparkles in deep sea also: an occurrence that may be of interest of current long-term and large-scale studies.

Map of Zichy's positions on 22 Dec and 26 Dec
Zichy embodied the qualities of what we would call today a citizen scientist. He was keen to learn about the world through first-hand experience and use his insights for the public good. His guiding principle for keeping a diary features on the title page of his manuscript: Nulla dies sine linea ('No day without a line', that is no day should pass without a line written).
While Zichy was 'only' interested in the aesthetics of sea sparkle, he may have unwittingly made an important contribution to environmental history of the Arabian Sea in light of current studies on the possible nexus between increasing bioluminescent algal blooms and unfolding environmental change. Even if this is not the case, his observations certainly offer opportunities for interdisciplinary research, bridging humanities and environmental studies, a dynamically growing field of environmental humanities.
If you cannot frolic with luminous fellow creatures this Christmas, you may still dive into watching and recording (so easy with mobile phones!) a natural spectacle, inspired by Zichy, our fellow citizen scientist from the 19th century. Who knows where your Christmas diary might end up in the history of science?
Andrea Deri, Cataloguer
References/Further reading:
R. Santhanam, Marine Dinoflagellates (New York, 2015) (B) 579.81776
Therese Wilson, J. Woodland (Woody), Bioluminescence: living lights, lights for living (Cambridge, Mass., 2013) YK.2013.a.10980
Balsubramiam Arunachalam, 'Traditional Sea and Sky Wisdom of Indian Seamen and Their Practical Applications' in Himanshu Prabha Ray, Jean-Francois Salles, Tradition and Archaeology - Early Maritime Contacts in the Indian Ocean (New Delhi, 1996) ORW.1997.a.1626
Balsubramiam Arunachalam, Heritage of Indian Sea Navigation (Mumbai, 2003) YA.2003.a.26499
Ismael Vaccaro, Eric Alden Smith, Shankar Aswani, Environmental social sciences: methods and research design (Cambridge, 2010)
University of British Columbia, Phyto'pedia - The Phytoplankton Encyclopaedia Project: Noctiluca stintillans (UBC, 2012)
iSpot: Share Nature - an Open University platform where today's citizen scientists can upload their sightings (photo, text) and request identification
08 May 2018
In his anti-literary 1890s, August Strindberg took to the laboratory to experiment in alchemy, and some of his thoughts led to a peculiar book published in Germany in 1894 called Antibarbarus I: oder Die Welt für sich und die Welt für mich (YA.1990.a.22668). His discovery of the process of transmuting lead into gold was conjecture and anti-scientific, if anti-anything, but 13 years later, this simple pamphlet, first published in Germany, transmuted into one of the finest luxury editions printed in Sweden.
Cover of August Strindberg,  Antibarbarus: Det är en vidlyftig undersökning om grundämnenas natur och ett nytt betraktelsesätt af de kemiska operationernas förlopp enligt den rådande monist-teorien om naturens allhet & enhet, sådan den af Darwin och Hæckel tillämpats på de andra naturvetenskaperna (Stockholm, 1906) Cup.408.l.20.
Strindberg composed Antibarbarus as a series of letters written in the second person, addressing an unidentified correspondent on diverse scientific principles. His first letter was entitled, 'The ontogeny of sulphur', the second, 'On the transmutation of matter, transformist chemistry, or everything in everything', the third, 'Thoughts on the composition of air and water', and a fourth, simply 'Paralipomena'. He himself thought he 'simply drew all the logical conclusions inherent in Transformism and Monism,' (letter to Torsten Hedlund, 23 July 1894) that is, the belief that all matter has a single shared substance and elements differ only in their properties and not as entities, to paraphrase his first letter.
What he did not account for was the mixture of bemusement and vehement criticism that the publication received. In a letter to Georg Brandes, soliciting the great critic's help in reviewing it favourably in Denmark, Strindberg writes that his work 'has caused the Swedes to depict me as a rogue and a madman […] There is in fact not a single paper in Sweden honourable enough to print a word in my defence', ultimately surprised 'to see a whole country's chemists so blinded by jealousy that they cannot acknowledge their own views when they see them put forward by someone they find offensive!' (31 May 1894). Even his friend and the translator of his Swedish manuscript into German, Bengt Lidforss, reviewed it harshly in Dagens Nyheter—albeit under a pseudonym, which was scant consolation.
Title page of  Antibarbarus
Five years later, the magazine Nordisk Boktryckarekonst (Stockholm, 1900-1925; PP.1622.h.) was established by Hugo and Carl Lagerström, who subsequently set up a publishing house, with aim of inaugurating an authentic Nordic style of book design. They sought a work with which to begin a series of bibliophile editions and Arthur Sjögren was enlisted both to produce the book and to convince Strindberg to volunteer the first idea for the series. Sjögren, who had worked with Strindberg, arrived at Strindberg's studio to find a chemist's laboratory in disarray and the author-cum-goldmaker deep into experiments. With Strindberg only thinking about scientific works, they eventually landed on Antibarbarus. The Antibarbarus manuscript had been under perpetual revision and expansion since 1894 and, with Strindberg's encouragement, the Lagerströms decided to take it on.
Fascicle 1, Antibarbarus
Taking nearly a year to produce, Antibarbarus had a limited print run of 299, each copy priced at 30 Krona. To put it in context, very few books cost over 10 Krona and Strindberg's luxury edition of Ordalek och småkonst, which came out a year earlier in 1905, cost 8.50. No expense was spared from the light-brown leather binding incorporating the same decorative coils and knots that frame the text throughout, to the thick hand-made paper from Grycksbo  with a specially designed watermark by Sjögren, depicting a four-leaf clover over a three-leaf clover. The coiled dragon-tail ornamentation that envelops the title-page is derived from Viking picture stone iconography, which speaks to the National Romantic ethos of the new publishers, but by no means renders William Morris's decorative influence any less obvious. The portrait of a Faustian Strindberg facing the title-page takes us back to Sjöberg's encounter with the author in his laboratory, while drawing comparisons with Goethe, as a similar polymathic genius.
Like his illustrated works before this, Strindberg's manuscript influenced the artistic design and the drop capitals and annotations set within the body of the text appear to be original to the author. Notes are literally indicated by a red hand pointing and paragraphs are marked by red pilcrows, rather than spaced out. Connoisseurs did not particularly warm to these latter innovations in the layout but the book has been acknowledged to be one of the most exquisite Swedish books ever produced. Georg Svensson considers it Sjögren's best.
Slaying the dragon, Antibarbarus
Ultimately, we might say the design is in harmony with the content. One critic, G. Bargum, reads the work as the creative scientist's labyrinthine search for a greater truth where each path is a dead end. He suggests that what is stabbed in the final ornamental image is a many-headed Hydra, who constricts the courageous opponent, so that he will never escape. A review in Dagens Nyheter (cited in Samlade Verk) prefers to see the dragon finally slain by a Sigurd figure and the obstacles triumphantly overcome. While Strindberg never made gold and never did conquer the world of science as his anti-barbarian persona might have wished, his creative genius – with all its delusions and idiosyncrasies – is still wonderfully celebrated in this book, paradoxically ensuring a legacy for his failure.
Pardaad Chamsaz, Curator Germanic Collections
References/Further Reading
August Strindberg, Naturvetenskapliga skrifter I [August Strindberg's Samlade Verk, vol. 35] (Stockholm, 2009), YF.2011.a.4183
August Strindberg, Strindberg's Letters [selected, edited and compiled by Michael Robinson] (London, 1992), 92/19967-8
G. Bargum, 'Der neue Antibarbarus', in Zeitschrift für Bücherfreunde (10:6), 1906, p. 253, P.P.6548.c.
30 April 2018
In 1772 Joseph Banks, a wealthy 29-year-old landowner and one of the early naturalist explorers, led the first British scientific expedition to Iceland, then a dependency of the kingdom of Denmark-Norway. Banks had been on the celebrated Endeavour expedition with Captain Cook  in 1768-71, one of the most important voyages of discovery ever made. A member of the Royal Society since 1764, he was accepted for Cook's voyage as a supernumerary in natural history, after he offered to pay not only for himself but a party of eight including artists and scientists. His participation on the Endeavour elevated Banks to 'a figure of international scientific significance' (Gascoigne, p. 692).
Portrait of Joseph Banks by Joshua Reynolds (1773).  Image From Wikimedia Commons. 
Due to the success of the Endeavour voyage another expedition to the South Pacific was planned for 1772. The prime aim of the second Cook voyage on the Resolution was to search for the existence of an Antarctic continent, the mythical Terra Australis. Banks, convinced that a 'Southern' continent existed, was overjoyed when Lord Sandwich, the First Lord of the Admiralty, invited him to be the scientific leader of the expedition.
Throughout the winter of 1771-72, Banks was busy assembling a party of scientists, artists, secretaries and servants, including a French chef, as well as vast equipment for collecting specimens, again at his own expense. All was progressing well until Banks saw the shipboard facilities for himself and his party. He became famously displeased. The vessel, he thought, was simply not large enough to accommodate his entourage and after a heated exchange with the Navy Board he abandoned the Resolution expedition in a fit of pique, thus earning himself negative epithets both from contemporaries and his later biographers.
To the disappointed Banks, it was, however, of prime necessity to engage his men in a new project. By early June he had settled on his new destination. Instead of searching for a massive continent south of Australia, he decided to head north, his choice falling on Iceland. The question begging to be answered is: why Iceland?
John Cleveley the younger, 'View of a mountain, near Hekla with a view of a travelling caravan', Add MS. 15511, f.48.  
Scholars have advanced various theories, but in his Iceland journal Banks adequately explained the reasons for his decision. As the sailing season was much advanced he:
saw no place at all within the Compass of my time so likely to furnish me with an opportunity as Iceland, a countrey which...has been visited but seldom … The whole face of the countrey new to the Botanist & Zoologist as well as the many Volcanoes with which it is said to abound made it very desirable to Explore... (Banks's Journal, p. 47).
And from the documentary evidence it seems clear that seeing 'burning mountains', as volcanoes were called at the time, had become the major aim of the voyage. There was a growing interest in volcanology and in his passport, quickly issued at the beginning of July by the Danish envoy in London, the main purpose of Banks's visit was recorded as observing Mount Hekla, the most famous of the Icelandic volcanoes. The ascent of Hekla was the highlight of the expedition, the measurements of the spouting hot springs described by Banks as 'volcanoes of water' (the word geyser was coined later, Geysir being the proper name of the most magnificent of the Icelandic hot springs), coming a close second. On their return The Scots Magazine reported in November 1772 that they had 'applied themselves in a particular manner to the study of volcanoes'.
Above: John Cleveley the younger, 'View of the crater of geyser, immediately after an eruption when empty', Add MS. 15511, f.37; Below: John Cleveley the younger, 'View of the eruption of geiser', Add MS. 15511, f.43. 
Banks prepared his voyage as best he could within the limited period of time he had. Understandably he found no-one in London who had been to Iceland but Claus Heide, a Dane resident in London, gave him information 'Chiefly out of books' (BL Add MS 8094, ff. 29-30). The King of Denmark was notified of their wish to visit Iceland and was only too happy to sanction the 'celebrated English Lords' journey.
Among the members of the expedition were three artists: John Cleveley Jr, James Miller and his brother John Frederick Miller, and their magnificent drawings and watercolours are invaluable sources. These illustrations, over 70 of them, are now in the British Library and in steady use (Add MS 15511-15512).
John Cleveley the younger, View of the Cathedral Church of Skálholt, southern Iceland; with houses, and villagers tending cattle in the foreground, Add MS. 15511, f.17
Banks also collected Icelandic manuscripts and books – something he had prepared before his departure as he wrote to Bodley's Librarian, the Reverend John Price, that he was about to sail to Iceland and while there would endeavour to procure Icelandic manuscripts. Today over 120 books and 30 manuscripts are in the British Library, including copies of the first Icelandic version of the Bible from 1584, Snorri Sturluson's Edda and the most famous saga, Njal's Saga (Add MS. 45712, 4857-96). Men were sent to the only printing press in Iceland, at Hólar, to buy copies of the books printed there. In the years following his visit the district governor Ólafur Stephensen, now a friend, continued to collect and consequently 'charged our best copyists to transcribe the antiquities and sagas' (24 June 1773, Sir Joseph Banks, Iceland and the North Atlantic 1772-1820, p. 183)
Banks's chartered ship, the Sir Lawrence, a brig of 190 tons, with a crew of 12, eventually left Gravesend on 12 July 1772, ironically the same day as Cook started on his second voyage. He arrived in Iceland at the end of August and after an eventful stay of six weeks they left in early October, loaded down with, among other objects, specimens of lava, Icelandic manuscripts and two Icelandic dogs, aptly named Hekla and Geysir.
As a consequence of the Iceland expedition, Banks became the acknowledged British expert on Iceland and a faithful friend of the Icelanders. Three decades later during the Napoleonic Wars, Banks assumed a crucial political role as self-appointed protector of Iceland, smoothing the way for their trade during the conflict and repeatedly urging the British government to annex the island for the benefit of the inhabitants. He became the architect of Britain's political and commercial policy towards the Atlantic dependencies of the Danish realm.
Anna Agnarsdóttir, Emeritus Professor, University of Iceland
Further reading:
Anna Agnarsdóttir (ed.), Sir Joseph Banks, Iceland and the North Atlantic 1772-1820. Journals, Letters and Documents, (London, 2016), YC.2016.b.2118.
Id., 'After the Endeavour: What next for Joseph Banks?', in Endeavouring Banks: Exploring collections from the Endeavour Voyage 1768-1771 (London, 2016), LC.31.b.1774
Harold B. Carter, Sir Joseph Banks 1743-1820 (London, 1988), YK.1988.b.2415
Neil Chambers (ed.), The Letters of Sir Joseph Banks. A Selection 1768–1820 (London, 2000) m01/13368
John Gascoigne, 'Banks, Sir Joseph, baronet (1743-1820)', Oxford Dictionary of National Biography, vol. 3 (Oxford, 2004).
Halldór Hermannsson, 'Sir Joseph Banks and Iceland', Islandica, vol. 18 (1928) Ac.2692.g/6.
Uno von Troil, Letters on Iceland (Dublin, 1780) 10280.eee.14.
13 January 2017
Maria Sibylla Merian, who died 300 years ago today is justly remembered both as a pioneering naturalist and an entomological and botanical artist, and as a woman who made her mark in both art and science at a time when these fields were dominated by men.
Maria was born in Frankfurt am Main in 1647 into an artistic family. Her father was the engraver and publisher Matthäus Merian, but his death when Maria was just three years old meant that her own talent was mainly fostered by her stepfather Jacob Marrel. As well as being encouraged to draw and paint, the young Maria developed a fascination with insects and began collecting, studying and drawing them.
In 1675 Maria published a book of botanical illustrations, the Neues Blumenbuch. Four years later, the first part of a new work appeared. Der Raupen wunderbarer Verwandlung und sonderbare Blumennahrung ('The Wonderful Transformation and Strange Floral Food of Caterpillars' – a second part followed in 1683) drew on Maria's interest in and close observation of caterpillars and butterflies, illustrating and describing the stages of the different species' lives and also the specific plants that they fed on.

Title-page of Der Raupen wunderbarer Verwandlung... (Nuremberg, 1679)  445.c.15. 
It was not until 1705 that Maria published another book, but for lovers of both science and art it was worth the wait. In 1699 she had travelled  from her home in Amsterdam to Suriname with her daughter Dorothea to record the insect life of the country, then a Dutch colony. The resulting work Metamorphosis insectorum Surinamensium appeared in 1705 and combines careful observation and detailed recording of the insects' habitats, lives and behaviour with aesthetic skill in depicting the different stages of their life-cycles and their favoured plants. The British Library holds a splendidly hand-coloured copy of the 1726 edition (649.c.20) from which the pictures below are taken.
In Suriname, as in Frankfurt, Maria's primary interest was in butterflies:

Plate 2 from Metamorphosis insectorum Surinamensium
Plate 15 (The rather plump larva about to feast on a watermelon here might remind the modern reader somewhat of Eric Carle's Very Hungry Caterpillar)
 Details of individual butterflies show Maria's talents:

Details from (top to bottom) plates 20, 44 and 34
But as well as butterflies, Maria also depicted and described other insects as in these images.

Plate 24

Plate 50. The painter has used gold to capture the iridescence of the fly in the bottom right-hand corner
She also portrayed spiders (for the sake of sensitive arachnophobes I merely add a link), snakes and lizards:

Plate 14

Plate 69, the famous image of a caiman attacking a snake which is trying to steal its eggs as the young hatch
In one image she even shows a mammal, a tree-rat carrying its young on its back, although her hand seems a little less sure here than with the insects: 

Plate 66
Like many fine-printed books of its day, our 1626 edition of Metamorphosis Insectorum Surinamensium has a fine engraved frontispiece which has also been hand coloured. It shows a woman instructing an eager group of botanising putti, with a Surinamese landscape in the background.
The artist of the frontispiece clearly knew the work he was illustrating. The open book in the bottom left-hand corner of the picture shows one of Maria's plates, in a nice tribute to the original creator of the work. 
Detail from the frontispiece (above) and plate 29 (below)
I hope the gallery above will likewise act as a tribute to a woman who is justly celebrated  today for her achievements as both artist and natural historian.
Susan Reed, Lead Curator Germanic Studies
02 February 2016
Martín Martínez (1684-1734) was a major figure in the reform of Spanish medicine.

Martín Martínez, Medicina sceptica, y cirugia moderna, con un tratado de operaciones chirurgicas ... (Madrid, 1748) RB.23.a.36759
This newly-acquired book is a nice example of how in times earlier than our own there was no division between the Two Cultures: in the 18th century scientific works had to written with literary style.
Science in Spain was still heavily dependent on unquestioning acceptance of the authority of the Greeks and Romans. But Martínez was a sceptic, defined by the first dictionary of the Spanish Academy as: "adjective applied to a certain philosophical school, which affirmed nothing and defined nothing, and was empoyed only in impugning the opinions of others, doubting everything" :
SCEPTICO, CA. adj. que se aplica à cierta secta Philosóphica, que nada afirmaba, ni definía; sí solo se empleaba en impugnar las [r.57] opiniones de los otros, dudandolo todo (Diccionario de Autoridades, Tomo VI (1739))
Note that for the Academicians these Sceptics lived (past tense) in Antiquity.
This work on modern medicine takes the form of a dialogue between Galenico (a follower of Galen), Chimico (a chemist) and Hippocratico (a follower of Hippocrates). But the author, as a true sceptic, is not himself mired in the past: he cites "Hyppocrates, Erasistrato, Celso" [all ancients] but also "Boyle, Sidenham, Capoa, Silvio, Gassendo ... and the most celebrated men of the last century" (I, Introduccion, e3r).
Although the language of medicine in the 18th century was still Latin (the language in which he read those foreign worthies cited in the previous paragraph), Martínez writes in Spanish, because "mejor es saber en Romance, que ignorar en Latin" [it is better to be knowledgable in the vernacular than ignorant in Latin].
If there was a controversy going in 18th-century Spain, Father Benito was not going to be left out. Here he weighs in with a defence of his fellow sceptic and doubter of authority.
An added interest is the contemporary soft parchment binding, with bead and loop fastenings. In this case, as usual, the loops are there and the beads have gone.
And although there is a printed table of contents (I, d5rv) an early reader has added his own handwritten table of contents on the flyleaf at the end of vol. I.
This book fills a gap in the British Library's collection which goes back to 1955. In that year the Library acquired a pamphlet written in defence of the Medicina sceptica:

Pedro Salinas, Opusculo nuevo. Monita chimica secreta, en favor de la Medicina sceptica del Doctor D. Martin Martinez. ([Madrid?, c. 1760] ) 1481.c.41.(48)
And now we know what the fuss was about.
Barry Taylor, Curator Hispanic Studies 
23 December 2015
The lack of physicians and apothecaries throughout 16th century Poland on one hand and of medical guidebooks in the Polish language on the other  were Stefan Falimirz's motives for undertaking the compilation of a book on herbal medicine O ziołach y o moczy gich. The herbal is a compilation of texts from Latin sources with the author's added information on plants native to Poland.  It is the first book to use Polish botanical and medical terminology.  For this reason the book is also considered important for the development of Polish medical lexicography. Very little is known about the author. He was a friend of the publisher Florian Ungler and courtier to a Polish voivode. It is not clear whether he was a physician or botanist by training, but he obviously had a great interest in natural science.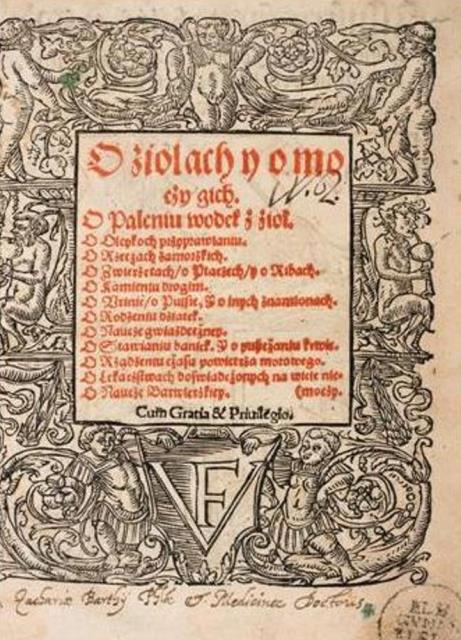 Title page of Stefan Falimirz's O ziołach y o moczy gich (Kraków, 1534) British Library C.185.a.1
The herbal is regarded as a treatise on pharmacology, medicine and botany as well as a practical medical guide, which was meant to help save lives in the context of the inadequate healthcare provision of the time. The book consists of five chapters, of which the first one provides the title for the whole work: On herbs and their potency.  Other subjects covered include the medicinal properties of birds, animals and fishes, blood-letting, obstetrics and infants' ailments, surgery, etc.  
In the second chapter Falimirz describes some seventy brands of vodka and their health benefits.  He initially gives  instructions on the process of distilling vodka and then lists the different kinds alphabetically.  The chapter concludes with a list of illnesses cured by them.  Thus a well-supplied home apothecary was the guarantee for curing each illness. We learn that violet vodka is good for tuberculosis while the sage one is linked to curing headaches, but the honey vodka is supposed to clear the blood. On the other hand, hetmans and captains were given  wormwood-infused vodka but only when they were heading for war. The author recommends grass vodka for the sufferer from jaundice as well as for alleviating wrist pain. Disorders of the head can be cured by ten different brands of vodka such as marjoram, lavender, sage and peony. Against memory loss, fennel vodka is supposed to help. Heart disease can be treated with  lavender, borage or St. John Wort infusions.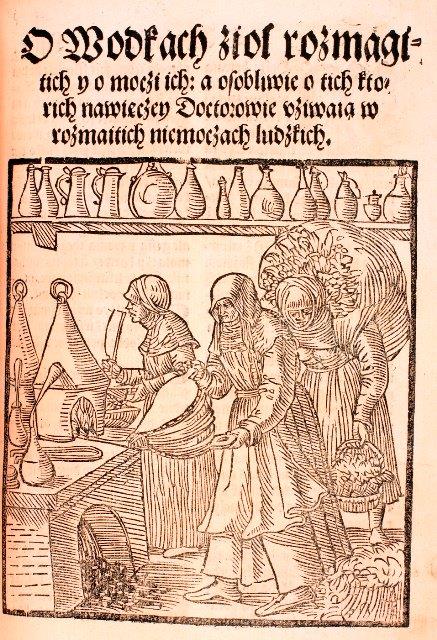 Frontispiece to chapter 2 of O ziołach y o moczy gich, on herb-infused vodkas
Some of Falimirz's recommendations seem universal and timeless. He has, for example, a remedy for the citizens of a modern city exposed to noxious air either in air-conditioned offices or in the polluted streets. His advice would be a shot of oak-tree vodka. With the festive season just a few days away, Falimirz would recommend a small glass of peppermint or sage vodka to treat stomach disorders as it is reputed to aid digestion.
It is not surprising that it proved the most popular book of its time. 12 copies which are recorded in Poland are imperfect, but   the British Library copy is faultless. The herbal is lavishly illustrated and contains over 600 woodcuts.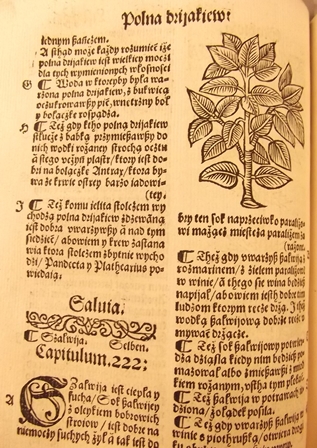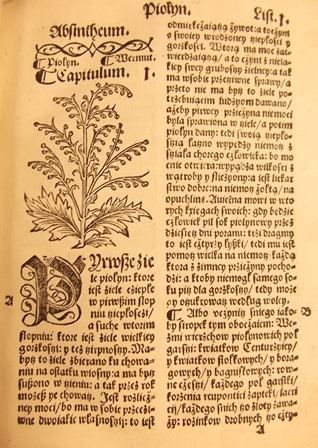 Entries on sage (left) and wormwood (right)  from O ziołach y o moczy gich
Magda Szkuta, Curator East European Collections