27 June 2016
On Friday 10 June, the British Library welcomed a host of expert speakers to discuss the global understanding of our 'national' poet. And it turns out Shakespeare is the poet of many nations. It would be impossible to do justice to the richness of the presentations in a blog post, yet all of our panels shared the fundamental idea that Shakespeare's writing is at the heart of every culture. Adaptations and translations are not so much secondary to the original but offer a radically different entry into, and a potentially much more direct access to, a Shakespeare play that will always signify something particular to different nations in different social and temporal contexts.
Prof. Jerzy Limon (photo below) opened proceedings with a view into the establishment of the Gdańsk Shakespeare Theatre, designed by Renato Rizzi, at once a huge black modernist edifice in stark contrast to the red brick Northern European architecture (its 90 tonne retractable roof opens fully in 3 minutes), and a gothic castle-like structure, alluding to the city's mediaeval Bazylika Mariacka.  We saw videos of the theatre's opening ceremony and of varied productions, showing how the space can be adapted to both traditional Elizabethan stage design and experimental avant-garde interpretations.
Stuart Gillespie and Graham Holderness offered us insights into the sources and settings of Shakespeare's plays. Dr Gillespie explained how French and Italian were the languages of culture and how European (mainly Italian) sources – epics, essays (Montaigne's predominantly), romances and novellas – were in the atmosphere around Shakespeare's time and were inevitably absorbed and adapted in his works. Professor Holderness spoke of the 'reciprocal relationship' between Shakespeare and Venice and how the playwright had already created much of the myth around the city before it was (re-)created in 19th and 20th century literature.
The British Library's Julian Harrison gave us a glimpse of the 'Our Shakespeare' exhibition currently at the Library of Birmingham, home to the second largest Shakespeare collection in the world. The collection was resurrected after a fire destroyed the old library building in 1879 and the collection was soon expanded thanks to donations from around the world. Julian highlighted the beautifully produced photo album of German Shakespeare scholars (1878), the photo album donated by Laurence Olivier, and a Russian edition of Romeo and Juliet presented by a Soviet delegation at the height of the Cold War. Julian also managed to show the importance of Warwickshire to the bard, just before the study day moved to more tropical climes.
Philip Crispin opened the afternoon's proceedings with a rousing presentation on Une tempête ('A Tempest'). In this 'adaptation for a black theatre', Aimé Césaire, one of the founders of négritude, recasts Ariel as a mulatto slave and Caliban as an articulate black slave in revolt, reflecting the racial politics of his native Martinique. Michael Walling, Artistic Director of intercultural, multimedia theatre company Border Crossings, presented an insider perspective of staging Shakespeare in India, and translating and staging Dev Virahsawmy's Toufann, a Mauritian adaptation of The Tempest, in London. The linguistic choices made by both writer and translator in the case of Toufann were fascinating: the play is written in Mauritian creole, but the title is in Hindi – Prospero is from the dominant Indian diaspora community in Mauritius, and seeks to impose this new word into the play. Philip and Michael showed how these two postcolonial adaptations of The Tempest epitomise translation as creative interpretation.
Charles  Forsdick introducing Philip Crispin and Michael Walling (Photo by Ben  Schofield)
From considering just three performances, Paul Prescott encouraged us to look at hundreds in his whirlwind road trip presentation across the United States. The phenomenon of the Shakespeare festival was plain to see in the sheer spread and eclectic formats of these festivals. The bard's work is not just made for the Globe Theatre but is at home anywhere and perhaps more at home in the small and distant communities of the American West. The day's underlying theme again: Shakespeare is accessible universally. The idea was explored further by Mark Burnett, who showed how a constant industry of Shakespeare adaptation in film across Europe and South America sees in the plays stories that apply to a vast array of national settings, from gypsy versions of Hamlet (Aleksandar Rajkovic, Serbia, 2007) and King Lear (Romani Kris – Cigánytörvény, Bence Gyöngyössy, Hungary, 1997), to a Brazilian Romeo and Juliet set in the favelas of Rio (Maré, Nosse Historia de Amor, Lucia Murat, Brazil, 1997).
The day concluded with a round table on the 'cultural politics of European Shakespeare'. Aleksandra Sakowska talked about the long history of interaction between Poland and Shakespeare, a presentation which touched on the first black actor to play Othello in Britain, Ira Aldridge. Nicole Fayard drew our attention to Shakespeare's relevance in modern French society from the Vichy regime to the Charlie Hebdo attacks, showing how even in the latter situation Shakespeare managed to force his way into public consciousness. Keith Gregor described how Shakespeare productions in Spain still far outnumber those of the Spanish Golden Age playwrights, and how, after Franco's reign, Shakespeare began to be appropriated by Spain's autonomous communities in overtly political avant-garde productions. Emily Oliver presented a view of Shakespeare around the time of German reunification, particularly through the challenging production of Hamlet/Machine in 1990, directed by Heiner Müller (photo above by Ben Schofield). Hamlet could be seen building and jumping over a wall on stage in a not-so-subtle allegory of the political context. Erica Sheen chaired the discussion that followed which situated Shakespeare as the most significant figure of international cultural exchange and at the heart of every nation's self-expression. Shakespeare gives voice to political counter-currents and his work is continually adapted to inhabit alternative, minority, and simply 'foreign' positions.
 Final panel of the seminar. Photo by Ben Schofield
'All the world is a stage' begins Jacques's monologue in As You Like It, and this study day left no doubt that will always be true for Shakespeare's work.
This study day, organised by the European and Americas Collections department of the British Library, was supported by the AHRC 'Translating Cultures' Theme, the Polish Cultural Institute and the Eccles Centre for American Studies at the British Library.
Pardaad Chamsaz, Collaborative Doctoral Student, British Library/University of Bristol
14 June 2016
 Visitors to the current exhibition Russia and the Arts at the National Portrait Gallery (until 26 June) may find themselves pausing, among portraits of well-known figures such as Tolstoy, Chekhov and Tchaikovsky, before that of a less familiar author. Painted in 1871 by Vasilii Perov, it shows a man in his late forties but looking considerably older, wearing a fur-lined coat and gazing at the viewer with an expression combining weariness with compelling intensity. This is Aleksandr Ostrovsky, who died 130 years ago on 14 June 1886, and is widely credited with almost single-handedly creating the Russian realist school of drama.
 Portrait of A.N.Ostrovsky  from N. Dolgov, A. N. Ostrovskii: zhizn' i tvorchestvo 1823-1923 (Moscow, 1923) 010795.a.26.
The age in which he lived provided him with rich opportunities to portray the snobbery, corruption and ludicrous pretensions of the rising Moscow merchant class and the efforts of former serfs to gain a foothold in society following their emancipation in 1861 by Alexander II. His 47 plays represent a link between Gogol's satirical Revizor (The Government Inspector; 1836) and the dramas of Chekhov, combining skilful use of dialect with a diction which Turgenev praised as 'glorious, tasteful and clear'.
Born on 12 April 1823 in the Zamoskvorechye district of Moscow, Aleksandr was destined for a legal career like his father and enrolled on a law course at the University of Moscow in 1840. However, his literary experiments and growing passion for the theatre distracted him from his studies, and in 1843 he failed his Roman Law examinations and became a legal clerk. His experiences provided him with a wealth of material as he observed cases in which bribery and other abuses were rife, and in the late 1840s he began to publish scenes and sketches based on the life of the local merchant community. Although his readings of his works were popular, gaining him a wide following among every class of society, he faced a perpetual struggle with the censors when he attempted to get his plays published, and it was not until 1850 that the first, Svoi liudi - sochtemsia!  ('Keep it in the family!') appeared in print. It was another ten years before it was licensed for performance in the imperial theatres, and he had no better luck with his translation of Shakespeare's The Taming of the Shrew (1852), condemned by the censor for its coarse language. As the decade progressed, though, he gained increasing success, with his plays being staged in the Maly and Bolshoi theatres and even winning the approval of Nicholas I.
Certain critics, however, continued to object to Ostrovsky's depiction of the seamy side of Moscow life, immorality and drunkenness, avarice and duplicity, as in Bednost' ne porok  ('Poverty is no Crime'; 1853). Popular culture became a major element in his plays as his Slavophile sentiments grew stronger, with elements such as carnival customs and folktales featuring prominently, and the presence of peasants clad in sheepskin coats and similar humble garb was considered a hallmark of his work.
Title-page of Bednost' ne porok (Moscow, 1854) RB.23.b.4335.
A journey down the Volga in 1856 as part of a team of writers gathering demographic information for naval recruitment reforms furnished him with material for the play for which he is possibly best known outside Russia, Groza ('The Storm'; 1859). Once again Ostrovsky clashed with the censor, struggling to convince him that the tyrannical mother-in-law Kabanicha was not a portrayal of Nicholas I. The Czech composer Leoš Janáček would in 1921 bring the play to new audiences in his opera Káťa Kabanová, the name of its tragic heroine whose thwarted love sends her to her death in the Volga.
Illustration by Ivan Andreevich Maliutin showing Katia Kabanova from Groza, from V.  G. Sakhnovskii,  Teatr A. N. Ostrovskago (Moscow, 1919) X.908/14152.
The lively folkloristic colouring of Snegurochka ('The Snow Maiden'; 1873), with incidental music by Tchaikovsky, inspired adaptations for the ballet as well as Rimsky-Korsakov's opera (1880-81), and enabled the story to travel outside Russia. English translations began to appear as early as 1898, with Constance Garnett's version of The Storm (12205.de.8/2.), though his plays were slow to gain ground on the British stage despite their verve, pungency and merciless mockery of the universal vices of hypocrisy and ignorance. Student or amateur theatre groups, however, were inspired to try them, as in the case of Diary of a Scoundrel, which was not only staged by the Central School of Speech and Drama  in 1964 but by the Abingdon Drama Club  in November 1960, where a review in the club's magazine noted the subtle and fierce satire of 'this Ostrovsky goulash', and 'the impassioned cry of a liberal protesting against the injustice and corruption of his own society'.
Throughout his life Ostrovsky was dismayed by the moral corruption of the imperial theatres and its effect on their actors, the growing discrepancy between social and political values in Russia and the West which he observed on his travels through Europe in 1862, the stranglehold exerted by censorship on freedom of expression, and the philistinism and want of taste of those who preferred vaudeville and operetta to serious drama, as when Tsar Alexander II paid a surprise visit to the Alexandrinka theatre in January 1872 to see Ne vse kotu maslennitsa ('Not All Shrovetide for the Cat'), a satire about a domestic tyrant, but appeared lukewarm.
Exhausted by his struggles and financial cares, and by the attacks launched on his work by critics in the 1870s, he developed angina, not helped by the taxing duties which he assumed on being appointed repertoire director to the imperial theatres in 1885 as a result of his bold plans for theatrical reform, including advocating the establishment of independent theatres. Not until 1884 was he finally granted a personal pension, though a modest one, which came too late to save his declining health. On 14 June he died at his desk a few days after a serious asthma attack, working on his translation of Antony and Cleopatra – a fitting conclusion to a life spent in the service of the theatre.
Susan Halstead, Content Specliast (Humanities and Social Sciences), Research Engagement
13 June 2016
The Russian national poet Alexander Pushkin is often called 'the Shakespeare of Russia'. For Pushkin, Shakespeare represented an art that was in tune with the 'spirit of the age' and put the people at the centre of the concept of the world. Pushkin admired the 'truthful' presentation of Shakespeare's characters, as although they were part of the grand scale of historical events, they were captured by the playwright as individuals.
In 1825, just before the Decembrist uprising, Pushkin wrote the tragedy Boris Godunov 'according to the system of our Father Shakespeare'. Set in Russia at the end of the 16th and beginning of the 17th centuries, when the Rurik dynasty terminated with the death of Tsar Fedor Ioanovich, who inherited the throne after his father Ivan the Terrible, the play is focused on the problem of the struggle for power and responsibility for it. Being Fedor's brother-in-law and having de facto ruled instead of him for a number of years, Boris Godunov is 'appointed' tsar.

Icon of Tsar Boris Godunov (image from Wikimedia Commons)
In Pushkin's tragedy Boris is shown as an ambitious but competent ruler who feels remorse for allegedly giving orders to kill a child – Tsarevich Dmitrii, Fedor's younger brother and legal heir. In the last months of his life Boris has to deal with claims to the Russian throne made by an imposter claiming to be Dmitrii, who had apparently miraculously survived the assassination. Boris dies suddenly in the midst of political turmoil, but his son and heir Fedor II becomes a victim of this 'False Dmitrii'. The play ends with Fedor's death while the False Dmitrii is ascending the throne. The full circle of the power struggle is completed, and 'the people are silent' – the words with which Pushkin chose to end his play.
By dramatizing the historical power struggle Pushkin referred to the current state of play and the political situation in Russia, and it is not surprising that the play was not published until 1831 (with a print run of 2000 copies) and first performed only in 1870.

The first edition of Pushkin's Boris Godunov (St Petersburg, 1831) C.114.n.8
The British Library copy has its own fascinating history. It comes from the famous collection put together by Serge Diaghilev (1872-1929)  in the last years of his life. Most of Diaghilev's books were bequeathed to his friend and protégé Serge Lifar, who then sold the collection at auction in 1975. The Diaghilev copy was acquired by the Library for 12,000 francs (= £ 1,333.19).
It is interesting to note that Diaghilev normally did not mark his books. Lifar did so inconsistently, but on this copy one can see his stamp and a label for the exhibition "Pouchkine 1837-1937" (Paris,  Salle Pleyel, 16 March-15 April, 1937), organised by S. Lifar.
Before Diaghilev owned it the book was part of a collection of 3,500 items assembled by Vladimir Nikitich Vitov, an economist and member of the Moscow Bookplate Lovers Society.
His ownership stamp was designed by the graphic artist Vladimir Belkin (W. Bielkine) (1895-1966), who was at some point close to the circle around Serge Soudeikine (1882-1946), an artist and set-designer associated with the Ballets Russes and the Metropolitan Opera. Belkin left Russia in 1918, travelled around Europe, and in the late 1920s settled in the Netherlands. Some of his theatre designs for Dutch companies are now held in the Theatre Museum in Amsterdam.
To wrap up my pretty random stream of associations, I would just say that of course one of these productions that Belkin designed in Holland was The Comedy of Errors by William Shakespeare. Through the history of the book we made a full circle, and the tragedy of a medieval power struggle turned into our favourite comfortable and funny comedy. It is life, I hope.
Katya Rogatchevskaia, Lead Curator East European Collections
References/further reading:
S. Lifar. Serge Diaghilev: his life, his work, his legend. An intimate biography. (New York, 1940) 010790.i.76.
N. Mar, "Knizhnyi auktsion v Monte Karlo: rasskazyvaet doctor iskusstvovedeniia I.S.Zil'bershtein," Literaturnaia gazeta, February 11, 1976, 6.
Catherine O'Neil, With Shakespeare's Eyes: Pushkin's Creative Appropriation of Shakespeare. (Newark, Delaware, 2003) m03/27059.
The Salon album of Vera Sudeikin-Stravinsky, edited and translated by John E. Bowlt. (Princeton, 1995) LB.31.b.12787.
Sjeng Scheijen, Diaghilev: A life, translated by Jane Hedley-Prôle and S.J. Leinbach. (London, 2009) YC.2010.b.205.
09 June 2016
Shakespeare's Hamlet has been filmed on numerous occasions, but surprisingly the version which many of the world's greatest Shakespearean actors consider to be the finest of all was performed not in the original English but in Russian. In the 1964 film Gamlet, directed by Grigorii Kozintsev with a score by Dmitrii Shostakovich, the Prince of Denmark was played by Innokentii Smoktunovskii, whose account of the role was acclaimed by Sir Laurence Olivier.
The translation of Hamlet used for the film was by the poet Boris Pasternak, and dated from 1940. At this time restrictions on artistic freedom led him to confine himself largely to translation, and knowing that if he were to have any hope of seeing it performed in the Stalin era he would have to modify the plot, he suppressed certain tragic aspects of the play. The obvious parallels between the corruption rife in Elsinore ('something is rotten in the state of Denmark') and the equally pernicious political and moral climate of the USSR allowed him at the same time to point up the likenesses between them in a form of subtle commentary, and this appealed to Kozintsev, whose Hamlet is the antithesis of the generic heroes of socialist realism. His letters to Pasternak reveal, often at his own risk, the vision which he sought to present in an age of rigid and paralysing censorship.

Boris Pasternak in 1967. Portrait by Yuri Pimenov from Wikimedia Commons (Creative Commons Attribution-Share Alike 3.0 Unported licence)
Translations of Shakespeare into Russian had fallen foul of the authorities ever since Nikolai Karamzin's version of Julius Caesar was banned for political reasons in 1794 and Wilhelm Küchelbecker translated Macbeth and a selection of the history plays in prison following the Decembrist revolt of 1825. Although it was not until 1865-68 that the first complete Russian translation of Shakespeare's plays appeared (11764.i.6), his works proved a powerful influence on authors throughout the 19th century from Pushkin to Turgenev, whose Hamlet and Don Quixote (1860) described the decline of the 'Hamlets' of the 1840s into scepticism and egoism which rendered them incapable of fighting evil. A notable exception, however, was Tolstoy, whose contempt for Shakespeare led him to remark to Chekhov 'You know, I cannot stand Shakespeare, but your plays are even worse'.
Pasternak, though, had been inspired and fascinated by Shakespeare from the time when he first began to write. His first collection of poems Sestra moia-zhiznʹ ('My Sister Life', 1917; the BL has a 1922 edition, X.908/25229.) includes 'English Lessons', in which the figures of Desdemona and Ophelia sing their lives away, while at the other extreme of his creative life his 'novel in prose with a supplement in verse', Doktor Zhivago (Milan, 1957; YF.2007.a.31460), concludes with a sequence of poems purportedly written by the hero. One of these, 'Hamlet', expresses the existential loneliness of the solitary figure who pleads, like Christ, for the cup of his inexorable fate to pass away from him, and concludes,
But the plan of action is determined,
And the end irrevocably sealed.
I am alone; all round me drowns in falsehood:
Life is not a walk across a field.
In the first issue of the almanac Literaturnaia Moskva (1956; W.P.13695), Pasternak also published an essay entitled 'Translating Shakespeare' (an English translation is included in his autobiography I Remember (Cambridge Mass., 1983) X.950/34754) which provides valuable insights into his working methods and perspectives on the eight plays which he translated: Hamlet, Romeo and Juliet, Antony and Cleopatra, Othello, Henry IV (I and II), King Lear and Macbeth. Although he acknowledges the 'inward and outward chaos' which shocked Voltaire and Tolstoy in Shakespeare's blank verse, he suggests that his poetry derives its strength from its abundant and disorderly nature. He analyses the use of rhythm to characterize individual figures, comparing it to a musical leitmotif, whereas he claims that in Romeo and Juliet music plays a negative part. While some of his assessments may be controversial, as when he describes Antony and Cleopatra as 'the story of a rake and a temptress', they are never glib or hackneyed. Above all, he allows the reader access to the translator's mind as he 'finds himself reliving the circumstances of the author' and being drawn into his secrets through experience.

Translations of Othello, King Lear and Romeo and Juliet by Pasternak from the British Library's collections
Pasternak's translations in their turn inspired other artists. The composers Sergei Prokofiev, Sergei Slonimskii and Rodion Shchedrin drew on them for settings of Shakespeare's words and incidental music for the plays, bringing Cleopatra, King Lear and Hamlet to life in new guises. This was especially fitting as Pasternak, himself a gifted musician, compared tragedy and comedy in Shakespeare to the minor and major keys in music, and the transitions between poetry and prose to musical variations.
Though brief and epigrammatic, the essay contains messages about Shakespeare's dramas which are still fresh and challenging today. Pasternak places him firmly within the European tradition as 'the father and prophet of realism', a major influence on Pushkin, Goethe and Victor Hugo, and the predecessor of Chekhov and Ibsen. He roundly rejects the hypothesis that Bacon could have written the plays, detects a Dostoevskian spirit in Macbeth, which 'might well have been called Crime and Punishment', and claims that productions of King Lear are 'always too noisy'. On the one hand, he compares the milieu of Shakespeare's early years in London with the Tverskoy district of Moscow in the mid-19th century, with its 'troikas, publicans, gipsy choirs and educated merchants who patronized the arts', appropriating him for a Russian public; on the other, he emphasizes his timeless universality, as 'so great an artist must inevitably sum up everything human in himself'.
Susan Halstead  Content Specialist (Humanities and Social Sciences), Research Engagement
31 May 2016
Among the videos of performances in our current exhibition Shakespeare in Ten Acts is a puppet production of Der bestrafte Brudermord ('Fratricide Punished'), a slapstick version of Hamlet. Its origins and its relationship to Shakespeare's text are still matters of debate among scholars, but it seems to have been known and performed by travelling players in Germany from the early 17th century onwards.
German speakers who wanted to see Hamlet played in a formal theatre under Shakespeare's own name had to wait until 1773 when the Court Theatre in Vienna put on a stage version by Franz Heufeld. This was based on Christoph Martin Wieland's translation, the first attempt at a major translation of Shakespeare into German, covering 22 of the plays and published between 1762 and 1766 (8 vols, 11762.c.14.). However, although Heufeld's Hamlet lacked the slapstick elements of Der bestrafte Brudermord, it still was hardly a faithful version of Shakespeare's play.
Wieland's translations were in fact not entirely complete or faithful. He made some cuts and, most notably, rendered the plays in prose, something that would give the young writers of the 'Sturm und Drang' generation an exaggerated idea of Shakespeare's 'naturalness' compared to the formal verse of classical French drama. But Heufeld took much greater liberties cutting many characters and episodes and Germanising many of the names: Horatio becomes 'Gustav' and Polonius 'Oldenholm'. The most surprising omission is the character of Laertes, leaving Hamlet nobody to duel with in the the final act. Instead, the Queen (neither Gertrude nor Claudius is named here) still drinks poisoned wine, but makes a dying confession of her own and the King's guilt. Hamlet kills the King and is apparently left to become the new ruler of Denmark.

Heufeld's abbreviated and Germanised cast list for Hamlet, from Hamlet, Prinz von Dänemark (Vienna, 1772) 1607/2063
For all its infidelities, Heufeld's Hamlet helped to start a boom in German productions of the play. The actor and theatre director Friedrich Ludwig Schröder saw a production in Prague which inspired him to prepare his own version. His translation follows Heufeld in many ways, but he restored Laertes to the action, although there is still no duel and Hamlet and Laertes are reconciled.

Title-page of the first editon of Schroder's translation of Hamlet (Hamburg, 1777) RB.23.a.18775. The frontispiece shows Franz Brockmann as the Prince.
More radically, Schröder also restored the gravediggers' scene, something generally frowned upon by critics and included only reluctantly by Wieland. However, although the scene appears in the first published edition of his translation, which is fleshed out to 6 acts in order to accommodate it, the gravediggers do not appear in the cast list printed there, so may not have made it into actual performances. Nor is the scene present in later published editions of Schröder's translation.

The opening of Schroder's 6th act with the gravediggers
Schröder's Hamlet was the sensation of the 1776 theatre season in Hamburg and made a star of Franz Brockmann who played the title role (Schröder himself played the Ghost). It added huge momentum to the interest in Hamlet sparked by Heufeld's work. No doubt thanks to this early enthusiasm, as the German passion for Shakespeare grew over the following decades, a particular fascination for Hamlet and identification with the Prince himself became one of its hallmarks.
The British Library holds first editions of Wieland's, Heufeld's and Schröder's translations. However inadequate they may seem today as renderings of the original, they played a key role in bringing Shakespeare and Hamlet to Germany, and helped to pave the way for Wilhelm Schlegel's verse translation, first staged in Berlin in 1799, nearly a quarter of a century after Schroder's triumph in Hamburg.
Susan Reed, Lead Curator Germanic Collections
25 May 2016
No writer's work has been translated, performed and transformed by as many cultures across the world as Shakespeare's. As part of the programme of events accompanying the current British Library exhibition Shakespeare in Ten Acts, the British Library is holding a seminar 'All the World's a stage: Shakespeare in Europe and the Americas' on Friday 10 June from 10.15-17.15 in the Conference Centre.

A troupe of travelling players in 17th-century Germany. From the Album Amicorum of Franz Hartmann, MS Egerton 1222. 
This study day brings together leading specialists to explore Shakespeare's global cultural presence from Europe to the Americas via the Indian Ocean. Themes include Shakespeare's source material; postcolonial adaptations; performance on stage and film; and the cultural politics of European Shakespeare.
The programme for the study day is:
10.15-10.45 Registration; Tea/Coffee
10.45-10.55 Welcome: Janet Zmroczek (Head of European and Americas Collections, British Library)
10.55-11.40 Keynote: Presentation and Interview (Chair: Aleksandra Sakowska, Worcester)
Jerzy Limon (Gdańsk), '"The actors are come hither" - 400 years of English theatrical presence in Gdańsk'

The Gdánsk Shakespeare Theatre 
11.40-11.45: Break
11.45-12.35 Panel 1: European Sources and Settings (Chair: Line Cottegnies, Sorbonne Nouvelle)
Stuart Gillespie (Glasgow), 'Shakespeare's European Sources: Epics, Essays, Romances, Novellas'
Graham Holderness (Hertfordshire), 'Shakespeare and Venice'

Giovanni Battista Giraldi, De gli Hecatommithi (Mondovì, 1565), G.9875-6, a collection of stories including sources of Othello and Measure for Measure, from our Discovering Literature Shakespeare site
12.35-13.00 Julian Harrison (British Library) '"Our Shakespeare" exhibition at the Library of Birmingham' (Chair: Janet Zmroczek, British Library)
13.00-14.00: Lunch.  A sandwich lunch will be provided.
14.00-14.50 Panel 2: Translating The Tempest: Postcolonial Adaptations (Chair: Charles Forsdick, Liverpool/AHRC)
Philip Crispin (Hull), 'Aimé Césaire's Une tempête'
Michael Walling (Border Crossings), 'Storm-tossed in the Indian Ocean - from Indian Tempest to Mauritian Toufann'
14.50 – 15.40 Panel 3: Shakespeare in Performance (Chair: Ben Schofield, King's College London)
Paul Prescott (Warwick), 'Bard in the USA: the Shakespeare Festival Phenomenon in North America'
Mark Burnett (Queen's University Belfast), 'Shakespeare on Film: Europe and Latin America'
15.40-16.00 Tea/Coffee
16.00-17.15 Roundtable: The Cultural Politics of European Shakespeare (Chair: Erica Sheen, York)
Short presentations followed by a roundtable discussion with Keith Gregor (Murcia), 'Shakespeare in post-Francoist Spain'; Nicole Fayard (Leicester), 'Je suis Shakespeare: The Making of Shared Identities on the French Stage'; Emily Oliver (King's College London), 'Shakespeare Performance and German Reunification';  Aleksandra Sakowska (Worcester), 'Shakespearean Journeys to and from Poland'
17.15- 18.00 Wine reception sponsored by the Eccles Centre for American Studies
The study day has been organised by the European and Americas Collections department of the British Library in partnership with the AHRC 'Translating Cultures' Theme, The Polish Cultural Institute, and the Eccles Centre for Americas Studies at the British Library.
You can book by following the link to our What's On pages or by contacting the British Library Box Office ( +44 (0)1937 546546; boxoffice@bl.uk). Full price is £25 (concessions available: see 'What's On' for full details).
06 May 2016
Travelling home from a screening of the recent Kenneth Branagh /Judi Dench Winter's Tale in Oxford, I overheard a conversation between two other passengers who had also attended it. 'Were there really bears in Bohemia?' one of them was earnestly asking her neighbour, referring to one of Shakespeare's most famous stage directions as Antigonus meets his fate: 'Exit, pursued by a bear'. We could, of course, have debated this and concluded that it was indeed entirely possible that Antigonus might have encountered such a creature in the territory which we now know as Bohemia, but that would have missed the point. As soon as Antigonus addresses the Mariner who has brought him to this desolate spot to abandon the infant Perdita on his king's instructions, it is clear that we have been transported beyond the realms not only of Leontes' Sicilia but of reality itself: 'Thou art perfect, then, our ship has touched upon / The deserts of Bohemia?'
This glaring geographical error – attributing a sea-shore to the landlocked territory of Bohemia – has frequently been cited as an instance of Shakespeare's ignorance of Central European topography, and provided Derek Sayer with the title for his study of the Czech lands, The Coasts of Bohemia: a Czech history (1998; YC.2000.a.2603). Attempts have even been made to suggest that 'Sicilia' is a mistaken substitute for 'Silesia' – though this only compounds the mystery of why Antigonus would need to travel by sea to another area with no coastline.
Instead, we might do better to consider the growth of Shakespeare's reputation in the real Bohemia and the contribution which he made to the development of theatre within Czech culture, from the earliest translations and imitations to the growth of the Prague Shakespeare Company and Summer Shakespeare Festival.
Fittingly, The Winter's Tale was performed as part of the entertainments surrounding the wedding of James I's daughter Elizabeth to Frederick, the Elector Palatine, in 1613. Six years later, life would imitate art as the young princess did in reality become Queen of Bohemia when her husband ascended its throne. However, the title of the play was tragically applicable to their situation, as the reign of the 'Winter King' and his consort lasted only a few brief months before they went into exile. These events raised awareness of Bohemia and its place in European politics with the outbreak of the Thirty Years' War, and it is possible that plays by Shakespeare were performed by the members of an English company which visited Bohemia in 1617 and again in 1619-20, though concrete evidence that Shakespeare's works were known there cannot be found before the later years of the century.

A Czech travelling theatre of the kind that took Shakespeare to audiences around the country until the late 19th century. Picture by  by Adolf Kaspar, reproduced in Miroslac Kačer & Mojmír Otruba Josef Kajetan Tyl (Prague, 1959) 10601.y.6.
However, in the course of the 18th century the permanent stage theatre gradually arrived in Prague, with the opening of the V Kotcích theatre in 1738 and the Estates Theatre  (Stavovské divadlo) in 1783. Performances there were usually in German or, in the case of opera, Italian, but in 1786 the Bouda (or 'Shed'), a wooden theatre, was constructed in Wenceslas Square. Here audiences could see regular performances in Czech, including two plays published in 1786 by Karel Hynek Thám – adaptations of Schiller's Die Räuber and Shakespeare's Macbeth, followed in 1791-92 by Hamlet and King Lear.

Josef Kajetan Tyl, who translated and performed in Shakespeare plays in the 19th century. Portrait from Voytěch Kristián Blahnik J. K. Tyla had z raze (Prague, 1950). 10794.c.37.
The bad luck traditionally associated with the 'Scottish play' did not appear to affect the Bouda – if one discounts the fact that the theatre was knocked down after only three years – or halt the growing enthusiasm for Shakespearean drama. The poet Karel Hynek Mácha was an enthusiastic amateur actor and joined the dramatic society founded by Josef Kajetan Tyl which performed at the Cajetan theatre in Malá Strana (1834-37), including plays by Shakespeare in its repertoire. Other major literary figures of the 19th century were also profoundly influenced by Shakespeare. Josef Jiří Kolár (1812-96) translated a number of Shakespeare's plays (Hamlet, Macbeth, and The Merchant of Venice; 11762.bbb.25), while Jan Neruda (1834-91) drew on his writings as a rich source of quotations and references to support his own opinions. Like other members of the 'May generation' (Májovci) he prized the optimism and vigour which he saw in Shakespeare's writings, and frequently reviews performances of his plays in his capacity as a drama critic. Although he did not learn English until much later, he was already reading translations of Shakespeare as a schoolboy in 1851, when only four published examples in Czech existed (Macbeth, The Comedy of Errors, Othello  and Romeo and Juliet). As a journalist, he used Shakespearean phrases to upbraid the Old Czech members of the National Assembly whom he felt were betraying the country's interests by their lassitude and torpor.

Title-page of Josef Jiří Kolár's translation of The Merchant of Venice (Prague, 1883) 11762.aa.6. 
The timeless relevance of Shakespeare's works provided an invaluable resource in times of political and ideological repression, allowing writers to use his plots and characters as a means of commenting on contemporary situations. Vladimír Holan (1905-80), unable to publish his poetry in print, reflected in Noc s Hamletem ('A Night with Hamlet', 1964; X.908/5000) on the paradoxes and uncertainties of human and political existence in a work which would become the most translated poem in Czech. Similarly Václav Havel (who launched the Summer Shakespeare Festival at Prague Castle in 1990) returned to play-writing after many years when his energies had been claimed by his political duties with Odcházení ('Leaving', 2007; YF.2008.a.17785), in which he acknowledged the influence of King Lear in his portrayal of ex-chancellor Vilém Rieger's reactions to the crisis which follows his relinquishment of political power.
Shakespeare's 'Bohemia' may not exist on any map, but in a broader sense it does not have a sea-coast because it is also without boundaries and frontiers. It is a single part of a limitless world which claims as its citizens all those who prize the power of words to inspire, to portray the human predicament and to bring together people of every language and nation.
Susan Halstead, Content Specialist (Humanities and Social Sciences), Research Engagement
04 May 2016
Karl Marx's magnum opus Das Kapital (Hamburg, 1872; C.120.b.1.) may have a reputation as an exceedingly dry and difficult book (causing William Morris to suffer acute 'agonies of confusion of the brain' in his reading of the great critique of political economy), but the toil is lightened by his frequent and often comic allusions to classical and European literature, from Aeschylus to Cervantes and Goethe.
His favourite though was always Shakespeare. Eleanor Marx, Karl's daughter, described Shakespeare's works as the Bible of the household, 'seldom out of our hands and mouths', and the German socialist biographer of Marx Franz Mehring pictured the whole family as practising 'what amounted practically to a Shakespearian cult'. Marx reportedly read Shakespeare every day, and the family would entertain themselves on the walk back from their regular Sunday picnics on Hampstead Heath by dramatically reciting extracts from Shakespeare's plays.
Marx's friend and collaborator Friedrich Engels, co-author of the famous Communist Manifesto (London, 1848; C.194.b.289), displayed a similarly fierce passion for the bard in a letter to Marx, with characteristic invective, after the German dramatist Roderich Benedix  criticized Shakespeare's overwhelming popularity:
That scamp Roderich Benedix has left a bad odour behind in the shape of a thick tome against 'Shakespearomania.' He proved in it to a nicety that Shakespeare can't hold a candle to our great poets, not even to those of modern times. Shakespeare is presumably to be hurled down from his pedestal only in order that fatty Benedix is hoisted on to it…
Marx and Benedix: United by the beard, divided by the bard. (Images from Wikimedia Commons)
Much has been written of Marx's use of the 'old mole' from Hamlet as a metaphor for revolution in The Eighteenth Brumaire of Louis Bonaparte (for an interesting discussion of this theme see the article by Peter Stallybrass cited below), but also noteworthy is Marx's repeated use of a passage from Timon of Athens which, he says, shows how 'Shakespeare excellently depicts the real nature of money':
Gold? Yellow, glittering, precious gold?
No, Gods, I am no idle votarist! ...
Thus much of this will make black white, foul fair,
Wrong right, base noble, old young, coward valiant.
... Why, this
Will lug your priests and servants from your sides,
Pluck stout men's pillows from below their heads:
This yellow slave
Will knit and break religions, bless the accursed;
Make the hoar leprosy adored, place thieves
And give them title, knee and approbation
With senators on the bench: This is it
That makes the wappen'd widow wed again;
She, whom the spital-house and ulcerous sores
Would cast the gorge at, this embalms and spices
To the April day again. Come, damned earth,
Thou common whore of mankind, that put'st odds
Among the rout of nations.
1829 watercolour by Johann Heinrich Ramberg depicting Timon 'laying aside the gold'. (Image from Wikimedia Commons, original at the Folger Shakespeare Library).
Many literary critics have written interpretations of Shakespeare from a Marxist perspective, and several prominent commentators on Shakespeare (like George Bernard Shaw and Bertolt Brecht) drew on Marxian ideas in their understanding of his body of work. The Russian revolutionary Leon Trotsky, unusually steeped in European literary culture for a Bolshevik, sought to explain what was so interesting about Shakespeare to Marxists:
In the tragedies of Shakespeare, which would be entirely unthinkable without the Reformation, the fate of the ancients and the passions of the mediaeval Christians are crowded out by individual human passions, such as love, jealousy, revengeful greediness, and spiritual dissension. But in every one of Shakespeare's dramas, the individual passion is carried to such a high degree of tension that it outgrows the individual, becomes super-personal, and is transformed into a fate of a certain kind. The jealousy of Othello, the ambition of Macbeth, the greed of Shylock, the love of Romeo and Juliet, the arrogance of Coriolanus, the spiritual wavering of Hamlet, are all of this kind…
For Trotsky, Shakespeare represents the birth of modern literature by placing the individual man, his own personal desires and emotions, in the centre of the narrative, symbolizing the equally progressive and destructive aspirations for personal emancipation characterizing the bourgeois revolt against feudalism. After Shakespeare, he writes, 'we shall no longer accept a tragedy in which God gives orders and man submits. Moreover, there will be no one to write such a tragedy.'
Mike Carey, CDA Student
References
Julius Roderich Benedix, Die Shakespearomanie (Stuttgart, 1873) 11766.g.14.
Karl Marx, Economic and Philosophic Manuscripts of 1844 (London, 1970). X.519/4753.
Karl Marx & Friedrich Engels, On Literature and Art (Moscow, 1976). X.809/42007.
Franz Mehring, Karl Marx: The Story of His Life (London, 1936). 010709.e.52.
Peter Stallybrass, '"Well Grubbed, Old Mole": Marx, Hamlet, and the (Un)Fixing of Representation', Cultural Studies 12, 1 (1998), 3-14. ZC.9.a.1419
Leon Trotsky, Literature and Revolution (New York, 1925). 011840.aa.17.
18 April 2016
During the early years of the 19th century Shakespeare was largely known in in France through the immensely successful versions of some of his plays by Jean François Ducis (1733-1816), which began with Hamlet in 1769 , followed by Romeo and Juliet (1772), King Lear (1783), Macbeth (1784), and Othello (1792). Ducis, astonishingly, knew no English and had to rely on translations of Pierre Letourneur (1736-1788) and Pierre de la Place (1707-1793). They were all heavily cut, and their plots adapted to contemporary French tastes and sensibilities. Ducis' version of Hamlet,  for example, omitted the scenes with the ghost and the gravediggers. Their popularity is attested by the many editions published during Ducis' long life, either singly or in collected editions of his works. They remained in repertory at the Théâtre français until the mid-1850s. 

The opening – very different from Shakespeare's original! – of Ducis' Hamlet, tragédie imitée de l'anglais... (Paris, 1770) C.117.b.72.
By then other translations of Shakespeare plays, also taking liberties with the original plots, had appeared. They included those of Alfred de Vigny whose Le More de Venise, a verse translation of Othello, was performed during the 1829-30 season (De Vigny also translated The Merchant of Venice and Romeo and Juliet), and Alexandre Dumas and Paul Meurice's version of Hamlet, first performed in 1846. François-Victor Hugo's translations of the complete works of Shakespeare were published between 1859 and 1866 (11765.f.).
Parisian audiences were also familiar with Rossini's Otello, an opera with a libretto based on Ducis' adaptation; like many operas at the time, it also had an alternative happy ending! Premiered in Naples in 1816, it quickly became one of Rossini's most popular works, until it was virtually eclipsed by Verdi's Otello in 1887. It was first performed to great acclaim in Paris on 5 June 1821 at the Théâtre Italien, with Manuel García as Otello and Giuditta Pasta as Desdemona.

Title-page of an early vocal score of Rossini's Otello, ossia l'Africano di Venezia (Mainz, 1820) Hirsch IV.1265.
But it was Maria Malibran, García's daughter, who became the great Desdemona of the Romantic era. Her performances of the melancholy Willow Song (sung by Desdemona shortly before Othello kills her), accompanying herself on the harp, became legendary. After triumphing as Desdemona, in 1831 Malibran also started to sing the role of Otello, sometimes alternating between the two roles. Alfred de Musset celebrated Malibran in various poems, especially in Le Saule and A la Malibran, the long poem he wrote a few days after her tragically early death in 1836, at the age of 28.

Maria Malibran as Desdemona in Rossini's Otello. Portrait by Henri Decaisne (ca 1831) Paris, Musée Carnavalet. (Image from Wikimedia Commons)
In 1822, a few months after the triumph of Rossini's Otello in Paris, there was a first attempt by an English company, led by Samson Penley, to perform Shakespeare's plays in English to a French audience. After a disastrous performance of Othello in the Théâtre de la Porte Saint Martin which ended up in fighting, the company had to move to a smaller hall, where they performed Hamlet, Romeo and Juliet, and Richard II before an audience of subscribers.
This débâcle prompted Stendhal to write Racine et Shakspeare [sic] two pamphlets published in 1823 and 1825 (1343.m.17) that questioned the precepts of French classical theatre, especially the unities of time and place, and called for a theatre that would appeal to a contemporary audience. Two years later, Victor Hugo's preface to his play Cromwell (Paris, 1828; 11740.c.35), advocated a drama that would combine tragic and comic elements, and be free of the formal rules of classical tragedy. These qualities, he felt, were to be found in the plays of Shakespeare, whose name had by then become synonymous with Romanticism.

The Théâtre de l'Odéon, Paris, ca. 1829
Like Stendhal, Hugo was prompted to write his preface by the visit of another company of English actors performing in their native tongue. In September 1827 Charles Kemble's company gave a series of performances of Shakespeare plays at the Odéon theatre in Paris. After performances of Sheridan and Goldsmith, the stage was set for one of the great dates in the annals of French Romanticism, a performance of Hamlet with Charles Kemble in the title role and Harriet Smithson as Ophelia. In the audience was the crême de la crême of literary and artistic Paris – Victor Hugo, Alfred de Vigny, Alexandre Dumas, Charles Nodier, Théophile Gautier, Eugène Delacroix, Eugène and Achille Devéria, Louis Boulanger, and Hector Berlioz. Although the performance was in a language very few in the audience understood,  the ability of the players to cross language barriers was clearly electrifying.
The performance was a triumph. The most popular scenes  were the play-within-the-play, Hamlet's encounter with the ghost, Ophelia's madness, and Hamlet and Horatio in the graveyard. 

Hamlet,  Act 3, scene 2, the play within the play. Illustration by Eugène Devéria and Achille Boulanger from M. Moreau, Souvenirs du théâtre anglais à Paris (Paris, 1827). Available via  Gallica
Hector Berlioz was left thunderstruck and in his Memoirs vividly described the effect of these performances:
…at the time I did not know a word of English … the splendour of the poetry which gives a whole new glowing dimension to his glorious works was lost on me. ... But the power of the acting, especially that of Juliet herself, the rapid flow of the scenes, the play of expression and voice and gesture, told me more and gave me a far richer awareness of the ideas and passions of the original than the words of my pale and garbled translation could do.
He also fell in love with Harriet Smithson, and his Symphonie fantastique (1830) was inspired by his infatuation with her. They were married in 1833 but their marriage proved to be unhappy. Berlioz composed his two great Shakespeare-inspired works much later, Roméo et Juliette in 1839, and Béatrice et Bénédict, an opéra comique, based on Much Ado About Nothing, in 1862.
Chris Michaelides, Curator Romance Collections
References
Edmond Estève, 'De Shakespeare à Musset: variations sur la "Romance du Saule"', Revue d'histoire littéraire de la France, 1922.  288-315.  PP.4331.abb
Peter Raby, 'Fair Ophelia': a life of Harriet Smithson Berlioz.  (Cambridge, 1982 ) X.800/34510.
Hector Berlioz, The memoirs of Hector Berlioz ... translated and edited by David Cairns (London, 1977). X.431/10397
April Fitzlyon, Maria Malibran, diva of the Romantic Age (London, 1987)  YC.1988.b.226
John Golder,  Shakespeare for the age of reason: the earliest stage adaptations of Jean-François Ducis, 1769-1792.  (Oxford, 1992) Ac.8949.b.(295).
The British Library's current exhibition Shakespeare in Ten Acts is a landmark exhibition on the performances that made an icon, charting Shakespeare's constant reinvention across the centuries and is open until Tuesday 6th September 2016. You can discover more about Shakespeare and his works on our Discovering Literature website.
27 February 2015
Michel Eyquem de Montaigne was born on 28th February 1533, and by the time of his death 59 years later had enriched French literature with a new genre – the essay. Brought up by his father to speak Latin as his first language, he rapidly lost his mastery of it when at the age of six he was despatched to the Collège de Guyenne  in Bordeaux so that, by the time that he left, he claimed that he knew less than when he arrived. However, throughout his life he retained a love and reverence for classical authors including Cicero, Plutarch and Seneca, which shaped not only his philosophy but his chosen form of literary expression, and ultimately made him one of the most beloved and accessible authors to readers outside his native land.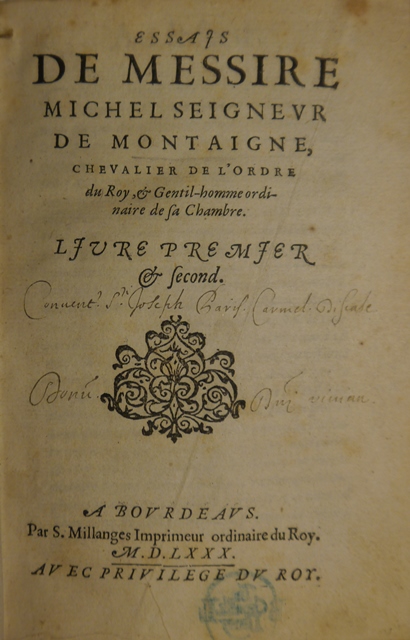 The title-page of the first edition of Montaigne's Essais (Paris, 1580) British Library G.2344.
Witty and aphoristic, the collection of essays, first published in 1580, comprises three books divided into one hundred and seven chapters on topics ranging from coaches, cruelty and cannibalism to thumbs and smells. Their discursive nature reveals many details about their author and his milieu, drawn from his experiences as a Gascon landowner and official who rose to become mayor of Bordeaux, his travels through Italy, Germany and Switzerland, the turbulent years of the Wars of Religion, and his family life, in which we catch glimpses of his masterful mother, his wife Françoise, and his only surviving child Léonor – a household of women from which, at times, he would retreat to the peace and solitude of his tower, fitted with curving shelves to accommodate his library, to enjoy the company of his cat – another female – who has achieved immortality through his observations of her at play.
Marginal picture of a man with a cat, drawn by Pieter van Veen in his copy of Montaigne's Essais (Paris, 1602) British Library C.28.g.7.
The Essais rapidly achieved wide popularity, and not only in France. They ran into five editions in eight years, and in 1603 an English translation appeared, the work of John Florio. Florio, born in 1533 as the son of an Italian father and an English mother, had left England as a small child when the accession of Mary Tudor to the throne had sent his family into exile, and as they wandered around Europe he acquired a knowledge of languages which equipped him to earn his living on returning to England as a teacher of French and Italian and the author of an English-Italian dictionary (London, 1578; 627.d.36).
It was at the behest of his patroness, the Countess of Bedford, that he set about translating the Essais, assisted by a multitude of collaborators who, through the Countess's offices, tracked down quotations and publicized his work, earning fulsome dedications by doing so. His lively and spirited version contains colourful turns of phrase which sometimes expand the original, as when, in Book 1, chapter xviii, 'des Loups-garous, des Lutins et des chimeres' emerge as  'Larves, Hobgoblins, Robbin-good-fellowes, and other such Bug-bears and Chimeraes' – a catalogue which, as Sarah Bakewell points out in her How to Live: a life of Montaigne in one question and twenty attempts at an answer  (Bath, 2011; LT.2011.x.3266) is  'a piece of pure Midsummer Night's Dream'.
Shakespeare did in fact know Florio, and Bakewell speculates that he may have been one of the first readers of the Essaies, possibly even in manuscript form. Scholars have taken pains to detect echoes of Montaigne in Hamlet, which was written before the published translation appeared, and frequently cite a passage from his last play, The Tempest, which, as Gonzalo evokes a vision of civilization in a perfect state of nature, is strikingly close to Montaigne's account of the Tupinambá, an indigenous people from South America whom he encountered when a group of them visited Rouen.
Letters should not be known; riches, poverty,
And use of service, none; contract, succession,
Bourn, bound of land, tilth, vineyard, none;
No use of metal, corn or wine, or oil;
No occupation, all men idle, all.
Montaigne remarks of the Tupinambá that they have 'no kind of traffike, no knowledge of Letters, no intelligence of numbers, no name of magistrate, nor of politike superioritie; no use of service, of riches or of povertie; no contracts, no successions, no partitions, no occupation but idle; no respect of kindred, but common, no apparel but natural, no manuring of lands, no use of wine, corn or mettle'.
Such passages were eagerly seized upon in the controversy in the 18th and 19th centuries about the authorship of Shakespeare's plays, and in 1901 Francis P. Gervais published his Shakespeare not Bacon: some arguments from Shakespeare's copy of Florio's Montaigne in the British Museum (London, 1901; 11765.i.18.). However, Edward Maunde Thompson countered with Two pretended autographs of Shakespeare (London, 1917; 11763.i.37), which argued that not only the signature 'William Shakespere' in an edition of the Essaies in the British Museum Library (but also that in a volume of Ovid in the Bodleian Library) was false, subjecting both to rigorous calligraphic analysis.
Alleged signature of William Shakespeare on the flyleaf of The Essayes, or Morall, Politike, and Millitarie Discourses of Lo: Michaell de Montaigne ... Now done into English by ... John Florio. (London, 1603) C.21.e.17
Whatever the truth of the matter may be, we can make an educated guess at Montaigne's response. An even-handed and balanced man who needed all his reserves of philosophy and Stoicism to confront the horrors of a century which saw the St Bartholomew's Day Massacre and decades of conflict springing from religious extremism, he would no doubt have advocated a similar perspective on the resurgence of similar dangers in the 21st. And to those who argued about the authenticity or otherwise of these notorious signatures, he would certainly have recommended the phrase from the Greek philosopher Pyrrho which became his motto, engraved on his medallion:  'Epekhō – I suspend judgement'.

Susan Halstead Curator Czech & Slovak