29 June 2020
This is the second of our blog posts about the Roma community in Europe to mark Gypsy, Roma and Traveller History Month 2020. 
Roma French authors
Our collection of French Roma authors is not, as yet, as developed as it as it could be, but we hold books by some of the most prominent Roma advocates of the Roma culture and way of life in France: Sandra Jayat and Alexandre Romanès.
Sandra Jayat was born in Italy, or France, in 1939. She came from the Roma group called "Manouche" or "Sinti". At the age of 15, she fled to Paris to escape a forced marriage. She sought refuge with her cousin Django Reinhardt, the jazz musician, taught herself how to read and paint, and soon became the muse of Parisian artists and writers. Herbes Manouches, her first collection of poems, was published in 1961 and illustrated by Jean Cocteau. In 1972, she produced a recording of readings of her poems, accompanied with original music by Reinhardt. In 1978, her semi-autobiographical novel, La longue route d'une zingarina, became a success, selling more than 40,000 copies, and being read in schools. Jayat still lives in France today. Her entire artistic oeuvre is inspired by the world and symbolism of Roma.
Jayat is also a renowned painter, and has always been committed to the recognition of Roma artists. She organised the exhibition 'Première Mondiale de l'Art Tzigane', which ran from 6 to 30 May 1985 at the Conciergerie in Paris. We have her Moudravi, où va l'amitié, published in 1966 and illustrated by Marc Chagall (X.908/14070.)
Books by Alexandre Romanès, photo by Fabienne Félix, Flickr 
Born in 1951, Alexandre Romanès comes from a famous family of circus artists. Thinking that the circus was losing the values of the Roma, he quit in the 1970s to create his own travelling show. He met the French poet Jean Genet, who became a friend, and Lydie Dattas, who taught him to read and became his first wife. Romanès went on to create his own "Tzigan Circus", the "Cirque Romanes", in 1993.
This prompted a writing career, dedicated to poetry and the defense of Roma values and ways of life. After publishing Le Premier Cirque tsigane d'Europe, in 1994, Romanès wrote Un peuple de promeneurs in 1998 (2011 edition, BL YF.2013.a.16398), Paroles perdues, published in 2004, (2010 edition YF.2010.a.32293) and Sur l'épaule de l'ange (Paris, 2010; YF.2011.a.5.). His two latest publications, Les corbeaux sont les Gitans du ciel (2016) and Le luth noir (2017), will soon be at the library.
His style consists of short poems, aphorisms, memories and scenes of Roma life and wisdom:
Si on pouvait noter…
Si on pouvait noter
toutes les phrases magnifiques
qui se disent chaque jour dans le monde,
on pourrait publier chaque matin
un live exceptionnel.
(If one could take note, if one could take note, of all the magnificent sentences, which are said everyday in the world, one could publish, every morning, an exceptional book.)
Sophie Defrance, Curator Romance Collections
Diary of a Young Roma Traveller
Cover of Mykola Burmek-Diuri's book, Shchodennyk molodoho roma-mandrivnyka (Uzhhorod, 2017) YF.2019.a.9992. The BL's copy is signed by the author.
Two years ago, the Roma writer Mykola Burmek-Diuri caught the attention of the Ukrainian media following the publication of his book, Shchodennyk molodoho roma-mandrivnyka ('Diary of a Young Roma Traveller'). Writing in Ukrainian, Burmek-Diuri provides a unique window into the daily life, culture, traditions and history of the Roma community in Zakarpattia, the region in southwestern Ukraine where Burmek-Diuri and the majority of the country's Romani population live, through a mixture of autobiographical stories, fairytales and ethnographic sketches. Given the rise in violent attacks against Roma communities in the country in recent years, this book is particularly timely and important for its presentation of the world through the eyes of a young Roma writer. Burmek-Diuri has since published two further books: Mama kazaly pravdu (Uzhhorod, 2018; YF.2019.a.7579) and, most recently, a collection of poetry and prose entitled Honir dykoi troiandy. All three were published with the support of the International Renaissance Foundation's Roma Programme, which works with NGOs and activists in Ukraine to involve 'representatives of the Roma community in social processes and combating discrimination'.  
Katie McElvanney, Curator Slavonic and East European Collections
Romani authors in Czechoslovakia
In her foreword to the English edition of the book A False Dawn: My Life as a Gypsy Woman in Slovakia by Elena Lacková, Milena Hübschmannová, one of the founders of the Roma Studies as an academic discipline in Czechoslovakia, wrote: "What can I say about Roma better than the song of a lone Romani woman's life experience?". And this is true indeed. This book is available in English, and is a really fascinating account of Romani traditions, customs, ceremonies and superstitions, seen though the life of someone who grew up to become the first Romani author in post-Second World War Czechoslovakia. Elena Lacková (Ilona Lasko, 1921–2003), born in a Roma settlement in Veľký Šariš in eastern Slovakia, was the only girl among the 600 children in the settlement to complete primary education and in her 20s became the first author to give the Romani people a voice in literature. Many consider her to be the Roma equivalent of the writer Božena Němcová, who played a prominent part in the Czech National Revival movement. In her works Lacková transformed and refined original folk tales opening a whole new world of the people who had been almost invisible before. Her first literary work was a play written in Slovak, Horiaci cigánsky tabor ('The Gypsy Camp is Burning', 1947) about the local Roma's collective experience of the Second World War. Later she chose to write in Romani and founded a Romani periodical, Romano L'il (Gypsy News).
Elena Lacková is probably the best-known name, but definitely not the only one in Romani literature. Tera Fabiánová was the first person in the former Czechoslovakia to write poems in Romani. The Department of Folk Music Research and Ethnomusicology of the University of Music and Performing Arts Vienna recorded her reciting her poems in Romani.
Romani women in Czechoslovakia in 1959, a photo by FOTO:FORTEPAN / Zsanda Zsolt, Wikimedia Commons 
Ľudovít Didi (1931–2013) was a Czechoslovak dissident, chartist and Romani Slovak author. His first book Príbehy svätené vetrom ('Stories of the Holy Wind'; Bratislava, 2004; YF.2006.a.19867) is considered to be the first ever authentic Roma novel. His other three books Róm Tardek a jeho osud ('Roma Tardek and his destiny'; Bratislava, 2013; YF.2016.a.3251), Čierny Róm a biela láska ('Black Roma and white love', 2011) and Cigánkina veštba ('The Gypsy Prophesy'; Bratislava,2008; YF.2010.a.8945) also tell the story of the Roma community.
Viťo Staviarský, a well-known name in Slovak literature, is the author of the short story 'Kivader' (2007) and the novel 'Kale topanky' (2012), which are set in a Romani settlement. In 2014, the publishing house Knihovna Václava Havla in Prague published a book of Romani women authors called Slunce zapadá už ráno ('The sun sets in the morning'). Irena Eliášová, Jana Hejkrlíková, Iveta Kokyová and Eva Danišova contributed to it. I hope that we will see more of these books translated into English, so that they can get a wider readership.
Katya Rogatchevskaia, Lead Curator East European Collections
Further reading:
Elena Lacková, Narodila jsem se pod šťastnou hvězdou (Prague, 1997) YA.2003.a.9308 (English translation by Carleton Bulkin, A false dawn: my life as a Gypsy woman in Slovakia (Paris; Hatfield, 1999) YC.2000.a.8592
Helena Sadílková, 'Romani Literature in the Czech and Slovak Republics'. In Countries & Regions. Accessed 11 June 2020: https://www.romarchive.eu/en/literature/literature-countries-and-regions/literature-czechoslovakia/
Jana Horváthová, Roma in the Czech Lands. In Countries & Regions. Accessed 11 June 2020: https://www.romarchive.eu/en/roma-civil-rights-movement/roma-in-the-czech-lands-abstract/
Radka Steklá, Elena Lacková – romská publicistka, spisovatelka o média. Bachelor's thesis. Univerzita Karlova v Praze. 2006. Accessed 11 June 2020: https://is.cuni.cz/webapps/zzp/detail/1444/?lang=en
Bódvalenke
How did a tiny settlement of around 230 souls and 60 houses in northeastern Hungary put itself on the map? Bódvalenke, a community of Romani majority, became renowned as the 'fresco village' thanks to a remarkable initiative some ten years ago. A charitable organisation started to invite Romani artists, both from Hungary and abroad, to use the dull windowless walls in the neighbourhood as blank canvasses for giant colourful paintings.
Mural by József Ferkovics. A colourful album dedicated to the work of the artist and published recently is among our recent acquisitions. Image by Pásztörperc - Self-photographed, CC BY-SA 3.0 
The aim of the project was to pull the village out of deep poverty: each house volunteered by its inhabitants was given new plastering before being decorated, but the community as a whole would also benefit in a variety of ways from any income generated by the arrival of visitors to this unique open-air display. Today, one can see 33 magnificent murals by 18 painters on Romani and Gypsy themes: old legends, traditional life, family, grief and dreams. Sadly however, with the lack of infrastructure it is proving difficult to attract tourists and the village is still struggling economically.
Everyday life in Bódvalenke. Mural by Rozi Csámpai. Rozi Csámpai features in a book on Romani women painters in today's Hungary: Színekben oldott életek: cigány festőnők a mai Magyarországon (Budapest, 2011; YF.2011.a.11388). Image by Pásztörperc at Hungarian Wikipedia, CC BY-SA 3.0
Ildi Wollner, Curator East & SE European Collections
References:
Ferkovics József festőművész. ([Gencsapáti], 2019). Awaiting shelfmark.
09 June 2020
Listeners to BBC Radio 4's Saturday Live programme will know of its 'Inheritance Tracks' feature. For those unfamiliar with the show, this is a segment where a famous person chooses two pieces of music, one which they've 'inherited' (usually something from their childhood or youth) and one which they would 'pass on' to later generations (usually a favourite or significant piece from their adult life), and talk about what the tracks mean to them. We have borrowed this idea for a series of blog posts about our British Library 'Inheritance Books'. Colleagues choose an 'inherited' item that was already in the library when we started working here, and one that we have acquired or catalogued for our collections during our own time to 'pass on' to future users, visitors and colleagues, and will explain why they
'
re important to us. Our first post comes from Zuzanna Krzemien, a curator in our East European collections area.
One of the important books I 'inherited' after I joined the library was a Polish edition of George Orwell's 1984 (Paryż, 1983; X.950/31144), translated by Juliusz Mieroszewski. My first encounter with this translation took place when I was 13 years old. I stood in front of my father's bookshelf, looking for a good read for the summer holidays. I chose 1984 because it looked small and I knew it was famous. Only when I sat on the beach and opened the book for the first time did I realise my mistake — the book turned out to be an illegal edition printed by the Polish underground movement when Poland was still a communist country. That explained why the book was so small — as with all samizdat publications, it had to be printed cheaply, in a small format and with the smallest possible font. In this particular case, it was clearly intended to be read with a magnifying glass. I didn't have one, so I read the whole novel squeezing my eyes and holding the book a few centimetres away from my face. Two things happened as a result: firstly, because I had to focus so much, I still have an encyclopaedic knowledge of the book (and I read it almost 20 years ago). Secondly, I had to start wearing glasses after that summer.
Polish samizdat publications. Image by Julo/Wikimedia Commons 
My second choice, the book that I catalogued after I had started working for the British Library, is Etnografie sociální mobility by Jaroslav Šotola and Mario Rodríguez Polo [(Olomouc, 2016) YF.2019.a.11091]. The book is devoted to the Romanies in Slovakia. The authors felt that Romanies suffered from prejudice, both conscious and subconscious, and so they decided that the only way to approach the subject was for the reader to erase all their existing cognitive schemas related to the Roma. In order to convey this message, the authors overturned the order of the whole book, which was bound upside down and has a reversed sequence of pages. The book has a sentimental value for me, since I used to work with the Roma community myself and I remember how much my world view changed as a result of that job.
A Roma settlement in the region of Šariš. Image by Jozef Kotulič / Wikimedia Commons 
Zuzanna Krzemien, Curator East European Collections
01 October 2019
"If you appoint me to defend this man, I will stand on the river bank naked, wearing only a white sheet, and scream that I am Jesus Christ" – that's how we can summarize the reaction of Jaroslav Mellan, a lawyer, at the idea of him being asked to defend Karl Hermann Frank.
Cover of Ladislav Tunys, Noc před popravou (Prague, 1995), YA.1999.a.737
The Czechoslovak Bar Association was in a tricky position. It was March 1946. Karl Hermann Frank, one of the most prominent Nazi leaders, had just been transferred from an American prison to Czechoslovakia, where he was to be tried and convicted of war crimes. The Bar Association, closely watched by the international community, had the difficult task of finding an advocatus diaboli for Frank, a job which no one wanted. The choice fell on Kamill Resler, a member of the anti-Nazi resistance movement and a defender of Jewish clients during the war, who was threatened with the withdrawal of his professional qualifications if he refused to defend the accused. Resler tried to challenge the decision a number of times, but to no avail. The situation was made even more dramatic by the fact that some of Resler's relatives and friends were killed during the war as a result of Frank's orders.
Frank in front of his bookshop in Karlovy Vary, reproduced in Emil Hruška, Pán protektorátu: K.H. Frank známý a neznámý (Prague, 2015), YF.2016.a.15829
And yet, despite his hatred for Frank, Resler believed that every criminal deserves a fair trial. In his opinion, a barrister's duty was to disregard his feelings about the accused and to defend him to the best of his abilities. And that's precisely what he did. Resler argued that Nazism was a disease and Frank, as its follower, must have suffered from a psychiatric disorder. He claimed that Frank lacked the ability to judge the consequences of his actions during the war and, on top of that, was unaware of what was happening in the concentration camps, even though he visited them several times.
Caricature of Resler, reproduced in Jakub Drápal, Defending Nazis in postwar Czechoslovakia: the life of K. Resler, defence counsel ex officio of K.H. Frank (Prague, 2018), awaiting shelfmark.
Before the war Frank worked as a bookseller and clerk. He enrolled in the German National-Socialist Workers Party in 1919, and when it was dissolved by the state, in the Sudeten German Party. Gradually he managed to reach the highest-ranking position in occupied Czechoslovakia, that of Secretary of State of the Reich Protectorate of Bohemia and Moravia and chief of police. But now, with the war being over and he himself incarcerated in a Czechoslovak prison, isolated from family members and fully aware of the general hatred towards him, he became extremely depressed and struggled to find the emotional stamina to defend himself. That meant that Resler not only had to defend Frank, but that he actually found himself forced to console the Nazi prisoner and motivate him to fight for his life till the very end. The idea of Frank's having hope of avoiding the death sentence would contribute to the image of a fair court trial that could not be questioned by international opinion.
Resler during Frank's trial, reproduced in Defending Nazis in postwar Czechoslovakia
Frank was at first very displeased with the fact that he would be defended by a Czech barrister. Resler upset him a number of times, as he didn't hide his criticism of Nazi ideology and actions. Yet Frank had his softer side too. One day prison guards found him crying in his cell because two Czech prisoners had given him a loaf of bread as a Christmas gift. Frank was emotionally prepared to deal with hatred, but he wasn't prepared for kindness.
Throughout the trial Resler was careful to keep a distance from him. Only when Frank heard the pronouncement of the death sentence did Resler shake his hand for the first time. He stayed with him in the prison cell for the three hours between the announcement of the verdict and the execution. When Frank was being taken to the gallows, he bade him farewell by saying: "Die like a man!"
Frank in prison cell, reproduced in Pán protektorátu
And thus Frank had a fair trial and the Czechoslovak justice system could not be criticized by the international public. The only detail that spoiled the whole picture was the hangman, who after the execution took the noose with which Frank was hanged and drank it away in a bar. Other than that, the moral standards of the Czechoslovaks successfully passed the test.
Zuzanna Krzemien, Slavonic and East European Collections Cataloguer
References/further reading
Jakub Drápal, Defending Nazis in postwar Czechoslovakia : the life of K. Resler, defence counsel ex officio of K.H. Frank (Prague, 2018), awaiting shelfmark.
Emil Hruška, Pán protektorátu : K.H. Frank známý a neznámý (Praha, 2015), YF.2016.a.15829
Ladislav Tunys, Noc před popravou : K.H. Frank a jeho obhájce : archivy promluvily (Praha, 1995), YA.1999.a.737
10 September 2019
This autumn, as part of our 'European Literature Focus', the British Library will be hosting a number of events featuring writers and writing from across the continent. So we thought we'd give you a quick taster here to whet your appetites.
Lars Saabye Christensen, Echoes of the City, translated by Don Bartlett (London, 2019). Awaiting shelfmark. Norwegian edition: Byens spor - Ewald og Maj (Oslo, 2017), YF.2018.a.9337 
First up, on Monday 7 October, you can hear Norwegian Lars Saabye Christensen in conversation with Georgina Godwin. In a rare UK appearance, he will be talking about his latest novel to appear in English translation, Echoes of the City, which traces an Oslo community's slow recovery from a period of crippling austerity after the Second World War. Christensen is one of Norway's most popular and critically-acclaimed writers; he has been awarded the country's top literary prizes and his breakthrough novel Beatles (1984), a coming-of-age story about four teenage Beatles fans in 1960s Oslo, remains a bestseller in Norway over 30 years after its publication.
Elif Shafak © Bjørvika Utvikling by Kristin von Hirsch
On Tuesday 8 October Rosie Goldsmith, director of the European Literature Network and a familiar and welcome face at British Library events on European literature, chairs 'Future Library: Art, Ideas and Time', a discussion with artist Katie Paterson, novelist Elif Shafak and philosopher Roman Krznaric about Paterson's 'Future Library' project. This is a public artwork in Oslo, begun in 2014 and designed to unfold over a century. A forest has been planted just outside the city to supply paper for an anthology to be published in 2114. Between now and then, one writer every year will contribute a text, with the writings held in trust, unread and unpublished, until the anthology appears. Elif Shafak contributed a text in 2017; other contributors so far have included Margaret Atwood, David Mitchell and the Icelandic author Sjón.
Bart van Es, The Cut Out Girl (London, 2018). ELD.DS.290811
Fans of Dutch literature are in for a treat on Saturday 12 October, when Bart van Es, author of Costa Prize-winning The Cut Out Girl, joins bestselling novelist Herman Koch, rising literary stars Esther Gerritsen and Jeroen Olyslaegers, and historian Simon Schama at a special day of talks on new Dutch writing presented by the Dutch Foundation for Literature in association with Modern Culture. And if you're not (yet) a fan of Dutch literature, a day exploring the complex history and current politics of the Netherlands, and the chance to discover the latest Dutch books in English translation will surely make you one!
Recently published works by Balla, Uršuľa Kovalyk and Ivana Dobrakovová
Two further events take the revolutionary changes in Europe in 1989 as a starting point. On Friday 25 October there is a rare chance to meet a new generation of Slovak authors at 'Raising the Velvet Curtain', part of a series of events under the same name presenting contemporary Slovak writers and artists to English audiences, organised with the support of Fond na podporu umenia (the Slovak Arts Council) and the Embassy of the Republic of Slovakia. Three leading contemporary writers – Balla, Uršuľa Kovalyk and Ivana Dobrakovová – will present their recently published works (translated into English by Julia and Peter Sherwood) and discuss with host Lucy Popescu how Slovakia has changed over the past 30 years.
Rosie Goldsmith, November 1989, Berlin Wall
On Tuesday 26 November Rosie Goldsmith returns for 'Riveting Germans: After the Wall', chairing a discussion of German literature and its translation into English since 1989. Prize-winning authors Durs Grünbein, Julia Franck and Nino Haratischvili, and translators Charlotte Collins, Karen Leeder and Ruth Martin will consider what what has or hasn't worked for UK readers of German literature, and what the the impact of the East-West divide has been on German authors. The event is organised in collaboration with the European Literature Network, the British Council, Goethe-Institut London, Frankfurt Book Fair and the Embassy of the Federal Republic of Germany London, and marks the publication of a German-themed issue of The Riveter, the magazine founded by Rosie with the aim of making European literature popular and accessible across the UK.
Self portrait, Leonid Pasternak
Finally, on Thursday 29 November, 'Doctor Zhivago: A Pasternak Family Affair' looks at a much-loved Russian classic in a new light. Translator Nicolas Pasternak Slater and picture editor Maya Slater present their recent work on a new translation of Doctor Zhivago illustrated with 70 pictures by Boris Pasternak's father, the Impressionist painter Leonid Pasternak, and just published by the Folio Society. They will also reveal how members of the Pasternak family living in England experienced the writing and publication of the novel.
Booking is now open for all these events and you can find full details and purchase tickets via the links above. We hope you'll be able to join us to celebrate and discover some of the literatures of Europe this autumn.
30 August 2018
The Czech poet, writer and artist Jiří Kolář (1914-2002) does not need a long introduction. He was one of the most prominent figures of the Czech avant-garde of the 1950s-70s and along with Ladislav Nová, Bohumila Grögerová, and her partner Josef Hiršal, one of the four founders of post-war Czechoslovak experimental poetry. Given his aesthetic views it is not surprising that Kolář, like many Czechoslovak intellectuals who lived through the communist regime, was a signatory of Charter 77 .
Having published his first collection of poems Křestní list ('Birth Certificate'; YA.1996.a.15846) in 1941, by the mid-1950s Kolář started exploring new potentials of lyrical forms, reducing verbal expression to a bare minimum and concentrating on the capacities of visual expression. By the 1960s he developed his unique artistic style, using collage that would incorporate text as well as images as his main medium.
Self Portrait by Kolář in Očitý svědek: deník z roku 1949 (Munich, 1983) X.958/30382
Having lived through all the major historical events with his nation, Kolář was very sensitive to them. Czech and Slovaks shared the turbulent history of Europe in the 20th century by marking it with events that were for some reason seemed to happen in the 8th year of decades: gaining independence in 1918, losing it to Nazi Germany in 1938, falling under the control of the Stalinist USSR in 1948 through a communist coup d'état, and unsuccessfully trying to shake off Soviet dominance in 1968. This strange coincidence makes this year extremely memorable for the Czech and Slovak republics. Only the Velvet Revolution of 1989 does not fit this pattern, but this means that we will have the whole of next year to dedicate to this great achievement.
It is especially interesting to note how the poet and artist developed a special interest in diaries and was meticulously devoted to this form. One of his critics observed that "considering Kolář's permanent, insatiable thirst for facts, his undying passion for documenting the true pace of events and the truthfulness of impressions, we must admit that this autobiographical nature, this diary principle, committed to factography, permeates both his work and his deeds". And this is very true. Kolář documented the year 1949, the beginning of the communist rule with a literary diary in verse and prose called Očitý svědek: deník z roku 1949 ('Eyewitness, a diary of the year 1949').
Cover of Očitý svědek 
The diary of the artists's thoughts and emotions gives the readers the most faithful and honest impression of the time. On 11 July 1949 the diary entry begins:
Mě udolají snadno, neumím lhat, podobám se už červu, kterého přepůlili jen tak, pro podívanou a svíjím se. (I'm easy to destroy, /I cannot lie, / I'm like a worm, / Who was cut just so / for the show, and I'm curdling, / the soul is separate from the body).
In 1968, Kolář expressed himself through a series of 52 collages (one per week) that became an amazing artistic document of the year leading to the Prague Spring and its aftermath.
 Title page of Týdeník 1968 = Newsreel 1968 (Prague, 1993) YA.1994.b.1036
The book is in a way a political pamphlet and reflects life in all its hectic variety, for example:
Week 2: Each day in the new year is a puzzle. Especially when one's head is in a wire.
Week 10: Antonín Tomalík (a Czech artist) is Dead
Week 15: A liquid triumph of death [is] available at every crossroad. Take your pick!
Week 27: Homage to Ingres … or, the banner of a students' revolt.
Week 39: Birthday. I was born in the First World War and guns have not fallen silent since.
Week 48: A week of Hands. A rejected hand often turns into a clenched fist.
Week 52: A Face of 1969. Alas, I am a poor prophet – and Utopia? Old men used to usher the world into Paradise. Our masters have long been drowned in mud.
The diary that documented the 1980s is Kolář's correspondence. The two-volume publication of his letters Psáno na pohlednice ('Written on postcards') has the subtitle 'correspondence in the form of a diary', as it contains postcards that were sent every day over several years from Paris, where Kolář lived in exile, to his wife in Prague.

One of Kolář's postcards, reproduced on the endpapers of Psáno na pohlednice (Prague, 2000). YF.2004.a.6387
More books by Jiří Kolář, material about him and catalogues of his works can be found in the British Library catalogue and consulted in the reading rooms.
Katya Rogatchevskaia, Lead Curator East European Collections
Further reading:
A. J. Samuels. 'Jiří Kolář: The Czech Poet's Life, Work & Cultural Significance' .
Arsén Pohribný, 'Jiří Kolář's Tower of Babel', afterword in Týdeník 1968 (cited above).
08 August 2017
Throughout the 19th century, a growing sense of Czech national identity was a constant source of alarm to the rulers of the Habsburg Empire. Friction between Czech and German speakers increased, and the first Slavic Congress, held in Prague in 1848, consolidated pan-Slavic sympathies. Although the Congress ended without formal agreement, one important result was the proclamation of a Manifestation to the Nations of Europe, calling for an end to the oppression of Slav peoples and 'extending a brotherly hand to all neighbouring nations who are prepared to recognize and effectively champion with us the full equality of all nations, irrespective of their political power or size'.
On the outbreak of the First World War, many of the empire's 8,000,000 Czechs and 3,000,000 Slovaks found themselves fighting under the Austrian flag. Wherever possible, their battalions were dispatched to the Italian front to reduce the likelihood of desertion to join their Russian and Serbian fellow-Slavs. Yet as the need for troops on the Eastern Front grew ever more urgent, this principle could no longer be maintained, and by 1915 many of these men found themselves deployed in Russian Poland.
On 5 August 1914 a battalion of Czechs and Slovaks known as the Česká družina ('Czech Companions') was organized within the Russian army to fight against the Austrians and their allies. More regiments were added as the war continued. In July 1917, the battalion, now known as the Czechoslovak Rifle Brigade (Československá střelecká brigáda), distinguished itself at the Battle of Zborov when its troops overran Austrian trenches. After this success, the Russians authorised the mobilisation of Czech and Slovak volunteers from Russian prisoner-of-war camps. The brigade was renamed again as the First Division of the Czechoslovak Corps in Russia (Československý sbor na Rusi) or the Czechoslovak Legion (Československá legie). By 1918 it contained some 40,000 troops.
An infantryman of the Third Archduke Karl regiment, stationed in Kroměříž. Illustration from Josef Dufka's memoir Přál jsem si míti křídla (Prague, 2002) YA.2003.a.16242.
When the Bolsheviks seized power in 1917, the chairman of the Czechoslovak National Council, Tomáš Masaryk, began planning to transfer the Legion to France to continue fighting against the Central Powers. The Bolsheviks granted permission for the Legion to travel from Ukraine to Vladivostok to embark on transport vessels as many of Russia's chief ports were blockaded, but this was hindered when, in January 1918, the German Army launched Operation Faustschlag on the Eastern Front to force the Soviet government to accept its peace terms. In early March, after the Treaty of Brest-Litovsk had taken Russia out of the war, the Czechoslovak Legion successfully fought off German attempts to prevent their evacuation in the Battle of Bakhmach.
 Czech legionaries on the Siberian border, from Gustav Becvar, The Lost Legion (London, 1939) 9087.aa.29
On 25 March, an agreement was signed ordering the Legion to surrender most of its weapons in exchange for safe passage to Vladivostok. The evacuation was delayed by the dilapidated state of the railways, the shortage of trains and the constant need to negotiate passage with local soviets. There was also mutual mistrust between the Legion and the Bolsheviks. When, on 14 May, a dispute broke out at the Chelyabinsk station between legionaries heading east and Hungarian prisoners of war heading west to be repatriated, Leon Trotsky ordered that the Legion be disarmed and arrested.
This triggered what became known as the Revolt of the Legions. By the end of June, the Czechoslovak Legion had seized Vladivostok and overthrown the local Bolshevik administration. On 6 July they declared the city an Allied protectorate. By early September they had swept Bolshevik forces from the entire length of the Trans-Siberian Railway and taken all the major cities of Siberia, but their seizure of Ekaterinburg came less than a week too late to save Tsar Nicholas II and his family.
 Výkřik ('The Scream'), a magazine printed by the Czechoslovak Legion during the Russian Civil War. RB.31.c.832.
As the Red Army gained strength and retook several cities the Legion's enthusiasm waned, and when the independent state of Czechoslovakia  was proclaimed on 28 October 1918, its members had every reason to wish to return home. On 18 November a coup overthrew the leadership of the Whites' Provisional Government in Siberia, with which the Legion had made common cause, and Admiral Aleksandr Kolchak was appointed 'Supreme Leader'. The Legion was left to defend Kolchak's sole supply route and the gold bullion which he had captured from Kazan for much of 1919, but most legionaries were uneasy with Kolchak's rule. On 7 February 1920, the Legion signed an armistice with the Fifth Red Army granting safe passage to Vladivostok on condition that they did not try to rescue Kolchak and left the remaining gold with the authorities in Irkutsk.
Illustration from Přál jsem si míti křídla: 'One day we were delighted by the news in the papers that Austria was no longer fighting and the Czech Republic had been established.'
It was not until 1 March 1920 that the final Czechoslovak train left Irkutsk, and only in September that the last legionaries sailed from Vladivostok. Many of those who returned brought their skills and experience to the newly-established Czechoslovak Army; others, including Jaroslav Hašek, author of the satirical novel The Good Soldier Švejk, joined the Czechoslovak Communist Party. Still others lived to write their memoirs, including Gustav Becvar, whose account appeared in English as The Lost Legion. It concludes, 'On 20 June 1920 we crossed the frontier of our newly freed homeland, the Czechoslovak Republic. […] Here, after six and a half years of weary exile, I saw my mother again.'
Susan Halstead (Content Specialist, Humanities and Social Sciences) Research Services
The British Library's exhibition Russian Revolution: Hope, Tragedy, Myths is open until 29 August 2017, telling the extraordinary story of the Russian Revolution from the reign of Russia's last Tsar to the rise of the first communist state. You can also read articles from our experts exploring some of the themes of our exhibition on our Russian Revolution website. 
16 February 2017
In a week which begins with World Radio Day (13 February),it is appropriate that we should also commemorate the 110th birthday on 16 February of an author and critic who was one of the leading figures of the early years of Czechoslovak broadcasting – Dobroslav Chrobák.
Portrait of Chrobák from Jozef Bob, Moderný tradicionalista Dobroslav Chrobák (Bratislava, 1964) X.908/15392.
Born in Hybe, Slovakia, as the second of four children of a tailor, Chrobák was educated in Rožňava and Liptovský Mikuláš before proceeding to the higher technical school in Bratislava and the Czech Technical University in Prague, graduating in 1934. He was still a schoolboy when, in October 1918, the new independent republic of Czechoslovakia came into being. It was an exciting time not only in politics but in the arts, with the emergence in 1920 of the Devětsil movement with its fascination with the transformation of language into visual art and the possibilities of technology. In 1925, when the student Chrobák was writing his short story 'Náraz priam centrický' ('Centric impact'), Jaroslav Seifert published his verse collection Na vlnách TSF ('On the waves of the TSF'; British Library Cup.408.kk.11.), laid out by Karel Teige as typographic poems, celebrating the power of wireless telegraphy to transport the reader to Paris, Australia, New York and back again.
On graduating Chrobák returned to Bratislava to work for Československý rozhlas, the national radio company which had begun broadcasting in 1923, as editor of its publication Rádiožurnál. By 1945 he had risen to become the director of short-wave broadcasting throughout Slovakia, and two years later he was appointed as the principal director of the Slovak division of the organization.
However, Chrobák's writings were not concerned with technical advances but reflected his interests in nature, folklore and the Naturalist movement in fiction. As a student he had collected proverbs and examples of folk wisdom, but also admired authors such as Hermann Hesse and Knut Hamsun whose example encouraged him to turn away from descriptive realism in favour of evocations of the primeval and mythical quality of the natural world. He was also a skilled translator, particularly from Russian (notably of Turgenev's Home of the Gentry as Šľachtické hniezdo, 1934) and the editor, with Štefan Letz, of the Slovenský literárny almanach (Prague, 1931; X.981/1419), illustrated below.
His 1932 history of Slovak literature, Rukoväť dejín slovenskej literatúry provided readers with a concise guide to writing in Slovak from the earliest sources through the Hussite era, the Reformation and the Enlightenment to Romanticism and Realism.
Cover of Rukoväť dejín slovenskej literatúry (Prague, 1932) X.909/645.
The British Library also holds modern editions of Chrobák's major prose works, including the collection of short stories, Kamarát Jasek (1937), which established him as a writer of fiction (Bratislava, 2000; YA.2003.a.10244), and his 1943 novel Drak sa vracia ('The Dragon Returns'; Bratislava, 1971; X.989/12935), one of the most significant examples of Slovak naturalism. The 'Dragon' of the title, Martin Lepiš Madlušovie, is found in the forest as a small boy by the potter Lepiš who raises him to be his assistant. When old Lepiš dies, the villagers blame his foster-son for his death, beat him and drive him away as a Jonah-like figure associated with other misfortunes such as drought, sterility, and the death of a village woman in the fields. The novel begins with Simon, a farmer, reporting to his wife Eva that the Dragon has returned to the village, and suspecting that she may take the opportunity to visit him, as she had been in love with him before the villagers drove him out. Eva, although she still loves the Dragon, keeps away from him despite the lack of any genuine emotional bond with her husband, with whom she has little in common apart from their shared work on the farm. Further drought causes a fire to break out in the mountains where the villagers' animals are wandering in search of food. The Dragon proposes a way of saving them, and the villagers join forces with him and Simon; the latter, however, suspects the Dragon of selling the cattle and sheep to the Poles and, running back to the village, sets his potter's hut on fire. When the Dragon finally reappears with the herds and flocks, accompanied by his sweetheart Zoška, Simon acknowledges his mistake and begs the Dragon's forgiveness,while the latter in turn admits that he had wronged Simon by abandoning Eva when she became pregnant. Seeing him with Zoška, Eva realizes that it is time finally to abandon her feelings for him and appreciate Simon and the life which they have built together, and the novel ends with an epilogue which reveals that the whole story was narrated by Eva to her little grandson: '...And then? And then – that was all. They loved each other and lived happily together until the end of their days... Sleep, little son!'
Photograph of Dobroslav Chrobák with his son Ondrej in the High Tatras from Jozef Bob, Moderný tradicionalista Dobroslav Chrobák (Bratislava, 1964) X.908/15392.
Chrobák was also a prolific contributor to the fields of art and literary criticism, and this, together with his professional duties, gave him less time than he might have wished to devote to fiction. His premature death at the age of 44 on 16 May 1951 followed an unsuccessful operation to remove a brain tumour, and his funeral took place three days later in his native Hybe. His achievements in connecting this remote area with the main currents of European culture – both literally and figuratively – remain considerable and deserve wider recognition.
Susan Halstead, Content Specialist (Humanities & Social Sciences), Research Services
28 October 2015
28th October is celebrated annually in the Czech Republic as a national holiday commemorating the establishment on that day in 1918 of the independent state of Czechoslovakia under its first president Tomáš Garrigue Masaryk. With the 'Velvet Divorce' of 1993, the peaceful dissolution of the union between the Czech Republic and Slovakia, it is no longer a holiday in the latter, although many Slovaks continue to feel that it should be. Instead, Slovakia remembers 1st January 1993, the first day of the existence of a separate Slovak state. However, in 2015 the Slovaks have an additional reason to celebrate on 28th October – the bicentenary of the birth of the man without whom the Slovak language as spoken nowadays might never have existed.
                   Portrait of Ľudovít Štúr by Jozef Božetech Klemens (From Wikimedia Commons)
Ľudovít Štúr (1815-1856) was born in Uhrovec (in the same house, incidentally, which was later the birthplace of Alexander Dubček) as the second child of the schoolmaster Samuel Štúr and his wife Anna. The area was strongly Lutheran, and the religious tradition into which he was baptized would exercise a powerful influence on him throughout his life. After receiving a good grounding in Latin and other subjects from his father, the young Ĺudovít was educated at the Lutheran Lyceum in Bratislava (then known as Pressburg), where he became acquainted with the writings of Slavonic patriots including Ján Kollár, Pavel Jozef Šafarík and Josef Dobrovský, and joined the Czech-Slav Society. Rising to become its vice-president, in 1836 he approached the well-known Czech historian František Palacký, appealing for his support in the creation of a unified Czechoslovak language and claiming that the Czech spoken by Slovaks in Upper Hungary was no longer intelligible to their countrymen elsewhere. In the interests of Slavonic unity and impartiality, he proposed the acceptance on both sides of a number of Czech and Slovak words, but this proved unacceptable to the Czechs, leading Štúr and his circle to mount a campaign for a new standard Slovak language. They travelled through Upper Hungary to canvass on behalf of this after a meeting on 24 April 1836 at the ruined castle of Devín (Dévény, near Bratislava) where they not only swore an oath of loyalty to their cause but chose new Slavonic names, with Štúr himself adding Velislav to his own.
        Castle Devín, Bratislava (Devín village), Slovak Republic (Photo by Radovan Bahna from Wikimedia Commons)
The Slovak language movement might have seemed to be doomed from the outset because of the threefold opposition which it faced. Not only had it experienced a rebuff from the Czechs, but as part of the Austro-Hungarian Empire the territory in which Štúr grew up had had German imposed on it as the language of bureaucracy and officialdom, and there was also an increasingly vocal movement in promotion of the Hungarian language.  Štúr was fluent in German, and studied from 1838-1840 at the Protestant University of Halle, while continuing to maintain contacts with Czech patriots and, in 1839, publishing an account of his journey to Lusatia, the 'smallest Slavonic nation' centred around Bautzen.
While teaching grammar and Slavonic history at his old school, Štúr acted as co-editor of the literary journal Tatranka (Pressburg, 1832-45; British Library PP.4874.bbh), and planned to start a Slovak political journal. However, his application for a licence to do so was rejected in 1842, when he also launched a petition against the persecution of Slovaks by Hungarians in Upper Hungary. The following year he was compelled to leave his Lyceum post after an investigation into the activities of its Institute of Czechoslovak Language, and to publish his summary of the Slovaks' grievances against the Hungarians, which no Hungarian publishing house would touch. At the same time, however, he and his followers were working on the codification of a new Slovak language, which gradually came into literary use in 1844. Advocating the Slovaks' right to their own language, schools and political independence within Hungary, he was chosen in 1847 as a deputy in the Hungarian Diet in Bratislava, representing Zvolen (Zólyom), two months after the formal adoption by both Roman Catholics and Protestants of the new standard Slovak language.
The events of 1848, however, interrupted his political career, as the Diet ceased to meet after April. Instead Štúr visited Prague to establish Slovanská Lipa, an organization to foster cooperation between Slavs, and took part in the first Slavic Congress there. His involvement in the presentation of the petition Žiadosti slovanského národa (Requests of the Slovak Nation) in May 1848, including calls for the abolition of serfdom, universal suffrage and freedom of the press, led to a Hungarian warrant for his arrest, and in September he and the other members of the Slovak National Council proclaimed independence from Hungary. After organizing the Slovak military volunteer campaign, Štúr headed a delegation which on 20 March 1849 formally presented the Slovak nation's demands to Franz Josef II at Olomouc, but when, after lengthy negotiations, the Slovak volunteers were disbanded in November he returned to Uhrovec. His spirit remained unquenched despite further obstacles and tragedies (he was placed under police surveillance in Modra, where he moved to care for his seven nephews and nieces following his brother Karol's death in 1851) which did not prevent him from publishing several more important works on Slavonic songs, myths and culture, including O národných povestiach a piesňach plemien slovanských (On the national songs and myths of the Slavonic races; 1852: YA.2002.a.21123) and Das Slawenthum und die Welt der Zukunft (Slavdom and the world of the future; Bratislava, 1931; X.800/2232).
Ironically, having survived the armed uprising of 1848-49, Ľudovít Štúr met his end through a gunshot – but one which he accidentally inflicted on himself during a hunting expedition on 22 December 1855. He lingered for three weeks, dying on 12 January 1856, and was honoured with a national funeral in Modra. In his forty years of life, this man from an obscure town in Slovakia had given his people the gift of a versatile and expressive language, as suited to poetry as to political debate, and fought tirelessly for its place in the world, in keeping with his creed: 'My country is my being, and every hour of my life shall be devoted to it.'
Susan Halstead, Content Specialist (Humanities and Social Sciences), Research Engagement. 
18 March 2015
When a friend recently commented that he thought it strange and amusing to see foreign house names in a traditional-looking Yorkshire village, he was assuming that such names were given in pretention, or in sentimental memory of a holiday abroad. It seems natural to think of cities attracting migrants and refugees, but not of villages as distinctly conservative, even insular, in their Olde Worlde Englishness.
In reality, of course, the picture is more complicated.  On the very outskirts of Leeds, not far from where I live, is one grey stone village whose origins are every bit as cosmopolitan as an inner-city area. Its name is Fulneck, and it shares its name with a settlement in the eastern part of the Czech Republic: Fulnek, Moravian Silesia. The Yorkshire village was established in 1743 by refugees from the Counter-Reformation in Bohemia and other Habsburg lands. They were members of the Moravian Church, one of the earliest Protestant Churches of all and the oldest Protestant denomination in the Czech lands, which had its roots in the Hussite movement   of the 15th century.
By 1600, a majority of the inhabitants of the provinces of Moravia and Bohemia (the present-day Czech Republic) were under the influence of Hussite churches or schools, and might be said to have become Protestant. The churches established printing presses, and held services in Czech and German in preference to Latin. For a long time, the imperial court tolerated this, and was even sympathetic, but the arrival of the Jesuits and election of the vengefully Catholic Ferdinand II as King of Bohemia and Holy Roman Emperor changed things. The events that followed are some of the most evocative in Czech history. The Second Defenestration of Prague, when representatives of the Protestant estates threw the Emperor's envoys from the window of the Bohemian Chancellery, sparked the Thirty Years War. Its first battle was the disastrous White Mountain, which wiped out the Protestant nobility and would become a powerful symbol of the Habsburgs' destruction of the nation and suppression of the Czech language. In creating a national mythos for the Czechoslovak state, Tomas Masaryk would constantly refer back to this period of history.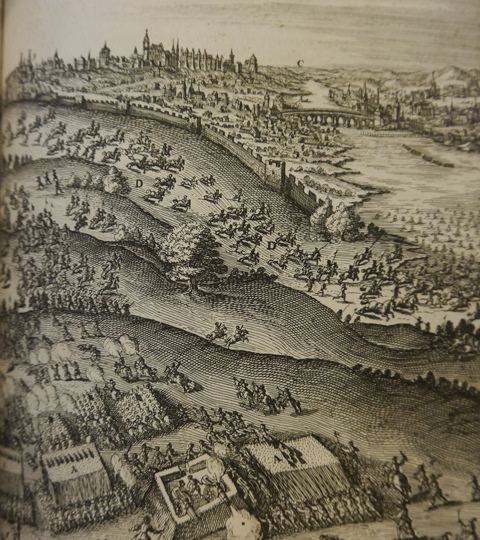 The Battle of White Mountain, November 1620, detail from an illustration by Matthäus Merian in Johann Philipp Abelin, Theatrum Europaeum (Frankfurt am Main, 1643) British Library 800.m.3-5.
The survivors of White Mountain went into hiding in caves and crevices around the borders. Some of these hiding places are marked today, often as detours from the innumerable well-marked hiking routes that criss-cross the country. The Moravian Brethren  – originally of Bohemian origin  – took their name from the fact that they continued to live in hiding in Moravia worshipping illegally for almost a century. Many other groups went abroad, firstly to other states in the Holy Roman Empire where the Counter-Reformation was less entrenched, and then later overseas, to Britain, France, the Netherlands or North America. In due course, the Moravians followed, moving first to Herrnhut in Saxony, where they were protected by Nikolaus von Zinzendorf, and then to England. This is the origin of the Fulneck Moravian Settlement.
The Fulneck Settlement originally consisted of separate houses for men and women, both of which are still standing on either side of the Moravian Chapel, as well as some married accommodation. Possibly the most famous of the children born in eighteenth-century Fulneck was Henry Benjamin Latrobe, architect of the Capitol building in Washington DC. His father was a Moravian minister.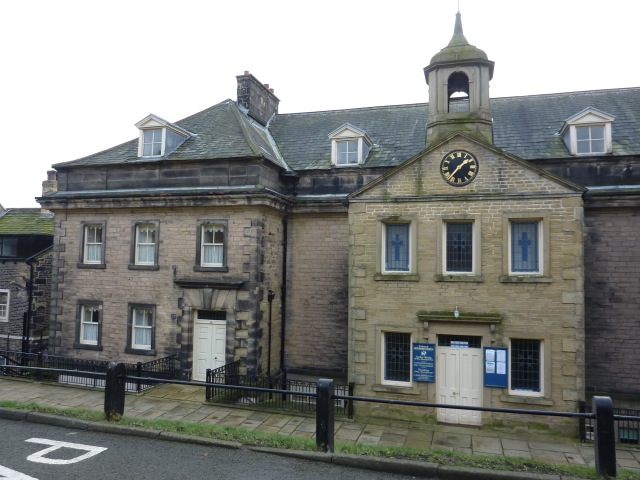 The old Moravian Chapel in Fulneck. (Photograph J.Ashton/C.Martyn)
Benjamin Latrobe was educated in Upper Lusatia, Saxony, from where his community had emigrated, but Fulneck itself has a school, established in 1753, which went on to become a mainstream independent school. Its pupils have included the future Prime Minister Herbert Henry Asquith (born in Morley, which is now also part of Leeds) and Dame Diana Rigg. Asquith hated his time there and refused to come back as a famous old boy to give prizes, a fact not everyone with an interest in Fulneck is eager to advertise!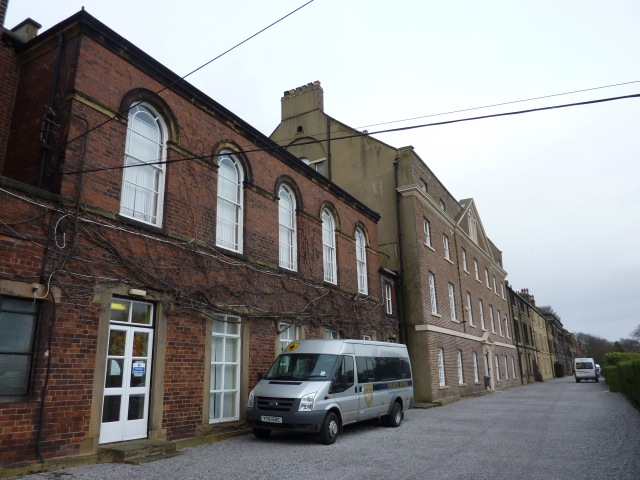 Fulneck school, overlooking the valley (Photograph J.Ashton/C.Martyn)
Modern Fulneck still consists of just one street, built on a ridge above a green valley. Many of the people living there are Moravians still, and they run a small museum of  their history in England and Europe. The volunteer staff are very knowledgeable, and truly bring the eclectic little collection to life. Links to Herrnhut and other Moravian communities are also maintained.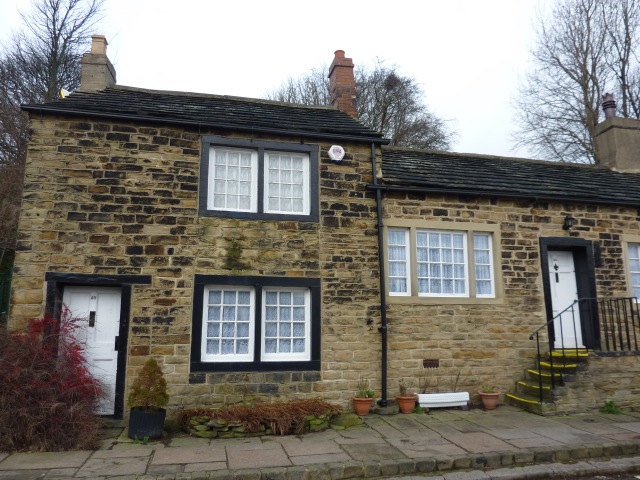 The Museum in Fulneck; the building is typical of those in the village. (Photograph J.Ashton/C.Martyn)
Among the British Library's collections are various locally-produced histories of the Settlement, as well as a copy of The Brotherly Agreement and Declaration concerning the Rules and Orders of the Brethren's Congregation at Fulneck, published in 1777 (4661.b.4.), and a cantata composed by Edward Sewell to celebrate its centenary (Cantata, composed in commemoration of the Fulneck Centenary Jubilee, April 19th 1855. London, 1855; R.M.14.e.27.). Small but persistent, this little community of exiles used its own corner of a foreign field to maintain the Reformation ideals on which Masaryk would found the Czechoslovak state.
Janet Ashton, WEL Cataloguing Team Manager
15 November 2013
When preparing for my autumn trekking in the High Tatras, a mountain range that stretches between Poland and Slovakia, I came across the name of the English traveller Robert Townson  (1762 – 1827), who was also a scholar and scientist. He was one of the first foreign visitors to that region. His book Travels in Hungary, with a short account of Vienna in the year 1793 London, 1797; British Library shelfmark 982.i.6) includes a chapter on the Tatra Mountains, entitled 'Excursions in the Alps'.
The Tatras cover an area of 785 square kilometres. In comparison with the massive Alps in Western Europe the Tatras are a tiny range called by the French "pocket mountains".  Nevertheless, the Tatras, which are part of the long Carpathian chain, are the highest mountains in Central Europe.  Undoubtedly, Townson called the Tatras 'Alps' because of their alpine character with rocky peaks, grazing pastures, rushing streams and splashing waterfalls. Townson explored the Tatras' flora and fauna, and was also the first to take height measurements of some of their mountains using the barometric method.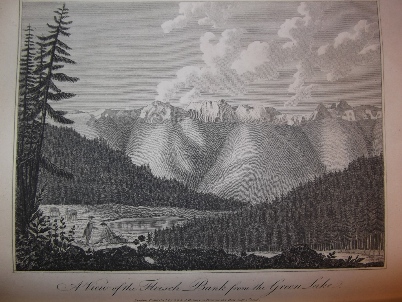 A view in the Tatras from Townson's Travels in Hungary
The area, inhabited for centuries by the Slavs, Germans and Hungarians, produced a distinctive culture known as the Góral, meaning highlanders. This culture has survived to the present day due to the area's geographic isolation. Until the end of the 19th century the only means of transport on the Polish side was horse-drawn carts. It took two days to travel a distance of 105 km from Kraków to Zakopane. The Tatras were discovered for their beauty as early as the 16th century but only in the second half of the 19th century was  the region developed as a popular tourist destination.

 Panoramic view of the Tatras from Lomnicky Štit (©Magda Szkuta)
Due to the remoteness of the Tatra region there was no designated border between Poland and the Kingdom of Hungary until the late 18th century (Slovakia had been part of the Hungarian domain since the 9th century), so the mountains were a no man's land. The Polish Kingdom was partitioned by its neighbours Russia, Prussia and Austria in the course of three decades, and finally lost its independence in 1795. The Polish side of the Tatras fell to the Austrian partition.
In 1867 the Austro-Hungarian Empire was established and the mountains became an agreed border between the two states of the monarchy; however, the border itself was not demarcated.  Before long this led to territorial disputes. Over the centuries the lands around the Tatras belonged to Hungarian and Polish settlers. In 1889 Count Władysław Zamoyski  purchased  Zakopane and the surrounding areas. This was the source of conflict over the ownership of those lands that culminated in the International Arbitration Court in Graz. Subsequently in 1902 the Court demarcated the Austro-Hungarian border which after the First World War became the border between Poland and Czechoslovakia.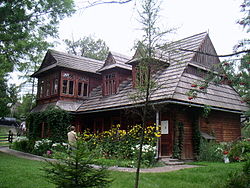 The breathtaking scenery, clean air and unique culture of the Tatras attracted numerous visitors to the area from all three partitions of Poland. Zakopane became an intellectual and cultural centre at the beginning of the 20th century and since then has been a magnet for many artists, writers and musicians. Stanisław Witkiewicz, writer, painter and architect, created the Zakopane style in architecture that shaped the distinctive character of the previously small village. Karol Szymanowski, one of the greatest Polish composers of the 20th century, lived in Zakopane, and his music was influenced by the folk music of the Tatra highlanders (picture above left from Wikimedia Commons : Karol Szymanowski's  museum  in Villa Atma).
Magda Szkuta,  Curator of Polish Studies
European studies blog recent posts
Tweets by bl_european
Other British Library blogs