03 June 2016

 Sebastián de Covarrubias Horozco, Emblemas morales (Madrid, 1610) 637.g.22. Centura III, emblema 79 (f. 279).
Anda agora el mundo tal
que no se cual va tras cual
[It's upside-down!
Now, who can say
Who's the chaser
And who the prey?]
This emblem shows mice chasing cats and hares chasing dogs (or is it the other way round?).
Nowadays I think we'd think in terms of cats chasing dogs: after all, the two are natural antagonists, as in the film of 2001. And in the 18th century this Portuguese mock epic does indeed pit the cat against the dog:
João Jorge de Carvalho, Gaticanea, ou Crudelissima guerra entre os cães, e os gatos (Lisbon, 1781) 11452.aaa.20.
(I wonder if the phrase "raining cats and dogs" refers to the commotion caused when cats and dogs fight.)
But cat vs dog isn't the only bout in town.
Back at the dawn of literature, in Aesop's fables, the protagonists are never cats and dogs. To further complicate the matter, cats aren't cats. Olivia and Robert Temple argue:
Precision in the terminology also reveals facts such as that household pets in ancient Greece were not cats but domesticated polecats, or house-ferrets (galē). (The Complete Fables, p. xix).
Terminological exactitude, or the translator's age-old desire to outdo his predecessors?
Barry Taylor, Curator Romance Studies
References:
Alberto Pimentel, Poemas herói-comicos portugueses (Porto, 1922)
X.908/25214.
Aesop, The complete fables; translated by Olivia and Robert Temple; with an introduction by Robert Temple. (London, 1998) YK.1998.a.7044
25 May 2016
No writer's work has been translated, performed and transformed by as many cultures across the world as Shakespeare's. As part of the programme of events accompanying the current British Library exhibition Shakespeare in Ten Acts, the British Library is holding a seminar 'All the World's a stage: Shakespeare in Europe and the Americas' on Friday 10 June from 10.15-17.15 in the Conference Centre.

A troupe of travelling players in 17th-century Germany. From the Album Amicorum of Franz Hartmann, MS Egerton 1222. 
This study day brings together leading specialists to explore Shakespeare's global cultural presence from Europe to the Americas via the Indian Ocean. Themes include Shakespeare's source material; postcolonial adaptations; performance on stage and film; and the cultural politics of European Shakespeare.
The programme for the study day is:
10.15-10.45 Registration; Tea/Coffee
10.45-10.55 Welcome: Janet Zmroczek (Head of European and Americas Collections, British Library)
10.55-11.40 Keynote: Presentation and Interview (Chair: Aleksandra Sakowska, Worcester)
Jerzy Limon (Gdańsk), '"The actors are come hither" - 400 years of English theatrical presence in Gdańsk'

The Gdánsk Shakespeare Theatre 
11.40-11.45: Break
11.45-12.35 Panel 1: European Sources and Settings (Chair: Line Cottegnies, Sorbonne Nouvelle)
Stuart Gillespie (Glasgow), 'Shakespeare's European Sources: Epics, Essays, Romances, Novellas'
Graham Holderness (Hertfordshire), 'Shakespeare and Venice'

Giovanni Battista Giraldi, De gli Hecatommithi (Mondovì, 1565), G.9875-6, a collection of stories including sources of Othello and Measure for Measure, from our Discovering Literature Shakespeare site
12.35-13.00 Julian Harrison (British Library) '"Our Shakespeare" exhibition at the Library of Birmingham' (Chair: Janet Zmroczek, British Library)
13.00-14.00: Lunch.  A sandwich lunch will be provided.
14.00-14.50 Panel 2: Translating The Tempest: Postcolonial Adaptations (Chair: Charles Forsdick, Liverpool/AHRC)
Philip Crispin (Hull), 'Aimé Césaire's Une tempête'
Michael Walling (Border Crossings), 'Storm-tossed in the Indian Ocean - from Indian Tempest to Mauritian Toufann'
14.50 – 15.40 Panel 3: Shakespeare in Performance (Chair: Ben Schofield, King's College London)
Paul Prescott (Warwick), 'Bard in the USA: the Shakespeare Festival Phenomenon in North America'
Mark Burnett (Queen's University Belfast), 'Shakespeare on Film: Europe and Latin America'
15.40-16.00 Tea/Coffee
16.00-17.15 Roundtable: The Cultural Politics of European Shakespeare (Chair: Erica Sheen, York)
Short presentations followed by a roundtable discussion with Keith Gregor (Murcia), 'Shakespeare in post-Francoist Spain'; Nicole Fayard (Leicester), 'Je suis Shakespeare: The Making of Shared Identities on the French Stage'; Emily Oliver (King's College London), 'Shakespeare Performance and German Reunification';  Aleksandra Sakowska (Worcester), 'Shakespearean Journeys to and from Poland'
17.15- 18.00 Wine reception sponsored by the Eccles Centre for American Studies
The study day has been organised by the European and Americas Collections department of the British Library in partnership with the AHRC 'Translating Cultures' Theme, The Polish Cultural Institute, and the Eccles Centre for Americas Studies at the British Library.
You can book by following the link to our What's On pages or by contacting the British Library Box Office ( +44 (0)1937 546546; boxoffice@bl.uk). Full price is £25 (concessions available: see 'What's On' for full details).
20 May 2016
The annual Seminar on Textual Bibliography for Modern Foreign Languages will take place on Moday 6 June in the Eliot Room of the British Library Conference Centre. As ever, we have a varied programme covering a range of countries, themes and periods. The full programme for the day is:
11.00   Registration and Coffee
11.30  CARLO DUMONTET (London) Some thoughts on format identification, or Cataloguers vs Formats.
12.15  Lunch (Own arrangements)
1.30  CARMEN PERAITA (Villanova), War of Readers: Territorial Licensing and Printing of the First Editions of Quevedo's Política de Dios (1626)
2.15 ALESSANDRA PANZANELLI (London) Illustrations in Early Printed Books From Perugia: Imitation, Re-Use and Original Production.
3.00 Tea
3.30 DAVID PAISEY (London) Peasants, Fragments of the Reformation in Germany and England, and Peter Schoeffer the Younger, Printer in Mainz, Worms and Strasbourg 1512-1538
4.30 KATYA ROGATCHEVSKAIA (London) 'A Beautiful Tremendous Russian Book and Other Things Too': An Overview of Rare Russian Books from the Diaghilev-Lifar Collection in the BL
The Seminar will end at 5.15 pm.
The Seminar is free and open to all, but please notify us if you are planning to attend.
Barry Taylor (barry.taylor@bl.uk; tel 020 7412 7576)
Susan Reed (susan.reed@bl.uk; tel 020 7412 7572)
16 May 2016
Curating an exhibition inevitably involves a process of selection or, better maybe, de-selection. Items are chosen to support a coherent narrative, but practical considerations inevitably supervene. The copy of a particular book may be in poor condition, too tightly bound to open safely, or its dimensions prevent the inclusion of other books, as one simply has too many. In the case of the edition of Don Quixote illustrated by Daniel Vierge and first published by Scribner's in New York in 1906-7, this could be included in the British Library's exhibition 'Imagining Don Quixote' only at the expense of two smaller volumes. This was regrettable as his illustrations are highly original and stand out from many of those produced in the 19th century.
Daniel Urrabieta Vierge (1851-1904) was born in Madrid, but spent all his working life in France. He had an active early career illustrating events in the Franco-Prussian War and the third Carlist War. He also produced illustrations for works by Victor Hugo. However, in 1881 he suffered a paralysis to the right side of his body, which also affected his speech. He then taught himself to draw with his left hand and his career resumed.
Daniel Vierge. Sketch by Himself, engraved by Clement Bellenger.
Vierge's involvement with Spain and with Don Quixote extended over some 30 years and culminated in the Scribner's edition of Thomas Shelton's 17th-century translation two years after his death (the British Library holds an edition published in London in the same year by Unwin). His earliest illustrations of the novel appeared in an incomplete part-work edition, published in Paris in 1875. None of those illustrations appear to have been re-used in the 1906 edition.
Vierge travelled to Spain in 1893. In this he was following in the footsteps of Gustave Doré, who had been in Spain in 1855 and 1861 before producing his highly successful illustrations for the 1863 editon of Viardot's French translation of Don Quixote. Vierge executed a number of watercolours that were then used to illustrate the account of the Spanish journey of his friend, August F. Jaccaci.
Some of Vierge's many watercolours and ink wash drawings were re-worked in pen and ink as a basis for the engravings of his edition of Don Quixote. The use of the new photogravure process permitted greater fidelity to the artist's original and a finely detailed result. This is especially evident in the image of the preliminaries of the joust – which then never actually took place – between Don Quixote and the Duke's lackey, Tosilos (Part II, ch. 56).
 Preparing for the joust, Vierge's illustration from Miguel de Cervantes, The History of the Valorous and Witty Knight-Errant Don Quixote of the Mancha … (London, 1906-07). Tab.538.a.9
Another feature of Vierge's illustrations is the impression that they create of a real, lived-in world, as in the drawing that appears in the preface of the Scribner's edition (below).
The picture shows Don Quixote at home, with his housekeeper, his niece and the odd-job man (Don Quixote, I, ch. 1). His greyhound can be seen behind the curtain.
Vierge's travels in rural Spain gave him access to a world which had changed little from the time of Cervantes.
Geoff West, former Curator Hispanic Collections
References:
Daniel Urrabieta Vierge (1851-1904), creador de imágenes, ilustrador gráfico (Madrid, 2005). LF.31.a.2458.
Miguel de Cervantes, The History of the Valorous and Witty Knight-Errant Don Quixote of the Mancha, translated by Thomas Shelton; the illustrations by Daniel Vierge… (London, 1906-07). Tab.538.a.9
August F. Jaccaci, On the trail of Don Quixote: Being a Record of Rambles in the ancient province of La Mancha (London, 1897.) 10161.de.30, and available online. 
13 May 2016
When Borges concluded his story Tlön, Uqbar, Orbis Tertius, 'I continue to revise an indecisive Quevedian translation, which I do not intend to publish, of Browne's Urn Burial',  he probably didn't know that Sir Thomas Browne (1605-82), physician of Norwich and poster-boy of English baroque prose, owned a number of Spanish books. (You'll remember Quevedo from blog posts of 25 June 2014  and 30 September 2015.)

Sir Thomas Browne, from The Works of the Learned Sir Thomas Brown… (London, 1686) British Library C.118.g.1.]
The classic work on the subject is Finch, who reproduces and annotates:
A Catalogue of the Libraries of the Learned Sir Thomas Brown, and Dr. Edward Brown, his Son ... which will begin to be sold by auction ... on Monday the 8th day of January, 1710/11 ... By Thomas Ballard.
This sales catalogue is an early example of the genre, and, as was common,  is divided by language and then format in decreasing order of size.
We can't be precisely sure which of these books belonged to the father and which to the son, but the catalogue lists  twenty titles under 'Libros Espannolos' [sic], Folio, Quarto and Octavo & Duodecimo  (pp. 41-42).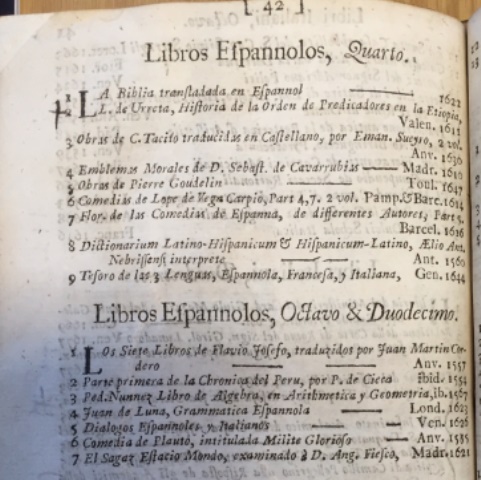 Spanish books in Quarto, Octavo and Duodecimo from the sale catalogue of Browne's library (London, 1711) S.C.354. (Sir Hans Sloane's copy)
Finch makes the important point that until this catalogue was brought to light the common opinion was that Browne wasn't much interested in contemporary literature.
Finch strives to identify the books listed, but strangely has no notes on the Spanish books.  This blog might fill the gap.  The records below are based on the British Library catalogue, with shelfmarks for the copies we hold.
Juan de Pineda, Los treynta libros de la Monarchia Ecclesiastica, o historia universal del mundo ... (Barcelona, 1620).  216.b.6-9.
Pedro Mexía, Historia imperial y Cesarea: en la qual en sum̃a se contienē las vidas y hechos d' todos los Cesares ... Emperadores de Roma: de Julio Cesar hasta ... Maximiliano. (Basle, 1547). 587.i.1.
Juan de Pineda, Los treynta libros de la Monarchia Ecclesiastica, o historia universal del mundo ... (Salamanca, 1588). 1562/125.
La Biblia, que es, los sacros libros del Vieio y Nueuo Testamento. Trasladada en Español. ([Basle], 1569).  Browne has an edition of 1622
Luis de Urreta, Historia de la Sagrada Orden de Predicadores en los remotos reynos de la Etiopia.  (Valencia, 1611).  493.g.2.(1.)
Tacitus, Las Obras de C. Cornelio Tacito. Traduzidas de Latin en Castellano por E. Sueyro. (Madrid, 1614). 587.g.13.  Browne had an edition in 2 vols, 1630
Sebastián de Covarrubias Horozco, Emblemas morales de Don S. de Covarrubias Orozco ... (Madrid, 1610).  637.g.22.
Pierre Goudelin, Las Obros de Pierre Goudelin, augmentados d'uno noubélo Floureto. Le Dicciounari Moundi ... Dictionaire de la langue tolosaine...  (Toulouse, 1647-48.)  11498.f.39.  Goudelin of course is not in Spanish but Occitan. 
Lope de Vega, Doze Comedias de Lope de Vega Carpio sacadas de sus originales. Quarta parte. (Barcelona, 1614).  11726.k.7.
Lope de Vega,  El Fenix de España, Lope de Vega Carpio, Septima parte de sus Comedias. Con Loas, Entremeses y Bayles (Barcelona, 1617). 11726.k.10.
Flor de las Comedias de España, de diferentes Autores. Quinta parte. Recopiladas por F. de Auila.  BL has edition of Alcala, 1615.  11726.g.27.
Antonio de Nebrija, Dictionarium latino-hispanicum et hispanico-latinum (Antwerp 1560). 12943.e.7.
Giacomo Vittorj, Tesoro de las tres lenguas española, francesa y italiana. Thrésor des trois langues espagnole, françoise et italienne ... (Geneva, 1644).  1560/1922.
Josephus, Los siete libros de Flauio Iosefo, los quales contienen las guerras de los Iudios, y la destrucion de Hierusalem y d'el templo: traduzidos ... por J. M. Cordero. (Antwerp, 1557). 294.b.20.
Pedro de Cieza de León, Parte primera de la chronica del Peru. Que tracta la demarcacion de sus prouincias: la descripcion dellas. Las fundaciones de las nueuas ciudades. Los ritos y costumbres de los indios. Y otras cosas estrañas dignas de ser sabidas. (Antwerp, 1554). 1061.b.20.
Pedro Nuñez, Libro de Algebra en Arithmetica y Geometria. (Antwerp, 1567). 530.b.15.
Juan de Luna, Arte breve, y conpendiossa para aprender a léer, escreuir, pronunciar, y hablar la Lengua Española ... = A short and compendious art for to learne ... the Spanish Tongue ... (London, 1623). C.33.a.45.
Lorenzo Franciosini, Dialogos apazibles, compuestos en Castellano y traduzidos en Toscano = Dialoghi piacevoli, composti in Castigliano, e tradotti in Toscano … (Venetia, 1626). 1568/3917.
Plautus, La comedia ... Milite glorioso ... y Menechmos  (Antwerp, 1555) [Not in BL and rare: Beardsley no. 71 knows only two copies)
Alonso Gerónimo de Salas Barbadillo,  El Sagaz Estacio marido examinado (Madrid, 1621). C.63.a.31.
These of course are a small percentage of the whole library of 2,500.
Half of Browne's Spanish books did not come from Spain, but from the Low Countries (a Spanish possession) and to a lesser extent Italy, both countries which were much better integrated into the European book trade: cf the Spanish books printed in Antwerp owned by Mary Queen of Scots.
Four are language tools; three are classical translations; four are lighter reading in the form of plays; five (excluding Tacitus and Josephus) are history.
Browne writes in Religio Medici, 'I have often admired the mystical way of Pythagoras, and the secret magic of numbers'.  Moltkenius took this to be a reference to algebra.  It was more likely number divination, but in the light of Pedro Nuñez's Libro de Algebra en Arithmetica y Geometria in his library, who knows?
Barry Taylor, Curator Romance language collections
References:
Theodore S.  Beardsley, Hispano-Classical Translations Printed Between 1482 and 1699  (Pittsburgh, 1970). X.0972/19b.(12.)
Jeremiah S. Finch, A Catalogue of the Libraries of Sir Thomas Browne and Dr Edward Browne, His Son (Leiden, 1986). 2719.e.2467
Sir Thomas Browne's Works, II, 17,  ed. Simon Wilkin (London, 1835-36) HLR 828.409 BRO
02 May 2016
'Every great book demands to be translated once a century, to suit the change in standards and taste of new generations, which differ radically from those of the past'. So wrote the translator and biographer, J. M. Cohen, whose 1950 Penguin Classics version of Don Quixote served as many an Anglophone's introduction to Cervantes's mad knight.
Penguin in fact waited less than half a century before commissioning John Rutherford to write a new translation of the two-part, 1000-page novel. And Rutherford's effort, as it turned out, was just one of five new English versions done between 1995 and 2006, bringing the total of full English translations of the work to nearly twenty. The other four recent Quixotes – by Burton Raffel, Edith Grossman (the first woman to translate the work), Tom Lathrop and James H. Montgomery – are all written in American English.

 The opening of the first chapter of Part I of Don Quixote in Thomas Shelton's translation (London, 1612)  C.57.c.39.
 In some practical ways the challenges facing the translator of Cervantes's text today – with the exception of the need for perseverance and stamina – are not so great as they were for Thomas Shelton whose version of Part I appeared in 1612, just seven years after the original was published in Madrid. He had limited tools at his disposal and relied upon his good knowledge of Spanish, basic dictionaries, his general cultural awareness and his wits. The mistakes Shelton made because of gaps in his knowledge are easy for a translator to remedy today.

John Minsheu's Spanish and English dictionary of 1599. 434.c.15.(1.)
In other ways the challenges with which the modern translator must grapple are greater, however. The first of these is created by the daunting shadow of Cervantes, the canonical writer, father of the modern novel. In Shelton's translation of Don Quixote the barely-known Spanish author's name did not even appear on title page, but today the canonicity of the text can act as a curb on creativity, prompting a conservative desire to reproduce a classic along expected lines rather than to take risks and attempt to be, in Rutherford's words, 'as boldly playful a writer as Cervantes'.

The title page of Shelton's translation
The passage of 400 years is also a problem: does the modern-day translator pepper the English version with explanatory footnotes about historical, cultural and linguistic matters, or make use of parenthetical explanations, as Raffel has done? Does it matter that we are unlikely to have read the popular romances of chivalry which addled Quixote's brain and which are parodied particularly in Part I? What about the role of previous versions in English, what Rutherford calls the 'predomestication' undergone by the novel? Sometimes past errors by translators, such as the name given to Sancho Panza's ass, Dapple, have become cherished parts of the furniture of the novel. And what of the overall tone of the work? Any translator's version is likely to reflect one or other of the two dominant critical trends that developed in response to the work, the 'funny book' or the 'Romantic' approach. How seriously is the translator to take Cervantes?

Sancho places on his ass the packsaddle his master has seized from the barber. (Part I, ch. 21) From an edition published Madrid, 1780, 673.k.13-16.
All of these issues – the iconic status of the novel, the legacy of its interpretation in the Academy, its in-jokes – require judgement and thought from modern-day translators before they even arrive at the rendering of words.
And when it comes to the words themselves, throughout Don Quixote there are myriad challenges for the translator, of which two stand out: the variety in Cervantes's language and register and the novel's comic complexion. English versions in the past have often failed to distinguish adequately between the voices of Don Quixote and his side-kick, Sancho, and the many individuals they meet. It is true that they sometimes encroach into each other's linguistic territory but translators have not often reflected fully the characterisation inherent in the language Cervantes employs or the comedy involved in the stylistic contrasts with which he played, particularly in the dialogue.
A text such as Cervantes's masterpiece requires an artful translator and a bold writer.
Jonathan Thacker, Professor of Spanish Golden Age Literature, Merton College, University of Oxford
References/Further Reading:
Cohen, J. M., English Translators and Translations (London, 1962) W.P.9502/142.
Rutherford, John, 'The Dangerous Don: Translating Cervantes's Masterpiece', In Other Words, 17 (2001), 20-33. ZK.9.a.4292
Thacker, Jonathan, 'Don Quijote in English Translation', in James A. Parr and Lisa Vollendorf, eds, Don Quixote', second edition (New York, 2015) 1580.560000
As part of this year's European Literature Festival, the British Library will be holding a 'Don Quixote Translation Joust' on Monday 9 May. More details and booking information are available on our website 
29 March 2016
The first complete illustrated edition of Cervantes's novel of Don Quixote appeared not in the original Spanish but in a Dutch translation, printed in Dordrecht in 1657. It contained as many as 24 illustrations, plus two frontispieces. Jacob Savery, the printer, was most probably also responsible for the engravings. In 1662, 16 of his illustrations were then reused in a Spanish edition printed by Jan Mommaert in Brussels. Then in 1672/73, Hieronymus and Johannes Baptista Verdussen of Antwerp printed an edition with the two frontispieces and 32 engravings of which the 16 were retained from the 1662 edition and 16 were new. These latter were engraved by Frederik Bouttats; the artist is unknown.
The illustrations of the three editions focus inevitably on narrative action with an emphasis on the more physical episodes. This supports the argument that in the 17th century Don Quixote was read largely as a work of entertainment. Limitations of space have restricted the current display in the British Library's Treasures Gallery  to just two examples from this important tradition. Savery's illustration of the unfortunate Sancho being tossed in a blanket is common to all three editions. One feature of these illustrations is the inclusion of more than one incident in a single image. Here, two incidents in chapters 17-18 of Part 1 are combined: the tossing of Sancho in a blanket (ch. 17) and Don Quixote's attack on the flock of sheep in the background (ch. 18).
 Sancho Panza is tossed in a blanket in the inn yard; Don Quixote attacks the flock of sheep (Background). Miguel de Cervantes, Den verstandigen vroomen ridder Don Quichot de la Mancha (Dordrecht, 1657) Cerv.114. facing p. 58.
The same technique can be seen also in Savery's illustration in all three editions depicting the concluding moments of Part 1 chapter 8. The narrative ends abruptly with Don Quixote and the 'brave Basque' confronting each other with swords raised ready to strike. The interruption occurs because, so it is claimed, the source text ended at this point. (The 'discovery' of a continuation is subsequently described in chapter 9.). Don Quixote and the Basque are placed in the foreground, in front of a coach and its lady passenger whom the Basque is escorting. In the background we can see also the preceding incident of chapter 8, Don Quixote's disastrous charge against the windmills.
 Don Quixote and the vizcaíno with raised swords; the charge against the windmills (background). Miguel de Cervantes, Vida y hechos del ingenioso cavallero Don Quixote de la Mancha (Brussels, 1662), vol. 1. 1074.i.5., facing p. 52.
The illustrations added to the Antwerp edition of 1672/73, engraved by Fredrick Bouttats, are technically superior to those in the editions of 1657 and 1662. Don Quixote's meeting with the enchanted Dulcinea, the result of Sancho's stratagem, includes the same characters, but is livelier and more expressive. Both the knight and his squire are shown kneeling in homage to the 'lady' Dulcinea. Moreover, unlike Savery's 1657 illustration, it illustrates in the background the subsequent action when Dulcinea rides off and is unseated by her donkey. Quixote and Sancho come to her aid.
Don Quixote and Sancho greet the supposedly enchanted Dulcinea; Dulcinea is thrown from her mount (background). Miguel de Cervantes, Vida y hechos del ingenioso cavallero Don Quixote de la Mancha (Antwerp, 1672-73), vol. 2, 1074.i.8. facing p. 80.
On their own the images of the 1657 edition had limited subsequent circulation except in Dutch versions, but those in the 1672/73 Antwerp edition were widely used in versions in French, English, German and Spanish until well into the 18th century.
Geoff West, former Curator Hispanic Collections
References/further reading:
Patrick Lenaghan, Imágenes del Quijote: modelos de representación en las ediciones de los siglos XVII a XIX (Madrid, 2003). LF.31.a.88
José Manuel Lucía Megías. Leer el 'Quijote' en imágenes. Hacia una teoría de los modelos iconográficos. (Madrid, 2006). YF.2007.a.12503
Centro de Estudios Cervantinos. Quijote Banco de imágenes 1605-1915: http://qbi2005.windows.cervantesvirtual.com/
11 February 2016
The Mexico edition of Francisco Meseguer, El Don Quixote de ahora con el Sancho Panza de antaño, was published in 1809, after the Córdoba edition of the same year. It includes a the coloured fold-out cartoon apparently not present in the Spanish editions, which focuses on the situation in Spain in 1808 sometime after the 'Dos de Mayo' uprising in Madrid against the French.
Fold-out caricature from Francisco Meseguer, El Don Quixote de ahora con el Sancho Panza de antaño (Mexico, 1809) 9180.e.6.(30)
The main caption reads: 'El Quijote de n[ues]tros t[iem]pos (Napoleon) caballero sobre su rocin (Godoy) y puestos los ojos en la encantada Dulcinea (America) Consuela á su buen escudero Sancho (Murat) de la perdida del Gobierno de la Insula Barataria (España)' ('The Quixote of our times (Napoleon) astride his nag (Godoy) and with his gaze fixed on the enchanted Dulcinea (America) consoles his good squire Sancho (Murat) for the loss of the Isle of Barataria (Spain)'.
During the confused period in Franco-Spanish relations, 1807-08, Spanish Prime Minister Godoy had in effect collaborated with Napoleon who, according to the historian Raymond Carr, despised him. Godoy, cast as Rocinante, the figure to the right on all fours, admits 'Esto y mucho mas merezco' ('All this and more I deserve'). In March 1808 Godoy's ever increasing unpopularity in Spain prompted his dismissal by Carlos IV, who himself abdicated in favour of his son Fernando.

Manuel Godoy, portrait by Goya (image from Wikimedia Commons) 
The ambitions of General Murat (as Sancho, in centre), Napoleon's lieutenant in Spain, were frustrated after the brutal suppression of the Madrid uprising: 'Todo se lo llevó el Diablo. Ya no soy gov[ernad]or' ('The Devil has taken everything. I am no longer governor'), he laments. 'Insula Barataria', depicted as a castle to the left of Murat, refers to the make-believe island of which Sancho Panza was made governor in one of the practical jokes devised by the Duke and Duchess in Part II of Don Quixote.

General Murat, ca. 1808, portrait by François Gérard (Image from Wikimedia Commons).
The consolation offered to Murat by Napoleon/Quixote is a possible role in the Spanish colonies: 'q[u]e si logro desencantar a Dulcinea te hare Arzob[is]po u Adelantado' ('if I succeed in disenchanting Dulcinea, I shall make you Archbishop or Governor'). This is a further allusion to Part II of Cervantes' novel in which Sancho Panza convinces his master that Dulcinea's appearance as a peasant girl is the work of enchanters.
America is represented as Dulcinea (top, centre; detail above) but in the guise of a woman wearing a native American headdress. The text reads 'La América será una Dulcinea encantada q[u]e jamas has de pose[e]r' ('America shall be an enchanted Dulcinea that you will never possess'). The focus on the colonies in the cartoon is consonant with the reprinting of the work in Mexico. Following the French invasion of Spain and the imposition of Napoleon's brother, Joseph, on the Spanish throne, Mexicans either affirmed their allegiance to Fernando VII or sought independence.
Bonaparte, represented as the 'Quixote of our times' (above), is depicted much as Don Quixote had been in the many editions of the novel hitherto. He wears ancient body armour and on his head the so-called helmet of Mambrino, in reality a barber's basin. The basin-helmet is labelled the crown of Spain, with the caption 'No tiene encaje este yelmo, no le biene á tu cabeza' ('This helmet does not fit; it is not right on your head'). His shield however has the emblem of the Gallic rooster and the motto 'El caballero de los gallos' ('The Knight of the Roosters'). Napoleon is somewhat thin, but not short of stature, as the Emperor was usually depicted and is indeed described in Meseguer's text.
The windmill (far left) references the most famous episode of Don Quixote (Part 1, ch. 8). The caption reads 'Con un molino basta para asorarte' ('A single windmill is sufficient to put the wind up you'). Don Quixote was brave – and rash – enough to charge one of the group of windmills. The fearsome sight of just one would have been too much for Napoleon, 'The Quixote of our times'? The ambiguity, bravery-rashness, takes us back to the ambivalence of Meseguer's text.
Geoff West, former Head of Hispanic Collections
References/further reading
Raymond Carr, Spain 1808-1975. 2nd ed. (Oxford, 1982) 82/22993
Charles J. Esdaile, Spain in the Liberal Age. From Constitution to Civil War, 1808-1939. (Oxford, 2000) YC.2000.a.11398.
09 February 2016
Cervantes' novel Don Quixote (1605, 1615) has not only inspired later writers, artists and subsequently film-makers, but his characters have also been used for other purposes, notably in propaganda and advertising. The behaviour of Don Quixote himself, whether seen as  fool, madman or noble idealist, has made him a most suitable figure for use in propaganda.
In the 17th and early 18th centuries the novel was regarded primarily as a funny book, but this began to change with the publication of the London editions of 1738 (in Spanish) and 1742 (in English) commissioned by Lord Carteret.  The emphasis shifted from slapstick comedy to literary and social satire. The subsequent publication of the Spanish Real Academia's edition in 1780 elevated the literary status of the novel within Spain itself.  However, the absence of a single predominant interpretation of the novel entailed different attitudes towards the protagonist himself.  This divergence can be seen in some of the Spanish propaganda following Napoleon's invasion of Spain in 1808 and the imposition of his brother Joseph on the Spanish throne.

Spanish generals surrender to Napoleon in December 1808, painting by Jean-Antoine Gros, Musée du Château, Versailles (image from Wikimedia Commons)
One work in particular demonstrates this double focus: Francisco Meseguer's El Don Quixote de ahora con Sancho Panza el de antaño ('Today's Don Quixote and the Sancho Panza of Yesteryear'). It was published in Spain in 1809 (in Córdoba, Mallorca, Murcia and Tarragona) and then in Mexico the same year –  which was not uncommon for this type of publication.  The British Library has a copy of this last edition (shelfmark 9180.e.6.(30.)), which also contains a coloured print representing the Emperor as Don Quixote.

Francisco Meseguer, El Don Quixote de ahora con Sancho Panza el de antaño (Mexico, 1809)
Meseguer's work recounts a dream in which the narrator overhears a conversation between a modern-day Quixote and the original Sancho Panza.  After a brief introduction, it takes the form of a dialogue between the two in the manner of the conversations between Cervantes' original knight and squire.  The modern-day Quixote is immediately identified with Napoleon, but as the 'Caballero de la mala figura' ('Knight of the Evil Countenance'), a variation on Quixote's epithet 'Caballero de la triste figura' ('Knight of the Sorrowful Countenance').  However, Sancho remembers not just the unwise actions but also the aims and ideals of his original master.  Therein lies the ambivalence. 
Sancho recalls three adventures from Part I of the novel: the attack on the flock of sheep, the freeing of the galley slaves, and the Princess Micomicona episode, each an example of Quixote's folly or delusion. At the same time he succeeds in either highlighting one of Don Quixote's virtues or in turning the argument back against Napoleon.  Don Quixote showed great bravery as, in his delusion, he actually believed the sheep to be a large opposing army.  Sancho draws a parallel between the freeing of the galley slaves (who turned on Don Quixote when he bade them go and pay homage to Dulcinea) and Napoleon's one-time support for Manuel Godoy, since both actions were futile given the bad character ascribed to both the slaves and the very unpopular Spanish Prime Minister.  
 

Don Quixote attacking the flock of sheep (top) and freeing the galley slaves (bottom). From The History of the most renowned Don Quixote of La Mancha... (London, 1687). Cerv.336. 
According to Meseguer's Sancho, the Micomicona episode gave his master the opportunity of usurping the throne of the pretend Princess, an opportunity he ignored in contrast to the actions of Napoleon in Spain, who placed his brother, Joseph, on the throne. Moreover, Quixote demonstrated great fidelity to his lady Dulcinea by declining to wed the Princess who is part of the Priest's plan to get Don Quixote safely back home.  Finally Sancho, recognising reality, recalls how so many of his master's rash adventures ended in disaster, but, he adds, this will also be the fate of Napoleon's Spanish expedition.
The nub of Sancho's case is that the original Don Quixote was a true knight errant who wished to right wrongs and to protect the weak.  Napoleon, on the other hand, is the very opposite: his soldiers 'have ruined countless maidens, raped married women and widows, leaving in tears those who were living happily, abandoned those who were well protected, and orphaned those who had a father'.  He also opposed loyal Spaniards such as Fernando VII and his supporters, favouring instead the likes of Godoy in furtherance of his personal ambition.
There is also a divergence between the description of the 'Today's Don Quixote' and the one of yesteryear.  Sancho says the latter was 'tall as a pine tree, lean… and solid as a rock', while Napoleon/Quixote was 'short of stature' and had a 'face like a monkey'.  This brings us neatly to the cartoon in the Mexico edition, which will be the subject of a second blog post.
Geoff West, former Head of Hispanic Collections
References/further reading
Caro López. 'Don Quijote en la guerra del Francés', Anales cervantinos, 41 (2009), 39-61.  Available on-line at: http://analescervantinos.revistas.csic.es/index.php/analescervantinos/article/view/52/52
A copy of the Córdoba edition can be consulted at: https://archive.org/details/eldonquixotedeah00mese
02 February 2016
Martín Martínez (1684-1734) was a major figure in the reform of Spanish medicine.

Martín Martínez, Medicina sceptica, y cirugia moderna, con un tratado de operaciones chirurgicas ... (Madrid, 1748) RB.23.a.36759
This newly-acquired book is a nice example of how in times earlier than our own there was no division between the Two Cultures: in the 18th century scientific works had to written with literary style.
Science in Spain was still heavily dependent on unquestioning acceptance of the authority of the Greeks and Romans. But Martínez was a sceptic, defined by the first dictionary of the Spanish Academy as: "adjective applied to a certain philosophical school, which affirmed nothing and defined nothing, and was empoyed only in impugning the opinions of others, doubting everything" :
SCEPTICO, CA. adj. que se aplica à cierta secta Philosóphica, que nada afirmaba, ni definía; sí solo se empleaba en impugnar las [r.57] opiniones de los otros, dudandolo todo (Diccionario de Autoridades, Tomo VI (1739))
Note that for the Academicians these Sceptics lived (past tense) in Antiquity.
This work on modern medicine takes the form of a dialogue between Galenico (a follower of Galen), Chimico (a chemist) and Hippocratico (a follower of Hippocrates). But the author, as a true sceptic, is not himself mired in the past: he cites "Hyppocrates, Erasistrato, Celso" [all ancients] but also "Boyle, Sidenham, Capoa, Silvio, Gassendo ... and the most celebrated men of the last century" (I, Introduccion, e3r).
Although the language of medicine in the 18th century was still Latin (the language in which he read those foreign worthies cited in the previous paragraph), Martínez writes in Spanish, because "mejor es saber en Romance, que ignorar en Latin" [it is better to be knowledgable in the vernacular than ignorant in Latin].
If there was a controversy going in 18th-century Spain, Father Benito was not going to be left out. Here he weighs in with a defence of his fellow sceptic and doubter of authority.
An added interest is the contemporary soft parchment binding, with bead and loop fastenings. In this case, as usual, the loops are there and the beads have gone.
And although there is a printed table of contents (I, d5rv) an early reader has added his own handwritten table of contents on the flyleaf at the end of vol. I.
This book fills a gap in the British Library's collection which goes back to 1955. In that year the Library acquired a pamphlet written in defence of the Medicina sceptica:

Pedro Salinas, Opusculo nuevo. Monita chimica secreta, en favor de la Medicina sceptica del Doctor D. Martin Martinez. ([Madrid?, c. 1760] ) 1481.c.41.(48)
And now we know what the fuss was about.
Barry Taylor, Curator Hispanic Studies