The rise and fall of Whale Trail at Digital Shoreditch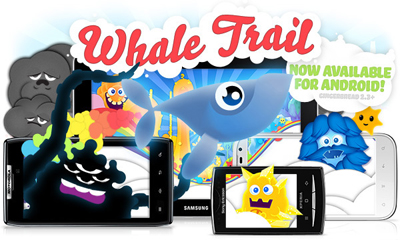 We help lots of tech and design-based businesses at the British Library, so this year we took part in Digital Shoreditch, a festival celebrating 'silicon roundabout' and all things digital. Two of my colleagues, Julie and Jeremy, gave out fantastic advice about the business support available at the British Library, including our new Innovating for Growth programme.
In typical Shoreditch style (what else would you expect?) it took place in a big top, with disco lights and smoke machine and lots of free sweets. I got to mingle with a great mix of designers, developers and entrepreneurs, many of whom seemed to be on the cusp of launching their own apps and games.
One story in particular caught my eye: Digital design studio Ustwo's Whale Trail game. I loved the honesty in which they told their story – as with lots of entrepreneurial journeys, there were ups, downs and new ventures always on the horizon. In a difficult climate, they are prepared to take big financial risks to produce products they are proud of.
They talked about their dramatic journey to launch a new app where whales can fly over rainbows and collect bubbles for points. So far so silly, but then again, this was a £200,000 investment opportunity.
With no marketing resource (except for their creative skills) they worked with Gruff Rhys from the Super Furry Animals to launch a new song, soundtrack and animated music video (below). They were listed as iTunes Game of the Week globally, and featured in major press, including the New York Times. They reached number fourteen in the US iTunes charts by midnight on the first day of release. 
According to Ustwo, the initial development cost the team £150,000 and 4,500 hours of man time. They worked out that they would need to bring in £300,000 to break even. But they didn't. After a fantastic start and high ratings, they brought in £80,000 of revenue, then suffered a dramatic drop in sales.  They maintained some position in the UK, but were not able to maintain their level of sales in the US and Asia, crucial to the apps market.To give it a boost, they then invested a further £50,000 into developing the game and moved onto Android. But it still wasn't quite enough. So they didn't recover their money or make profit.
But unlike the Whale Trail game, where clouds can actually kill you, this story has a silver lining. The exposure and braveness of the game made their industry and peers stand up and notice. It gave them big exposure, which has led to some great outcomes, including a licensing deal with Penguin and merchandising opportunities. And now they're moving on to their next big thing.