Behind the scenes on the London 2012 website
When I decided to apply to be a volunteer during the Olympics a few years ago, I had no idea if I'd be successful or what it would involve. When I heard that I was going to spend two weeks in the London 2012 web and social media team I couldn't believe my luck – it's been one of the best experiences I've had.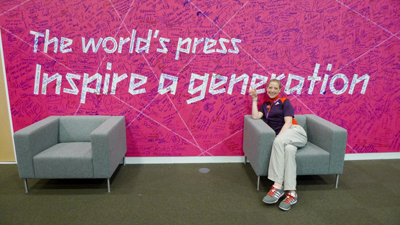 Image: Inside the Main Press Centre

The scale of the project was mind boggling: over the period, the London 2012 website had over 431m visits, 109m unique visitors and 4.73bn page views! That's three times as many as the BBC's pages.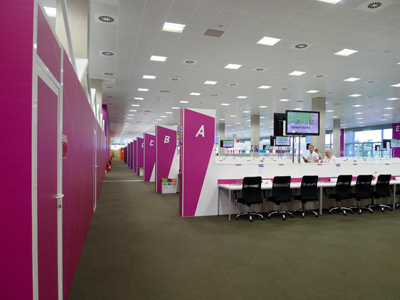 Image: Inside the Main Press Centre
For the website and mobile apps, I got to make sure the results were showing properly (some days we had over 25 sports taking place at any one time), write news articles and pull together photo galleries. The Getty database of images which we could choose from was incredible and for major events like the men's 100m final, photographs appeared on the site within a couple of minutes of Bolt crossing the line. One of the highlights was creating some of the 'best of' galleries on the site when sports had finished, including Beach Volleyball, Road Cycling and Judo.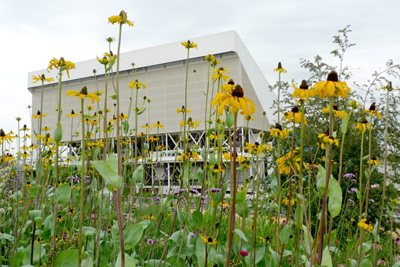 Image: The Aquatics Centre

Walking through the Park every day meant I got to really soak up the atmosphere. I loved walking past the Aquatic Centre in the first week when you could hear the roar of the crowds, although it was quite frustrating knowing that there was something going on that I couldn't see! Equally, I loved exploring the Park at different times of day. It looks stunning at midnight when the Stadium is lit up in red, and also at 6am before the crowds arrive, when the sun is still coming up and you can spot athletes going out for a morning jog. There were lots of hidden corners to the park which take a while to find.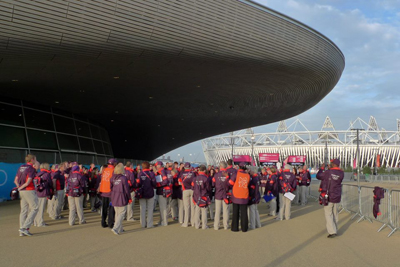 Image: Games volunteers gathering for their 7am briefing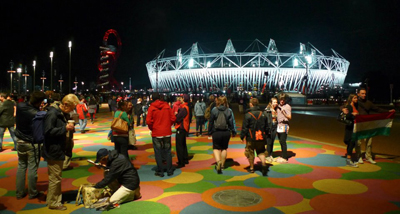 Image: Travelling through the Park at midnight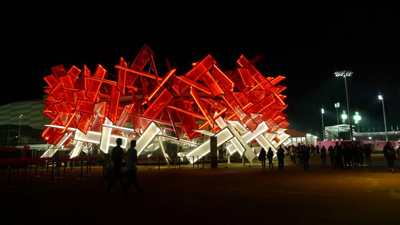 Image: The Coca Cola building at night

There were lots of other perks during the two weeks. I got to hold a gold medal (see my photo), go to the practice run of the Opening Ceremony and I had tickets for basketball and women's wrestling. If you haven't yet got tickets for the Paralympics, I'd definitely recommend it!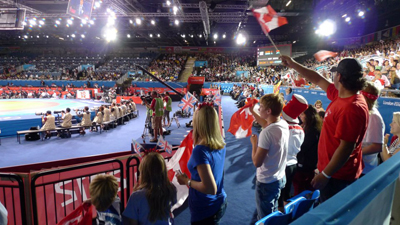 Image: Cheering at women's wrestling

I also sat in on a few press conferences with athletes; on my first shift I got to go to one with American gold medallist and swimmer Dana Vollmer who smashed the world record in the 100m butterfly. It was a bit strange seeing athletes close-up – somehow you expect them to look superhuman, but she just looked pretty normal and was still blown away by what she'd managed to achieve.