A new entertainment industry resource at the British Library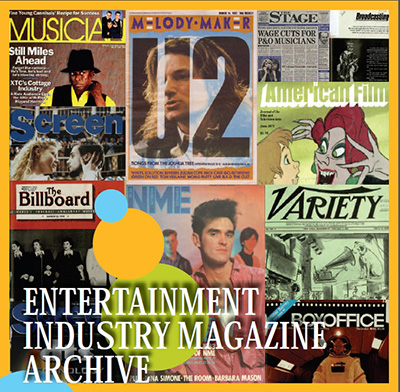 Good news! A new database is being added to our free resources here at the Library and it's one that I know I'll be making particular use of.

The Entertainment Industry Magazine Archive 1880-2000 is an exclusive database containing trade, press and fan magazines, which cover film, music, theatre, television and radio. This means that the titles don't just discuss what's happening in the different industries in terms of business and economics but also reviews, interviews with major artists, photographs and illustrations, all in their original context and format.

Some particularly famous titles that can be accessed are The Stage, from 1880 – 2000, Melody Maker, from 1926 – 2000 and Picturegoer (1911 – 1960). You can access a full list of the publications and their dates on the database website, which can be accessed on site at the Library.

It's not just for research from an academic or professional point of view; I found it really interesting to see what the entertainment industry was like in previous years and how it's changed. You can see how something in the industry was received at the time rather than how we think of it now. I might even swap my new weekly copy of NME for one of the originals!

Anyone who has a Reader Pass can see the database in our Reading Rooms at St Pancras. Find out how to get a Pass.