Central Saint Martins' guide to fashion resources at the British Library
During the months that it took to create the LATE at the Library: Fashion Flashback, Fashion History and Theory students from Central Saint Martins' thoroughly researched all the fashion related items in our collections. Not just for their fast approaching dissertations, but also to create a guide that other fashion designers and researchers could use as a starting point to exploring the varied collections. The Library has an amazing collection of materials for fashion researchers, including magazines, photobooks and photographs.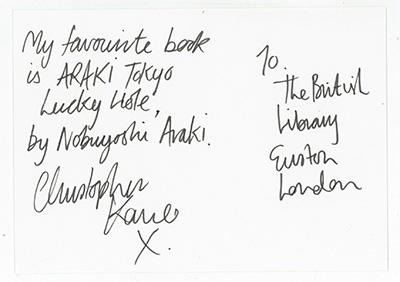 Christopher Kane - 'Araki: Tokyo Lucky Hole' by Nobuyoshi Araki

The students separated their findings into ten different categories, ranging from a general overview, to photography, to cut and construction and finally to inspiration. It's not just books in the guide, there are also photo books and knitting patterns.



Bella Freud - 'Claudine' by Colette and 'The Threepenny Opera' by Bertold Brecht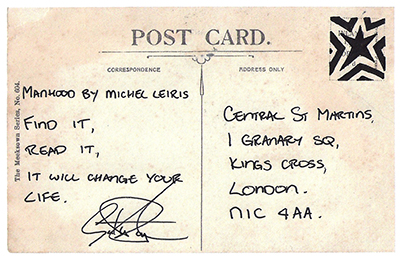 Gareth Pugh - 'Manhood' by Michel Leiris

To add to this great directory, the students contacted notable characters in the fashion world, such as fashion designer, Christopher Kane, Alex Fury - creative consultant for Mary Katrantzou and editor of Love Magazine, designers Bella Freud and Gareth Pugh, to name but a few, and asked them to send us a postcard (vintage of course dahling) telling us what their favourite item was in the Library. The responses we had were unbelievably varied; the Magna Carta to Araki: Tokyo Lucky Hole, the latter caused quite a stir here at the Library! You'll have to download the guide below to see the full list of favourite items and the fashionistas who picked them.

Download British Library and Central Saint Martins fashion collection guide 2013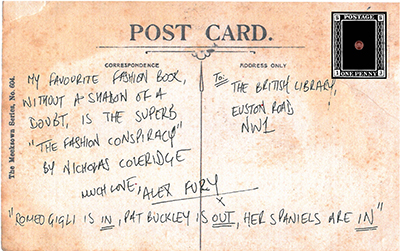 Alex Fury - 'The Fashion Conspiracy' by Nicholas Coleridge