CIDA's Cr8net conference - a whole day of Creative Industries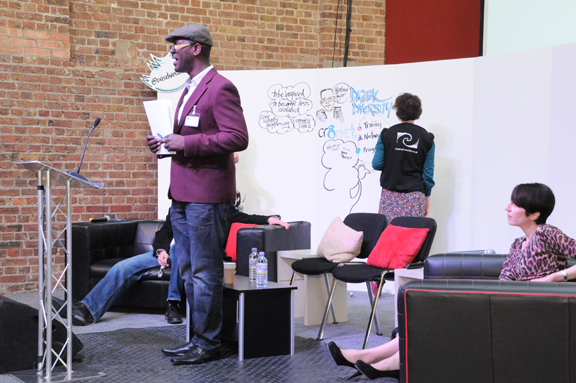 Recently I  attended the annual Cr8net conference, held by CIDA. The aim of this one day conference was to bring together all different types of creative people, from artists to policy makers, to charities, to teachers and so on. This it most definitely did, with a focus on creative entrepreneurship.
Held in Shoreditch, the venue (Village Underground), is in itself a really interesting space. It is a disused station, previously owned by Hackney council. Auro Foxcroft, Village Underground director, had a dream of creating a place for a creative community, that most importantly, didn't cost an arm and a leg. This seems to be exactly what he's created – with bare brick walls, dusty skylights that highlighted working artists on the day, and a set of abandoned tube carriages on the roof that have been transformed into the crucially affordable studio space.
The keynote speakers for the day were Frances Brindle, the Director of Strategic Marketing and Communications at the Library, and Ed Vaizey, Minister for Culture, Communications and Creative Industries. In between these were some really interesting panels with Q & A and some breakout sessions that covered topics such as funding by the Arts Council, and the Olympic legacy in the creative industries.
One of the biggest talking points of the day was Maria Miller's (Secretary of State for Culture, Media and Sport) speech that had taken place that very morning about the economic value of the arts sector and how at this time in the economic climate, the sector needs to have a healthy impact on the rest of the economy. Essentially this is emphasising the importance of measuring the creative industries' economic input and output.

Frances' speech drew on Maria Miller's stating the economic importance of the creative industries - over two and a half million people are employed in the creative industries, and every £1 in £10 of GDP comes from the creative industries. The biggest emphasis about the Library's relevance to the creative industries was how we can unlock inspirational content, through the collections, and make these accessible nationally. On top of this, the Library's Business & IP Centre is in the process of being implemented across the country, giving access to business advice and help for creatives. The Spring Festival is also going to become a national event in order to celebrate and aid the creative industries. Ed Vaizey kept his speech short and sweet, outlining the government's creative industries strategy and then taking a few questions. He emphasised the importance of Tech City and Silicon Roundabout to the creative industries, the roll out of super fast broadband nationally, education and skills and access to finance.
The reason for such a strong Library presence at the conference was to show the commitment and help that we can give to the creative industries, no matter where they are from, and I hope that some of you can testify to that.