Spring Festival: History Relived - Storytelling workshop
As part of Spring Festival we are hosting History Relived a storytelling workshop with our friends at Sheffield Doc/Fest and Crossover Labs. 
Throughout the day participants will be tweeting their stories from the point of view of fictional characters they create inspired by the British Newspaper Archive. 
You can follow along and help tell the story! The official Twitter account is @History_Relived and we're using the hashtag #HistoryRelived 

The stories will be curated on Storify. 

More info about the workshop:
Twitter in the 1890s – what would it look like? What events would people tweet about?

We are surrounded by digital platforms that we use every day, to check what's new, to share pictures and films, to comment and recommend. But what happens when you use them to tell stories? We will challenge participants to use items from the Library's British Newspaper Archive (BNA) as a starting point for entertainment that they will create using twitter accounts to re-enact historical events.

This is a highly entertaining activity that often forms part of a Crossover Lab, the day will be fun and competitive - but it also has a point: we will be examining the nature of interactive media, lifting the lid on where creativity comes from and exploring techniques for telling stories across multiple platforms whilst opening up the archives to give the participants, and people following along, a glimpse of its treasures.

Here's an example of what may come out of the workshop using an aritcle from the Illustrated Police News dated Saturday 15th October 1892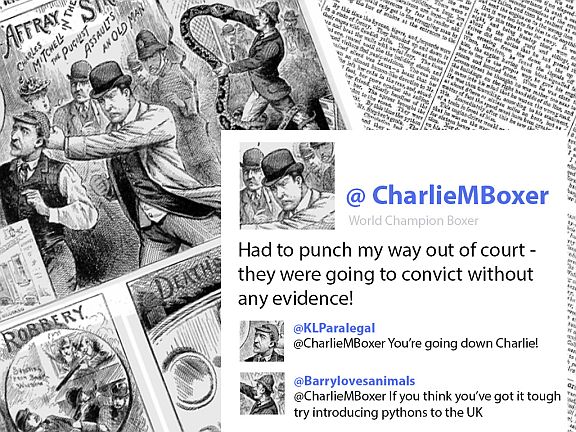 About the British Newspaper Archive (BNA)
The British Newspaper Archive provides online access to local and regional newspapers from Britain and Ireland, dating back to the 1700s. The newspapers are fully searchable and can reveal fascinating forgotten stories from the past. The website is a partnership project between the British Library and DC Thomson Family History.
The BNA have kindly given workshop particpiants free access to the archives for the day. All images used are published courtesy of the BNA. Hat tip to the BNA! 
In partnership with Sheffield Doc/Fest, Crossover Labs
Supported by The British Newspaper Archive