Spring Festival highlights - Inspired by... vinyl records
When we hosted a show and tell of our vinyl record collection back in November the feedback was so positive I knew we had to run it again. I love spotlighting our massive vinyl collection (over 240,000!) because it always surprises people who think we're just a very serious library full of books (which is only partly true). So in the spirit of Spring Festival, creativity, discovery and inspiration our curator of pop music Andy Linehan dug deep into our archive and brought out some real gems to illustrate the history of the album to an audience of graphic designers, filmmakers and curious music lovers.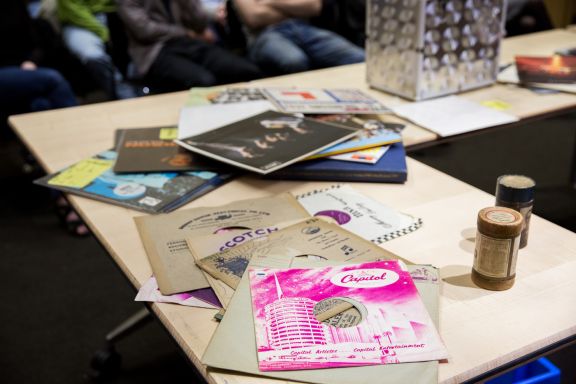 Those tubes are wax cylinders - developed by Thomas Edison in the late 1880s.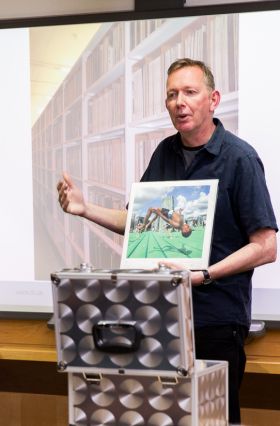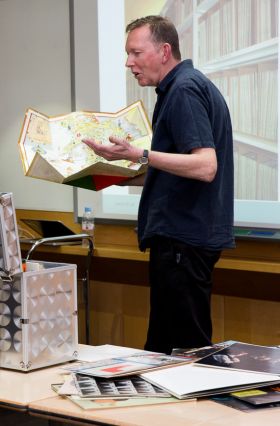 Left: Jeremy Deller's English Magic EP, the musical soundtrack to a film made by Dellar for the British Pavilion at the 2013 Biennale di Venezia. Limited triple vinyl edition, ours is #78 of 300 hand-signed and numbered by Deller with sleeve artwork designed by Deller including a 10x10" photographic print hand tipped on the front cover.

Right: An LP by Man, a 1970s Welsh rock band, with a fold-out hand-drawn map of Wales with features and places important to the band. (Photographs by Luca Sage)
Andy also showed us these two weird and wonderful albums:
Left: Atom Earth Mother's Ancient Faith, a double LP plus CD and insert housed in a hand-built, fire-branded wooden box. Limited edition of 250 copies. (Via boomkat)
Right: Sounds of Silence, a compilation of "silent" tracks from various artists including Crass, Andy Warhol, John Lennon and Orbital which puns on the title of a Simon & Garfunkel LP and rips off its cover. (Via dummymag)

Yes, you can listen to vinyl at the British Library - simply need to register for a Reader Pass. Find out more about our Listening and Viewing Services and our Sound Archive.

More good stuff:

Watch this video of radio presenter Tom Ravenscroft visiting our basements where we store our vinyl collection.