Announcing winner of Comics Unmasked competition with Arts Thread
Lots of good news this week related to our Comics Unmasked exhibition! Today I'm happy to announce that Fionnuala Doran (currently an MA student at the Royal College of Art studying visual communication) is the winner of our comics competition in partnership with Arts Thread. 
Back in March we asked creatives to submit a 9-panel comic exploring the six themes in our Comics Unmasked exhibition: To See Ourselves, Politics: Power and The People, We Can Be Heroes, Let's Talk About Sex & Breakdowns. 
We received a lot of fantastic entries covering a rich range of subjects from psychedelic rebirths to crime and policing, finding inspiration for art to porn addiction. 
Fionnuala's comic 'The Amazing Roger Casement' explores the themes of Politics: Power to the People and Let's Talk About Sex. It chronicles the career of British Diplomat turned Irish revolutionary Roger Casement and his influence in spreading awareness of the Belgian crown's atrocities in the Congo.
The judges, including journalist Paul Gravett, said "Fionnuala's comic perfectly demonstrated the efficiency and potency of documentary comics, crystallising a momentous lifetime and making a meaningful political point in only nine panels."
Acclaimed comic book artist Dave Gibbons said, "it was succinct and elegant, her comic page is a perfect blend of words and images."
Co-curator of Comics Unmasked John Harris Dunning added, "Here is an artist whose confidence is evidenced by her clear style. She is a natural visual storyteller - and I get the feeling we will be seeing a lot of her work..."
Many congratulations Fionnuala! You've won a sweet £1,000 and a place in our graphic novel short course programme.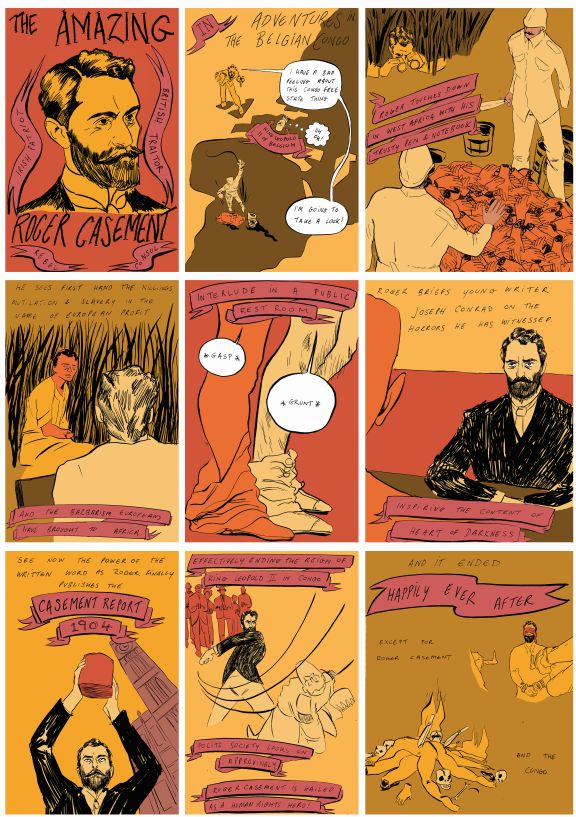 In close second and third place respectively:

Bridget Meyne (Falmouth University, BA Illustration) for her comic 'Tonight' which explores the theme of Breakdowns and is based on the idea of astral travel and dreaming.
Sean Bright's 'Peas in our Time' - a take on the Politics: Power to the People theme with a vegetable and a robot!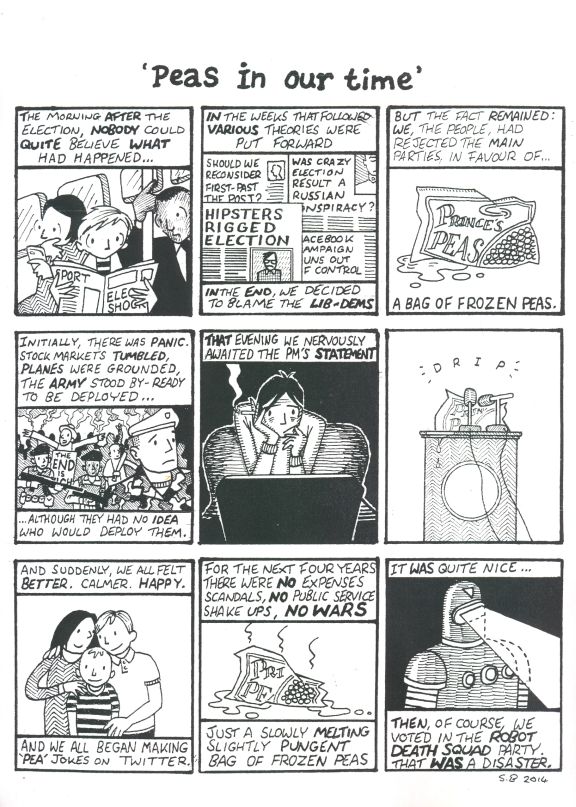 Follow me in Twitter @BL_Creative for more competition announcements.