Illustrator Rob Flowers on comics that inspire him
I met illustrator Rob Flowers at our Spring Festival. When I learned more about his work - which has been described as 'trippy.... as if you took a whole load of acid, ate too much candyfloss and went on the waltzers at your town's local fair' I thought 'this guy needs to come to our Comics Unmasked exhibition.' And he did. Here tells us about the comics that inspire his work.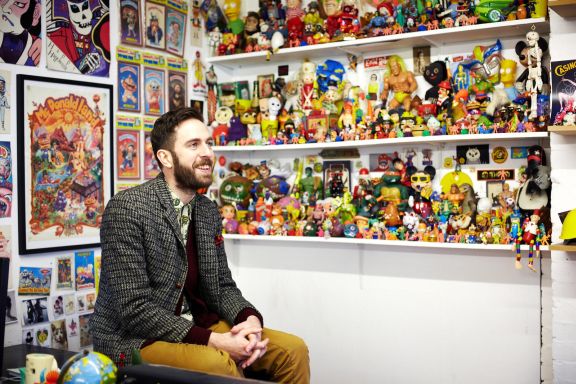 Photo: Jenny Lewis
Tin Tin by Hergé - A classic of the genre, every time I open a Tin Tin book I'm blown away by the clarity and expressiveness of the drawings. The stories are a great mix of adventure, historical fact, fantasy and mystery that I try and replicate in my illustrations. 
Spring Heeled Jack - Jack has been an obsession of mine for a number of years now, ever since I first discovered him and researched the (true) tale of The Terror of London in the British Library's amazing archives. He appeared in a number of Penny Dreadfuls (a 19th century forerunner to the comic book, usually featuring lurid serial stories appearing in parts over a number of weeks, Sweeney Todd made his debut in a Penny Dreadful) after apparently terrorising Londoners in the 1830s. SHJ is a character I have revisited many times in my work. (You can see an 1867 copy of Spring Heeled Jack in Comics Unmasked.) 
Little Nemo in Slumberland by Winsor McCay - McCay was a genius of the comic world. The use of colour, pacing and panel structure in Little Nemo is a masterpiece. The surreal nature of Nemo's dream adventures have long been an inspiration for my work.
The Beano - I grew up reading this and I'm still a massive fan of the anarchic humour and mischevious characters such as The Bash Street Kids and Dennis the Menace. The slightly gross, ugly looking way the characters are designed is something I try to incorporate into my stuff. (You can see a 1949 copy of The Beano in Comics Unmasked.) 
GeGeGe no Kitarō by Shigeru Mizuki - Released in 1960, (though originally an early 20th century Japanese folk tale performed as a Kamishibai or 'paper drama'), all the main characters are Yōkai, spirit-monsters prevalent in Japanese folklore. Considered too scary for children when it first came out, the cast of characters are an amazing collection of ghosts, ghouls and haunted walls. Folklore and mythology play an important role in my work, and the way Mizuki referenced traditions and myths is something I try to mix into my illustrations. 
Rob has a new print out as part of the exhibition 80s Youth at The Ritzy in Brixton. Check it out.  You can see more of his work at robflowers.co.uk

Comics Unmasked: Art and Anarchy in the UK is open until 19 August. Find out more here.