From the high end to the street: Fashion inspired by comics
Our current exhibition Comics Unmasked: Art and Anarchy in the UK comes at a perfect time when comic book art is more than ever inspiring fashion designers. Today's guest blog comes from Geraldine Wharry, known for her Future Trend consultancy based in London and inspiration sharing platform Trend Atelier.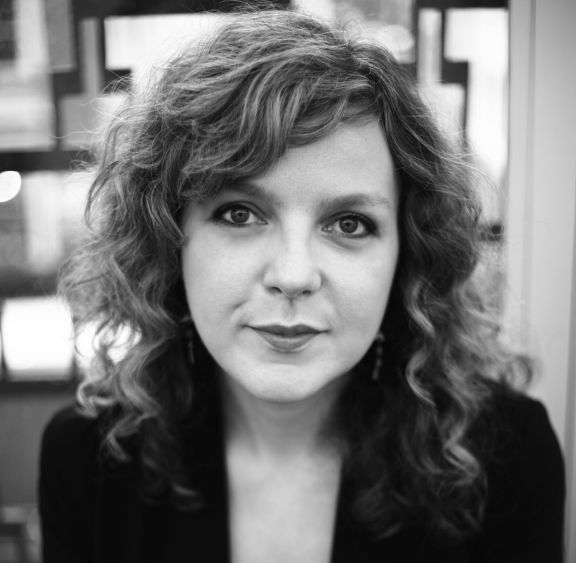 When I first collaborated with the British Library Business & IP Centre for a trend forecasting event in September 2013, I presented the key fashion trends for 2014 in womenswear, menswear, textiles, graphics and accessories. One of the trends was "Cartoon Reality" and showcased the resurgence of comics and superheroes influencing designers and makers. The trend fit within a larger concept called Pop!, a whimsical and edgy design direction filled with bold colour juxtapositions and graphic statements.
Fashion and comic book art share an exciting relationship. Comic book illustrations have fueled the imagination of many fashion labels, from high-end designers such as 3.1 Philip Lim and Tom Ford, to high street brands Topshop and ASOS. I call this the "Pow Wow!" effect. In the 1960s, Pop artists who delved into comic art and illustrative drama such as Roy Lichtenstein came to influence Donna Karan, Moschino, Viktor and Rolf and Yves Saint Laurent.
Whilst researching the trend, I came across such a large amount of visual content, stylized editorials, and quirky garments created in the last few decades that it's clear the relationship between comic book graphics and fashion has reached a tipping point. Comics and superheroes have become a perennial source of print and pattern inspiration in fashion, revisited season after season and acting as a complement to core items such as whimsical polka dots, logos and graffiti art.
It's only natural comic art would influence fashion designers as they are always on the hunt for captivating imagery. With bright colour palettes often used against black and white lettering, this makes for impactful visuals, which designers use on garments as their canvas. The layout of comic book pages with their exaggerated fonts and messages also inspire stylists and fashion editorials in publications such as Vogue.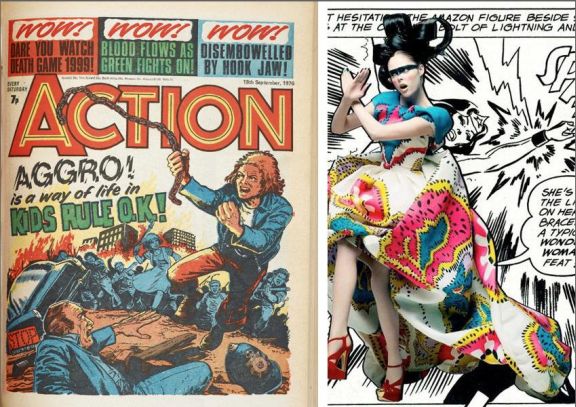 Left: Action 1976-77, by Jack Adrian and Mike White. Action, used with permission from Egmont UK Ltd. Right: Photographer Craig McDean for Vogue USA May 2008 via Loyal KNG
Head to toe looks showcasing comic art are now often seen worn by style makers and photographed by Street FSN or other renowned street photographers such as Tommy Ton and le 21ème.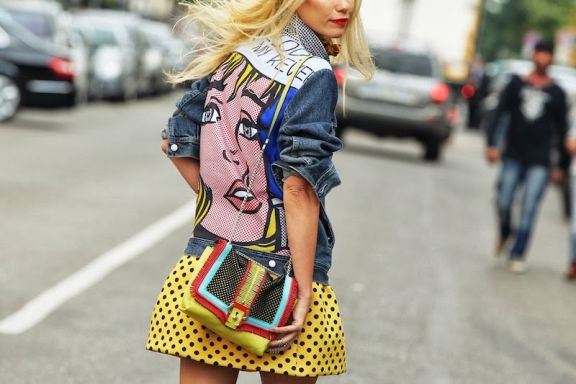 Via Street FSN 
The designers who are currently building our fashion landscape also grew up with comics and superheroes. They instinctively reference their teenage years, children's books and favorite superhero movies, all embedded in their visual consciousness. This is clearly seen in collections by designers like Jeremy Scott who often uses comic book imagery such as monsters seen in his Autumn/Winter 2014 collection.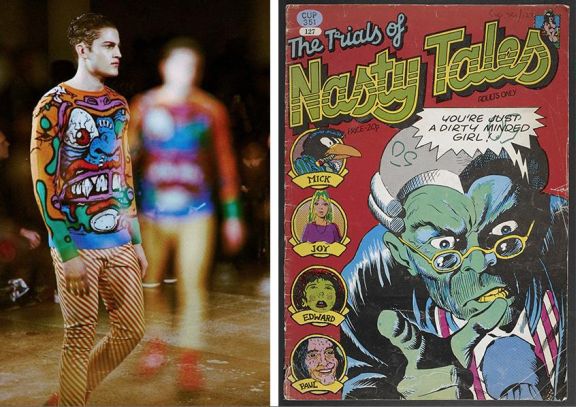 Left: Jeremy Scott A/W14. Right: The Trials of Nasty Tales, 1973, cover art (c) Dave Gibbons and Richard Adams  
The sexually seductive nature of female superheroes also inspires designers of the likes of Tom Ford to create alluring silhouettes with references to comic book splashes of colour and text bubbles as seen in his Fall/Winter 2013 collection.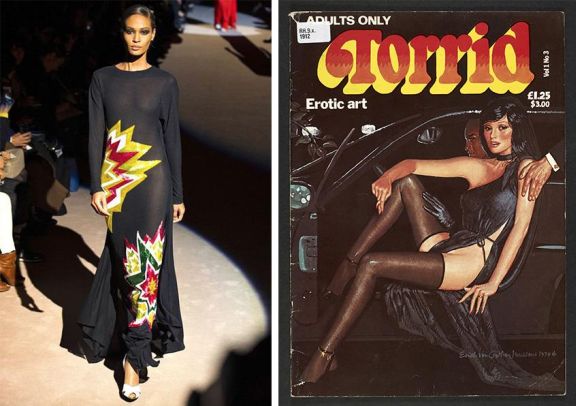 Left: Tom Ford Fall/Winter 2013. Right: Torrid Erotic Art, 1979, (c) Erich von Götha - Robin Ray
On a deeper level, the relationship between comics and fashion goes beyond the idea of using the style as a purely graphic source of inspiration. Comics can be subversive vehicles for sexual and political statements, which is precisely the focus of Comics Unmasked. As it stands, subversion is fashion's second name.
Throughout history, the designs that stand the test of time are the ones that challenged our perceptions of gender and body image as well as channeled designers' sense of humour and whimsy. Fashion if anything else, is about making a statement, in between shocking the audience and creating awe. Designers use clothing as a powerful tool of expression to surprise, seduce and turn the shocking into the beautiful.
Name the punk era and Vivienne Westwood in the 1970s, Balenciaga and his cocoon shaped jackets in the 1950s, or Yves Saint Laurent's popularization of trousers for women, and you will find in each one of these examples a deeply subversive spirit aimed to provoke change.
More recently, we see alternative music groups collaborate with high fashion brands to create thought-provoking street wear. The best example being South Africa's Die Antwoord and co- founder/rapper/illustrator Watkin Tudor Jones (also known as Ninja) whose subversive futuristic rap is paired with Basquiat-inspired characters and street punk styling. The group and its impactful graphic streetwear fronted Alexander Wang's T campaign in 2012.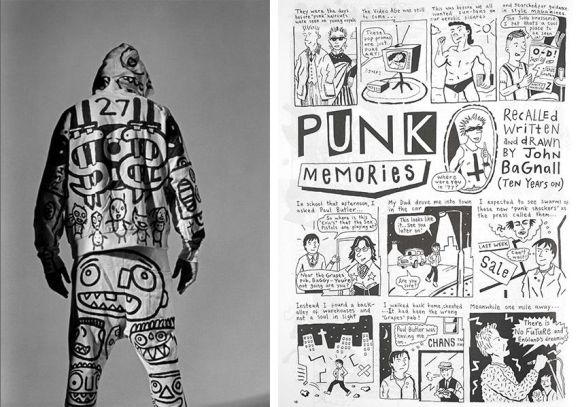 Left: Waddy Jones from Die Antwoord. Right: Punk Memories, Escape 9, by John Bagnall (c) John Bagnall
Cartoon comic artists and fashion designers have created a great dialogue and creative exchange. We classically saw cartoon heroes on jersey t-shirts and the growing influence of street style on high fashion in the last 50 years has made it possible for cartoon graphics to gradually make their way onto silks and organzas. The subject matter moves effortlessly from paper and celluloid to fabric as its canvas.

As street style and bold graphics continue to influence the high fashion, this trend is set to grow from strength to strength - so stay tuned. For a full view of the cartoon research and sources used for this article visit my Pinterest Cartoon Reality Board. 
Geraldine Wharry and Trend Atelier are hosting Fashion Forecasting: Trend hunting and gathering on 24 June 2014 in our Business & IP Centre. Get the tools you need to identify the fashion trends for 2015/2016 - find out the more here.