Kapow! Comic-inspired accessories by artysmarty
The British Library Shop looks like an open page of a super-colourful comic book right now and I love it. Here I interview Angela Cuthill, founder of accessories business artysmarty, who's created a line of jewellery for us in celebration of our  Comics Unmasked exhibition.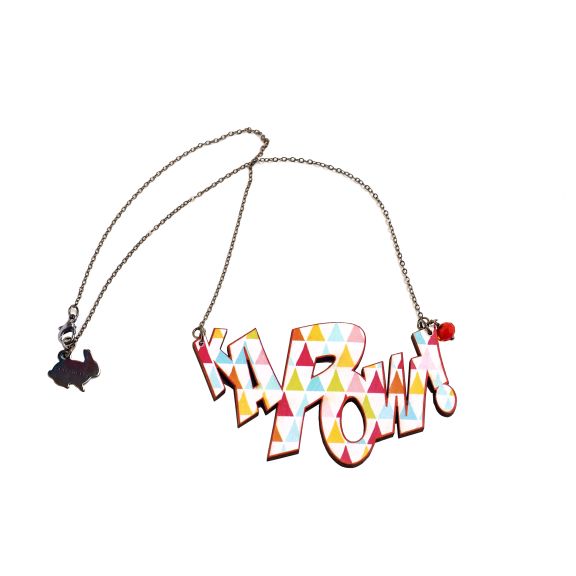 Kapow! birch wood necklace, £25.00 I have this necklace and I get a lot of compliments. Once a stranger on the bus leaned in to read it more closely and then touched it. A little awkward. 

Tell us a bit about artysmarty. Do you design and take care of the business side? Do you have a partner?
artysmarty is really a creation imagined and driven by me, so no business partner. I do all the design work and run the company, which gets pretty hectic at times!  I've had different helpers over the four years in business, and some of the boring stuff I can get outside help with, things like photography and accounting.  You can't do everything and sometimes you don't want to!
 
What has been the most challenging and most rewarding aspects of running your own business?
Lots of day to day challenges invariably crop up,  things that stop you from doing the bits you love, like dealing with the dodgy Wi-Fi provider and cleaning spray paint out of a carpet (true story) but I couldn't really name one biggie.
I guess being creative on demand can be a bit daunting, but if you don't think about it too much an idea worth investigating further will pop up.  The rewarding bits are thinking about where you've come from and the progress that you've made.  My first studio was in a basement on North Great Georges Street in Dublin that literally had no daylight.  I think making it to a south facing building has been up there!
 
How did your jewellery designs for our Comics Unmasked exhibition come about?
I met Duncan Sanders (British Library Retail Buying & Merchandising Manager) and George Gutcher (Buyer and Visual Merchandiser) at Top Drawer in London, probably about six months before we started to work on this project.  We'd talked then about some of the other pieces that I had in my SS2014 collection and how they'd tie in with some of the upcoming exhibitions.  There had been a few emails going back and forth after that (George managed to remember me via my bright red hair) and they asked if I'd be interested in doing some bespoke pieces for this exhibition.  I was delighted to put some pieces together, I love all of the art work associated with comics, it really fitted in with my love of bright colour and ethos of fun.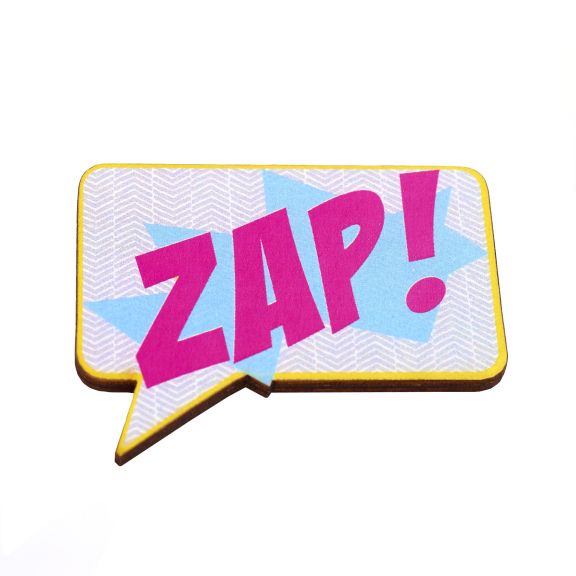 Zap! birch wood brooch, £12.50

What kinds of things did you look at for inspiration?
I gave myself some time to take another look Lichtenstein's work,  I remember studying him at college but he'd kind of dropped off my radar a bit.  I love his colour palettes and self-parody. The content of his work is quite funny and accessible.  I also tried to think of the essence of comic books, I think they're a lot about action (sometimes violent action!), kapowing and whamming all over the place, so I really thought that aspect would have to be included.   I guess the colour was the other big hitter for me, there is a really distinctive colour palette which I wanted to use but in a contemporary way, hence the chevron and small triangle patterns.
 
If you could have any superhero power, what would it be?
The ability to keep my feet warm in any temperature.
 
Do you read comics, graphic novels? If so, do you have a favourite or one you've recently read?
Not really, but I do love Calvin & Hobbs and Robert Crumb.  I was at the Biennale in Venice last year and he'd somehow drawn the whole story of Genesis  into a room full of illustrations.  Wowzer!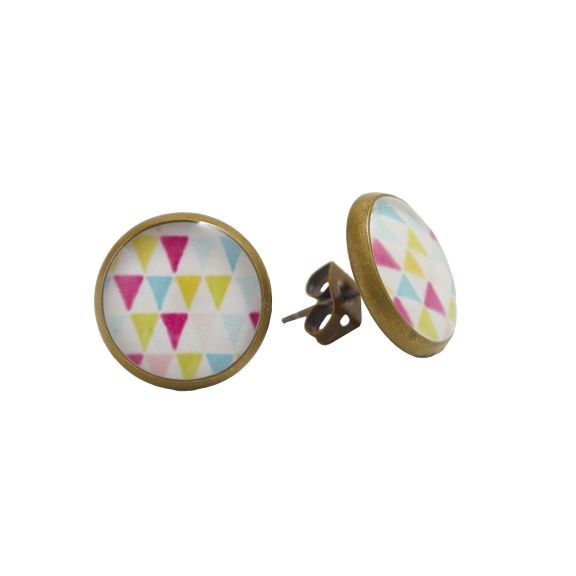 Kapow! resin and mixed media earrings, £15.00
Can you tell us about your creative process? What's your studio like in Dublin?
I love a good tramp around a museum of gallery and would take a lot of trips specifically to visit certain museums.  I had it in my mind to go to Russia this year and visit the Hermitage but might be a trip for next year now.
I go to Venice for the Biennale, love the cinema, and find nothing better than flicking through design and art books at the bookshop.  Life drawing has helped me keep up my drawing skills since college and sometimes I'd go to the Natural History museum here in Dublin and draw the stuffed animals.  Creepy.  Oh, and the studio is a mess. 
 
Your stocklist is long! I see you've designed products for the V&A and you're stocked in Japan. How's it all going? I'm curious what your bestseller is in Japan!
Been a really busy start to the year alright, but it does take a while to get a good client list and get your brand / brand recognition out there.  The Japanese audience is a bit different, as you'd imagine, and I've done quite a few pieces specifically tailored to them.  This season it's been a 'gem series' of earrings but they also have a love of nature inspired pieces.  If I had to pick one bestseller it would have to be the 'bird' series of necklaces and brooches, they're really colourful and easy to wear.
Check out artysmarty's AW2014 collection:
If you're thinking of starting a creative business or want to grow the one you have now, check out our Business & IP Centre. We have loads of resources - from market research databases to workshops on how to write a business plan and increase sales.