I was watching a TV programme last night about redesigning ships after disasters like the loss of the Titanic and the Estonia car ferry.
A new solution is the X-bow. The traditional ship's bow is narrow and raked, but this one is designed to form a huge snout, with the bow not sticking out at all. It is inverted, and is more like a bulge.
This means that as the ship moves through the water the bow's centre of gravity is lower than is traditional. Movement forward in rough seas is easier, and the bow does not move up and down as much as normal. The ship can also move forward faster.
Here is the main drawing from the patent application from Ulstein Design AS (of Norway), Foreship arrangement for a vessel of the displacement type.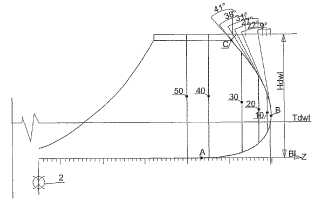 It shows the ship's bow as seen from the side. The programme said that when the engineers asked that a model be tried out for seaworthiness in a testing tank, the experts scoffed and said that it would sink. On the contrary: sensors showed that in heavy seas much less pressure was being exerted on the bow than in traditional designs. It was that kind of pressure that ripped off the doors of the Estonia car ferry.
It may seem strange that it has taken so long for a new design to be thought of. This video shows the new design in action.