The BBC news website is often the first to tell me of interesting innovations. It has a story about Toshiba's Dynario fuel cell, which is a revolutionary development.
Fuel cells work with cathodes and anodes and need a replenishable reactant. In this case it's methanol, which can be poured from a bottle into the hand-sized device. This contains a lithium ion battery which stores the generated power from the fuel cell and -- this to me is the clever bit -- transmits the power through a USB cable to the mobile phone or other device to recharge it in just 20 seconds.
A limited number, just 3000, will be produced for sale in Japan at about £195. The cost of the methanol has to be added.
I am not sure why such a limited number is being produced -- surely it's a test launch. After all, they have gone to the trouble of making quite a few patent applications.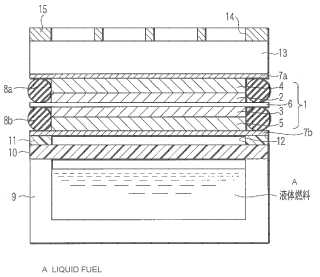 Above is the main drawing from the Japanese-language Fuel cell patent application (not yet available in an English text), which was published in June 2007. In fact, there are quite a few by Toshiba on the subject -- this is a list of the 15 patent applications by the company in the "world" Patent Cooperation treaty system by them where "Fuel cell" is in the title and methanol is in the English summary.