London's first snowfall of the winter is falling as I type. The snowflakes are showing up well against the red brick of St Pancras station.
We don't normally have snow this early, and sometimes it only snows once or twice. I thought of inventions to do with simulating snow, and as usual America's inventors have not let me down. 
James LaChance of Michigan has an Apparatus for simulating falling snowflakes. A light source is projected onto a rotating spherical body having "small planar reflective surfaces" so that the rays are  reflected from several surfaces. Here is the main drawing.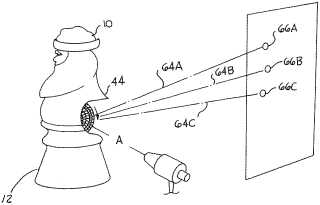 William Bradley of Brooklyn has patented a Decorative article for simulating a snow scene. In it he mentions five earlier patents for carrying out the same general idea. This "prior art" discussion is something that American patents frequently give.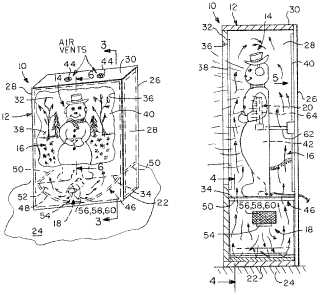 Above is the main drawing. As the illuminated snowman revolves a fan at the base sends simulated snowflakes swirling in a "snow storm".  
And then there is Carl Tenbrink of California, with his ambitious Snowfall simulator, shown below.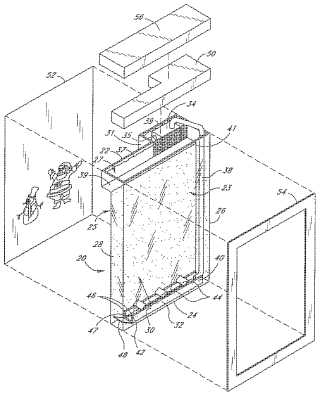 A tank is filled with water and "a plurality of small pellets". A pump creates water currents and causes the pellets to fall through the water to look like a snowfall. The patent itself gives the full story.