The British Library has just opened its new, exciting (and free) exhibition, Out of this world: science fiction but not as you know it.  
One of its themes is Future Worlds, and asks if we are living the world that science fiction writers imagined.
One thing that many films imagined was that we wouldn't have traffic jams, as we'd all be going around in flying cars. In 1959, Einar Einarsson of New York state applied for a patent for his Flying car. It was published in 1963.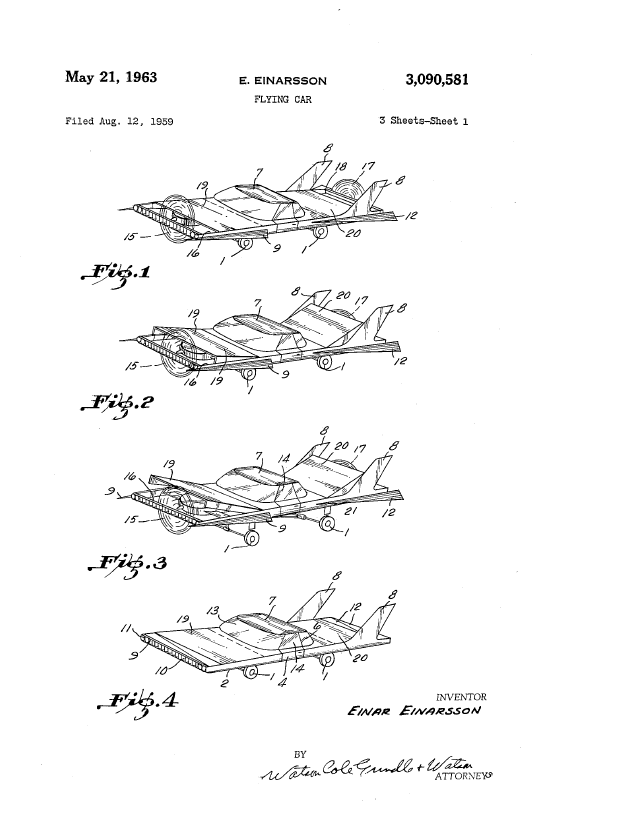 The drawings show the vehicle progressively changing from a flying machine to a car with enhanced stablizers. Propellers are at both the front and the back. At least its means of propulsion are more obvious than in Chitty Chitty Bang Bang.
1985 saw the publication of the patent for what is quite literally a flying car, which I believe I have actually seen being flown in a documentary. Dennis Butts of Arizona came up with the Air vehicle having driven wheels and ducted fans.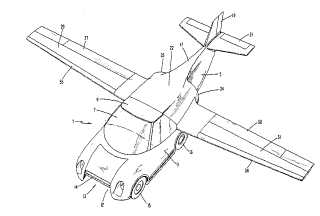 Of course, not all flying machines have to be big enough to contain a human. In 2000 appeared a patent by Georgia Tech Research Corporation, the Entomopter and method for using same. It moves about by beating its wings like an insect, and is designed for covert surveillance work. Not a car, true, but too good not to include. Here is its main drawing.