Create, innovate, protect at the British Library
Last night the British Library hosted a free event, "Create, innovate, protect" where the UK IPO hosted an explanation of the importance of intellectual property rights to business.
There were four talks in the auditorium followed by networking at the stands outside. The first was by  Dave Hopkins, of the UK IPO, who explained the different types of protection. Particularly memorable was his story about the much advertised George Foreman® Grill. Apparently it wasn't selling very well and the company asked George Foreman, the boxer, if he would give his name to the product. He agreed, and began receiving millions of dollars in royalties as sales took off.
The invention itself is apparently based on George Boehm's Electrical cooker patent. Here is the main drawing.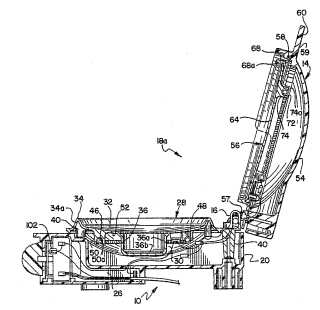 The point of the Foreman story is adding value by using brands. It's hard to compete on price with the big boys -- so why not add value such as a popular brand (and the man himself advertising "his" grill on TV, as well) ? In this case instead of building up brand recognition they began with the name of a well known person.
Dave was followed by Jan Vleck of patent attorneys Reddie & Grose, explaining the role of attorneys in not just writing the patent document but giving advice and support in working out an IP strategy.
Then there was our very own Neil Infield, Manager of our Business & IP Centre, who has his own blog, In through the outfield, talking about what the British Library has to offer.
Stefan Knox of Bang Creations, a product designer company, rounded off the session. He used his experiences in improving and modifying designs to tell fascinating (well, very interesting!) anecdotes about what really happened in cables to secure laptops, sun loungers, a seating invention of his own design...
Afterwards the crowds went out into the foyer and were able to ask questions at the stands. I'm glad to say that we were all besieged. I talked to lots of people, giving what advice I could and suggesting our free one to one meetings about business ideas. The problem as always is giving useful information to people without being too broad and sweeping, as problems often can't be solved (let alone explained, or analysed) quickly.