Shoe hangers as registered designs
Even the simplest thing needs to be designed and made. I was reminded of that when I bought a pair of slippers which were attached to each other and to a hook above by a "shoe rack". The main drawing from the registered design is shown below.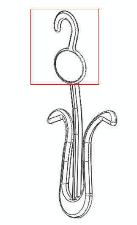 On it read
Phimeas products.com
PP122/UK-M
Community Reg. Des.
000631254-0001
This told me that it was a Community or EU-wide design as administered by OHIM in Alicante, Spain. What Americans call Design Patents, for the look, are called registered designs in the UK.
The OHIM designs database lists 59 hits for Phineas Products, mostly devices for suspending shoes from hooks, with some coat hangers. 39 hits are on the UK designs database. There are none in the US system.
Phineas Products is based in Bristol, England but has 3 other offices across the world. They have taken the trouble to provide a page explaining why it is a good idea to hang shoes -- mainly, it is an efficient use of space and their use makes it easy for shoppers to see the product. 
The site even has a video (narrated by an American voice) explaining why this particular model, PP122, is effective. Here it is below.
Overkill ? I don't think so. The company is obviously expert in their niche product area and have targeted their audience: not the ordinary consumer, but the shopowner or manager selling shoes.