Heatherwick Studio exhibition
At the weekend I visited the Victoria and Albert's exhibition Heatherwick Studio: Designing the extraordinary.
A year ago I attended a lecture by Thomas Heatherwick himself at the Royal College of Art about his work. I'd never heard of him before then, but am certainly aware of him now. I regard him and the Heatherwick Studio's work as of exceptional interest and importance, and enjoyed the virtuosity on display.
Again and again, materials and shapes are manipulated and twisted to produce apparently impossible solutions to problems. For example, the rolling bridge at Paddington Basin, London, which can roll up into a ball; the zip bag, with a continuous zipper that changes the bags from a small black bag to a larger bag with alternate black and white stripes; the extraordinary seed cathedral for the Shanghai World Expo 2010, with 60,000 acrylic rods coated in aluminium, each with seeds visible to the visitor inside (illustrated below).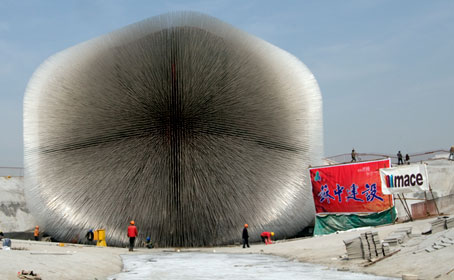 To my surprise I can only find three US design patents, all related to the zip bag idea, such as US D505226.
Below is a video of stills from the exhibition.
The Victoria and Albert is also showing another priced exhibition, British Design 1948-2012 which is also worth seeing at the same time. That one ends 12 August; the Heatherwick show on the 30 September.